« The Royal Society for Putting Things on Top of Other Things Members Cafe
|
Main
|
Daily Tech News 7 December 2022 »
December 06, 2022
Tuesday Overnight Open Thread (12/6/22)
(Classy Mystery Click)
***
The Quotes of The Day
Quote I

'The committee has determined that referrals to outside entities should be considered as a final part of its work. The committee will make decisions about specifics in the days ahead.' Rep. Bennie Thompson (D-MS)
Quote II

"I'm running for Speaker to break the establishment. Kevin McCarthy was created by, elevated by, and maintained by the establishment,"
Rep. Andy Biggs (R-AZ)
Quote III

"Gun turn-ins give the people the ability to turn in a gun with no questions asked. We're not asking whether the gun was found, whether it was left, whether you inherited it, it does not matter. What matters is that you do whatever you can to make yourself and your family safer." Chicago PD official Glen Brooks
***

I just can't see how this would happen. Mother who tattooed her eyeballs blue and purple to copy an influencer admits she's losing her sight - after her daughter, 7, warned her she would

A mum-of-five who tattooed her eyeballs ended up in hospital and could go blind
Law student Anaya Peterson was inspired by 'blue-eyed dragon' Amber Luke
She regrets not listening to her seven-year-old daughter's warning over sight
Read more: Aussie model says people tell her in public she's 'RUINED' her looks
***

Possibly NSFW Ozzy Man looks long and hard at swim wear.
***
Truth my fellow Moron is stranger than fiction.

Irony has been declared many times in this pandemic but now, from Covid-riddled Germany comes the final proof: you can't kill yourself now unless you've been vaccinated. As European countries battle to limit the spread of the virus, Verein Sterbehilfe – the German Euthanasia Association – has issued a new directive, declaring it will now only help those who have been vaccinated or recovered from the disease. In a statement, the association said:

Euthanasia and the preparatory examination of the voluntary responsibility of our members willing to die require human closeness. Human closeness, however, is a prerequisite and breeding ground for coronavirus transmission. As of today, the 2G rule applies in our association, supplemented by situation-related measures, such as quick tests before encounters in closed rooms.
***

Cat fight Errrr I mean fisticuffs at NCAA Women's hoops game.

Players decided to throw some bombs during the TCU/George Washington women's basketball game Monday night.

During the non-conference matchup, TCU forward Bella Cravens got upset at what she felt was an unnecessary pull of her hair, and it was off to the races against Essence Brown.
***
Well the Trump run for president in 2024 just took another hit.


Manhattan Jury Convicts the Trump Organization of All Charges Alleging More Than Decade-Long Tax Fraud Scheme

A jury from former President Donald Trump's hometown of New York City convicted the company at the center of his business empire of a roughly 13-year tax fraud scheme.
***

I guess the USA isn't so bad afterall.

Indonesia set to make sex outside marriage punishable by jail

MPs expected to pass new criminal code that will also make insulting the president a crime
***

Paul Joseph Watson on the "Royals" funny................
***

A great cartoon special. Yes, even after 57 years.

NEW YORK (AP) — The Mendelson family would love to find the envelope where their father, Lee, scribbled some lyrics to jazz musician Vince Guaraldi's composition "Christmas Time is Here" for an animated TV special featuring the "Peanuts" gang in 1965.

The producer always said it had taken less than half an hour to write, and he likely tossed the scrap of paper away. He was in a rush. Everything was rushed. No one even knew, once the special aired, whether it would ever be seen again.

Instead, "A Charlie Brown Christmas" became an indelible holiday tradition and so, too, has Guaraldi's music — perhaps even more so.

"Christmas just doesn't feel like Christmas without hearing that album in the background," said Derrick Bang, author of the biography "Vince Guaraldi at the Piano."
***

California continues down the road to Communism.

California could become the first state to fine big oil companies for making too much money, a reaction to the industrynto for the start of a special legislative session focused solely on the oil industry.'s supersized profits following a summer of record-high gas prices in the nation's most populous state.

Gov. Gavin Newsom and his Democratic allies in the state Legislature introduced the proposal Monday as lawmakers returned to the state Capitol in Sacramento
***

Filthy shyster James A. Baker, fired.


James A. Baker, who had been the FBI's general counsel previously, had played a role in spreading the discredited Steele Dossier, which made his efforts to suppress potential dirt on Democrat Joe Biden look especially galling to conservatives and free-speech advocates.

"In light of concerns about Baker's possible role in suppression of information important to the public dialogue, he was exited from Twitter today," Mr. Musk wrote in a tweet on Tuesday.
***
The ONT Musical Interlude & Fire Place Emporium, With Christmas Music
&&&
***
"In hindsight, I realize how my handling of this matter could be viewed as inappropriate, but that was certainly not my intent," Or the GENIUS AWARD

Tampa police chief resigns after dodging traffic ticket
The police chief in Tampa, Florida, has resigned after using her position to escape a ticket during a traffic stop involving her golf cart driven by her husband

TAMPA, Fla. -- The police chief in Tampa, Florida, resigned Monday after using her position to escape a ticket during a traffic stop involving a golf cart driven by her husband.

Mary O'Connor submitted her resignation after an internal affairs review found she violated police department policy during the Nov. 12 stop by a Pinellas County sheriff's deputy.

During that stop — which was recorded on video by the deputy's body camera — O'Connor identified herself as the Tampa chief, flashed her badge and said "I'm hoping you will let us go tonight."

The deputy issued only a verbal warning instead of a citation, according to the internal affairs review. The golf cart did not have a license tag, a requirement for when such vehicles are driven on public streets. O'Connor's husband, Keith, said they had just come from a restaurant and didn't usually drive the cart on streets.
***

Tonight's First Feel Good Story of The Day via photos
&&&

Bambi saved. Tonight's Second Feel Good Story of The Day.
Dec. 6 (UPI) -- Police in Georgia "saved Bambi" when they were called to rescue a young deer found stuck between the metal bars of a fence.

The Duluth Police Department posted a video to Facebook showing officers responding to call about a deer stuck in a fence along Peachtree Industrial Boulevard.
***

Tonight's ONT has been brought to you by The Weaselmobile.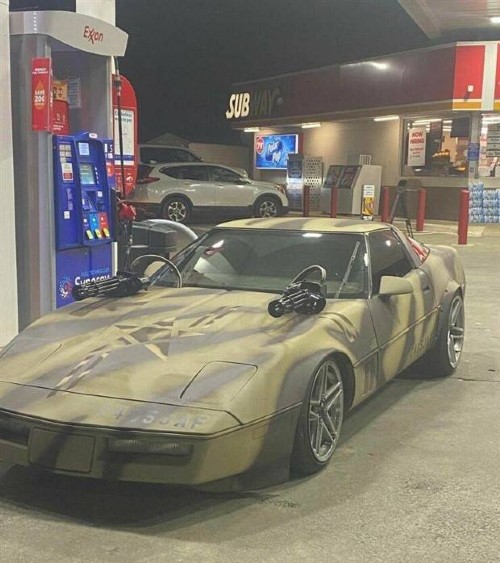 Notice: Posted with permission by the Ace Media Empire, AceCorp, LLC and Mis. Hum. Enterprises. Proudly produced with gluten, saturated fat, cholesterol and caffeine.


posted by Misanthropic Humanitarian at
09:47 PM
|
Access Comments