« The Morning Rant: Impending Consumer Cash Crunch; "Pregnant People" in Tennessee; Student Loan Forbearance Unto Perpetuity; Climate Change Now Causing Slavery
|
Main
|
Fox News: "Trump-Linked Lawyer Harmeet Dhillon" to Challenge Rona (Romney) McDaniel for Chair of RNC »
December 05, 2022
Bill Kristol: Twitter Was Just Censoring "Pornographic" Pictures of Hunter Biden
David French: Yes, And Also, When Biden Demanded Twitter Censor This Story, He Wasn't President Yet, So This Wasn't "Government Action" Yet
Over at the bought-and-paid-for, Lincoln-Project-adjacent Democrat shill operation The Bulwark, soulless leftwing operative Tim Miller claimed that the Twitter/Biden campaign censorship operation was all about... stopping people from posting "pornographic" pictures of Hunter Biden. By which he means: the hundreds of dick-pics and sex pics he took of himself with hookers.
In this... you know, this Russian Disinformation laptop where everything was made up by the Kremlin.
Bill Kristol pushed this bought-and=paid-for actual disinformation.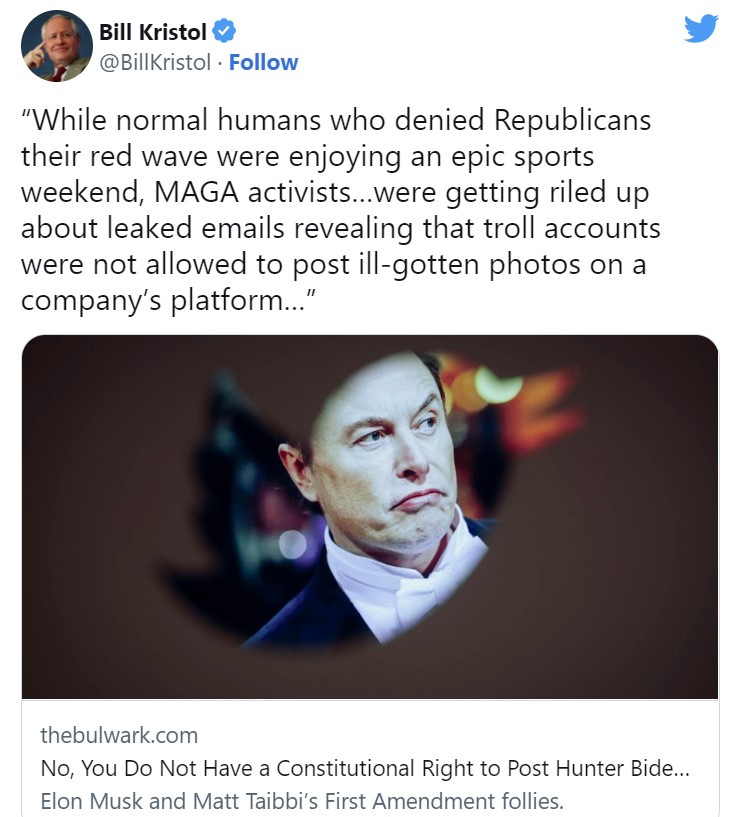 David French made a similar claim, emphasizing that some of Twitter's censorship involved compromising photos of Hunter Biden. But wait, again -- I thought this was a Russian op...?
French goes on to claim that the DNC and Democrat presidential candidate pressuring Twitter to censor this material is not "government action" because Twitter is a private party and the DNC is also a private party, and totally not the government, and Biden himself, although a candidate for president, was a private party and not the government at the time of the demand.
So this is totally, totally not the government demanding that private actors act as government censors, and any MAGA partisans claiming otherwise are ghastly liars spreading "breathless" libels.
Last night, matt taibbi, an independent journalist, wrote a lengthy Twitter thread he called "THE TWITTER FILES." The thread purported to expose how Twitter made the decision to dramatically suppress discussion of the contents of a hard drive from Hunter Biden's laptop. But it inadvertently did something else entirely: It exposed the new Twitter owner Elon Musk's profound misunderstandings about the First Amendment.

...

I agree with the attorney and election analyst Jeffrey Blehar about Taibbi's thread. Writing in National Review after last night's release, Blehar said the thread contained "few, if any, explosive revelations" for those who've followed the story closely. But don't tell that to Musk. He seemed particularly outraged that one of Taibbi's tweets described how the "Biden team" asked Twitter to delete a series of tweets, including ones that contained nude pictures of Hunter Biden.
Weird how none of this is new to David French -- and yet he's never before mentioned any of it himself, or even retweeted it.
He knows all. And I guess he also suppresses all.
This is, to my knowledge, the first time he's even responding to the government-pressure-on-a-private-actor-makes-that-private-actor-a-government-actor argument that has been front and center in this debate for three FUCKING years now.
He's just pretended this issue away until now.
When you see the weakness of his response, you'll understand why he chooses to pretend the issue doesn't exist, rather than address it.
Responding to a document where a Twitter employee indicated that Twitter had "handled" those posts, Musk tweeted, "If this isn't a violation of the Constitution's First Amendment, what is?" He followed up moments later with a slightly longer statement: "Twitter acting by itself to suppress free speech is not a 1st amendment violation, but acting under orders from the government to suppress free speech, with no judicial review, is."


Last night, on Fox News, Tucker Carlson also picked up the claim about the First Amendment. With characteristic breathless hyperbole, Carlson declared that the documents "show a systemic violation of the First Amendment, the largest example of that in modern history."

Musk and Carlson are both profoundly wrong; the documents released so far show no such thing. In October 2020, when the laptop story broke, Joe Biden was not president. The Democratic National Committee (which also asked for Twitter to review tweets) is not an arm of the government. It's a private political party. Twitter is not an arm of the government; it is a private company.
Joe Biden was running to become the head of government in October 2020 and would be so elected on November 7 (Cite?). He would become the head of government on January 7, four months later.
The DNC, meanwhile, is not merely some private club; it represents the Democrat Part, and the Democrat officials currently serving in the United States government. When the DNC was demanding that Twitter censor material damaging to its candidate to become head of government, the Democrat Party controlled the majority of seats in both chambers of Congress, and had a very live shot at also controlling the executive branch in four months.
This is like a mobster having a capo make a threat to a restaurant owner, and then later claiming, "What does this have to do with me? The capo made the threat, not me."
But for David French, the government acting through the agent and representative body of the party in power in Congress, as well as through the war council of the incoming president, is enough of a technical formality to make this non-governmental action.
Obviously he would make a completely different argument if Trump were making demands of Elon Musk.
Because Elon Musk isn't paying him to be their shyster.
This matters for a simple but profoundly important reason. The First Amendment regulates government conduct. It does not regulate private actors. The text of the amendment itself says that "Congress shall make no law ... abridging the freedom of speech." That restraint on Congress has since been extended to apply to the U.S. government at all levels--local, state, and federal.
If the president has one of his non-government-worker friends -- one of his "Wise Men," as they used to call the group of grayheads that clustered around a president -- to deliver his demands to Twitter, does that make it "non-governmental action," Davey? After all, the Wise Men he sent over to make his demand doesn't have a formal place in government. That satisfies your infantile devotion to technical formalism, right, c0cksucker?
Oh, and by the way, I guess Davey missed the part where The FBI told Twitter to be on the lookout for "Russian hacks and dumps" and specifically mentioned Hunter Biden as a target.
Is the FBI also "just a private party," Davey?
It's time for a patriots at The Bulwark and The Dispatch -- and at National Review -- to begin leaking their financial/donor files. We cannot go on like this. If these people will not tell us who is paying them to say these thing of their own free will, it is time for freedom-loving Americans to make this information available to the public.
Flashback: April 2022.