« Mid-Morning Art Thread
|
Main
|
Bill Kristol: Twitter Was Just Censoring "Pornographic" Pictures of Hunter Biden
David French: Yes, And Also, When Biden Demanded Twitter Censor This Story, He Wasn't President Yet, So This Wasn't "Government Action" Yet »
December 05, 2022
The Morning Rant: Impending Consumer Cash Crunch; "Pregnant People" in Tennessee; Student Loan Forbearance Unto Perpetuity; Climate Change Now Causing Slavery
If Something Can't Go On Forever, It Won't
People are really struggling in this era of double-digit inflation. (Your government is lying to you when it says inflation is only 8%. Look at your grocery bill and your utility bills.)
A great many of those who had been able to put some money away are finding that they now have to burn through their savings to make ends meet.
The personal savings of Americans have plunged to a shockingly low $626 billion — from $4.85 trillion in 2020 [MoneyWise – 11/25/2022]
Meanwhile, others are running up their credit cards to record high balances just to pay their bills and keep food on their tables.
Credit card debt in the U.S. hits all-time high of $930 billion [CNBC – 11/08/2022]
This is not sustainable. The economy cannot rely indefinitely on consumers with negative household cash flow to either liquidate their savings or borrow at high-interest rates just to get by each month.
This slow-moving economic calamity is one of those "gradually, then suddenly" scenarios. Consumers are gradually running out of access to cash to get by each month. When they start defaulting on their rent, utilities, mortgages, and other loan payments, we should have no reason to wonder why everything "suddenly" crashed.
*****
Are Men Getting Pregnant in Tennessee?
Even in deep red states, the woke insanity is marching through the institutions. The Tennessee Department of Health is actively promoting the idea that men get pregnant, by using the gender-bending term "pregnant people."
Why would anyone trust the health advice of anti-science activists who reject the biological fact that only women get pregnant?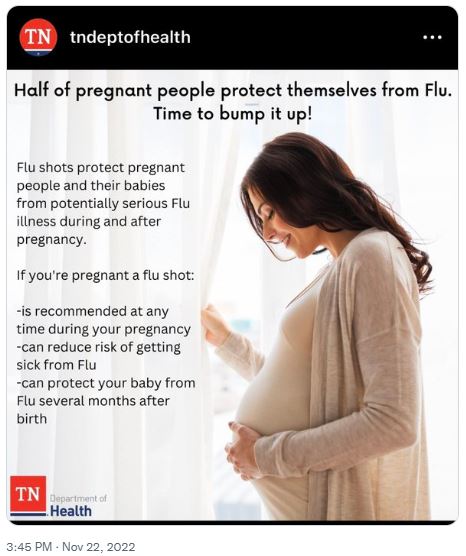 This nonsense at the Tennessee Dept of Health has been going on under Republican Governor Bill Lee's watch. He has been in office for four years, and he appoints the state Health Commissioner. The previous Health Commissioner resigned last spring, and Gov. Lee lavished praise on her upon her departure.
Perhaps this is a hopeful development…just a couple weeks ago Governor Lee appointed a new state Health Commissioner.
Gov. Bill Lee appoints Dr. Ralph Alvarado, a Kentucky state senator, as state health commissioner [11/22/2022]
I will try to contact Dr. Alvarado and ask if he supports this woke insanity, and if not, what is he going to do about it, since he now runs the department that is promoting this biological misinformation.
If any of you personally know Gov. Lee or Dr. Alvarado, please reach out to them and let me know what they tell you, and I will publish the response.
*****
Biden Extends Student Loan Repayment Moratorium Until 6/30/2023
It really doesn't matter that the courts have swatted down President Biden's plan to "forgive" up to $20,000 of student debt, since he has just extended the moratorium on repayment and interest accrual for another six months, until June 30, 2023.
The White House is extending the pause on student loan payments until as late as June 30, 2023, President Joe Biden said Tuesday, as his plan for wider student loan debt forgiveness remains tied up in the courts.
This is all being done under "emergency" Covid powers, which means that the payment freeze is now being extended until more than three years from when President Trump first (and foolishly) created the moratorium in March 2020.
The actual effect is that Biden has permanently waived all student debt repayment so long as he is President, with a power that does not exist in the Constitution.
Since nothing seems to happen in legislative channels anymore, it's a shame we can't find a conservative version of a "Hawaiian judge" to prohibit any issuance of new student loan debt until repayment begins on existing debt.
*****
Climate Change – Is There Anything It Can't Do?
'I was sold at the age of six': How climate change is driving modern slavery [The Telegraph – 11/17/2022]
There are over 100,00 slaves in Ghana. But the problem is really climate change.
It's a fate no country can afford; particularly not Ghana, where there are currently 133,000 people enslaved. We expect more to fall into slavery as the impacts of the climate catastrophe unfold.
The climatistas have a template they follow, and apparently the problem in Ghana isn't that there is slavery, the problem is that global warming will make slavery occur with "greater frequency" and be "more extreme."
Speaking of global warming and extreme weather, why has extreme heat in the American heartland diminished so much in the past several decades?
Tony Heller does amazing work debunking the climate hoax. Here are some interesting statistics from him that belie the nonsense that "our planet has a fever."
• Iowa has recorded 1,033 temperatures above 104 degrees since 1880, but none in the past 10 years. The vast majority were more than 60 years ago.
• Michigan has recorded 564 temperatures above 100 degrees since 1880, but none in the past 10 years. The vast majority were more than 60 years ago.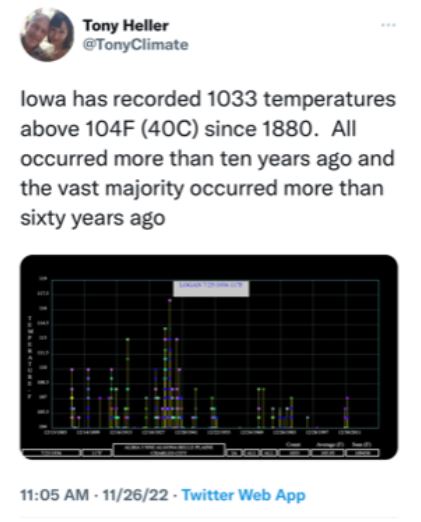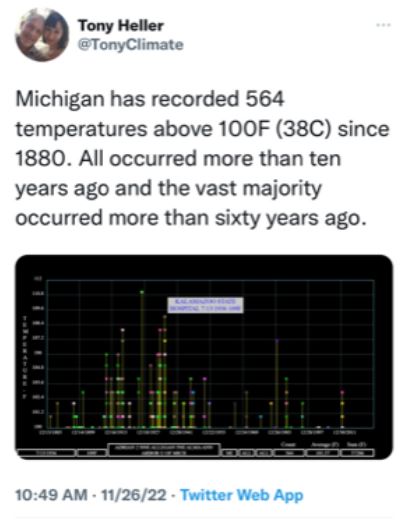 I'm sure the climate evangelists would have no trouble arguing that a decrease in incidents of extreme heat in the American heartland is completely consistent with global warming.
*****
Songs of the Season
I Heard The Bells on Christmas Day is my favorite traditional (e.g. "religious") Christmas song. Part of it is my patriotic pride - this is one of the few pre-1900 Christmas classics that is American. It was written by Henry Wadsworth Longfellow in 1863 while the Civil War was raging. (There are actually a few stanzas pertaining to the Civil War that are no longer sung.)
Above all else, this is the only traditional Christmas song I know of that acknowledges that many of us sometimes deal with doubt and despair at this beautiful time of year. "Yet in despair I bowed my head" is not typical of the lyrics you'll hear in Joy To The World, but those despondent words pave the way for the beautiful affirmation in the final stanza.
Here is a simple and beautiful version from Suzy Boggus, with Chet Atkins accompanying her on guitar.
I heard the bells on Christmas day
Their old familiar carols play
And wild and sweet, the words repeat
Of peace on Earth, good will to men

Yet in despair I bowed my head
There is no peace on Earth I said
For hate is strong, and mocks the song
Of peace on Earth, good will to men

Then pealed the bells more loud and deep
God is not dead, nor doth He sleep
The wrong shall fail, the right prevail
With peace on Earth, good will to men

allowfullscreen>
Have a blessed week remembering always that the wrong shall fail, the right prevail.
(buck.throckmorton at protonmail dot com)


posted by Buck Throckmorton at
11:00 AM
|
Access Comments