« December Rodeo
|
Main
|
Ace of Spades Pet Thread, December 10 »
December 10, 2022
Saturday Gardening, Puttering and Adventure Thread, Dec. 10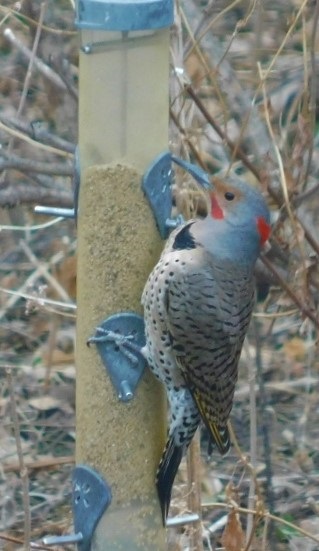 Happy Saturday! Are you and your garden prepared for winter? How about the local birds?
Something for the gardening thread that the hard-core birders may enjoy. My wife is one of those, and took some photos of a hybrid Northern Flicker. She wrote up a little description and everything...maybe for her posting on iNaturalist (which has some other photos of it.)

"Northern Flickers in the US come in two varieties: yellow-shafted in the east and red-shafted in the west. They are not separate species, they can and do interbreed regularly where their ranges cross, but they are easy to tell apart and birders like to count both separately.

This Northern Flicker has both red-shafted and yellow-shafted ancestors. It may be a hybrid or one of its parents may have passed on some red-shafted genes from farther back. Either way, there are a few noteworthy characteristics: this bird has both a red nap crescent *and* red mustaches ("pure" yellow-shafted males have black mustaches); his head and neck are mostly grey (yellow-shafted birds tend to be warmer tan/peach in the head & neck); and his breast also lacks the warm peachiness that yellow-shafted birds show. You can see a few yellow shafts in the closed wings & tail. From another angle, you'd be able to see that the undertail & underwings are both quite golden, lacking any red/orange tones.
Here's a nice article from David Sibley about intergrade flickers.

Grimmy
Fascinating. Thanks, Grimmy (and Grimmy's wife, of course!)

*
Edible Gardening/Putting Things By
From By-Tor:
Apple Butter

Apple butter is basically spiced applesauce, cooked for hours at low heat until the water evaporates out and it is a thick spread.

Most recipes start with making applesauce. I skip that by buying two #10 cans, one of applesauce and one of sliced apples. You could do all appesauce or all sliced apples. They are 6 lbs each, for $7 each, which is actually cheaper than fresh apples. And no work. Dump in a 10 quart stockpot and heat at medium to a low simmer.

Add:
3 Cups sugar
3 cups brown sugar
1 cup apple cider vinegar
3 tablespoons cinnamon
1/2 teaspoon ginger
1/2 ground cloves or allspice ( or both)
2 Tablespoons vanilla extract

Mix all, then dump all of it in a large crockpot. Cook at high for an hour or so, with the lid off, stirring frequently. Turn to low, still with lid off, and cook for 20 hours or until it is dark. Stir it every hour or so, if possible. It is done when it is dark brown, a thick paste, and a very concentrated flavor. Puree in a blender or using a stick blender.

Yes, it is a long cook, but your house will smell like apple spice the whole time.
I will post the results in a day or two. You can keep it in the fridge, freeze it, or water bath can it.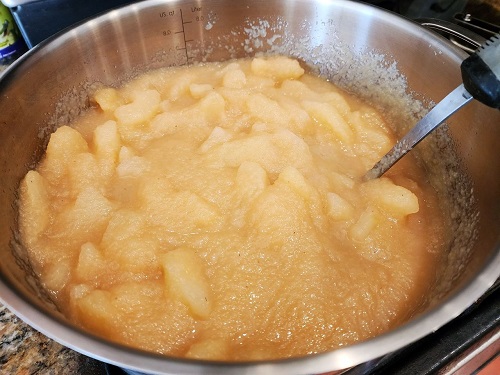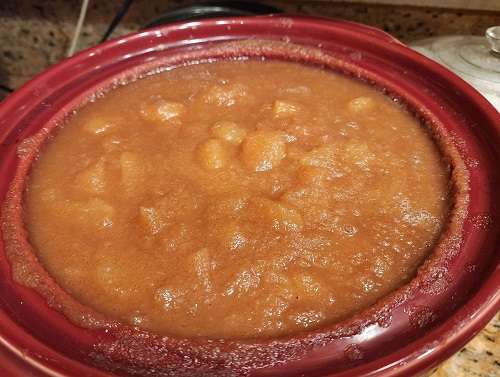 What started out as applesauce Saturday is now 7 pints of apple butter.

It is really easy, and pretty foolproof. I posted the recipe the other day.
Try it. If it is more than you need just cut the recipe in half.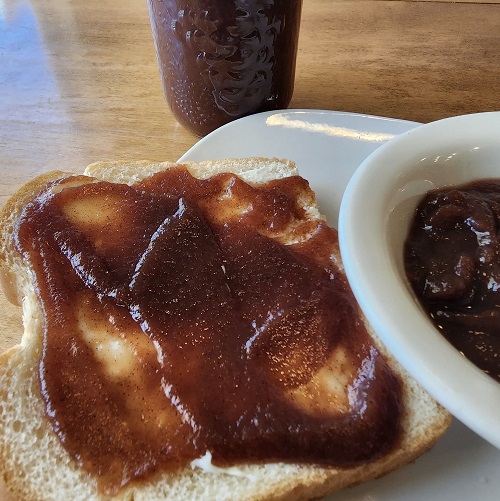 We had Pear Butter last week (Dec. 3). Earlier, Persimmon Butter (Oct. 29) and Pumpkin Butter (also Oct. 29). So now we have directions and/or recipes for four kinds of fruit butters!
Apple butter comment from By-Tor last week:
I haven't had any issues with the crock pot being on the several times I have done this. I suppose you could unplug it for awhile several times and re-plug it if it were a concern. It would just take a little longer. I plug mine in on the GFI circuit in my kitchen.
*
Ah, Nature
From Neal in Israel:
I sighted a very well disguised grasshopper in the garden several times this summer . Also, I was able to catch some shots of a dragonfly which came to rest on a bamboo rod in one of my flowerpots.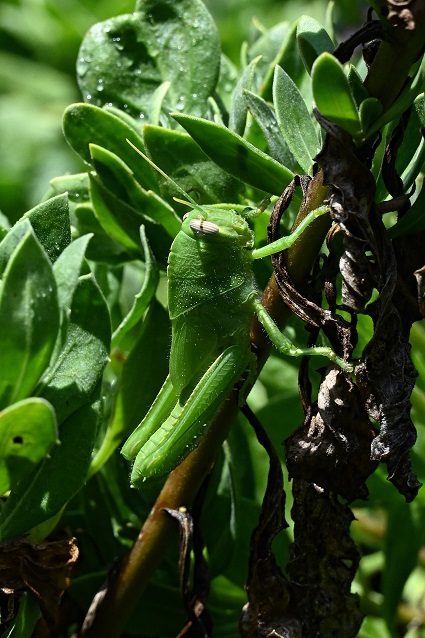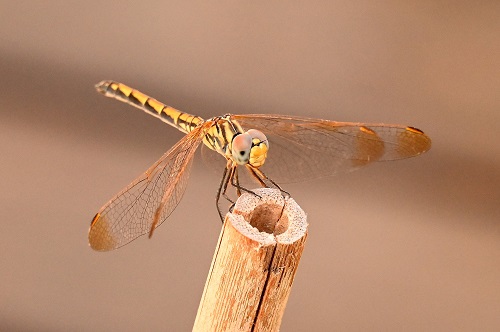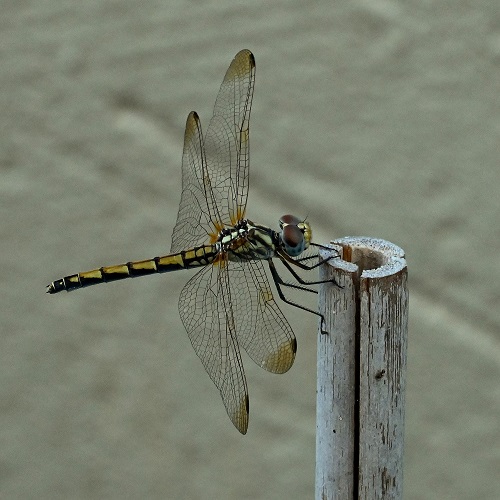 I had a hard time spotting the grasshopper in that second photo.
The dragonfly photos are exceptional.
Anybody have surviving insects in the garden this time of year?
*
Adventure
Pier at Pismo Beach. Need clams?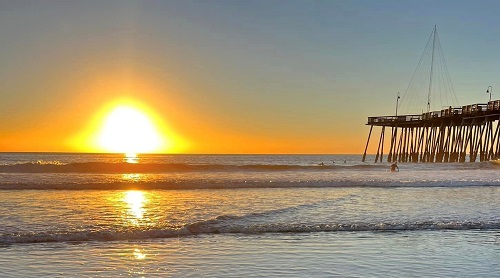 *
Gardens of The Horde

from Neal in Israel: Crinum and African Daisy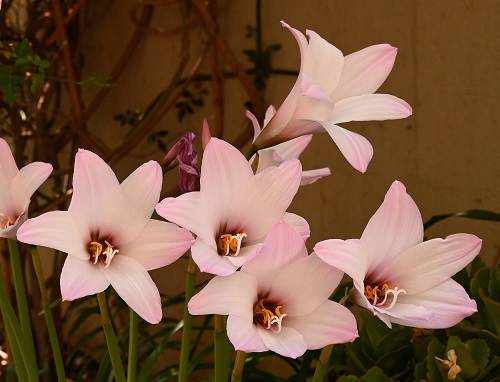 from Don in Kansas,
a Dianthus before a November hard frost: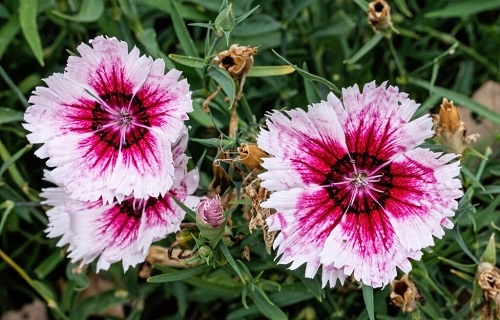 Hope everyone has a nice weekend.

If you would like to send photos, stories, links, etc. for the Saturday Gardening, Puttering and Adventure Thread, the address is:
ktinthegarden at g mail dot com
Remember to include the nic or name by which you wish to be known at AoSHQ, or let us know if you want to remain a lurker.

Week in Review
What has changed since last week's thread? Saturday Gardening, Puttering and Adventure Thread, Dec. 3
It includes flowers from Israel, a pear butter recipe, ghost apples, preventing and dealing with chimney fires, lovely art, and Gardens of The Horde.
You might want to check the comments received later during the weekend. And remember the comments on fireplace safety.

Any thoughts or questions?
I closed the comments on this post so you wouldn't get banned for commenting on a week-old post, but don't try it anyway.

posted by K.T. at
01:19 PM
|
Access Comments