« THE MORNING RANT: What Can We Do To Counter the Power of Billionaire Philanthropaths?
|
Main
|
Another Hoax: Treasury Finds No Evidence of Political Retribution in Audits of James Comey and Andrew McCabe »
December 02, 2022
Kanye West "Permanently Suspended" From Twitter After Posting Swastika Merged With Star of David
He also defended Balenciega and claimed that people were calling him antisemitic as code for calling him the n-word.
Avowed Nazi fanboy Kanye West was booted from Twitter again early Friday for "incitement to violence" after sharing a disturbing image of a swastika buried inside a Star of David.

The rapper -- now named Ye -- posted the disturbing image hours after he declared his love for Adolf Hitler and repeated anti-Semitic conspiracies in a deranged interview while wearing a black hood fully covering his face.

It also came after a tweetstorm in which he defended under-fire fashion house Balenciaga over its disturbing bondage-themed ads with young kids -- and dramatically claimed he once found NBA star Chris Paul in bed with his ex-wife, Kim Kardashian.

In one disturbing message, Ye, 45, told his 32.2 million followers: "I'm starting to think anti-Semitic means" the N-word.
I know some people want Twitter to be an absolutely free-speech site but an absolutely free-speech site means "a haven for Naziism" and havens for Naziism get zero advertising and quickly see most non-Nazis flee. Elon Musk isn't looking to see his $45 billion purchase go down to $15 million so that Nazis have another site.
Nazis will never have a large site filled with normies like Twitter. They'll have small sites of committed free speech absolutists -- plus Nazis -- like Gab. If Twitter allows Nazis to fly their Nazi flags, Twitter becomes Gab over six months and they just have two small sites with very few normies on it.
I'm not saying only Nazis are on Gab. But I am saying you have to be a very ideologically committed free speech absolutist to decide you're fine being on a site with Nazis, and most normies are not ideologically-committed free speech absolutists. Most normies are on social media to trade TikToks about shuffle dancing and cats, for crying out loud.
In other Kanye news:
Kanye West had been angling to buy Parler, I guess as a platform from which to agitate for his election as a president who's not afraid to say appreciative things about Hitler.
That deal has now been scuttled, supposedly by both sides.
Parler released a statement: "Parler will continue to pursue future opportunities for growth and the evolution of the platform for our vibrant community."
I saw another clip from the Alex Jones interview. "Ye" thought it would be a funny skit to deliver "a perfect answer to the ADL" by saying he had brought Benjamin Netanyahu with him, and then taking out a bottle of Yoo-Hoo and pretending that is Netanyahu, supplying him with a high-pitched puppet voice.
Alex Jones looks at the camera with a "Help me" look and says "I'm in the Twilight Zone right now."

Jones apparently tried to bail him out by insisting that Ye only liked the design/fashion choices of the Nazis, but Ye refused that off-ramp, insisting "I think there are a lotttttt of things I loooove about Hitler." Then he went back to his Netan-YooHoo puppet.
In fairness, I guess, he says he loves "the Zionists" in addition to loving Hitler.
Again, if you're being interviewed by Alex Jones, and he's the sane one, you've gone badly wrong.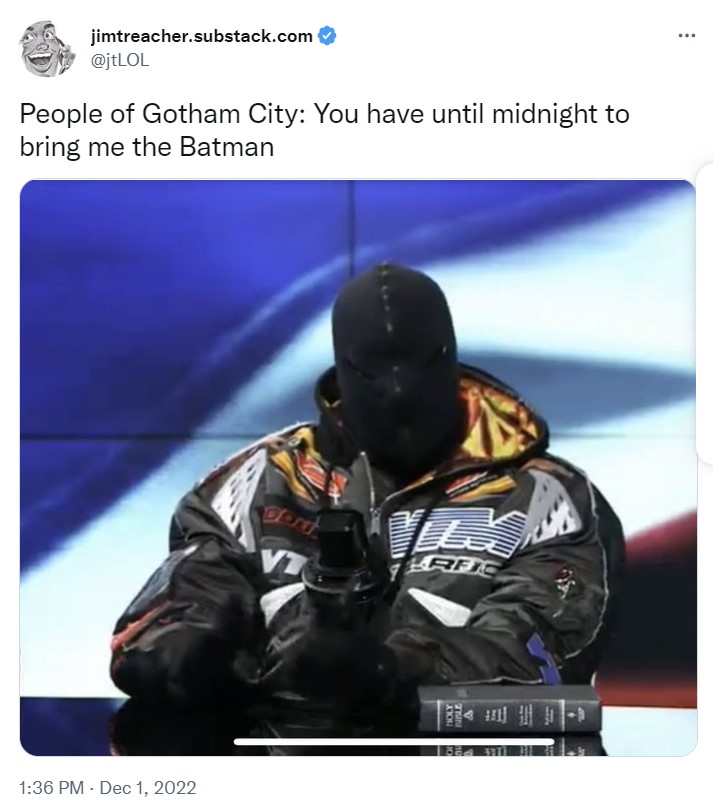 I know people are going to say "This isn't news! Stop posting things that are not news!" but seriously, give it a rest. This is obviously news. The constant pressure to cover up for Trump is getting f***ing intolerable. Just like it's intolerable for NeverTrumpers to make every story a hit piece about Trump, it's also intolerable for Trump supporters to demand that everyone has to pretend that news isn't news to avoid collateral damage to Trump.

posted by Ace at
11:58 AM
|
Access Comments