« Mid-Morning Art Thread
|
Main
|
Kanye West "Permanently Suspended" From Twitter After Posting Swastika Merged With Star of David »
December 02, 2022
THE MORNING RANT: What Can We Do To Counter the Power of Billionaire Philanthropaths?
I just stumbled on the word "philanthropath," and I am appropriating it for my ongoing use. It is the perfect word to describe the mega-rich global villains who are seeking to impose their evil agenda on us.
Now that we have a word that properly characterizes the sociopathy of activist billionaires, what can we do to stop them?
I don't have the answer. I'm not sure I even have any good ideas. At the end of this piece I'll offer up a few thoughts, but my objective in writing this is to get a conversation going among liberty-loving Americans.
Specifically, What can we do to defang the evil billionaire philanthropaths?
Look at how much evil is captured in this one WEF tweet quoting Klaus Schwab. He and his WEF buddies want to deny "humanity" such things as meat, property ownership, and carbon-based energy. And don't forget that Bill Gates and Mark Zuckerberg are among his WEF buddies.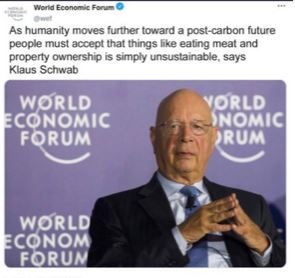 These sociopaths also believe that there are too many people on the planet, causing its destruction. Eating bugs and freezing in the dark is their "polite request" to save the planet. I am very afraid of their not-so-polite follow-up request to depopulate the planet.
There's nothing to add to this recent – and very terrifying - comment from a WEF adviser: "We just don't need the vast majority of the population in today's world."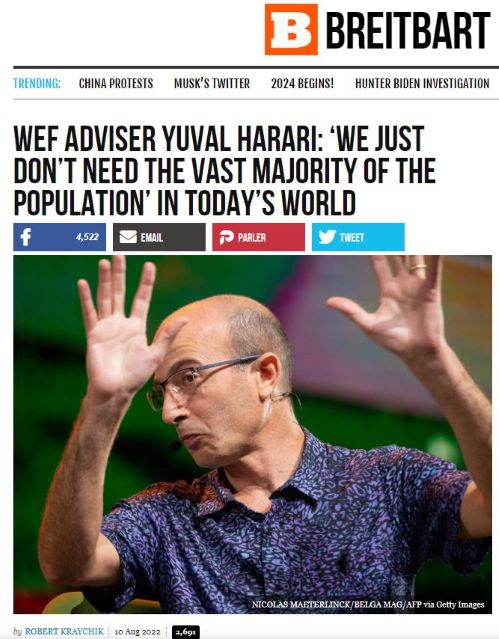 It didn't take long for our ruling class to move on from identifying "non-essential" businesses that must be shut down in the Covid era to now identifying "non-essential" people that shouldn't be on this planet at all.
What else are these philanthropaths up to?
A Bill Gates Venture Aims To Spray Dust Into The Atmosphere To Block The Sun. What Could Go Wrong? [Forbes - January 2021]
Mark Zuckerberg – 'We should explore universal basic incomes [WEF Forum – May 2017]
Jeff Bezos Commits $10 Billion to Address Climate Change [NY Times – Feb 2020]
What can we do? Here are some ideas, or maybe a combination of some of these. Obviously, most of these can't happen until we have a populist conservative President in the White House. For others, it might be necessary for a temporary alliance among the Democrat left and the MAGA right. Never forget that in WWII we had to ally with Stalin to beat Hitler. If we have to have a situational alliance with Liz Warren to neutralize the billionaire philanthropaths of Monster Tech, so be it.
Trustbusting: Breaking up Microsoft, Facebook and other monopoly companies might not reduce the existing wealth of Gates and Zuckerberg, but it would be a strike at their legacies, and it would send the message that we are finally striking back against the breeding ground of tech oligarchs.
Block Major Mergers & Acquisitions: I know the names of too many CEOs because of their prominence in advocating woke politics. As for their business prowess, most of them sneer at building a business, they simply want to grow by doing mergers and acquisitions. Deny it to them. The smaller their companies, the smaller their stock options, and the smaller their potential influence.
State Attorney Generals / Special Prosecutors / Lawfare: Because of "my principals," I used to be opposed to lawfare, but it isn't going away and it's constantly used against conservatives, so maybe it's time we use lawfare against our foes. Donald Trump and a whole bunch of people associated with him are under constant investigation as Democrats play out Laventriy Beria's famous line "Show me the man and I'll show you the crime." Maybe it's our turn. We know who the evil philanthropaths are, so maybe we just need to investigate them to find out what crimes we can charge them with.
Release the Epstein Records: We already know that a lot of prominent people such as Bill Clinton, Prince Andrew, and Bill Gates spent a great deal of time with Jeffrey Epstein at his various properties. Whatever awfulness is in the Epstein records, it would remove some prominent people from public life. By the way, if I were a 2nd tier 2024 Presidential candidate of either party, I would make it a sworn campaign promise to unseal and release the Epstein records. Across the political spectrum, people are outraged and disgusted that Epstein's clients are being protected. This promise would get attention and help the candidate get traction.
One thing I remain opposed to is confiscating the philanthropaths' wealth. At least for now. History has shown us that when government tries to tax the super-wealthy via inheritance tax or other means, it ends up punishing innocent hard-working people, such as farmers who have to sell their land to pay the inheritance tax.
But if I am chosen for removal from the planet by the WEF, or if Bill Gates tries to block out the sunlight that keeps us all alive, I could quickly become receptive to any action to stop these madmen. My principles adapt quickly when dealing with people who want me and my family dead.
So let's get the discussion going. What can we do to stop the philanthropaths?
P.S. - It goes without saying that we will not be getting any ideas from "conservative" think tanks or establishment publications, since they receive much of their funding from various philanthropaths who are paying to receive favorable, right-of-center media coverage. You are more likely to read "The Conservative Case for Command and Control of the Global Economy" from Conservative, Inc. than you are to see a think piece from them on how to stop Klaus Schwab's diabolical agenda.
(buck.throckmorton at protonmail dot com)


posted by Buck Throckmorton at
11:00 AM
|
Access Comments