« Saturday Gardening, Puttering and Adventure Thread, Nov. 26
|
Main
|
Weekend Hobby, Craft and Bodging Thread »
December 03, 2022
Ace of Spades Pet Thread, December 3
Are your pets in the holiday spirit yet?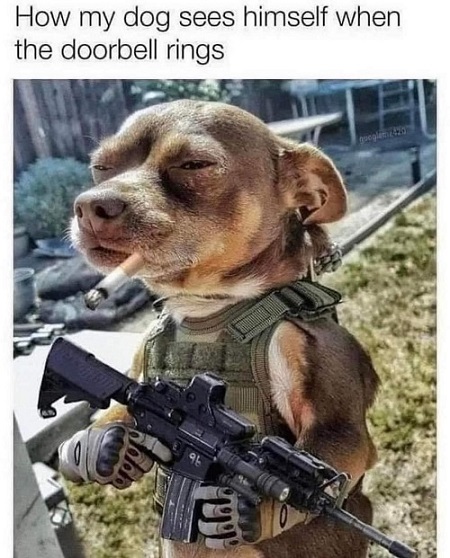 Courtesy Sarah
* * *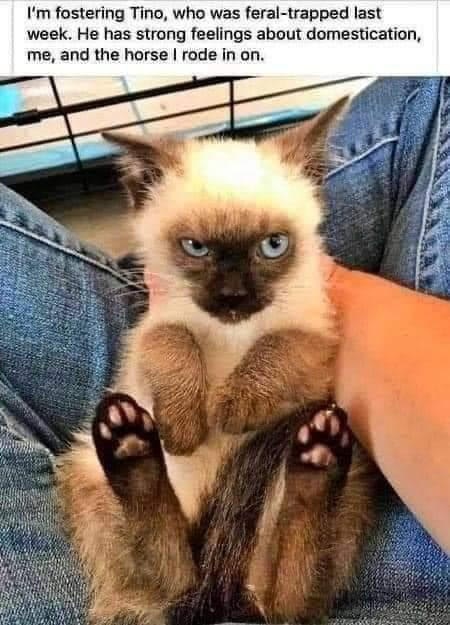 Courtesy Kindltot
* * *
Good afternoon and welcome to the almost world famous Ace of Spades Pet Thread. Thanks for stopping by.
Would you like a treat?
Let's focus on the critters and leave the world of politics and current events outside today. That can wait.
* * *
Getting Ready
Cleaning house
* * *
Learning to play
* * *
Spiritual preparation
* * *
Preparation for a special job
* * *
Personal note:
When our friend died in 2018, we inherited his little Chihuahua, Son. He had some difficulty adapting and tended to be a one-person dog like many Chihuahuas, but he was loved. He became blind and had to have an eye and several of his teeth removed. He actually seemed to do better with people as he became more disabled. He still pranced around and interacted with the other dogs. But with one eye gone and an ugly eye, along with a tongue that perpetually stuck out of the side of his mouth, he looked sort of shocking.
The day before he died, he spent more time walking around outdoors than usual. In the evening, his back legs collapsed and he lost control of his bladder. He eventually struggle back to his feet, but died in his sleep.
We see in our mind's eye his Daddy welcoming him into his arms.
Saying goodbye to special dogs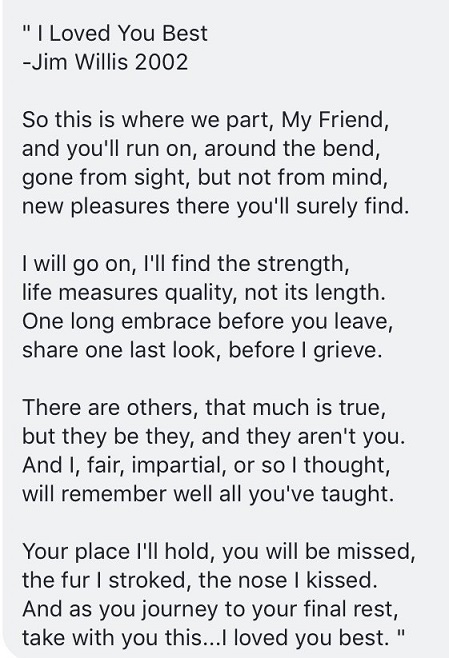 Meet The PetMorons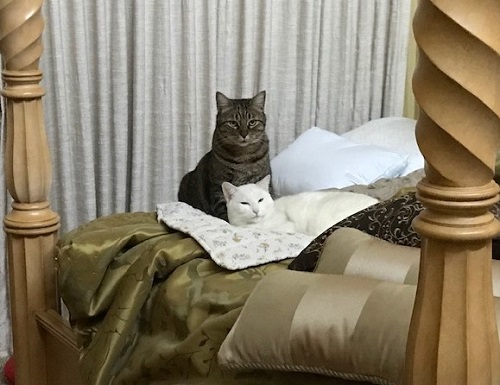 Bogie and Bacall originally posted to the Pet Thread when they were 12 weeks old. This is now my favorite photo I took last week. They are now . 4 1/2 years old.

Polynikes
Are you sure that they are pampered enough?
* * *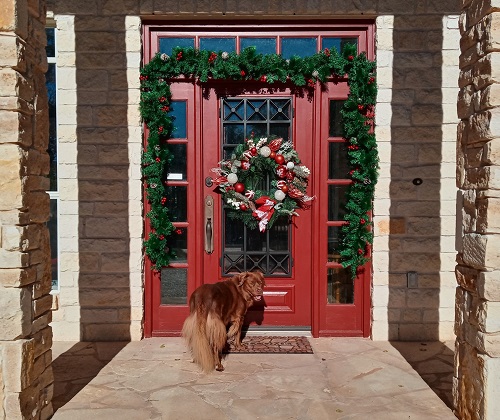 Hi, KT--

Thanks for taking over the pet thread. You are doing a great job--plus a stellar job at the other threads you manage. We appreciate all of the COBs so much.

I am a fan of the weekend threads and comment occasionally as Art Rondelet of Malmsey. (Despite the nic, I am a female by birth and identity.) Our rescue dog, Luna, was on a previous pet thread shortly after we adopted her last year. She has now settled in and is a better dog that we imagined she could be.

Here she is welcoming in the Christmas season. My Christmas wish for the Horde is that everyone can find someone--whether human or animal--who greets them with the happiness and affection that Luna greets us with every morning. She is truly a blessing.
Luna looks like a blessing. And thank you for bringing Christmas blessings and cheer to us here at the Pet Thread!
* * *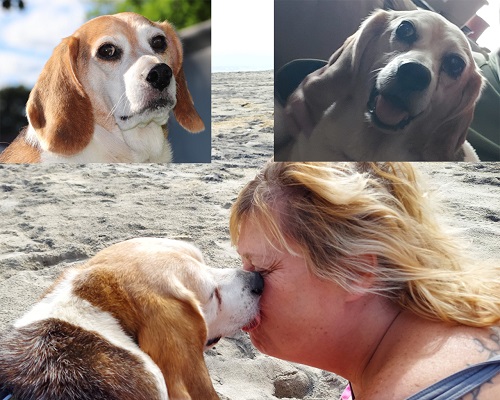 Hello K.T.,

Still lurking on the blog...especially the wonderful Pet Thread! Again I write with sad news, as we just had to put our beloved 14 year old Beagle named Molly down. Two losses in one year is extremely heartbreaking.

Molly came to us at 2 years of age from a pet rescue. We were initially going to foster her, but she knew she had her forever home as soon as she walked through the door. She was smart, sassy and VERY stubborn...just like my wife...which is why they got along so well, I believe. She knew nothing but love, and gave the same. She had me quite well trained...she LOVED when I spoon fed her ice cream, and she knew that whenever mom was chewing, so was she. She, like our boy Salem who we lost in March, loved the beach...not so much the water, just the sand. She loved adventures, whether it was a ride to a faraway place, the nearest amusement park, or just a walk in the woods.

So, like MisHum did for me when Salem passed, my wife would surely be touched if you could put Molly's picture up on an upcoming Pet Thread.


As always, love the blog, and keep up the great work!

Thanks! Much love to all!

Phil and Reene
Molly looks like a wonderful companion. So sorry that you have lost two great friends this year.
* * *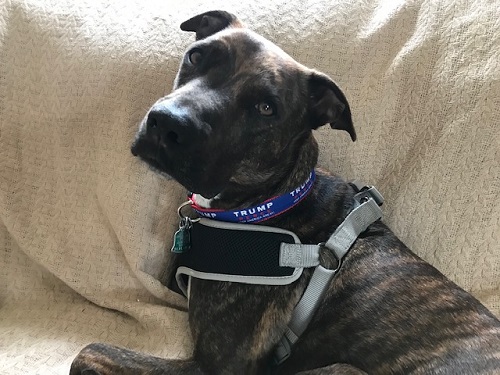 Good morning ! This is my bud, Rebel the Dog. He's an American Staffordshire Terrier, and he'll be 8 years old this January. He's a Very Good Boy and I'm Very Proud of him. He loves to visit my Grandsons , going on truck rides, patrolling the neighborhood, barking, running and playing with his friends at Little River Pet Resort or at Laura's House.

However, we don't like squirrels (SQ's), Creatures of the Wild or unvetted canines that may stroll through the neighborhood!

I'm an everyday lurker and sometimes commenter who goes by Rick554! Thanks for the Pet Thread and showcasing some of GODs greatest Pals! And I thank the Good Lord for letting me take care of one of his Dogs. All the best!
Rick554 and Rebel the Dog!
* * *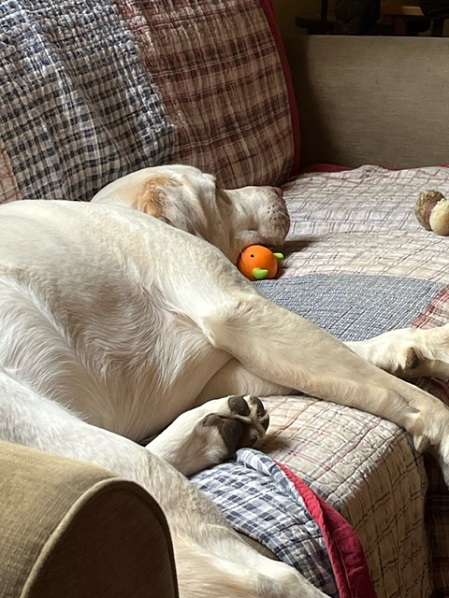 Possession is Math

Winston protects the orange squeaky from Jack.

John
* * *

What a wonderful collection of pet stories today. Thank you each and everyone for sharing your pets with us.
If you would like to send pet and/or animal stories, links, etc. for the Ace of Spades Pet Thread, the address is:

petmorons at protonmail dot com

Remember to include the nic by which you wish to be known when you comment at AoSHQ, or let us know if you want to remain a lurker.
Until next Saturday, have a great week!
* * *

If you start feeling nostalgic, here a link to last week's Pet Thread, the Ace of Spades Pet Thread, Thanksgiving Weekend Some special PetMoron stories and photos there. And pets in the theater.
I closed the comments on this post so you wouldn't get banned for commenting on a week-old post, but don't try it anyway.


posted by K.T. at
03:26 PM
|
Access Comments