« The Morning Rant: Minimalist Edition
|
Main
|
Luxury Fashion Brand "Balenciaga" Is All-In on P3do Marketing »
November 22, 2022
Madam Kinzinger Calls For People To Tone Down Their Rhetoric... Then Threatens Violence Against a Twitter User Named "Catturd" For Posting a Silly Cartoon He Doesn't Like
Oh, and he also called "Catturd" "evil." But then, the Manlet Brainlet Crybaby Bitch Kinzinger calls everyone on the right that.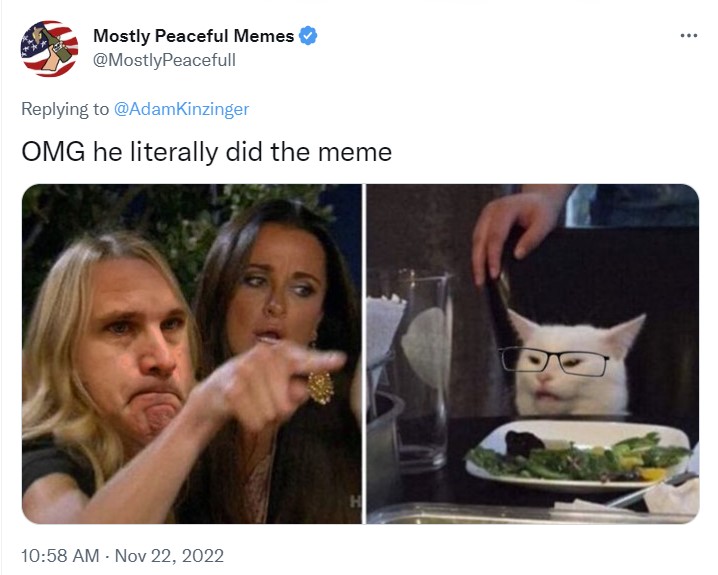 It is ironic that the communications tool that brought Trump to the masses and enabled his own worst characteristics has done a similar thing for Kinzinger, who is a Twitter incontinent. As with Trump--even more so, actually--he simply cannot regulate his desire to express every passing thought and share it with the world.

Yes, Kinzinger is worse on Twitter than Trump ever was.
Almost all of NeverTrump is. They attack him for their own vices. The thing they despise in themselves, they attack in him.
They sit on Twitter all day "Owning the Cons" in low-brow, thuggish ways and then attack Trump for using Twitter to "own the libs" in a low-brow style. Maybe they tell themselves "This is a parody of Trump and his allies!," but they're still all doing the exact same thing they claim is so degenerate and base.
At some point it stops being irony, and starts just being "I."
[Kinzinger] has revealed himself to be shallow, mean, and of worse character than his nemesis. As far as I know Trump has never threatened anyone on Twitter. Nor, contra Kinzinger, has he actually celebrated violence. I have read Trump's supposedly violence-inspiring Tweets and they are as anodyne as you can find on Twitter. Nothing there. I wrote about this yesterday, in fact.

But Kinzinger? He is actually a very nasty character on Twitter:
Check out the link to see Kinzinger, just three hours before this literal, not metaphorical, threat of violence piously scolding people in his typical literal, not metaphorical cocksucker way to tone down their rhetoric and join together in this Season of Thanksgiving.
Three hours. Three.
And also check the link to see him having used the same Tourette's Tic of a malediction -- "You're evil, just evil" -- against Marjorie Taylor Greene on November 18th, just four days ago.
This is NeverTrump all over -- piously calling for everyone to repair our frayed and strained civil discourse, and then attacking people as "evil" and "fascists" and sometimes threatening them.
And look, like I said, my whenever I see Kinzinger's trembling Load-Bearing Lips all I can see and hear is:

posted by Ace at
12:16 PM
|
Access Comments