« Daily Tech News 18 November 2022
|
Main
|
Mid-Morning Art Thread »
November 18, 2022
The Morning Report — 11/18/22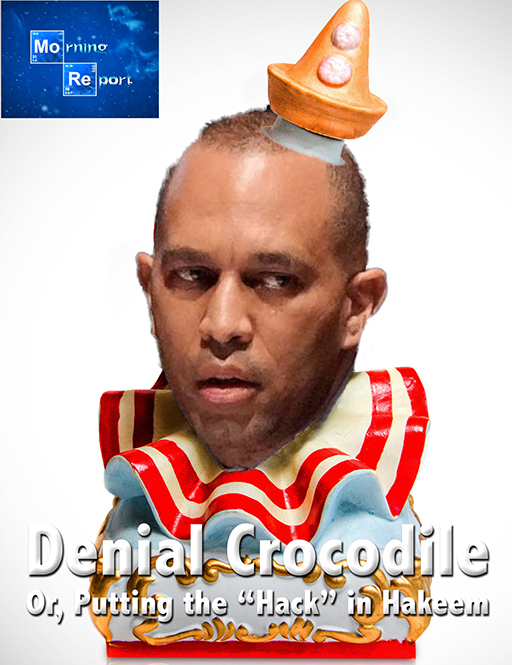 Good morning, kids. The weekend is here and honestly, I have no idea what the hell I want to write about. I don't want to diminish the importance of the issue of our legally-rigged election system, but at this point what more is there to say about it? The kabuki-bukkake antics of the GOP miraculously retaking the House in the wake of the aforementioned rigging is equally non-thrilling. Wow. More hearings into the Bidens and Fauci and the FBI which will go nowhere, or else result in wrist-slaps if not book deals and CNN analyst gigs as punishment – for us, not the criminals. And as I stated yesterday, Trump vs. DeSantis is dead with me until further notice. Not until the angle is something substantive and not propaganda machine-driven demoralization pieces.
There are bright spots, such as the averting of a potential World War 3-opening salvo showing that missiles that landed on Polish soil were not fired from Russia, as everyone and his uncle who are hot and horny to light up their Raytheon futures has been shrieking but actually came from Ukraine. Yes, that Ukraine where Joey Sponge-Brain Shits-Pants and his bastard crack addict son are up to their bloodshot eyeballs in graft along with the man everyone thinks is the second coming of Churchill, Zelensky but is in fact getting fat and happy on billions in US aid money. I'm no Putin fan at all, but when the locus of the destruction of this nation and indeed the peace and prosperity that was the 75-year period of the pax Americana – that is, the Democrat Party, the Bush-Cheney wing, the EU and the WEF – are all lined up against him, you'd have to be in complete denial not to at least ask yourself why?
But I digress. Here is one bright spot in the sea of darkness and despair:
After being elected to the school board on Nov. 8, six members endorsed by the parental rights in education group Moms for Liberty banned Critical Race Theory (CRT) and set up a process to eliminate sexually explicit books at their first meeting.

On Tuesday, the Berkeley County School Board in South Carolina passed a resolution 6-2 that prohibits CRT from being taught in the classroom and voted 8-0 to form a committee to review books that have been flagged for sexually explicit content. The board also voted 6-3 to fire the school district's superintendent Deon Jackson and the district's lawyer Tiffany Richardson. . .

. . . At the meeting, the board defined CRT using the Goldwater Institute's definition saying it is "a perspective on modern life — a worldview — that believes all the events and ideas around us in politics, education, entertainment and the media, the workplace and beyond must be explained in terms of racial identities."
It does a heart good to read this as well as to know that it's not just a lone example. Bit by bit, school boards and community boards are changing hands. The mass crime against humanity that was the panic-demic response unintentionally did some good, in letting parents sneak a peek over their kids' shoulders during remote class sessions only to discover that they were being brainwashed with anti-American agitprop and porn-tinged lessons in every single subject.
That's how Virginia was able to eject Terry McAuliffe and much of (the majority?) of Virginia's legislature. Virginia's proximity to Sodom-on-the-Potomac made its turning blue seemingly inevitable and permanent. And yet we now have Glenn Youngkin, Winsome Sears and others fighting back and wresting control. Funny though how the reaction from "diversity, inclusion, equity" or D-I-E crowd is anything but. The cries of "book banning" and "censorship" would be risible were it not for the fact that educators and lecturers who do not toe the approved line are to be silenced, fired, blacklisted, or worse. And that "worse" was petitioning the junta to criminalize parents as terrorists who stood up and spoke out at school board meetings, which as we all know the junta eagerly obliged.
The Left is all about peaceful coexistence. That is, with us buried in a mass grave and them micturating on it as they sing (shriek) a rousing chorus of "Kumbaya" and "Imagine." Let's face facts. We are in a generational struggle, here. You can look at the coming of Trump, and even Reagan, as one-off flukes or speed bumps in the inevitable decline and fall of America or as opening salvos and rallying cries. At 62, and considering everything we're up against, the odds of me seeing an American rebirth in my lifetime are slim to none. In fact, I fear things are going to get much worse before they get better. But you have to push on and push back no matter the consequences. There really is no choice. School boards, community boards or even having the stones to tell people at work who and what you are and what you believe, no matter the consequences.
As the Left is always fond of saying, "Do it for the children!"
Have a good weekend.
CIVIL WAR 2.0: J-6 FBI FALSE FLAG "RIOT" & AFTERMATH, LEFTIST PERSECUTIONS, DEMOCRAT PUTSCH, AMERICAN DISSOLUTION
NOTE: The opinions expressed in the links may or may not reflect my own. I include them because of their relevance to the discussion of a particular issue.
ALSO: The Morning Report is cross-posted at CutJibNewsletter.com if you want to continue the conversation all day.
Follow us on Twitter: @CutJibNews
Follow us on Instagram: @Cutjibnewsletter

posted by J.J. Sefton at
07:39 AM
|
Access Comments