« The Morning Report — 11/18/22
|
Main
|
THE MORNING RANT: Ted Cruz Hit By Thrown Missile, Media Snarks and Reminds Readers that Cruz Is Hated and Had It Coming »
November 18, 2022
Mid-Morning Art Thread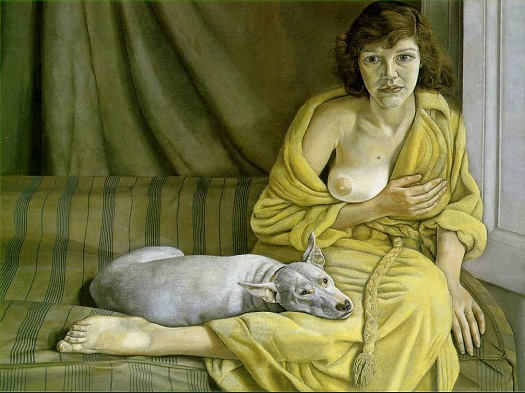 Girl With A White Dog
Lucian Freud
[By request of "Duncanthrax," or as some know him, Duncanthrax The Bellicose]
DUNCANTHRAX THE BELLICOSE

Duncanthrax the Bellicose was the first king of the Flathead Dynasty, ruling the kingdom of Quendor from 659 until 688 GUE. He took the throne from Zilbo III during a palace revolt on the last day of 659. Although terribly ruthless, most of the deeds of his outlandish bellicosity should not be attributed to the king, but rather to Drespo Molmocker, who impersonated the king from nearly the first day of his reign until 668. The deeds done by this Pseudo-Duncanthrax will not be referred to in this entry.

Duncanthrax was short plump little man, not much more than four feet tall, who frequently dressed in heavy red velvet robe, fancifully embroidered, with yellow felt slippers. The man's hair was flaming red, as were his bushy eyebrows, which nearly met in the center of his forehead above a bulbous nose. His cheeks and lips were cherry red. But for the cold gleam in his dark eyes, it was the face of a cherub. An unpleasant cherub. When he had been commissioned as part of the Great Labor, all of the fat was gone, his red hair was matted and tangled and dirty, and his gaze was just as lifeless as the other workers.
I have met him, and the physical description is shockingly accurate.

posted by CBD at
09:30 AM
|
Access Comments