« Mid-Morning Art Thread
|
Main
|
Awww: Media "News" "Workers" and "Journalists" Brace for Layoffs »
November 18, 2022
THE MORNING RANT: Ted Cruz Hit By Thrown Missile, Media Snarks and Reminds Readers that Cruz Is Hated and Had It Coming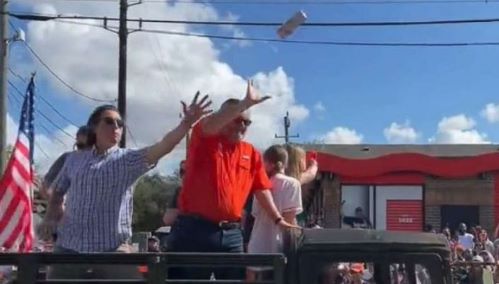 Here's another example of the ruling class adage that "Right wing speech is violence. Left wing violence is speech."
You probably remember the media's reaction when Nancy Pelosi's husband was assaulted by a mentally ill nudist in San Francisco. That was just a couple weeks ago, and Republican voters were blamed because of our "angry tone."
So when Ted Cruz was hit by a beer can thrown at him during a parade earlier this month, did the media react with outrage at a member of Congress being assaulted? Did they demand that Democrats tone down their angry messaging?
Of course not. They snarked and reminded readers that Ted Cruz is so hated that he probably had it coming.
From Politico, it was the latest incident of public backlash against [Ted Cruz] in recent weeks."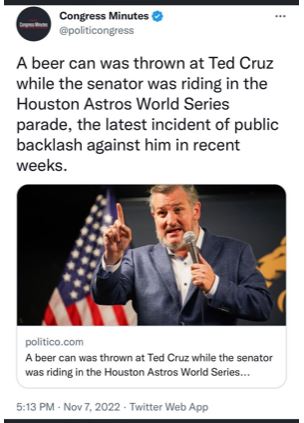 Of course, assaulting a Republican member of Congress is simply a "public backlash."
How about CBS' coverage? They pretty much agree with Politico that Cruz deserved it.
Man arrested for throwing beer can at Ted Cruz during Astros parade [CBS News]
Houston police tweeted that a 33-year-old man struck the senator from Texas with a beer can, who was on a float in the parade. The beer can struck the senator in the chest/neck area, but he did not require medical attention, authorities said.
Other reports confirmed that the missile was an unopened 12-ounce can.
Since the can didn't hit Cruz in the face or knock him down, it's apparently OK for CBS to celebrate that there were Cruz haters in the crowd:
There was video posted on social media that showed a can being thrown at Cruz, with boos coming from the parade crowd, although police did not say if that was the same incident.
So there might have been multiple cans thrown at Cruz? That really sounds like a violent climate. Why might there be such hatred? Maybe it's because the media itself feels the need to stress how much Cruz should be hated. How is the following necessary for a story about a member of Congress being assaulted in Houston?
When Cruz attended Game 4 of the ALCS in New York, Yankee fans booed and flipped him off.
Don't bother looking anywhere in that story about how all the vitriol directed at Cruz is a bad thing, or how it might have inspired subsequent violence against him. CBS just wants you to know that Cruz is widely hated.
From that you can simply infer then that he deserved what he got for causing people to hate him so.
Senator Cruz got the last word, however, mocking his assailant.
Cruz retweeted that video and thanked police for responding. "I'm also thankful that the clown who threw his White Claw had a noodle for an arm," he added.
(buck.throckmorton at protonmail dot com)


posted by Buck Throckmorton at
11:00 AM
|
Access Comments