« "The Email Caste's Last Stand"
|
Main
|
Midnight Sonata for Elephant Cafe »
November 10, 2022
Quick Hits: New Nose Is Good Nose
A new nose was grown on a patient's forearm, to be later grafted to his face.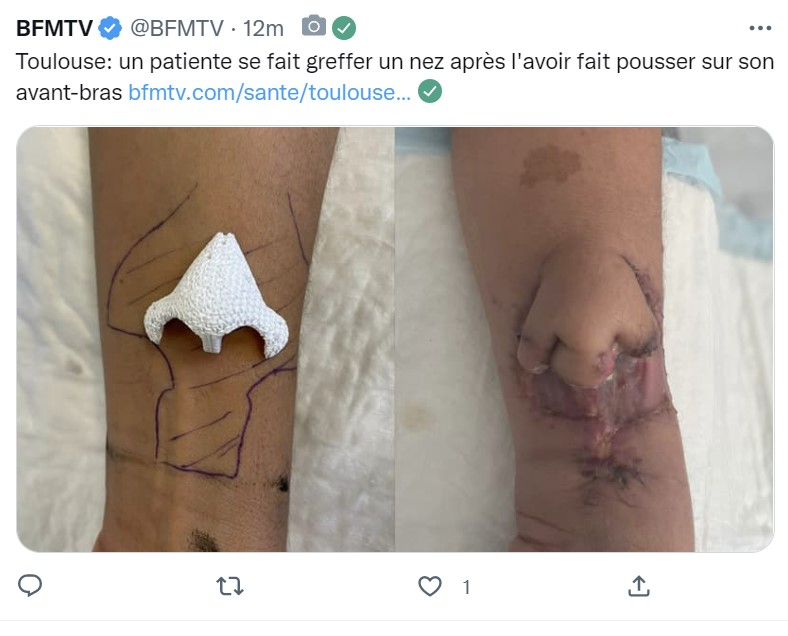 [Translation] Toulouse: The area of the body
which evolved to be made into artificial penises
was used as a nose incubator
The biomaterial was first implanted in his forearm for better revascularization.

It is an unprecedented intervention. The nose of a patient from the Toulouse University Hospital has been completely reconstructed from a synthetic graft previously implanted in her forearm, the Toulouse Cancer University Institute announced in a press release on Monday November 7.

In 2013, she was treated for nasal cavity cancer. A treatment which had made him lose "a large part of his nose as well as the front part of his palate", indicated the hospital. After four years without a nose, the ENT and cervico-facial surgery teams at the Toulouse University Hospital offered him "a bespoke nasal reconstruction using biomaterial" using a 3D printer.
Nurse cuts off man's foot without permission for... taxidermy exhibit.
A Wisconsin hospice nurse has been charged with amputating the frostbitten foot of a dying man without his permission in order to preserve it for a sick display in her family's taxidermy shop.

Mary K. Brown, 38, allegedly hacked off the victim's right foot -- without his OK or a doctor's permission on May 27 -- and told a fellow nurse she intended to exhibit it with a sign saying "wear your boots, kids," according to a criminal complaint obtained by WQOW.

The victim had been admitted to the Valley Health and Rehab Center in Spring Valley in March with severe frostbite on both of his feet.

By the end of May, doctors were sure that he was close to dying, and witnesses said his foot was necrotic and only held to the rest of his leg by dead skin and tendons, according to the complaint.

A nurse who was present when Brown allegedly chopped off the man's foot on May 27 reported that the patient clenched her hand tightly and was moaning during the procedure, the complaint states.
The only thing that would make this more Current Year is if she then filmed a Tik Tok of herself sobbing heroically over the severed foot.
Finish woman marries her stepbrother.
Matilda Eriksson said she never considered getting married until she met Samuli, 27, who became her stepbrother after her mom married his father in 2019.

"I responded right away with passion," Ms. Eriksson told Yahoo News of their meeting at her mom's 50th birthday party.
Yes, that's called "the thrill of the forbidden."
Eriksson said she Googled if there could be any possible legal implications they would face in the future.

"First we found some false, old information that it would be illegal, but gladly one of my sister's closest friends is a law student and she told us that there would be no problem if we wanted to get married," she said.
Well at least they really did their homework before marrying a close family member.
"The Second Gentlemen" is scheming to get Democrats to rally around his wretched wife if Biden doesn't run again.
Vice President Kamala Harris's husband, Second Gentleman Doug Emhoff, is reportedly rallying Democrats around her for a 2024 presidential run should President Joe Biden bow out.

According to Politico, Emhoff is telling Democrats that the party ought to collectively back Harris if Biden decides not to seek a second term following Tuesday evening's midterm elections.

Democrats, worried about Harris's unpopularity with their base and swing voters, are not necessarily on board with such a plan.
[Ellen] Weaver borrowed the sloganeering and buzzwords of right-wing activist groups, such as the 1776 Project and Moms for Liberty--which, as my colleague Paige Williams recently reported, have turned public schools into the national stage of a manufactured culture war over critical race theory (C.R.T.), L.G.B.T.Q. classroom materials, the sexual "grooming" of children, and other vehicles of "woke leftist" indoctrination, as well as lingering resentment over covid-19 lockdowns. During the debate, Weaver railed against C.R.T. and the "pornography" supposedly proliferating in schools, and associated Ellis with a "far-left, union-driven agenda." (Incidentally, South Carolina's public employees are prohibited from engaging in collective bargaining.) "They believe in pronoun politics. They believe parents are domestic terrorists, much like Merrick Garland," Weaver said.
Michael Shellenberger points out that Biden is blaming oil companies for high gas prices -- just days after shouting "There is no more drilling!" to an environmental activist at a rally.
Disney unveils its first "plus sized" princess in film about body dysmorphia. Except... it's not about dysmorphia. She thinks she's overweight and she is. What's the psychological condition where you retain the ability to accurately gauge your metabolic health?
Also, it's a typical Disney thing: It's a short film. They're not committing a full theatrical film budget to this. Just the minimum outlay necessary to get the praise for the Twitter virtue signal.
"Scooter" Kinzinger: I'm so proud my organization elected Democrats! And I'm a True Republican! Send me more monies!
Of course, while Scooter hates Donald Trump, he's also no fan of Ron DeSantis...

Another network TV show provides and undisclosed in-kind donation to the DNC, creating a nasty image about Ron DeSantis -- he forced a man to perform oral sex on him -- and then revealing the man making that claim is a gay Donald Trump supporter who is lying to help Trump. Thereby also smearing Trump.
As Deb Heine pointed out: Weird how no Democrats were involved in these fake sexual assault smears, as actually occurs in real life.

posted by Ace at
06:45 PM
|
Access Comments