« Exit Polls Begin Dropping: 73% of Voters Either Dissatisfied or Angry at Biden Record; 66% Don't Want Him to Run Again
|
Main
|
DeSantis Wins by 18.5 Points, Rubio by 16; GOP Flips FOUR Florida House Seats »
November 08, 2022
CNN: According to Exit Polls, Democracy Was Not On the Ballot
John Solomon: "This is a Repudiation Election"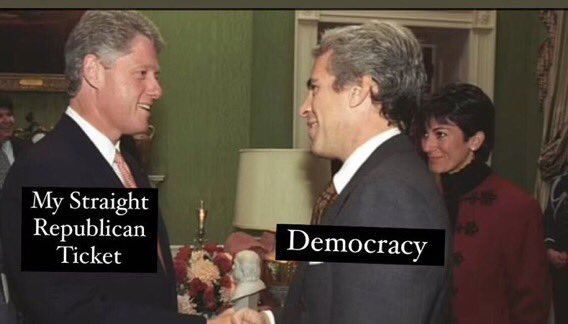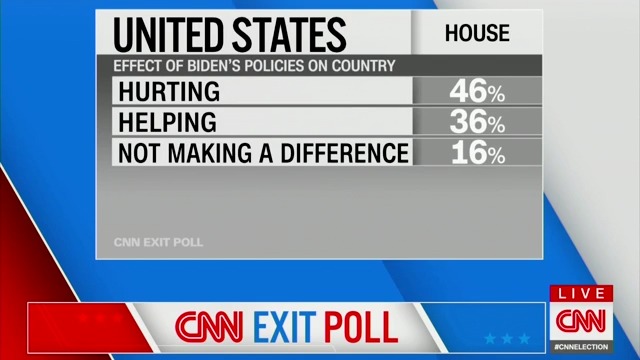 Brent Scher @BrentScher

Exit polls are the worst, BUT the exit polls they just aired on CNN are absolutely brutal.

Just 5% satisfied with the direction of the country!
That's actually 5% enthusiastic about how things are going, and 20% satisfied.
25% satisfied.
You know what you call something with a 25% satisfaction rate?
That's right -- garrett's girlfriend.
Eli Klein
@TheEliKlein




Woah, CNN's exit polls are looking disastrous for Democrats and they all know it.
Wayne DuPree (Shadow-Banned) 🇺🇸
@WayneDupreeShow


Exit polls:

75% of voters claim condition of nation's economy is poor

78% of voters says they've experienced severe hardship with inflation

61% of voters claim gas prices have hurt their daily lives
"Well that's just nitpicking, innit it?" -- Nigel Tufnel
Predictions of a threat of White Supremacy, and/or a collapse of enthusiasm among black and hispanic voters, might have been accurate:
Siddharth Khurana @SidKhurana3607

1h
CNN exit poll on race:

White: 76%
Black: 9%
Latino: 10%
Asian: 2%
Native: 1%
Other: 2%

Significantly whiter electorate than in 2020 if these exit polls are accurate
Siddharth Khurana @SidKhurana3607

Compared to actual US population:

White: 58%
Black: 12%
Latino: 19%
Asian: 6%
Native: 1%
Other: 5%
Biden's turned America back into the days of Jim Crow -- no, Jim Eagle.
There's also a three point drop in younger voters as compared to 2020.
More exits: 54% of voters disapprove of Biden. I want to stress these exits polls are almost certainly impacted by the "shy conservative" effect and understate how opposed to Biden voters are, because mostly lefties are answering the poll questions put them by Stunning, Brave, and Diverse college students hired by CNN and AP.
Again, note what Rich Barris pointed out about the Guam exit polls:
Rich Baris "The People's Pundit" @Peoples_Pundit

1h
Worth noting, James Moylan, the Republican who defeated Judi Won Pat (D) for Guam's delegate to Congress, was trailing in the exit polls, SIGNIFICANTLY.

13 points, last I saw. He won by 5 points.

Folks, I kid you not. The exit poll showed:

Judith Won Pat, Democrat: 56.3%
James Moylan, Republican: 43.7%

Moylan, won. 5 points.
The exit polls showed the Democrat winning by 13 points, but the Republican won by 5 points. That's an error of... well, once again, I'm not here to play Math Bitch for you. You do your own work. But a back-of-the-envelope guestimation puts the error at around 6.
That seems low, doesn't it? Well whatever. It's wrong, that's the takeaway.
Someone's having a day

@DrewHLive 2m The simulation is cracking

CNN: "Stay off social media… trust us"

Posted by: weft cut-loop

Meanwhile, at NBC, which is totally a Real News Journalism Enterprise, their Senior Journalist on the Disinformation Beat (these are all real things) says that the pressing concern right now is just getting through the election without right-wing ultraviolence, which is nearly impossible because Elon Musk now allows people to post memes without Prior Regime Approval.
Noted Mattress-Nibbler Ben Collins continues crying that his job is a real job and stop laughing at him and saying it's a fake job!
Tom Elliott @tomselliott

The tone of his voice as he describes Twitters' ThoughtCops' sense of self-importance is pure comedy gold
Small Gov Lizard @smallgovlizard

Twitter woke scolds are nominating themselves for the Nobel Peace Prize.


posted by Ace at
06:39 PM
|
Access Comments