« The Red Wave Is Being Powered by White Supremacy, Especially the White Supremacy of Black and Hispanic Voters Voting GOP
|
Main
|
Quick Hits: Blood Moon Rising »
November 07, 2022
USAToday Screams: Right-Wing PACs are Pouring Money Into Local Schoolboard Elections, Ruining Them with "Hyperpartisan" "Disinformation"
From a October 23: USAToday shrieked that dirty, underhanded Republicans are pouring money into local schoolboard elections.
The nerve of a political party trying to influence political elections!
Across the country, new right-leaning political action committees are pouring money into school board races, aiming to flip control of who governs schools in favor of self-proclaimed parents rights advocates in a way that rivals the role that teachers unions have historically had in these contests.

For much less than what it would cost them to influence a seat in the House or Senate, these PACs are putting thousands of dollars at a time -- sometimes just hundreds -- into races for local school boards and as a result, changing education on a national scale.
Euphemism Storm Warning!:
A super PAC called the 1776 Project PAC is leading the way, emphasizing opposition to lessons related to racial and social justice. With a war chest smaller than what some congressional candidates in competitive districts are raising, the group has supported and opposed school board candidates in a dozen states.
When Democrats were allowed to control these boards without opposition, and were permitted to inflict leftwing Marxist ideology about gender and race on unsuspecting children, that was "nonpartisan" and also just good clean education.
But now that the GOP is involved, these races have become "hyperpartisan" and full of "disinformation."
Ian Vandewalker, senior counsel for the democracy program at New York University's Brennan Center for Justice, said the involvement of these major PACs in local elections is a sign that politics at large have become nationalized and more partisan.

"This sort of hyper-partisan, disinformation-based electioneering seems to be happening at all levels now," Vandewalker said.
The "democracy program."
Oh, I'd quote the expert they quoted to rebut that leftwing hack, but of course, there is none. They only contacted a leftwing propagandist for commentary.
Here's why the leftist propaganda organs are calling a Code Red: Because these parent-centered groups may "outflank the teachers unions."
The rise of groups such as the 1776 Project PAC have the potential to outflank local teachers unions, whose endorsements and local funding have been the longtime keys to success in school board races across the country.

A study published in January by Hoover fellow Michael Hartney at Stanford University showed that "teachers' unions reliably win 70 percent of the school board races in which they make an endorsement." That's the same success rate that the 1776 Project PAC advertises now.
And now, a "center-left" group called Third Way says Democrats will lose this election because they're too "extreme."

Third Way -- a center-left think tank backed by some of the biggest names in Democratic politics -- is sounding the alarm about deep-seated party flaws, based on its own new polling from Senate battlegrounds.

Driving the news: "If Democrats manage to hold on to the House and Senate, it will be in spite of the party brand, not because of it," Third Way writes in a memo synthesizing its conclusions, shared first with Axios.

"Despite a roster of GOP candidates who are extreme by any standard, voters see Democrats as just as extreme, as well as far less concerned about the issues that most worry them."

Why it matters: Lifelong, respected Democrats are saying the quiet part out loud -- that if Republicans have a huge night on Tuesday, as polls are blaring, Democrats must blame "much deeper" problems than simply the "historical trends" that beset the party in power.

Flashback: James Carville, Ruy Teixeira and other Dems have been making this case for more than a year, seizing initially on the embrace of "defund the police" by some progressives.

In a brutal bill of particulars, the Third Way memo says under the headings "Out of Touch on Priorities ... Out of Touch Ideologically ... Out of Touch on Values":

"Democrats are underwater on issues voters name as their highest priorities, including the economy, immigration, and crime."

"While Democrats maintain a lead on handling certain issues like abortion and climate change, voters also rank these issues as lower priorities."

"[V]oters question whether the party shares essential values like patriotism and the importance of hard work. ... Only 43% of voters say Democrats value hard work, compared to 58% for Republicans."

"[E]ven in the areas where Democrats are trusted more [including education], it is not clear that voters are sold on Democrats' approach or ability to get things done.
"
"Democrats are benefitting from a perception among voters that Republicans are extreme, but they cannot fully reap the gains of this view, as voters think Democrats are extreme as well."
Leftwing partisan Democrat Hillary Rosen tells CNN's leftwing partisan Democrat audience that the Democrats will lose the election, because they have not listened to voters.
In fairness, it's kind of hard to hear people when you're always shrieking Cult Doctrine at them.
Democratic strategist and CNN political commentator Hilary Rosen said Sunday that she was "not happy" with the Democratic Party and insisted they didn't listen to voters in these elections.

"I'm a loyal Democrat, but I am not happy. I just think that we did not listen to voters in this election, and I think we're going to have a bad night. This conversation is not going to have much impact on Tuesday, but I hope it has an impact going forward, because when voters tell you over and over and over again that they care mostly about the economy, listen to them," Rosen said.

She said Democrats need to stop talking about democracy being at stake.


"Democracy is at stake because people are fighting so much about what elections mean. I mean, voters have told us what they wanted to hear and I don't think Democrats have delivered this cycle," she added.
Covid Hypochondriac and barely-holding-it-together hysteric Taylor Lorenz just turned on Biden... over covid.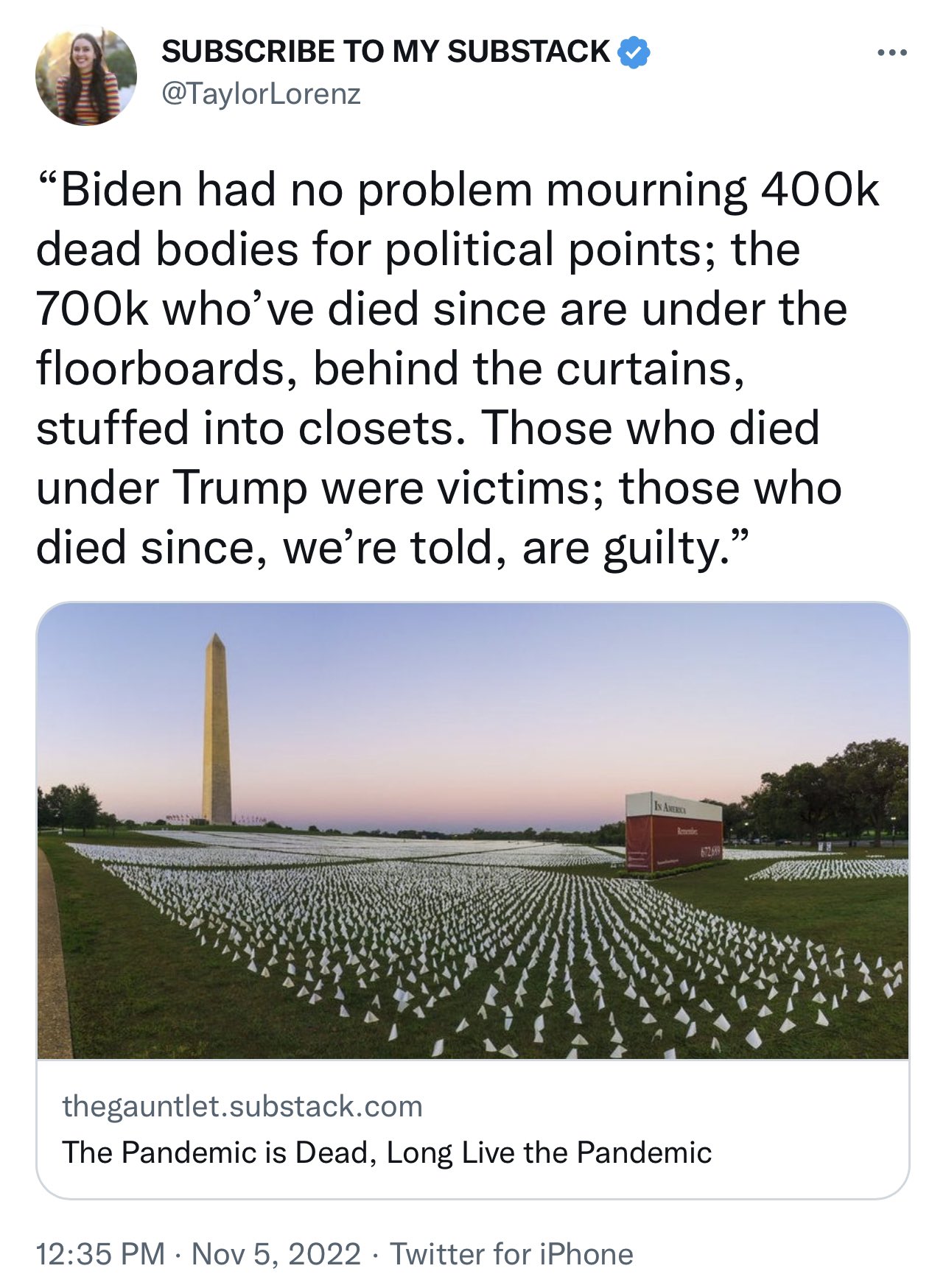 When the levee breaks....
Meanwhile, Bill Clinton thinks the bloody red tide of violent across the country is worth mining for a few chuckles.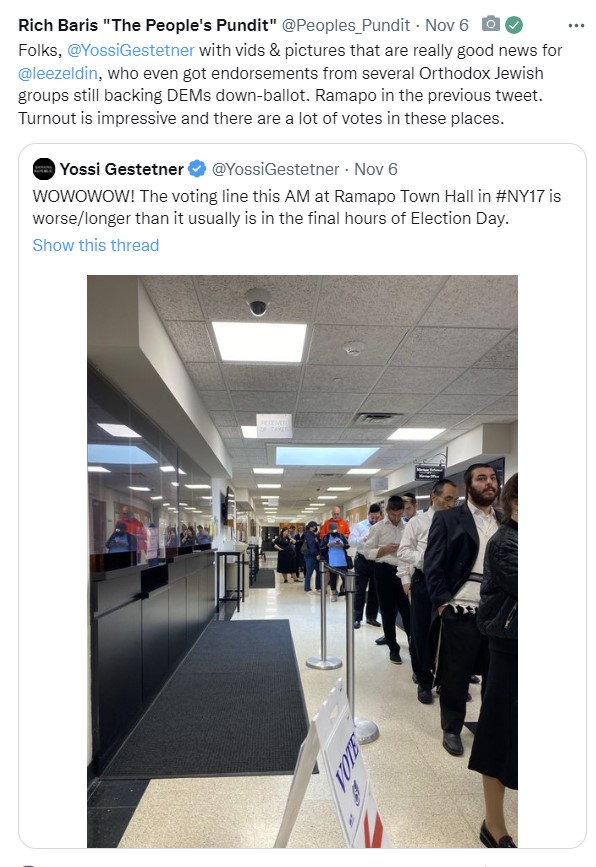 Rich Baris "The People's Pundit"
@Peoples_Pundit


I cannot believe I'm seriously entertaining the possibility Lee Zeldin pulls this off in New York.

There's no way around needing big numbers of DEMs to crossover in the Five Boroughs. Polling showed his over performance, but actual votes count and he's getting a lot right now.

posted by Ace at
05:00 PM
|
Access Comments