« Politico: Anyone Alleging Voter Fraud in the 2020 Election the Democrats Won (LOL) With the Most Votes in History (LOL) Is a Big-Lie-Peddling Insurrectionist.
Also Politico: Election Fraud Is Real and the Vote Tomorrow Will Probably be #Hacked
|
Main
|
USAToday Screams: Right-Wing PACs are Pouring Money Into Local Schoolboard Elections, Ruining Them with "Hyperpartisan" "Disinformation" »
November 07, 2022
The Red Wave Is Being Powered by White Supremacy, Especially the White Supremacy of Black and Hispanic Voters Voting GOP
The worst of all White Supremacies.
Gallup shows a big advantage in voter identification for the GOP:
InteractivePolls @IAPolls2022 GALLUP POLL: Do you consider yourself a Republican, a Democrat or an Independent? (with Indie leaners)

Republican -- 48% (R+6)
Democrat -- 42%
Pure Indies no lean -- 10%

Trends:
* Oct 2018: 42/53 (D+11)
* Oct 2014: 47/41 (R+6)
* Oct 2010: 45/43 (R+2)
It was D+11 in 2018 and it's R+6 now, meaning that the net shift in party affiliation is... well I don't have time to run the exact figures, but it's probably like, what, 30? 40?
That seems high.
So it's like 11? Or 6? No; those are the Joe Bloggs answers (TM).
Well look whatever it is it's bad for the Democrat, presumably.
"Sauron Deciever" created this graph of voter identification since 2020. Orange is independents, Red is Republicans and blue is Democrats.
Note how the orange line plunges and red line rockets upwards -- independents are calling themselves Republicans.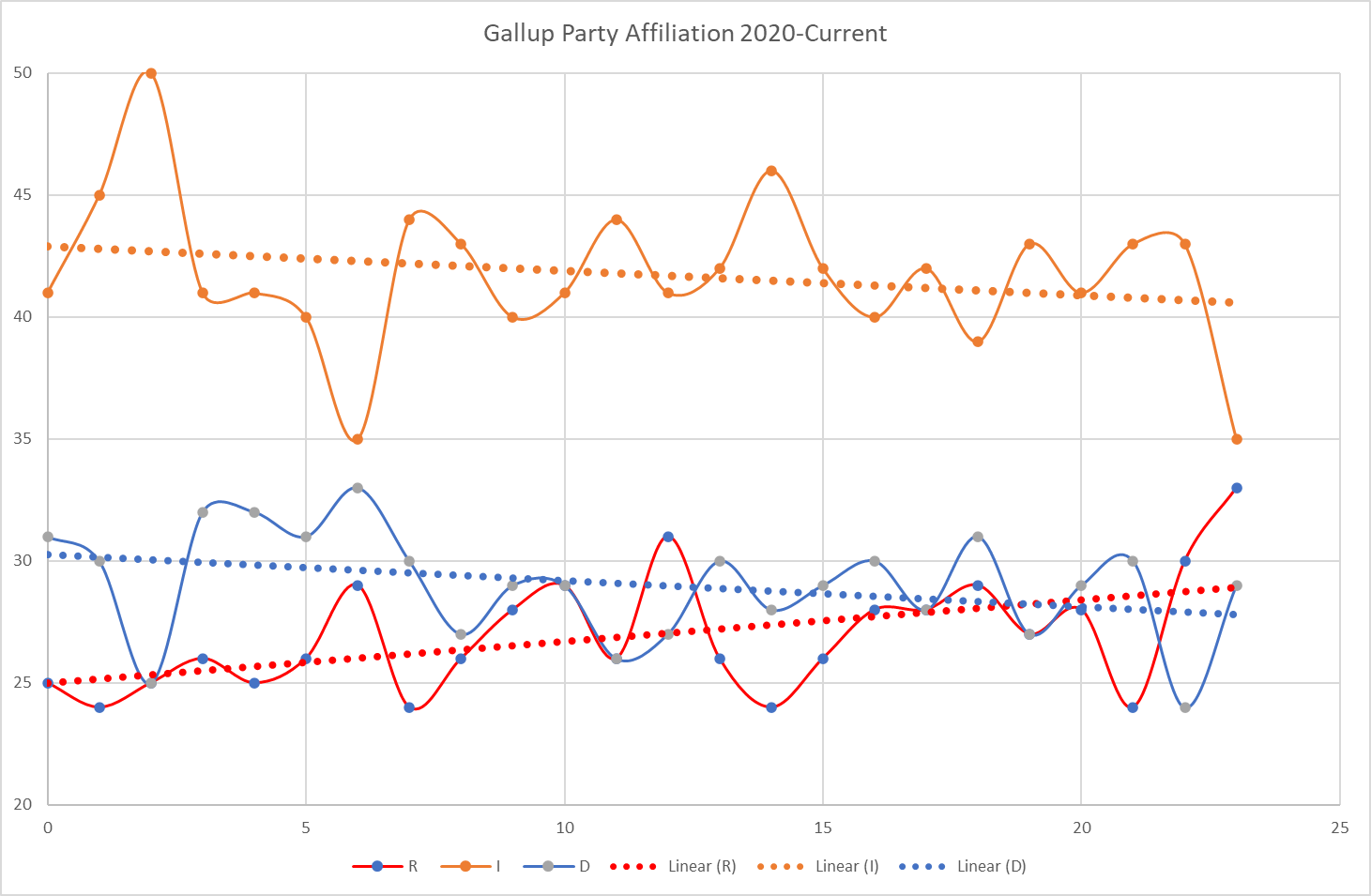 Ed Morrissey quotes a Wall Street Journal poll noting that Hispanics and even blacks are feeling more "white supremacish" lately.
The Republican Party is winning support from a larger share of Black voters than in other recent elections and has improved its standing in the past few months among Latino voters, the latest Wall Street Journal poll finds, adding to evidence of the party's increasing appeal among groups that have overwhelmingly favored Democratic candidates.

About 17% of Black voters said they would pick a Republican candidate for Congress over a Democrat in Journal polls both in late October and in August. That is a substantially larger share than the 8% of Black voters who voted for former President Donald Trump in 2020 and the 8% who backed GOP candidates in 2018 House races, as recorded by AP VoteCast, a large survey of voters who participated in those elections.

Among Latino voters, Democrats held a lead of 5 percentage points over Republicans in the choice of a congressional candidate in the Journal's October survey, a narrower advantage than the Democrats' 11-point lead in August.

Both findings suggest a deterioration in Democratic support as Latino voters show high degrees of concern about inflation and the direction of the economy. Latino voters in 2020 favored President Biden over Mr. Trump by 28 percentage points and Democratic candidates in 2018 House races by 31 points, VoteCast found.
John Sexton quotes an article from The Atlantic in which a pair of Hispanic Democrat activists -- who own a restaurant and have a lot of interplay with voters -- explain why Hispanics are abandoning the Democrat Party: "We're freaking them out."
María-Elena López, who held a variety of positions under [Juan] Cuba in [Miami-Dade] county party, saw this shift taking place in real time. She believes that there is no real mystery to it: While Trump successfully portrayed himself as a populist achieving hard-won economic growth--signing tax cuts into law, touting a record-shattering stock market, boasting the lowest Hispanic unemployment rate in history--Democrats came across as a bunch of out-of-touch idealogues. Promises of shared social progress, she told me, offend the sensibilities of many first- and second-generation immigrants who hate the idea of government handouts.

"We're not a political party, we're a charity. And you know what? These people don't want charity," López said. "These immigrants come here to make money and keep their families safe. They are not here because the sea levels are rising, or because of social justice, or anything else. We're out there talking about racism and the Green New Deal and defunding the police, and we're freaking them out.
Axios reports that DeSantis -- or is it DeSanctimonious all of a sudden? -- is beating Crist with Hispanics.
A recent bilingual survey of 625 likely Hispanic voters by Telemundo/LX News showed DeSantis leads Crist 51% to 44% and that 56% of respondents approve of the job the governor is doing.
He lost Hispanics by 10 points in 2018.
Axios reckons that the shift in Hispanic political identification is due to... misinformation, of course.
Between the lines: Many Florida Latinos, particularly Cuban American and Venezuelan Americans, have long skewed Republican. But political misinformation, the linking of Democrats to socialist policies and heavy investments in Latino voters by the GOP helped Trump make inroads in 2020 with Latinos in other parts of the U.S., political analysts say.

Stacy Abrams has a similar explanation. She's only getting 82% of the black vote, which is very low for a Democrat, and a black Democrat to boot.
She says, I'm losing because black men are too stupid to see through the "misinformation" that they're seeing when they... I dunno, watch FoxNews all the time?
Where are they seeing this "misinformation," Stacy?
He notes that this is the meme being pushed by Biden advisor Keisha Lance Bottoms (I think I saw a couple of her movies).
Biden adviser Keisha Lance Bottoms claims Black men are being 'targeted' with misinformation

Georgia Democratic gubernatorial nominee Stacey Abrams claimed Black male voters have been 'a very targeted population for misinformation' on Saturday

...

The host of The Sunday Show with Jonathan Capehart shared a clip of Georgia Democratic gubernatorial nominee Stacey Abrams claiming that Black men are being targeted with misinformation with MSNBC anchor Ali Velshi on Saturday.

Capehart then asked Bottoms about "misinformation that's being targeted at Black men" and inquired, "Is she not getting the Black support that she needs in her race against Brian Kemp?"


"Listen, Jonathan, I think that Stacey is spot-on with that. I listen as my kids watch NBA highlights and whatever else they watch on YouTube, I hear the misinformation being piped in," she claimed. "My 12-year-old, my 14-year-old son, my 20-year-old is getting it."
LOL. Leftwing "sports ' journalists ' " are using NBA clips to deliver right-wing economic "misinformation."
"There is definitely a target towards African-America men, not just to give them misinformation but to make them so discouraged that they won't show up to vote," she said. "And again, I have been a candidate before. I have been in this position before, going into my race as mayor five years ago, I was seven points down in the polls going into the week of the election and I won by more than 800 votes because people showed up to vote."

Later, Bottoms condemned Republicans, claiming, "Remember the goal is not just to try and get them to vote for Brian Kemp or get people to vote for Herschel Walker, a victory for Republicans can be if African-American voters stay at home."
Except that there's big turnout among blacks. So, huh?
On Saturday, Abrams said that Black men have greatly increased their voter participation rates between 2018 and now, but, "I do not believe it's because of a deep well of enthusiasm for my opponent."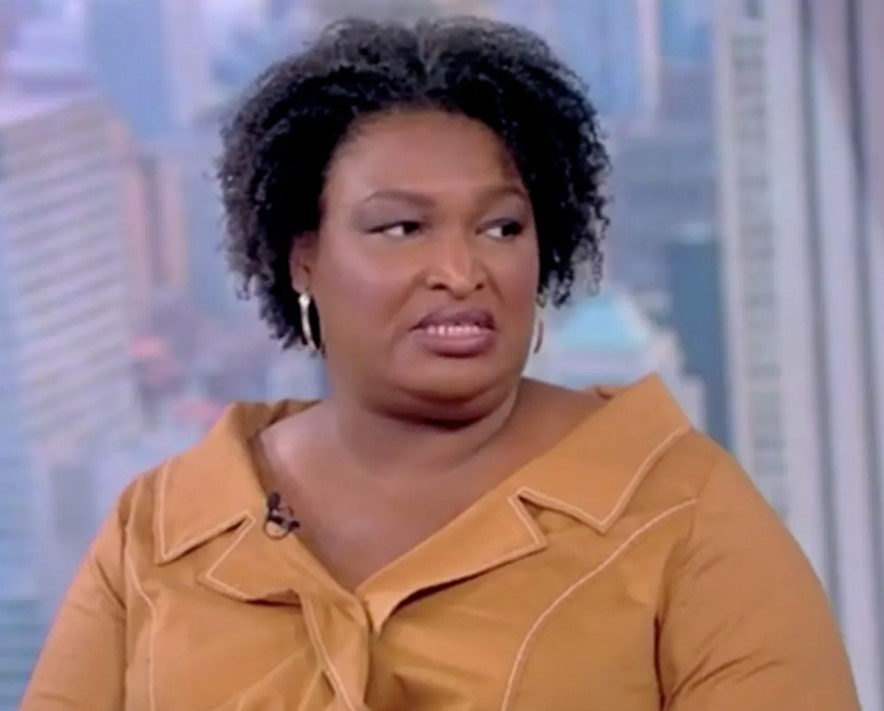 I forgot to note the data for this photo --
it's either Stacy Abrams appearing on The View,
or a mug shot of a meth-head caught breaking into
an abandoned Jack-in-the-Box with her
unwashed crapwagon hanging out the back of her pants
Guys -- you really have to ratchet down your inciteful rhetoric!

posted by Ace at
04:00 PM
|
Access Comments