« USAToday Screams: Right-Wing PACs are Pouring Money Into Local Schoolboard Elections, Ruining Them with "Hyperpartisan" "Disinformation"
|
Main
|
Beluga Cafe »
November 07, 2022
Quick Hits: Blood Moon Rising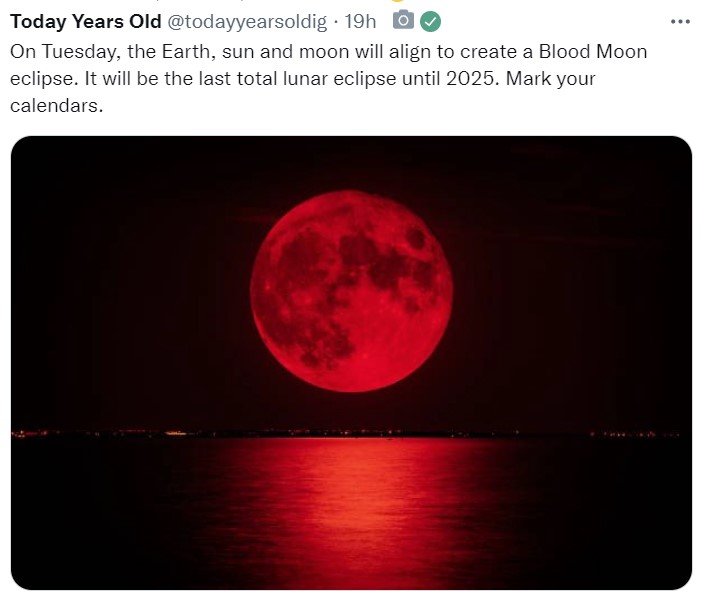 The last blood red full moon eclipse for three years.
They say it's happening Tuesday but they mean late tonight/early morning tomorrow, pre-dawn.
A total lunar eclipse is happening Tuesday, and it might be a good time to catch a peek, because the next one isn't for three years.

The initial phase of the eclipse begins at 3:02 a.m. ET, according to NASA. The partial eclipse then begins at 4:09 a.m. ET, when to the naked eye, it looks like a bite is being taken out of the moon. The lunar disk enters totality at 5:17 a.m. ET and will last for about an hour and a half.

People in North America, Central America, Colombia, and western Venezuela and Peru will be able to see the eclipse in totality. Those in Alaska and Hawaii will be able to see all stages of the eclipse.

For the best view, it is best to be in a dark area with little light pollution.

I hear the voice of rage and ruin.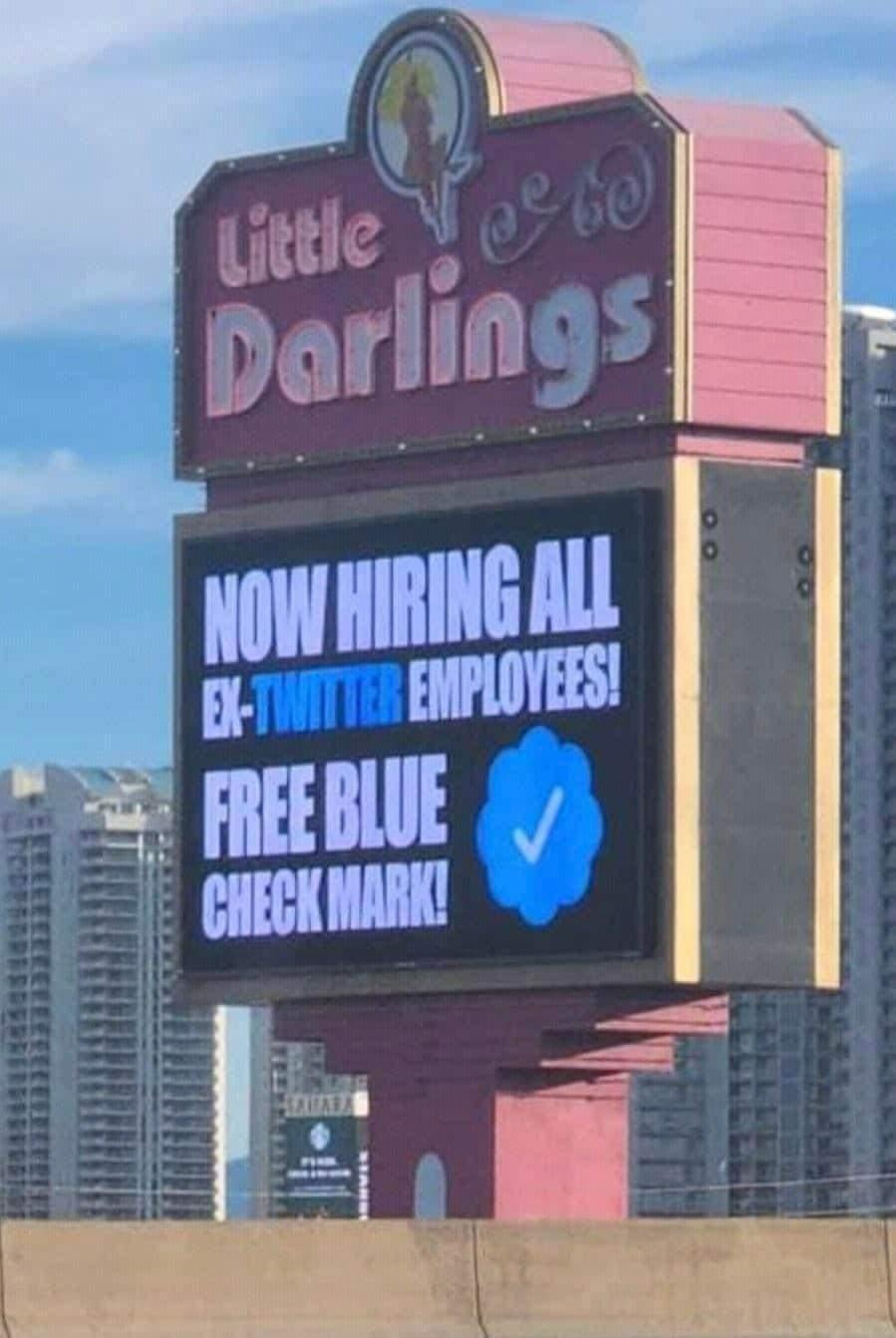 Democrats shriek: "Devastating cuts to Twitter's workforce" may leave them unprepared to censor all of our political enemies and suppress arguments against our lies!
"Devastating cuts to Twitter's workforce on Friday, four days before the midterm elections, are fueling anxieties among political campaigns..."

"... and election offices that have counted on the social network's staff to help them combat violent threats and viral lies.... The layoffs included a number of people who were scheduled to be on call this weekend and early next week to monitor for signs of foreign disinformation, spam and other problematic content around the election... [A] representative from one of the national party committees said they are seeing hours-long delays in responses from their contacts at Twitter, raising fears of the toll workplace chaos and sudden terminations is taking on the platform's ability to quickly react to developments. The representative spoke on the condition of anonymity because of the matter's sensitivity...."
That's from Ann Althouse, quoting the Washington Post.
From "Twitter layoffs gutted election information teams days before midterms/With half of the company gone, political campaigns are gripped with anxiety over how to address election misinformation and potential threats" (WaPo).

I wonder which "national party" is expressing this anxiety to The Washington Post -- which party relied on Twitter moderation to protect its interests in the run-up to the elections.
Joe Walsh wants Democrat Donors to know he's still available for grifting: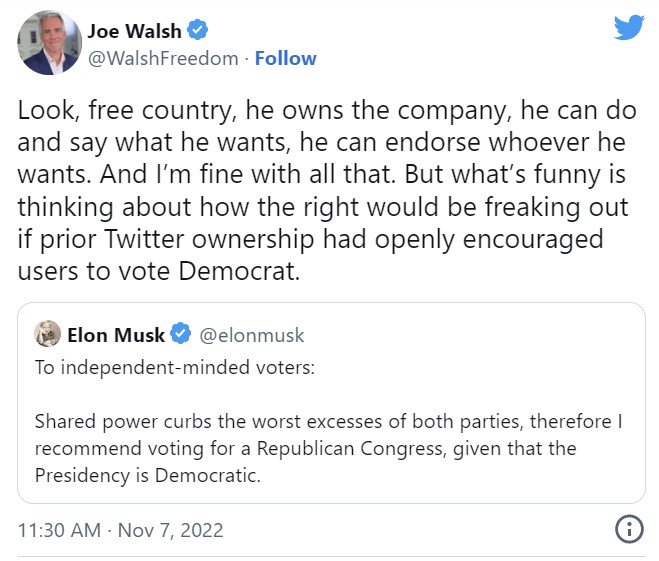 Remember, if they don't lie, they don't eat. They have no other skills and they can't grift money from their previous marks. This is all they have now, pretending that Twitter was previously non-partisan.
Incidentally, it's long been understood by everyone who isn't flagrantly dishonest that being open about your partisan leaning is honest and provides needed context to readers. The media hides its intense leftwing bias because they want to deny that context to readers. They want to lie to them and assure them that all of the media's leftwing bias comes from a 100% neutral, nonpartisan place.
I might wind up moving to Austin if this continues: "Texans invade Austin," forcing leftwing Austinites to flee for "bluer pastures."
Austin had been a Safe Space for lefties in Ultra Mega MAGA Extremely Extreme Republican Texas. But things changed with covid:
But then 2020 happened. As the pandemic raged, Governor Greg Abbott banned municipalities including Austin from implementing COVID measures such as mask mandates. The following year, amid a brutal winter storm, the state's electric grid failed, killing hundreds and leaving millions freezing in the dark, and it has yet to be fixed. That summer, Abbott codified permitless carry and further restricted voting access. This past February, he ordered investigations into the parents of trans children for child abuse. By June, when the Supreme Court overturned Roe v. Wade, Texas was ten months ahead, having already effectively banned abortion with no exceptions for rape or incest and topped it with a $10,000 reward for informants.

"It's like how a frog boils one degree at a time," Stettin said. "They trigger-banned all abortion and they're offering a bounty! What more do you need if you are a remotely liberal person to get the fuck out of here?" His destination was Massachusetts. "At least if I'm going to get into an argument with a guy in Boston," he said, "he's probably not carrying an AR-15 in his trunk."

This summer, that anxiety pervaded a stratum of liberal Austin, namely women, LGBTQ+ folks, parents, and people of color who fear a future in Texas and have the means to escape. The overturning of Roe seemed to remove the last obstacle in the state's march to the far right, which is likely to be cemented in the upcoming election where Beto O'Rourke is way behind Abbott. While the Democratic mayor and the liberal city council institute token measures such as decriminalizing abortion, it's cold comfort. One 25-year-old woman said she had her tubes tied, fearing the consequences of an unwanted pregnancy. One couple may relocate to the Northeast to carry out their pregnancy. Some job candidates are refusing to relocate. At Stettin's party, his friend Jeff swiped open his phone to a note entitled "New Austin Cities" -- a list of places that are what Austin used to be to him before he moved here from New York. It read, "Pittsburgh, Durham, Boise, Columbus, Jackson Hole, Chattanooga. Factors: Climate change, demographics, economy, location, taxes, nature, weather." He plans to stick it out at least for now. "Global warming in the next ten years," he said. "That's gonna be fucking real."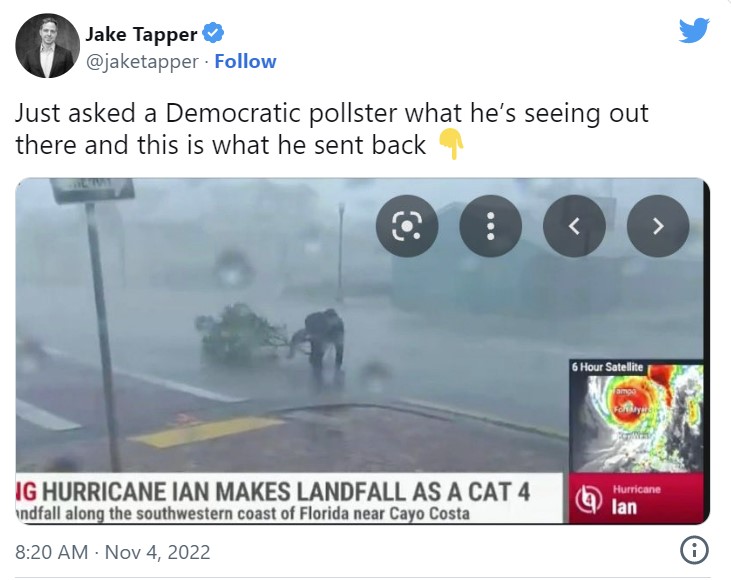 it. Rich Baris "The People's Pundit" @Peoples_Pundit 18m

"This is not what we expected," said FL26 DEM candidate Christine Alexandria Olivio, said. "This is worse than what we expected. We're getting our butts kicked right now."
More tea leaves: The New York Times decides to opine today, maybe Americans just vote too much. Maybe we need a break from all of this voting and just leave politicians in office unchecked for a decade or nearabouts per election.
You know -- The Way They Do It In Europe (TM).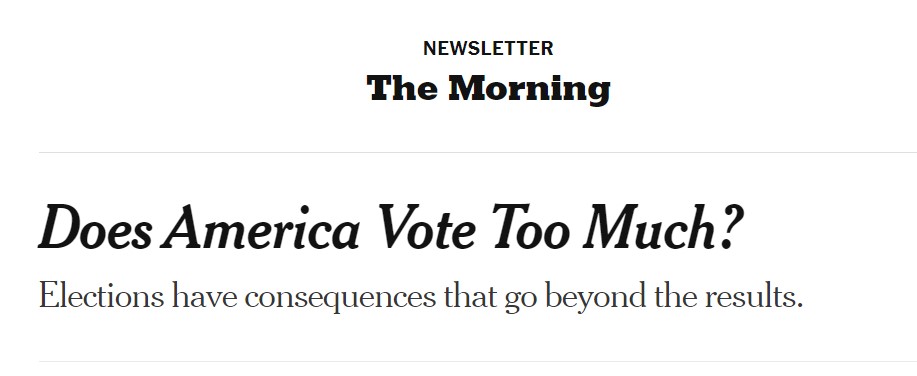 Americans casting their ballots in tomorrow's midterm elections might be voting in their 30th or 40th contest in four years. In the same amount of time, a German citizen might vote in six to eight races.

Put simply, the U.S. has an unusually high number of elections. The federal government alone holds elections every two years, compared with around every four or five years in other advanced democracies.

Why does this matter? Some experts argue that the saturation of elections has significant downsides -- exhausting voters and hurting the quality of governance by pushing lawmakers toward more campaigning, fund-raising and short-term thinking.
But more frequent elections also offer voters more opportunities to hold officials accountable. Experts characterized elections as a balancing act: Too many can overwhelm the public and lawmakers, while too few provide insufficient chances for accountability.

"It's not about whether democracy is good or bad, but how we manage democracy," said Sarah Anzia, a political scientist at the University of California, Berkeley. "The question is if these systems are leading to the government doing a good job and doing the things that we want it to do."
Russian Disinformation Watch:
Election Wizard @ElectionWiz

BREAKING (Tallahassee, Fla.) -- Florida Election Crime Unit announces arrest of Cheryl Ann Leslie, accused of voting in multiple states during the 2016, 2018, and 2020 elections. Leslie has booked into the Palm Beach County Jail on felony charges.
Are you f***** kidding me right now with this shit, CNN and DOJ.

After the US Capitol attack on January 6, 2021, members of the Oath Keepers met for a late-night dinner at an Olive Garden in suburban Virginia and spent hundreds of dollars on an Italian feast.

"ALCON: Going to eat at Olive Garden," Oath Keepers leader Stewart Rhodes allegedly said to an encrypted Signal chat for the militia group the evening of the Capitol riot using what prosecutors say is a military abbreviation for "all concerned."

Rhodes said that anyone available was welcome to join him, according to messages shown by prosecutors, and sent the address for the Olive Garden in Vienna, Virginia.

Roger Stone poses with Connie Meggs and Graydon Young, two alleged members of the Oath Keepers militia, at a book-signing in Florida in December 2020. The other people in the photo have not been identified by CNN and their faces have been obscured to protect their privacy.

Prosecutors did not divulge the details of what Stewart Rhodes, Edward Vallejo and other militia members ate, but noted they were able to rack up a $408.82 tab, paid on a credit card tied to an Oath Keepers bank account.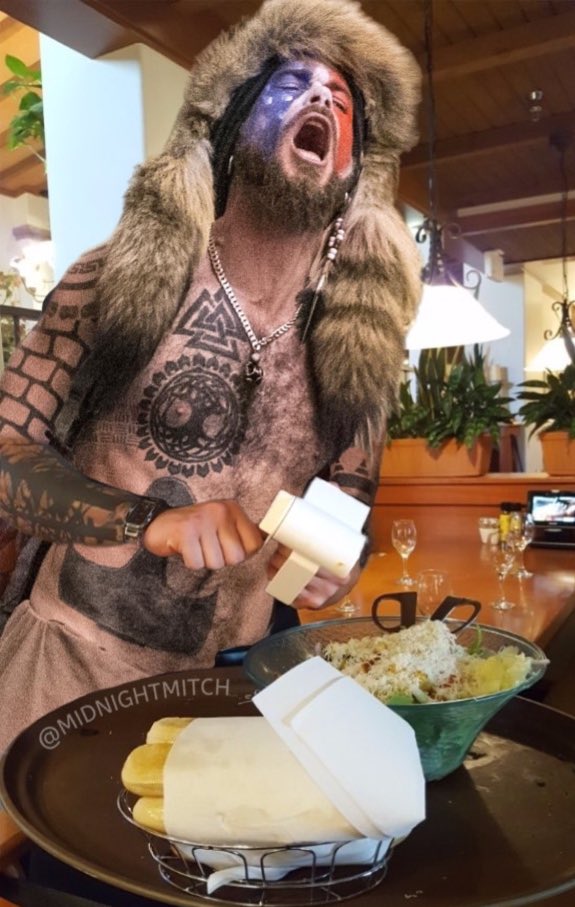 We will remember when we start the federal dragnets for antifa and BLM criminals and the left's professional riot corps -- as well as the Democrats and lawyers who fund criminal insurrections.

From Kyle Dunnigan's show. He really doesn't like Bill Maher. I mean, all of those bad jokes? Were bad on purpose. He's making fun of Bill Maher for not being funny.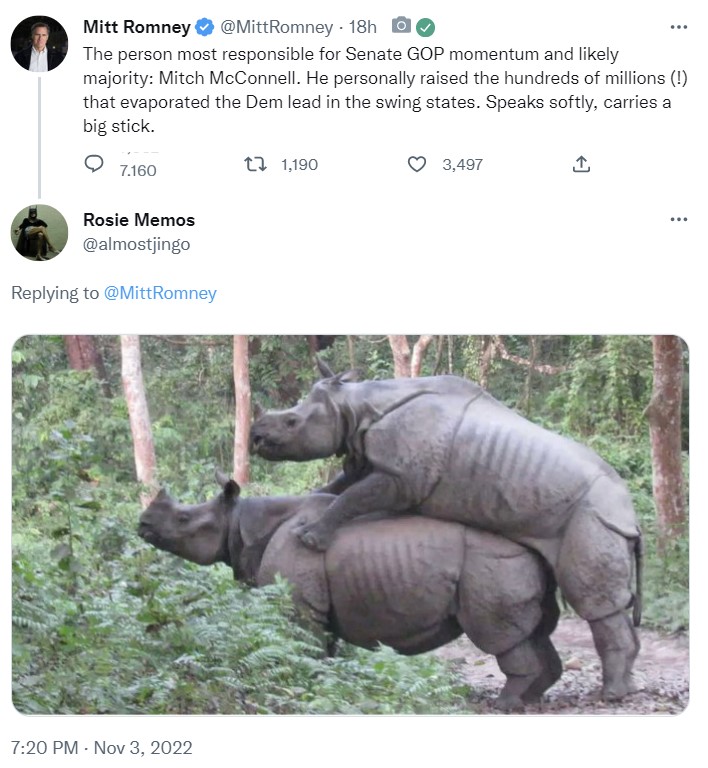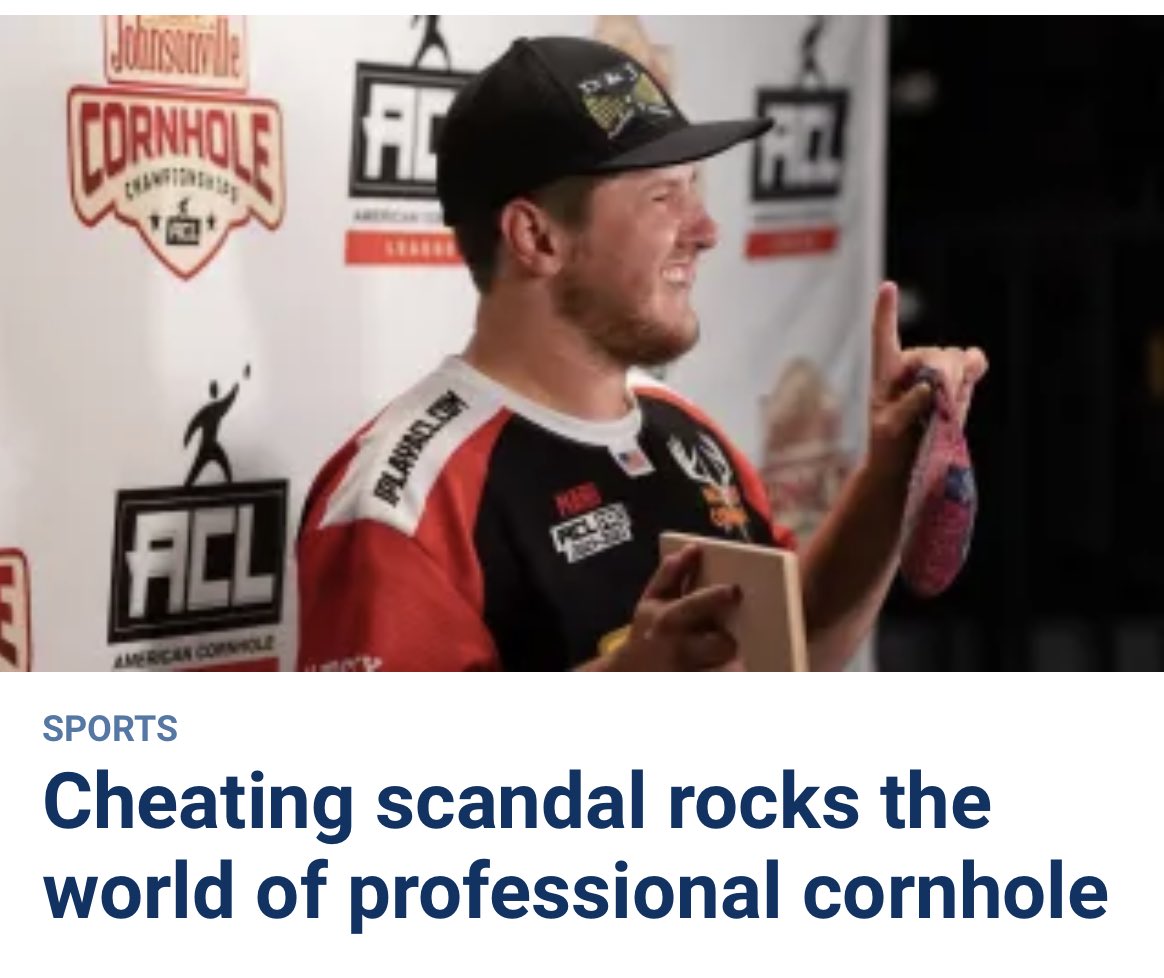 The cleanest Corhonle Championship in history. Not a smidgen of corruption.
Anyone who says otherwise is a Cornhole Denialist.
It's the biggest professional sports scandal you've never heard of.

Professional cornhole has been rocked by controversy after the top-ranked team was accused of using illegal bean bags at the 2022 American Cornhole League World Championships in August.

Dubbed "BagGate," the now-infamous incident began when player Devon Harbaugh complained that rival opponents Mark Richards and Philip Lopez were using bags that were smaller than regulation during the finals, which were broadcasted live on ESPN from Rock Hill, South Carolina.

"I thought the bags were too thin," Harbaugh told The Wall Street Journal -- and he was right.

Officials gathered to inspect Richards and Lopez's bean bags and confirmed that they were, in fact, not regulation size.

"They're too small," ESPN's cornhole color commentator Mark Pryor remarked. "That's going to create some drama."

In response, Lopez and Richards requested that their opponents bags also be inspected. Their bags were also found to be not compliant.


According to ACL regulations, cornhole bags must be 6 by 6 inches when laid flat and weigh 16 ounces, with minor variations tolerated.

A one hour delay ensued before officials determined that the violations were not intentional and decided to continue the competition with a $15,000 cash prize at stake.

posted by Ace at
06:00 PM
|
Access Comments