« The Morning Rant: Minimalist Edition
|
Main
|
The Man Who Broke Into Abortion Mouse's Campaign Office, Whom Abortion Mouse Claimed Had Been Incited to Commit Burglary By Kari Lake's "Intimidations" and "Election Misinformation," Is an Illegal Alien, Of Course »
November 03, 2022
CNBC CANCELS SHEPHERD SMITH
CNN's Ratings Are Trash, Jake Tapper's Ratings Are Trash, Don LeMon's Ratings Are Trash, and Other News of the Usual
ABOVE THE MAIN STORY UPDATE!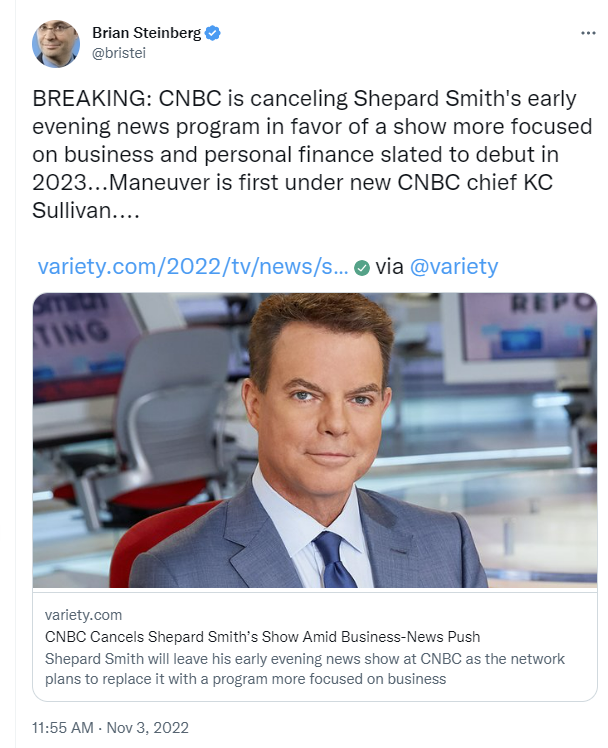 Max Tani at Semafor has CNBC's bs line:
Shep Smith's CNBC show is ending.

"The News set out on a bold mission of providing non-partisan, fact-based reporting on the most important stories of the day in the U.S. and around the world," CNBC President KC Sullivan wrote in an internal memo. "At a time when misinformation and disinformation is rampant, The News succeeded in providing audiences with the clearest understanding of the facts."

The memo cited "times of flux and uncertainty" as playing a role in the decision.
Don LeMon should be worried. Sexuality is no longer a shield -- not in a Biden Economy.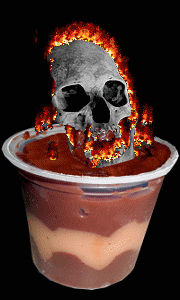 SO SOON AFTER PRIDE MONTH???
Posted by: Tex Lovera
Pride Month ended? During John McCain's funeral?
Posted by: I used to have a different nic, Ashli Babbitt/Rosanne Boyland
Fake Jake is getting "promoted" out of primetime and back to afternoons where he will compete with game shows and QVC's "Jewelry" Deals.
I don't know why they put "Jewelry" in quotes in their own show-title. That doesn't seem like a show of confidence in their wares.
CNN's Jake Tapper moving back to old time slot following ratings struggle in primetime

New CNN boss Chris Licht reportedly wanted Tapper to be the 'new face' of the network
That ugly pinch-faced scold of a mug with its aircraft hanger schnozz?
You serious?
Liberal CNN anchor Jake Tapper is being tapped out of primetime and moving back to daytime following poor viewership.

"As part of a special lineup, Jake agreed to anchor the 9p hour through the midterm elections," a spokesperson for CNN told Fox News Digital. "At the completion of that schedule, he'll be returning to his award-winning program 'The Lead.' We will announce post-election plans for that time slot in the coming days."

Tapper made his primetime debut on Oct. 11 with a splashy broadcast that included interviews with President Biden and movie star Dwayne "The Rock" Johnson. Despite the big-named guests, "CNN Tonight with Jake Tapper" only averaged 854,000 viewers, which is a distant third behind Fox News' "Hannity" with 2.6 million viewers and MSNBC's "Alex Wagner Tonight" with 1.6 million viewers. Tapper's audience substantially dipped since then.


Chris Licht, the new CNN honcho, reportedly wanted Tapper to be the "new face" of the network as the CEO has been vocal about his efforts to steer CNN towards nonpartisanship after years of hyper-liberal coverage during the Trump years.

While CNN announced the primetime lineup shuffle would be set at least through the midterms, Licht reportedly wanted Tapper to be in the 9pm ET time slot permanently. The time slot has been vacant ever since the December 2021 ousting of Chris Cuomo.


In October, Tapper averaged only 691,000 viewers. Notably, his daytime program "The Lead," which has been guest-hosted by other CNN anchors during his primetime stint, regularly had higher viewership than his 9 p.m. show and averaged 839,000 viewers last month.

Fox points out that Fake Jake's carefully-curated and DM-enforced reputation for fairness is a complete sham:
"Unhinged lies born from Donald Trump's grievance that he lost and his refusal to accept reality... this anti-democracy insanity -- it has already infiltrated the same halls of Capitol Hill where the rioters once stood... all of this leaves you, the voter, in sort of an impossible position. You should be able to walk into that voting booth and vote on issues that affect your life like the economy or crime or education or health care. But now, in too many races, instead of asking yourself, 'What can this candidate do for me and my community and my children in the next two years?' You now also have to ask, 'Hey, does this candidate believe in democracy?'" Tapper said in his second primetime broadcast while lambasting "election deniers" running for office.

Many of his segments were focused on former President Trump, Jan. 6, and so-called GOP "election deniers," who Tapper long prided himself from banning on his CNN programs despite having welcomed Democrats like Stacey Abrams.

On to Don LeMon. It is my theory that CNN intends to fire him, but they cannot fire a Gay Black Guy outright. (Megyn Kelly says that, on CNN, LeMon looked into the camera and said, "I'm gay and black, don't fire me.")
So they've given him a Mission: Almost Impossible -- improve the ratings of CNN's little-watched morning show or we will say "We gave Don LeMon every chance." And then they'll have enough "cover" to fire him.
Well. If that is their plan for ridding themselves of this sexual assailant, they're halfway home: Like Jake Tapper, Don LeMon's new show is getting ratings even lower that the low-rated show it was supposed to improve on!
CNN's New Morning Show Is Not Off to a Sunny Start in Ratings

The "CNN This Morning" debut declined in Nielsen ratings from "New Day," the show it replaced.
CNN's new-look morning show needs an early jolt of caffeine. The ratings are in for "CNN This Morning" with Don Lemon, Poppy Harlow, and Kaitlan Collins, and they got off to a rough start, lagging behind not only rivals like "Fox & Friends" and "Morning Joe" but also its predecessor on CNN, "New Day."


...

MSNBC's "Morning Joe" more than doubled "CNN This Morning" in terms of total viewers, drawing 793,000 on Tuesday. Its advantage in the key demo was slighter but still significant: "Morning Joe" got 114,000 viewers 25-54. That's nothing. Fox News Channel's "Fox & Friends," the reigning champion of the cable news morning shows, earned 1.5 million total viewers yesterday; 236,000 of those were from the demo.

So Day 1, November 1, was not one to remember for "CNN This Morning." Give the new show some time -- at least as much time as CNN+ got.

"CNN This Morning" is one of new CNN chief Chris Licht's first big programming plays since he was appointed as chairman and CEO in May, gambling that by moving Lemon off his struggling primetime slot and Harlow up from her 9 a.m. slot on "CNN Newsroom," their personalities could be better served in the morning slot and revitalize "New Day." The move was necessary as "Don Lemon Tonight" was in last place among viewers across CNN, Fox News, and MSNBC in both hours.

Bobby Burack at Outkick the Coverage has a better write-up:
Lemon promised a fun and informative program that'd be popular among CNN viewers. Of course, the show is neither.
The clip Bobby Burack links with "neither" is a must-watch. It's like watching paint dry, if paint was a hyperpartisan homosexual and his platonic work frenemies endlessly praising Liz Cheney and Elisa Slotnik for "saving democracy."
Ever been in the hospital for an extended period of time and you're miserable and bored and you smell of sweat and plastic sheets and you cannot watch another re-run of The Price Is Right without hanging yourself from a curtain so you just watch the IV bag dripping into your catheter to mark the time?
Yeah, it's not quite as good as that.
It's literal death. Literal. I'm a ghost now. Me and AOC are dating.
...

Despite heavy promotion, the revamped morning program failed to match the previous average of "New Day," the show it replaced. "New Day" averaged 404,000 viewers in October, topping only the now-defunct "Don Lemon Tonight."

For comparison, MSNBC's "Morning Joe" drew 793,000 viewers head to head from 6 to 9 am ET. "Fox & Friends" swept the floor with both, averaging 1,450,000 viewers.

No show across CNN, MSNBC, and Fox News ranked lower than Lemon's on Tuesday:
Fun and informative!
Yup, check the scoreboard: CNN This Morning appears on the list at 47, 50, and 52 (for each of its deathly hours) after literally all other offerings from Fox and MSNBC and almost all other offerings from little-watched CNN. It's just barely beating Newsmax, which isn't really a full cable news channel.
I don't think CNN's lamesauce attempt to rebrand itself as "nonpartisan" and "straight news" has any chance of working. A woman who has a bad reputation can fashion herself into a lady, but a woman who has a reputation of being the gnarliest, nastiest gutterslut at the docks cannot pass herself off as a proper woman.
I also don't think it's what the last remaining audience watching CNN wants. They want the whore, not the faked-up lady.