« CNBC CANCELS SHEPHERD SMITH
CNN's Ratings Are Trash, Jake Tapper's Ratings Are Trash, Don LeMon's Ratings Are Trash, and Other News of the Usual
|
Main
|
True Conservative Liz Cheney: Nancy Pelosi is a "Tremendous Leader;" A Republican House Would Give "Power and Authority to the Most Radical Members of the Caucus" Which Would be a "Bad Thing for the Country" »
November 03, 2022
The Man Who Broke Into Abortion Mouse's Campaign Office, Whom Abortion Mouse Claimed Had Been Incited to Commit Burglary By Kari Lake's "Intimidations" and "Election Misinformation," Is an Illegal Alien, Of Course
Remember when Abortion Mouse refused to further discuss her insane allegation last week?
This is why -- the cops withheld this information about the actual culprit, but now it's coming out.
Are illegal aliens really trying to support the candidacy of the woman who promised to finish the Arizona section of the wall and start putting illegals on buses -- without federal permission -- and sending their asses to Mexico or points south?
And did this opportunistic but incompetent sneak-thief really decided to burgle her offices and make off with computers and petty cash because Kari Lake spread "election denialism misinformation"?
Is that really how criminal motives are formed, do you think?
Doubtful.
The suspect who was arrested in the alleged burglary of Arizona Democratic gubernatorial candidate Katie Hobbs' campaign office is an illegal immigrant from Portugal who is wanted by immigration authorities.

U.S. Immigration and Customs Enforcement confirmed to Fox News that 36-year-old Daniel Mota Dos Reis is a citizen of Portugal who came to the United States as a registered student in 2018 and is now violating "the terms of his admission."

An ICE spokesperson said Mota is "currently at-large for administrative immigration violations for failing to maintain his status as a registered student at an academic institution."

Police arrested Mota last Thursday and charged him in connection to the Hobbs campaign headquarters break-in. He was released on bond before an immigration detainer was issued, ICE said.

Hobb's office first announced the burglary on Oct. 26 and attributed the crime to "dangerous misinformation" spread by her opponent, Republican gubernatorial candidate Kari Lake.

"Let's be clear: For nearly two years, Kari Lake and her allies have been spreading dangerous misinformation and inciting threats against anyone they see fit. The threats against Arizonans attempting to exercise their constitutional rights and their attacks on elected officials are the direct result of a concerted campaign of lies and intimidation," Hobbs campaign manager Nicole DeMont said at the time.

However, police have not said there was a political motivation in the burglary.
You don't say.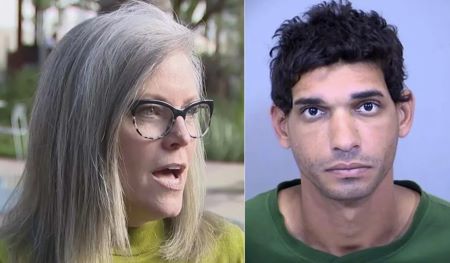 Are we sure this isn't a case of, say, a lonely, unsexed old shrew who hired a strapping young Paolo type to, ahem, "debate her sad and droopy snizz," but then refused to pay him? Resulting in the Paolo using self-help to claim the payment he was owed?
Just a theory. Like Abortion Mouse's theory that he was motivated by "election misinformation."

Abortion Mouse is having a time of it. Not only is she behind by 4 to 11 points, depending on who you ask, but even the sidekicks on Don LeMon's gay morning show, Appletinis for Breakfast (IIRC), are asking her tough questions.
[Abortion Mouse] comes across as a bit of an immature 12-year-old girl. Her voice does her no favors. When she pressed with questions, her constant petulant attitude -- how dare people ask me these questions -- doesn't help either. While Lake exudes confidence, every time Hobbs opens her mouth, she sounds like she'd rather be anyplace else but answering questions.
Which is why she won't debate. How dare you question me! She's a stompy-footed fourteen-year-old in a middle-aged shrewbody.
...

Even CNN's Don Lemon and his morning show panel put Hobbs on the spot when they had her one and asked her why she wasn't debating. She claimed she didn't want to elevate Lake's "election denialism." Except that's when CNN committed journalism and dropped the hammer on her, asking why she had avoided debating her Democratic primary opponent as well.
Abortion Mouse has an excuse for why she won't debate any opponent. She tailors the excuses to the opponent, but the answer is always the same: Abortion Mouse will take no questions.
A lefty posted this as a slam on Kari Lake.

The context: Her co-anchor is telling her management wants her to get off of Parler, because it's considered "right-wing" and they don't want that to be an "issue" for her or for themselves. He says a local rag called the Phoenix New Times may make it a problem for her.
Here's her response:
She says, of the Phoenix New Times and their "journalists:" "Fuck them. They're 20-year-old dopes. It's a rag for selling marijuana ads."

Does this make you want to sit out the election? Or commit voter fraud on her behalf?
(Note that it's not "disinformation" to discuss voter fraud in this context, because, while our elections are completely safeguarded against any kind of fraud, it is still very possible that Republicans can steal elections, and you are allowed to discuss that possibility, as Hillary Clinton, Stacy Abrams, Karine Jean-Pierre and many, many other Democrats make clear every single day.)


posted by Ace at
01:17 PM
|
Access Comments