« Is This Something?
|
Main
|
Very Quick Hits »
November 03, 2022
Election Round-Up
Hillary Clinton: Voters are too stupid to know how dangerous it is to not vote for Democrats.
Joy Reid asked the Graceless Cow Whose Eyes Stare Coldly Into Two Different Area Codes Hillary Clinton if voters "really understood" what voting Democrats out of office could mean.
Karen Townsend, quoting MSN:
"I think that with all of the noise that we've gotten in this election season I don't think that people are really able to grasp that. But more importantly, I'm not sure they really understand the threats to their way of life. They may think that whoever's chairing a committee, you know, kind of abstract. But the Republicans in the House and others like the chair of the Republican Senate Campaign Committee [Sen. Rick Scott, R-Fla.] are on record saying they're going to put Social Security and Medicare up for a vote," Clinton claimed.
He didn't say that. But that's the New Big Lie, same as the Old Big Lie, that desperate Democrats are pushing with four days left to go. Syphillitic satyr Bill Clinton is also pushing it, of course.
James Carville probably told him to. Carville keeps saying Democrats must talk about the economy and not just about Muh 'Bortions, but what can they talk about regarding the economy?
The only thing they can do is say, "Republicans are going to steal your social security and medicare." That's... kind of about the economy. At least it involves dollars being sent to people and places.
This isn't going to work. People understand that if a subject is just brought up 96 hours before an election, and never before that, that this simply isn't real. Or else you would have been talking about it for months and months, instead of Muh 'Bortions and January 6th, right? Right?
Hillary Clinton thinks Americans are stupid, but they're not stupid enough to believe that this has been the Republicans' secret plan for two years and Democrats are just now getting around to talking about.
MSNBC loses 20% of the key demographic for its prime time shows.
This is an important election barometer. People who know they're going to lose an election aren't very interested in watching TV about the elections. The Democrats are demoralized and know they're going to lose -- which will cool the urgency of marginal Democrat voters to bother voting at all.

Someone asked about the Ron Johnson race. That one is, I'm 99% sure, over.
The one to watch is the governor's race. Michels +1, says Emerson, a liberal college's polling center.
InteractivePolls @IAPolls2022

WISCONSIN POLL By Emerson

SENATE
(R) Ron Johnson: 51% (+5)
(D) Mandela Barnes: 46%

GOVERNOR
(R) Tim Michels: 48% (+1)
(D) Tony Evers: 47%

* 1,000 LV | 10/27-29 | MoE ±3%
Close race for AZ Senate, says Civiqs. I think Masters is winning, and will win, and Barris/Barnes agree, but it's still too tight for the Ace of Spades Decision Desk to make a call.
CIVIQS: Blake Masters is TIED with Mark Kelly in Arizona Senate Race

(R) Blake Masters 49% (=)
(D) Mark Kelly 49%

Independents
(R) Blake Masters 50% (+5)
(D) Mark Kelly 45%

* 34% of all Registered Voters in Arizona are Independents
This same poll says that Kari Lake is only ahead of Abortion Mouse by two points, 50-48. I don't believe that at all. I think she's up by 7-8+.
InteractivePolls
@IAPolls2022

FINAL POLL: @RemingtonPolls (R)

GA Senate
(R) Herschel Walker 49% (+4)
(D) Raphael Warnock 45%

GA Governor
(R) Brian Kemp 55% (+14)
(D) Stacey Abrams 41%
That's a bigger lead for Walker than most polls put the race at, but Richard Barris thinks that Walker is ahead by a bigger lead than most pollsters claim.
I mean:
InteractivePolls @IAPolls2022

Echelon Insights: GEORGIA 2022 Election

Senate
(R) Herschel Walker 51% (+7)
(D) Raphael Warnock 44%

Governor
(R) Brian Kemp 54% (+12)
(D) Stacey Abrams 42%

* N=465 Definite Voters
* N=500 RV: Walker +5 (49/44)
The Deep State toad-creature Liz Cheney just endorsed her fellow Deep State toad-creature, Elissa Stotnik (D-MI).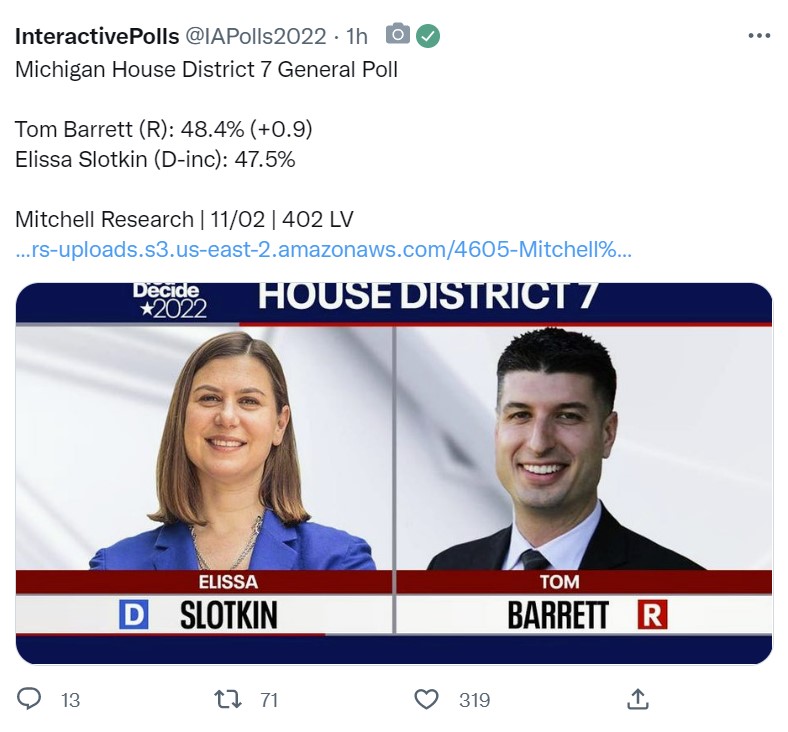 The Unlovely Liz just endorsed Tim Ryan over JD Vance, too.
InteractivePolls @IAPolls2022

𝐍𝐄𝐖 𝐏𝐎𝐋𝐋: J.D. Vance holds 𝟱 𝗣𝗢𝗜𝗡𝗧 lead over Tim Ryan in Ohio Senate Race

(R) J.D. Vance 49% (+5)
(D) Tim Ryan 44%

* Cygnal (R) | N=1,520 LV | 11/01
Every little thing she does is magic.

It's time to retire to spend more time with the mystery bumps on your skin, Liz.
Some of those look like they have irregular borders. I'd get those looked at, Liz.
InteractivePolls @IAPolls2022

𝐍𝐄𝐖 𝐏𝐎𝐋𝐋: Mehmet Oz holds 𝟯 𝗣𝗢𝗜𝗡𝗧 lead over John Fetterman in Pennsylvania Senate Race

(R) Mehmet Oz: 47% (+3)
(D) John Fetterman: 44%

* RRG Group (R) | 1,102 LV | 11/01-02
InteractivePolls @IAPolls2022 · 10h PENNSYLVANIA SENATE POLLING TRENDS By Emerson College

August
John Fetterman (D) 48% (+4)
Mehmet Oz (R) 44%

September
John Fetterman (D) 45% (+2)
Mehmet Oz (R) 43%

TODAY
Mehmet Oz (R) 48% (+2)
John Fetterman (D) 46%

Oh man, this one would be so sweet. Plus, this one will come early on election night (or, at least, we'll know it's close, even if they can't call it), so it will be a good bell-wether.
InteractivePolls @IAPolls2022


NH SENATE: 2 Polls in a row show Don Bolduc leading Maggie Hassan

Trafalgar
Bolduc (R) 47% (+1)
Hassan (D-inc) 46%

St Anselm
Bolduc (R) 48% (+1)
Hassan (D-inc) 47%

St Anselm was the most accurate New Hampshire pollster in 2020 (Biden +8 poll vs Biden +7.4 result)
Come on, be serious:
InteractivePolls @IAPolls2022

𝐍𝐄𝐖 𝐏𝐎𝐋𝐋: Ron DeSantis holds 13 POINT lead over Charlie Crist in FL Governor Race

(R) Ron DeSantis: 54% (+13)
(D) Charlie Crist: 41%

@VictoryPolling
| 500 LV | 10/30-11/1
Two things are interesting about the following:
The independent has lost about half her support, falling from 13% to 6%, but Drazen remained ahead by three. The fear was always that if the independent cratered, all her support would go to Kotex. Seems not.
The other interesting thing is... well, just look at them.
One party is the party of women who get along with men and the other party is the party of women who don't.
You can tell just by looking at them.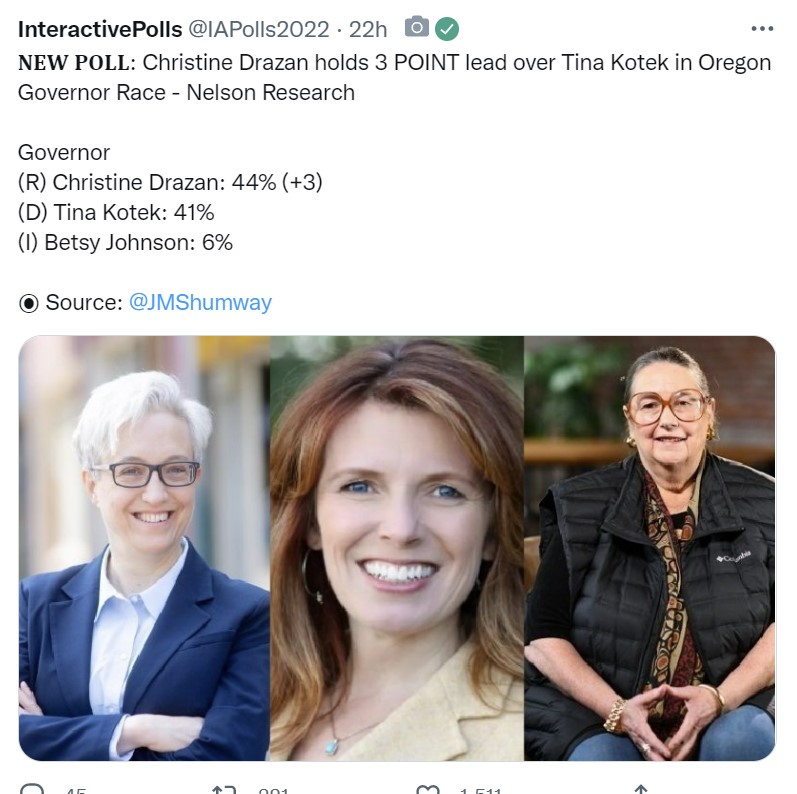 And don't forget Tiffany Smiley in Washington -- the American Greatness poll puts her only down by 1.6%, with Patty Murray stuck under 50% and with 5.6% undecided, and Trafalgar puts her down by 1.2%.
And she seems like a good, deserving woman.

posted by Ace at
05:47 PM
|
Access Comments