« Twitter Is Now Doing Something Once Believed Impossible -- Fact Checking Democrats
|
Main
|
Right On Cue, Major Leftwing Pollsters Suddenly Credit the GOP with Having a Big Lead on the Democrats »
November 02, 2022
In Florida, Biden "Flubs" Like He's Never Flubbed Before
And what's going on with the back of his hand? It looks like a scab from an IV port.
Is it fair to speculate? Well, Biden has his medical records on lockdown so what are we to do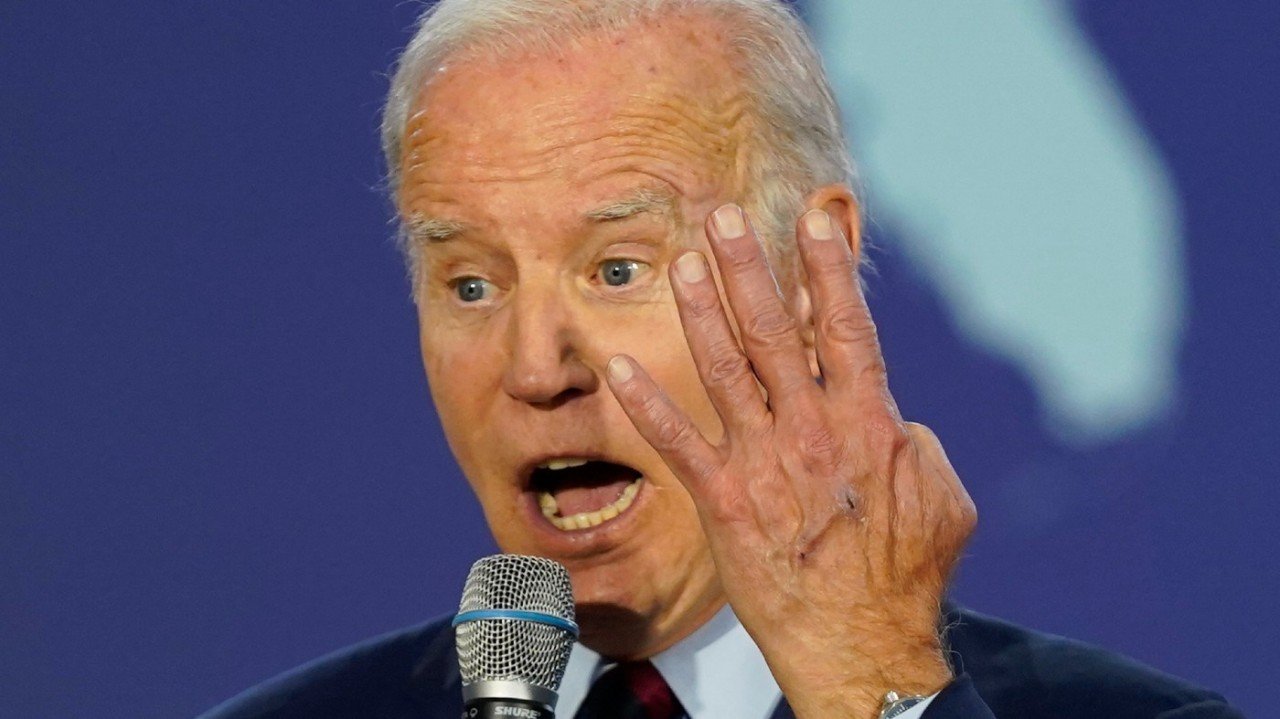 This is normal. It's normal that a president is getting an IV containing... something whenever he has to stay up past Early Bird Special o'clock.

Whoa -- I think he might be having an adverse reaction to the meds.
A commenter writes:
That's not an injection site. Biden is just really fucking old. So, take my mother...please. She'll be 74 in February, she has paper thin skin and it's just prone to developing sores. I tell her it's the decomposition setting in early.
Well could might be, but it's right on a vein (the confluence of two veins), and I've gotten IV ports myself on the back of the hand.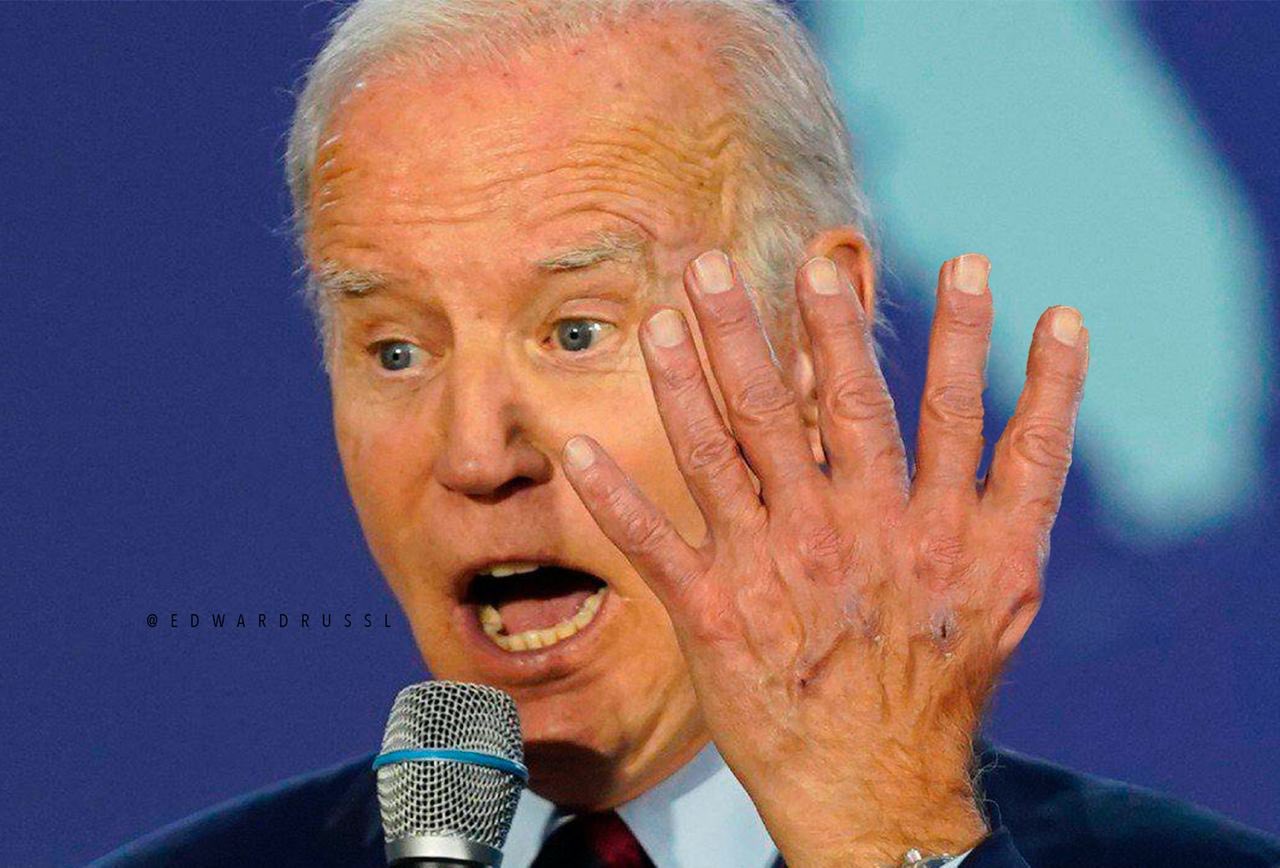 Biden is getting worse -- much worse.
Via Ed Driscoll at Instapundit, this medical briefing from Issues & Insights.
Consider the recent string of events involving President Biden.

In the span of a few days, he called Kamala Harris a "great president," got disoriented at an event on the White House lawn, claimed that his student loan giveaway was a law passed by Congress not his own executive order, misstated the name of Britain's new prime minister, suffered another embarrassing teleprompter failure, appeared to nearly drift off into sleep during a TV interview, got confused about how to exit a stage he'd climbed up just moments before.

A neutral press would be demanding answers from the White House about Biden's condition. They be talking to experts about the grave risks of having a president suffering from dementia in charge. They'd have their pollsters ask the public about its concerns with Biden's mental health. (Something our Issues & Insights/TIPP has done).

Instead, reporters are feverishly sweeping Biden's rapid deterioration under the rug. Indeed, if it weren't for conservative news outlets, the public would have virtually no idea of how disturbing Biden's decline has become.
More at the link, noting that the press is using its same Medical Denialism skills to save John Fetterman & His Morbid Growth.
RedState's Sister Toldjah has details about the brain-damaged "president's" rally in Miami last night.
Joe Biden thanked Debbie Wasserman-Schultz, saying he "had no greater friend in the United State Senate."
Debbie Wasserman-Schultz has never served as a Senator. She's a Representative.
Joe Biden showed off some of his expertise in economics.
He said "THAT'S A FACT!" regarding his claim that his policies have "cut the federal deficit in half." This is so notoriously not a fact that even his leftwing media co-conspirators at CNN and the Washington Post have confessed his policies increased the deficit.
As I noted yesterday, but this is a keeper, first he confused Ukraine with Iraq, and then confused when and where his JAG officer son died.
Beau Biden died in America, due to brain cancer, not injuries sustained in battle, six years after returning home from a brief stint in Iraq (seven months in Iraq).

Biden attempts to claim he died of "wounds suffered in Iraq," hypothesizing that he got brain cancer from one of Iraq's "burn pits." But why would a JAG officer be involved in a burn pit? He's not a firefighter or an EOD guy. What on earth would he be doing there? And even if he was at one, how long would he have been there?
But as Biden's galloping dementia has worsened, the death of Beau Biden has been changed from "contracted cancer due to exposure to carcinogens in Iraq" to "died in Iraq." He has told his lies so many times they have supplanted reality in his rapidly diminishing memory stores.
Other clips at the link.
Ultra-MAGA Republicans have now been upgraded to "extremely extreme." Enjoy the extra leg-room!
The Washington Times @WashTimes

'These guys are extremely extreme': Biden blasts Republicans over response to Paul Pelosi attack

https://trib.al/YnvLx4W

He's not good with... the words.
Biden also straight-up lied about where he went to college. To ingratiate himself to a black audience, he claimed he went to historically-black Delaware State University, instead of historically white University of Delaware (where he was a starting fullback!! eleventy!!!).
As Vodkapundit/Stephen Green writes:
Biden said, and I quote, exactly as you heard, "I'm a big fan of HBCUs. I got my start at one of those other HBCUs, Delaware State University."

That's not a stutter, folks. That's not a slip of the tongue. That's what those of us in the high-powered punditry business call "a flat-out, big-ass, pandering lie."

Our Poor Black Child was speaking at Florida Memorial University, another HBCU, where presumably the students are smart enough to know better. But these days, youth and partisanship trump tiny bits of knowledge and common sense.

As I suggested above, this wasn't Biden's first foray into flat-out, big-ass, pandering lies about attending an HBCU.

Joseph Curl reported that during Biden's 2019 primary campaign, that Delaware State University had to refute "Biden's claim that he 'got started out' at the historically black college."

Back in October 2019, Biden made the claim at historic Wilson High School in Florence, founded in 1866 by the Freedmen's Bureau for black children seeking an education.

"I got started out of an HBCU, Delaware State -- now, I don't want to hear anything negative about Delaware State," Biden told the audience just before the South Carolina Democratic primary. "They're my folks."
They're my folks.
As the Democrats realize they are set for an epochal repudiation, the primary organ of the Democrat Party leadership -- the New York Times -- is actually writing stories about Biden's deteriorating brain.
Writes Bonchie:
Things are bad in Democrat land. Just a week prior to the election (as of this writing), all the polls are shifting hard against them. On Wednesday morning, two stubborn holdouts, CNN and NPR, both dropped their final surveys showing the GOP up three points. The bell is tolling, and those on the left know it, even if they are loathed to admit it.


So what's Joe Biden up to? Well, he went to Florida on Tuesday and gave perhaps his most dementia-ridden speech yet, though, it's got some serious competition. He had so many "moments" that it's actually difficult for me to recap them, but I'll do my best.

Biden forgot what FEMA stands for, falsely claimed his son died in Iraq, called Hurricane Ian "Ivan," claimed he spoke to the man who invented insulin (both died before he was born), admitted prices are going up, lied about reducing the deficit, hilariously tried to talk in "Southern," and delivered a falsehood about inflation vs. other countries. [Those clips in the Sister Toljah post linked above -- ace.]

And that's just what he said. His general demeanor leaned towards senility as per usual, and it's disturbing that it's treated as normal at this point. Then there was the sore on his hand that appears to be from an IV that was noticed.
While Maggie Haberman's "report" claims Biden only committed two "flubs" -- yes Maggie it's "two," I guess because the White Patriarchy's oppressive counting system must be de-centered -- at least there's some acknowledgement that there's something rotten in the state of Biden's hippocampus.
The Washington Post runs an opinion piece demanding that, for "the good of the country," Biden and Kamala Harris must both remove themselves from consideration as nominees for the 2024 ticket, but that's by NeverTrump neoliberal George Will. Even though he is now a Perfect Little Dweeb Democrat, I don't think he speaks for the Post.
The "flub" Will considers disqualifying was made last week, in which Biden claimed his loan-forgiveness-for-wealthier-than-the-norm-shitlib-Democrat-supporters was "voted on" by Congress.
No one ever voted on it, of course; like so much Biden does, it is merely Tyrant's Privilege. Biden claimed that he had the power to forgive loans, using a law about suspending loan payments for military personnel, because we're in a Covid Emergency that he keeps denying is an emergency in public appearances.
It's a lawless executive order not worth the paper it's printed on.
And yet Biden as confabulated a congressional vote on it.
During this autumn's avalanche of political news, an enormous boulder bounced by, barely noticed. It demonstrated why Joe Biden should not seek another term. Democrats should promptly face that fact, and this one: An Everest of evidence shows that Vice President Harris is starkly unqualified to be considered as his successor.

The boulder: Meeting recently with some progressive activists, Biden said his $426 billion student loan forgiveness was accomplished by "a law" that he had "just signed": "I got it passed by a vote or two." No. He. Did. Not.

Biden was not merely again embellishing his achievements. This is not just another of his verbal fender benders. There is no less-than-dismaying explanation for his complete confusion. What vote? Who voted?

After repeated unilateral extensions of the moratorium on loan repayments until election season, Biden unilaterally implemented the windfall for millions of voters. Congress was not involved in this cataract of money from the Treasury, in violation of the Constitution's appropriations clause.

It is frightening that Biden does not know, or remember, what he recently did regarding an immensely important policy. He must be presumed susceptible to future episodes of similar bewilderment. He should leave the public stage on Jan. 20, 2025.
Regarding Kamala Harris, Will writes: "The Vice President has noting to contribute to the American polity, unless and until this jumped-up Fluffer Understudy devises a means by which she can blow large swathes of the public simultaneously."
Okay he didn't say that but that's the tenor of it.
Good old George Will. The flashing 12:00 on the VCR of American conservatism. Posted by: Azathoth

posted by Ace at
01:12 PM
|
Access Comments