« In Florida, Biden "Flubs" Like He's Never Flubbed Before
|
Main
|
Ivy League Student Is, Get This, a Barista at Starbucks, and, Get This, a Self-Declared "Labor Organizer," and, Get This, a Hysterical Babygirl Soyboy Blubbering P*ssy »
November 02, 2022
Right On Cue, Major Leftwing Pollsters Suddenly Credit the GOP with Having a Big Lead on the Democrats
There is a very strong suspicion among poll analysts and critics. The People's Pundit Richard Barris mentioned it in his last podcast, though he's mentioned it before, and many people talk about it.
They talk about major pollsters deliberately publishing polls they know for a fact oversample Democrats and are therefore just wrong, in order to please their clients (who are often leftwing media companies and their gonzo shitlib audiences).
But then, right before the election, in the last poll before voting starts, they suddenly publish a poll showing the GOP in a much better position.
Suddenly, the Democrat oversampling they've been doing for months just poof! vanishes.
And why do they do this? Because, when people rank pollster's accuracy, they usually only look at the last poll conducted before the election.
All the deliberately Democrat-oversampling polls designed to perk up Democrat donors and demoralize Republican voters they published before the last poll are "freebies" -- they won't count as far as their official accuracy evaluation.
(A more innocent, but not completely innocent, explanation is that these pollsters know damn well it's hard to get media-distrusting conservatives to answer pollster's questions -- and don't bother to take special efforts to get them into the survey. Until it's the final poll of the season.)
So I'm not surprised to learn, get this, all the leftwing pollsters are all of a sudden showing big leads for the GOP in their last poll before the election. Unexpectedly!
Quinnipiac, which is still surveying registered voters, a more Democrat-skewing group, than likely voters, even five days before the election, suddenly discovers a completely unexpected 8-point shift in the GOP's favor from August.
Or, maybe, they just turned down the Democrat Oversample dials and published the first and last ballpark accurate poll of their polling season.
InteractivePolls @IAPolls2022

2022 Generic Congressional Ballot

Republicans 48% (R+4)
Democrats 44%

Independents
Republicans 49% (+15)
Democrats 34%

Hispanics
Republicans 46% (+4)
Democrats 42%

* 8-point shift towards the GOP from August when the Dems were up by 4 points

Quinnipiac | 2,010 RV | 10/26-30
They did not take a September poll, for some reason. So it flipped from Democrats +4 in August to GOP +4. Again, among registered voters.
CNN and NPR/Marist now "discover" a GOP lead, when last month they had claimed that Democrats were ahead.
This GOP lead somehow eluded them in their "freebie" polls that will not be evaluated for their accuracy as pollsters, of course.
CNNLOL "discovers" a seven point shift in just a month. Why are you laughing? This is CNN -- the most trusted name in news.
InteractivePolls @IAPolls2022

2022 Generic Congressional Ballot

Republicans 51% (+4)
Democrats 47%

* 7-point shift towards the GOP from last month when the Dems were up by 3 points

* [Extremely Enthusiastic to vote]: 38R-24D (R+14)

CNN/SSRS | 992 LV | 10/26-31
Well CNNLOL didn't want to upset its crazed partisan viewers with ooky polls for months, but they're forced to drop this bad news just five days before the election.
NPR/Marist -- if it's from the leftwing Marxist Government, you know in your heart it's True -- detects a six point shift in just a month.
InteractivePolls @IAPolls2022

2022 Generic Congressional Ballot

Republicans 49% (+3)
Democrats 46%

Independents
Republicans 45% (+12)
Democrats 33%

* 6-point shift from last month when the Democrats were up by 3 points

NPR/Marist | 1,200 Definite Voters

Ed Morrissey notes that these pollsters preferred excuses as to why their polls numbers have changed so dramatically.
CNN says it's because Democrat enthusiasm collapsed.
An enthusiastic Republican base and persistent concerns about the state of the economy place the GOP in a strong position with about a week to go in the race for control of the US House of Representatives, according to a new CNN Poll conducted by SSRS.

The new survey out Wednesday shows that Democratic enthusiasm about voting is significantly lower than it was in 2018, when the Democratic Party took control of the House. Republican voters in the new poll express greater engagement with this year's midterm election than Democrats across multiple questions gauging likelihood of vote.
I'll bet you there's not much difference in Democrat enthusiasm compared to last month's poll -- not compared to 2018, but compared to their last poll claiming a three point Democrat lead -- so this doesn't explain the sudden "shift."
Ed Morrissey notes that the very leftwing Morning Consult poll continues showing a 47-42 advantage for Democrats -- among registered voters.
But it turns out among likely voters, this leftwing suppression poll shows a 46-46 tie.
Democrats Lose Generic Ballot Lead: Congressional Democrats have lost their advantage over congressional Republicans on the generic ballot, with likely voters now evenly split -- 46% to 46% -- on the question. The latest survey marks a decline over the past month from Democrats' high point (49%), and a boost for the GOP from its 44% low.

Republicans Increase Enthusiasm Edge: Republicans are more likely than Democrats to say they are "extremely" or "very" enthusiastic about voting in the midterm elections, 64% to 61%, following a dip among Democrats in recent weeks.

Biden's Approval Hits Low Among Likely Voters: Biden's job approval rating has reached a low point with likely voters, falling from a 47% high in mid-September to 42% in the latest survey. Meanwhile, 56% disapprove of his job performance.
46-46? Sure, Jan. Morning Consult tracks daily so this is probably not their final poll -- they still have a few "freebies" to play around with before producing a real poll result that can stand up to post-hoc scrutiny.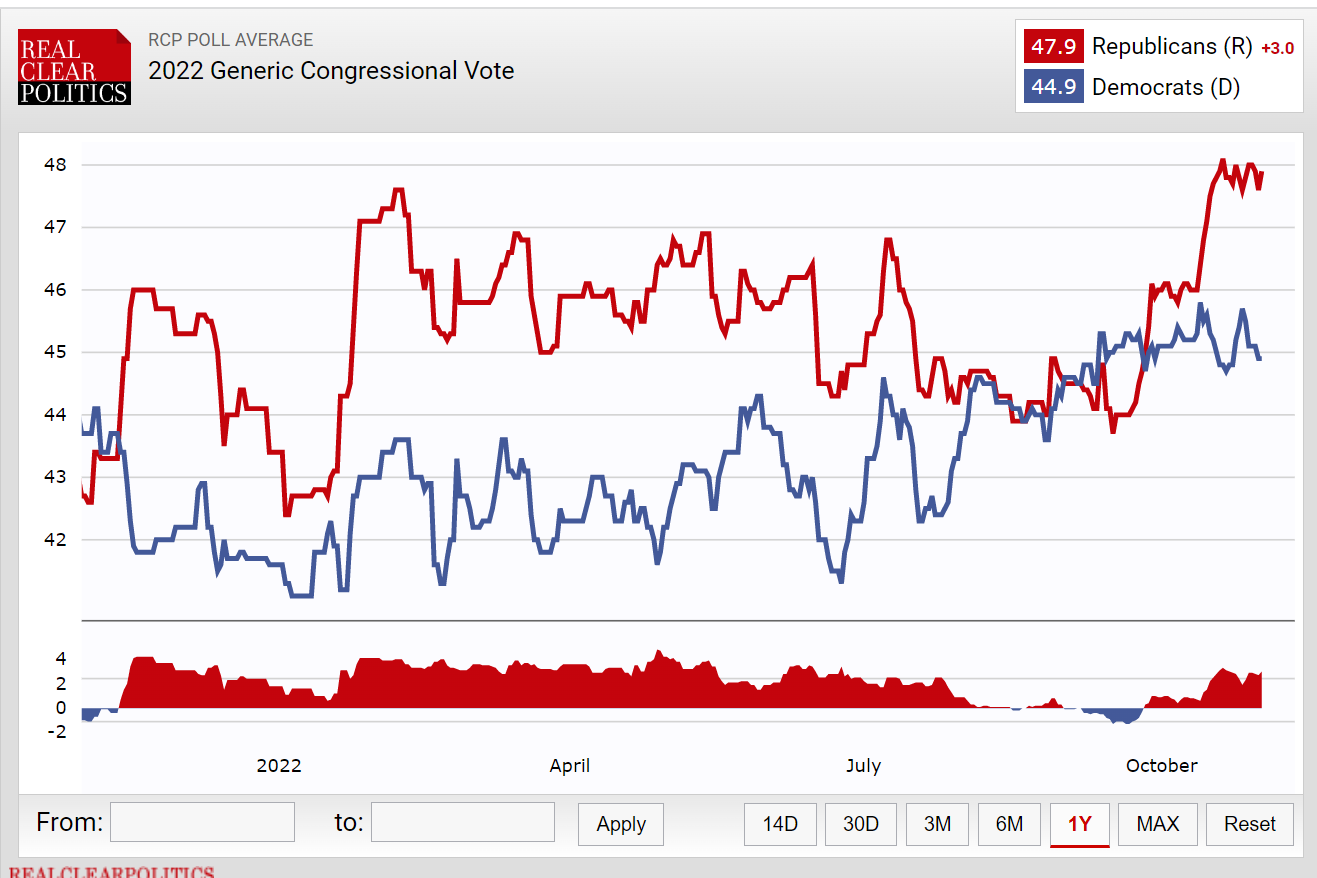 One point that bears another mention: Democrats are overrepresented in solidly safe ultramarine blue districts, like major cities, and are therefore underrepresented in competitive swing districts. So Republicans are further ahead in competitive districts than a national poll would indicate.
I think most of the seats we thought we could get, we will get.
The question is about the ones we didn't think we could realistically get.
The big overrepresentation of Democrats in Democrat districts does present a firewall beyond which no red wave can go. Once districts get into the D+18 range, they're safe for Democrats. And there are bunches of those.
But there are also districts in the D+5 to D+10 range. Are those safe?
No, probably not completely safe.
Barris and others think that even D+9 districts aren't safe this year.
Meanwhile...

posted by Ace at
02:47 PM
|
Access Comments