« "Jussie Smollett, Part 2:" Desperate Abortion Mouse Blames Kari Lake for Break In At One of Her Campaign Offices
|
Main
|
The Country Only Has 25 Days' Worth of Stored Diesel Fuel, the Lowest Level Since 2008 »
October 28, 2022
Fake News Media Punked by Crisis Actors
Those guys I posted about earlier? The one who said he had Tesla payments to make and wasn't sure how he'd make them?
F A K E News. And they got all sorts of media to report on it.
A pair of pranksters posing as laid-off Twitter employees tricked multiple media outlets Friday as the public anxiously awaited news on whether Elon Musk had begun axing staffers.

CNBC's Deirdre Bosa interviewed two people who identified themselves as Twitter employees and were seen near the company's San Francisco headquarters carrying cardboard boxes.

Skepticism immediately emerged on social media. One of the pranksters said his name was "Rahul Ligma" -- a reference to a popular internet meme -- and held a copy of Michelle Obama's book "Becoming" aloft while speaking to reporters. The other said his name was "Daniel Johnson."

CNBC, Bloomberg, the Daily Mail and NBC were among the outlets that reported layoffs were underway after the duo spoke to the media.
"Ligma" is of course a prank name. Like "Bofa." Bofa Deez Nuts, meet Ligma Balls.
Daniel Johnson speaks for itself.
ABC7 Bay Area reporter Suzanne Phan also tweeted about the alleged Twitter employees, writing that one had claimed "he was terminated during a zoom meeting."

LEAVING TWITTER: an employee leaving Twitter today. Says he was terminated during a zoom meeting. Doesn't know where he is going to work next. Says he is going to spend time with his family. #ABC7newsbayarea #ABC7now #Twitter #SF #BayArea pic.twitter.com/Txvs5fsa9y

-- Suzanne Phan (@SuzannePhan) October 28, 2022
They also had a great quote in a video report. I wish I'd watched it -- because now, of course, that report has been deleted in embarrassment from YouTube.
But Stephen L. Miller posted the quote from a report that went over a "mainstream media" (LOL) channel.
Stephen L. Miller @redsteeze


"I have to touch base with my husband and wife"

Just absolute legends.
Paul Lee
@BeeBimBop

Quite ironic that a major news outlet failed to do basic diligence and fell for a crisis actor prank, resulting in the spread of misinfo, on the first day of new ownership. All you had to do was ask to see a badge or look for bird-themed stuff in the boxes. Also we don't use Zoom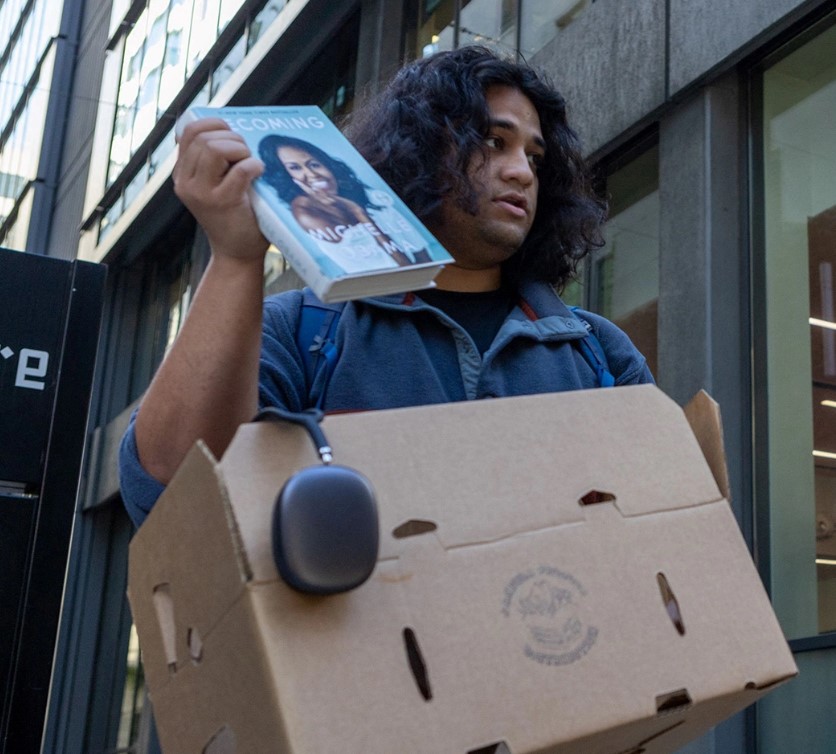 Mr. Ligma's prized copy of Michelle Obama's "auto" biography is a nice touch.
I cropped it out, but there's a whole bank of cameras and microphones in front of him, recording every dumb word he says.
Maybe he's mixed up in this Paul Pelosi situation, too.

posted by Ace at
04:30 PM
|
Access Comments