« Florida *Democrat* Election Official Blows Whistle of Longstanding ILLEGAL Practice of "Ballot Harvesting" by Paying Mostly African-American Residents $10 Per Ballot
|
Main
|
Fake News Media Punked by Crisis Actors »
October 28, 2022
"Jussie Smollett, Part 2:" Desperate Abortion Mouse Blames Kari Lake for Break In At One of Her Campaign Offices
Kari Lake is ahead of Abortion Mouse by eleven points. What possible reason would she have to break into her office?
To learn where she'll be? We know where she'll be. Abortion Mouse will be hiding in bathrooms.
To learn what she'll say? We know what Abortion Mouse will say. Abortion Mouse will say "abortion" and "insurrection" and "transgender education is a human right."
But Abortion Mouse is freaking out, so she's claiming that Kari Lake's rhetoric "incited" a break-in (rhetoric now inspires non-violent burglaries?!?!), and of course CNN is right there to carry her water for her.
Here's the incendiary accusation Abortion Mouse posted on Twitter -- accusing Kari Lake, WITHOUT EVIDENCE, as Fake Jake's chyrons would say, of not only "inciting violence" but now "inciting burglary."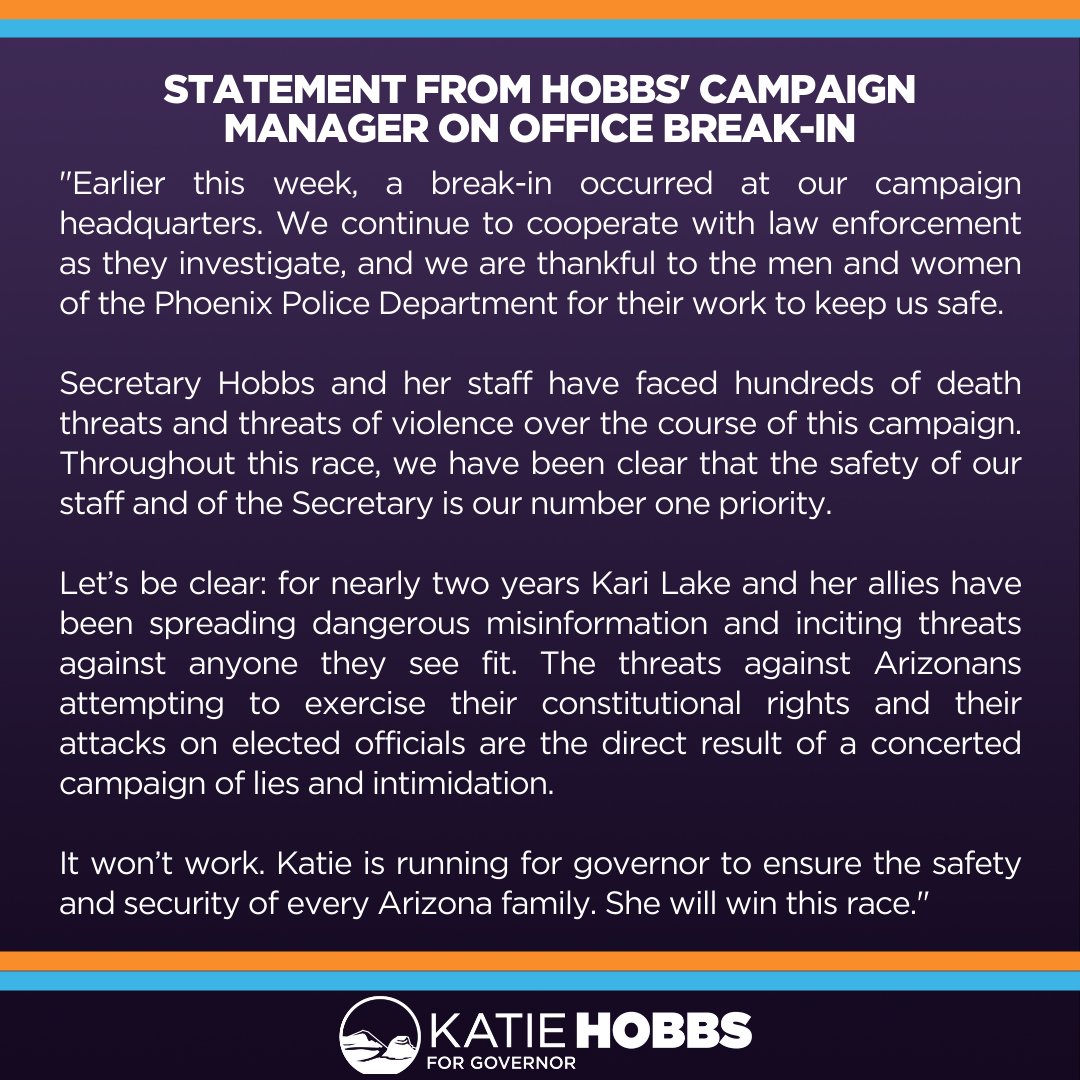 CNN of course picked up on Abortion Mouse's hysterical claim and went into Campaign Mode for her:
PEORIA, Arizona -- Kari Lake, the Republican nominee for governor of Arizona, called reporters "despicable" for asking her to respond to allegations from the Arizona Democratic Party that she was directly responsible for a break-in at Democratic nominee Katie Hobbs's office earlier this week.

"That is absolutely absurd. It sounds like a Jussie Smollett part two. You're going to drag the people through something like this," Lake said in response to a question from a CNN reporter following an event in honor of first responders on Wednesday.

"You're letting a woman who has been running a terrible campaign direct you to a story like this? You know she is running a bad campaign."

The Phoenix Police Department said it is investigating a burglary at Hobbs's campaign headquarters and determined items had been taken from the office Monday evening, although it did not clarify what was taken.

The Arizona Democratic Party was quick to try to connect Lake to the break-in. "This is a direct result of Kari Lake and fringe Republicans spreading lies and hate and inciting violence -- and it is despicable," it wrote in a statement posted on Twitter.


"I can't believe she would blame my amazing people, blame me for something like that," Lake said. "I don't even know where her campaign office is. I'm assuming it's in a basement somewhere because that's where she's been campaigning. You guys are despicable for falling into that trap."


"I'm saddened that Hobbs and her camp would try to pin this on us. It's defamatory and it's wrong. Her own party is attacking her. She is trying to deflect her abysmal campaign," she said.
Via Twitchy, Kari Lake gives 'em hell:
And now Abortion Mouse says she doesn't want to talk about the break-in.
Get this: Abortion Mouse just wants to talk about... abortion.
Here's why Abortion Mouse doesn't want to talk about the break-in:
Because they caught the criminal.
And her refusal to speak further about her claim that Kari Lake's "rhetoric" "incited" a penny-ante smash-and-grab burglary suggests to me some traits about the criminal.
For one: That he was not caught wearing a "MAGA" hat.
Police have arrested a suspect in the campaign headquarters break-in of Arizona Secretary of State and Democratic gubernatorial candidate Katie Hobbs, media reports said on Thursday.


Police in Phoenix "have made an arrest in the burglary at [the Hobbs] campaign office," Fox Phoenix reporter Melissa Sarbak wrote on Twitter on Thursday afternoon.

The identity of the alleged burglar, Sarbak said, "has not yet been released."

They'll keep it secret until after the election, as the Air Force will keep secret which Democrat opposition research firm paid a criminal clerk to illegally leak Jennifer Ruth-Green's private military files.
In the statement, the campaign suggested that Republican contender Kari Lake may have been obliquely responsible for the break-in.


"Let's be clear: for nearly two years Kari Lake and her allies have been spreading dangerous misinformation and inciting threats against anyone they see fit," the statement claimed.
Eat a bag of all the dicks, Abortion Mouse.
Update: In an article with absurd amounts of spin, repeatedly accusing Kari Lake of "refusing to accept election results," Reuters gets around to noting that the man who burgled Abortion Mouse's office burgled another office that same day and does not seem to be one of G. Gordon Liddy's Watergate Burglars.
Phoenix police said they had arrested Daniel Mota Dos Reis, 36, in connection to a burglary. While they did not reference the Hobbs incident directly, a source with knowledge of the probe confirmed the arrest related to the campaign break-in.


...

Dos Reis had already been arrested on Wednesday for a separate alleged commercial burglary, police said. They added that police had recovered the items allegedly stolen by Dos Reis.
You should read that article. Even as the facts absolve Kari Lake of directing this break in or "inciting" the break-in, Reuters attempt to make a case that she's responsible for "intimidation" against Abortion Mouse, and apparently directing this chronic thief to break into her office, among other offices.

posted by Ace at
03:31 PM
|
Access Comments