« THE MORNING RANT: Please Respect My Verbs
|
Main
|
Elon Musk Concludes Twitter Purchase, and Immediately Starts Taking Out the Trash »
October 28, 2022
Nancy Pelosi's Home Broken Into, Husband Attacked by Thug with a Hammer
LOCAL JOURNALIST: LEFTWING ANTIWAR ATTACKER; STORY IS ABOUT TO VANISH SO GET LAST COMMENTS IN QUICK
Update: He's a leftwing hemp jeweler and anti-war protester who once took part in some nudist anti-war protest in the Castro district.
Reported by multiple accounts. Karol Markowicz confirms the name as David Wayne DePape but not the further details.
Joe Eskenazi, of Mission Local, tweeted, "My sources also name the suspect in this morning's hammer attack on Paul Pelosi as David DePape, born 1980, of Berkeley. He would appear to be a former Castro nudist protester. Things appear set to be bizarre for a while."

A 2013 article in the San Francisco Chronicle mentions Depape, although his name is spelled wrong. It describes him as a "hemp jewelry maker." That article reported that Depape was the best man at the naked wedding of Gypsy Taub.
Joe Eskenazi @EskSF

My sources also name the suspect in this morning's hammer attack on Paul Pelosi as David DePape, born 1980, of Berkeley.

He would appear to be a former Castro nudist protester.

Things appear set to be bizarre for a while.

Joe Eskenazi writes for a local paper called Mission Local Now or ML Now.
This article is about the naked nuptials that David DePape was reportedly the best man at.
I don't know about you, but all this screams "Mega MAGA Extremist" to me.
Paul Pelosi is actually undergoing brain surgery, so he's not as fine as initial reports claimed.
NBC Bay Area @nbcbayarea


#BREAKING UPDATE: A hospital source tells NBC Bay Area's Investigative Unit that Paul Pelosi is undergoing brain surgery after he was attacked with a hammer at his San Francisco home.
CNN has an *anonymous* source to tamp down on such speculations about the intruder being invited in:
The assailant who attacked Paul Pelosi was searching for the speaker of the House, according to a source briefed on the attack. The intruder confronted the speaker's husband in their San Francisco home shouting "Where is Nancy, where is Nancy?" according to the source.
Flashback: Nancy Pelosi's home was previously vandalized -- by leftwingers, angry she had not yet delivered on a promise to send $2,000 covid checks.
***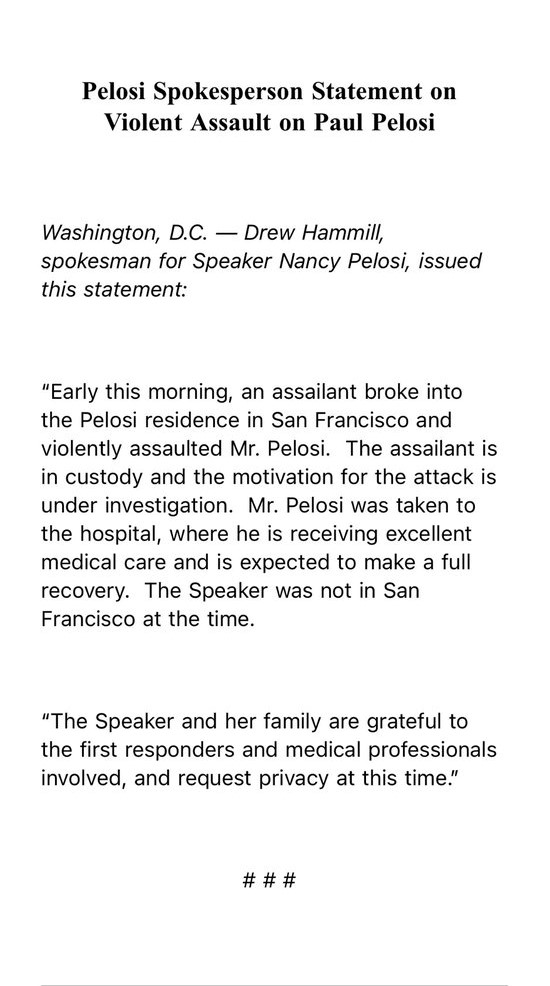 Paul Pelosi, the husband of House Speaker Nancy Pelosi, was attacked with a hammer at the couple's home in San Francisco by a male assailant early Friday morning, law enforcement sources tell CNN.

Pelosi, 82, is expected to make a full recovery, the Democratic speaker's office said in a statement.

Drew Hammill, a spokesman for Nancy Pelosi, said the assailant is in custody and a motive is being investigated.
LOL, now they're interested in the criminal's motive -- hoping it's a "Mega MAGA Republican."
Remember that CNN blew off the motivation of Bret Kavanaugh's would-be assassin? Or, of course, James Hodgkinson III.
And, of course:
15 Larry, we literally just had a trial of a guy mowing down 50+ people at a parade because of the leftist media radicalizing him!

You hack.
Posted by: Axeman
That was barely covered by the media, and of course they did not delve into his motivation at all. He didn't Cross State Lines, so it was hardly even a crime.
Former law professor and current conspiracy theorist crank Lawrence Tribe seized on Pelosi's and CNN's suggestion about "motive" and immediately put out the word -- this horrible attack on Jussie Smollett, I mean Paul Pelosi, was inspired by a Climate of Right-Wing Hate.
Based on literally nothing!
No "misinformation warning"! (Yes I know Elon Musk is the new sheriff in town but the left routinely traffics in this sort of "dangerous disinformation" and is literally never slapped with a banning or even a caution about it.)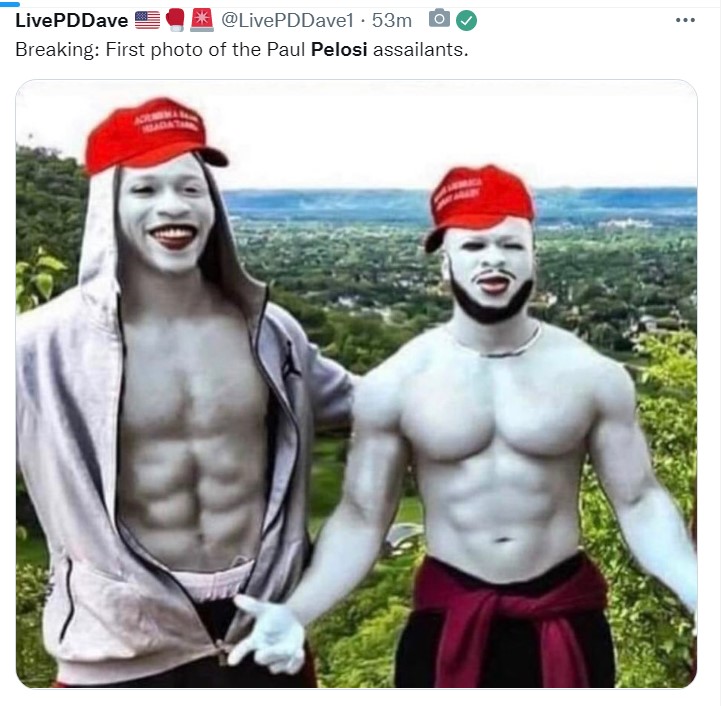 The attacker has already been caught. They already know it's a homeless skel looking for crack money. But they're pretending their might be a political motive behind it -- dividing the country, inciting violence against Republicans -- to see if they can get a #RepublicanHateKills hashtag trending on Twitter.
Arrest them. Arrest the whole Pelosi family. As Noted Legal Moron Chris Cuomo said, it is fundamental Constitutional Law that you can't use "fighting words." Chaplinski Rule, bitch! Look it up. (I didn't!)

Vernon Jones
@VernonForGA

@SpeakerPelosi's husband, Paul, 'violently assaulted' in home invasion, spokesman said.

Hell, I'm shocked they called the police and not a social worker instead.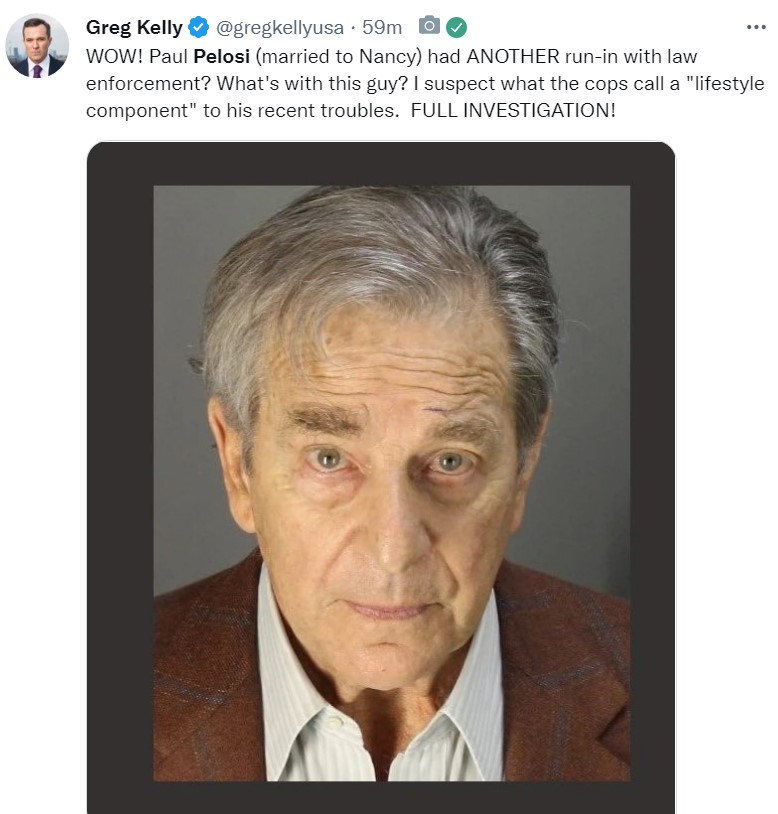 Update: Obviously, the below speculation -- or "Russian Disinformation" -- now seems incorrect as further facts have emerged.

Joking aside -- the Pelosi's mansion looks pretty robust.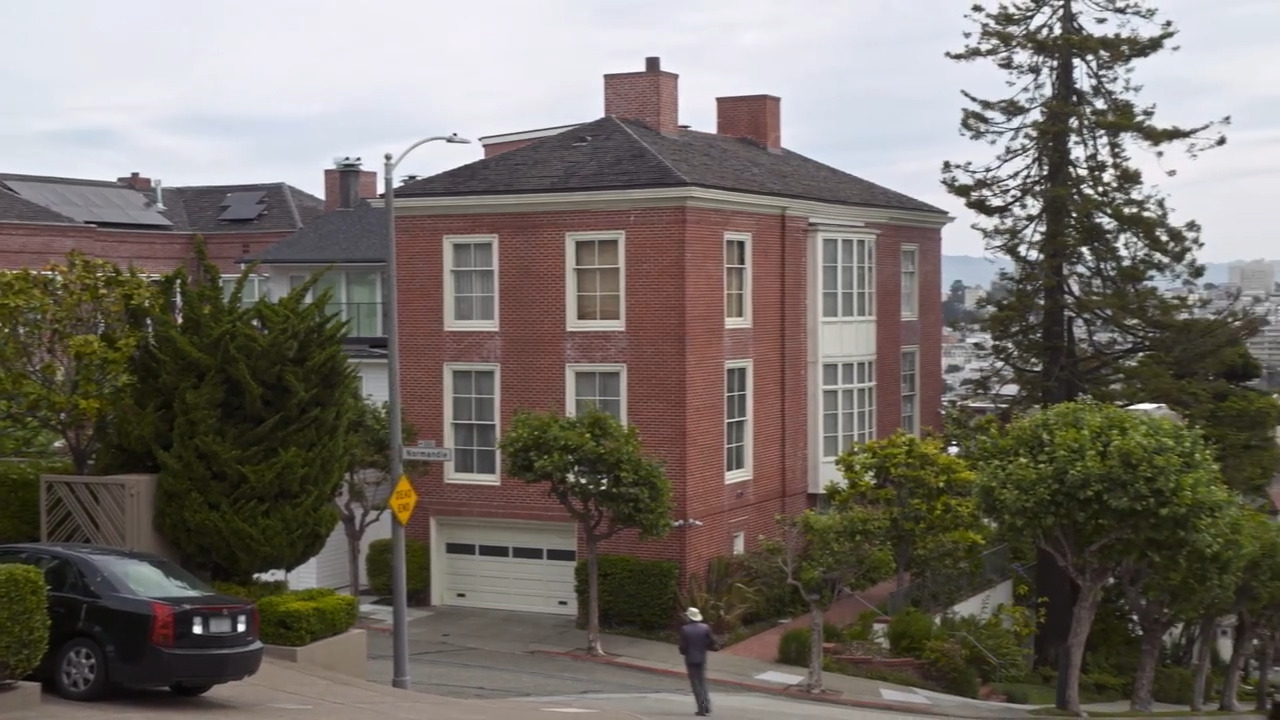 Pretty sure they have sturdy locks on their doors.
How did this guy get inside? Was he invited inside, for purposes of a business transaction?
Is he a pimp? Is he a drug dealer? Is this a case of a business exchange gone wrong?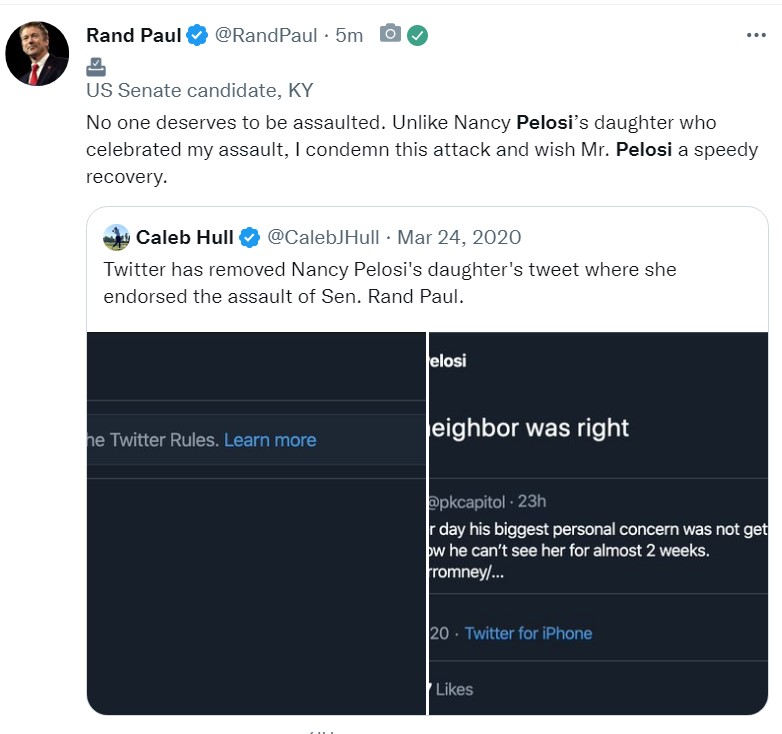 Hey Christine Pelosi -- do you think that David DePape was right?