ę Nancy Pelosi's Home Broken Into, Husband Attacked by Thug with a Hammer
LOCAL JOURNALIST: LEFTWING ANTIWAR ATTACKER; STORY IS ABOUT TO VANISH SO GET LAST COMMENTS IN QUICK
|
Main
|
Florida *Democrat* Election Official Blows Whistle of Longstanding ILLEGAL Practice of "Ballot Harvesting" by Paying Mostly African-American Residents $10 Per Ballot Ľ
October 28, 2022
Elon Musk Concludes Twitter Purchase, and Immediately Starts Taking Out the Trash
And by trash, I mean the leftwing totalitarian executives who turned Twitter into the propaganda enforcement arm for The Regime.
According to the account linked here, the deal is closed.
The New York Times did not confirm the deal had closed at the time of this writing, but did report on the firing of the top executives.
SAN FRANCISCO -- Elon Musk has started cleaning house at Twitter with the firings of at least four top executives on Thursday, said two people with knowledge of the situation, as the billionaire closes his $44 billion takeover of the social media company.

The Twitter executives who were fired include Parag Agrawal, Twitter's chief executive, Ned Segal, the chief financial officer, Vijaya Gadde, the top legal and policy executive, and Sean Edgett, the general counsel, said the people, who declined to be identified because they were not authorized to speak publicly.
At least one of the executives who was fired was escorted out of Twitter's office, they said.
I'll bet that was the lawyer, Vijaya Gadde, who was an absolute true believer Jihadist against free speech. She's reported to have been highly emotional about seeing her little fiefdom of censorship pass from her grasp.
...


Mr. Musk, Mr. Agrawal, Mr. Segal, Ms. Gadde, Mr. Edgett and a Twitter spokeswoman did not immediately respond to requests for comment.

Mr. Agrawal, who was appointed Twitter's chief executive last year, had clashed with Mr. Musk publicly and privately in recent months about the takeover. Mr. Musk had also singled out Ms. Gadde, criticizing her for her role in content moderation decisions at the company.
Here's an article from April noting that Vijaya Gadde "cried" at the thought of losing her power as America's Censorious Speech-Queen.
Monday was an emotional day at Twitter -- even for its executives.

Shortly after billionaire Elon Musk bought the powerful social media platform, top Twitter lawyer Vijaya Gadde called a virtual meeting with the policy and legal teams she oversees to discuss what the new ownership could mean for them.


Gadde cried during the meeting as she expressed concerns about how the company could change, according to three people familiar with the meeting. She acknowledged that there are significant uncertainties about what the company will look like under Musk's leadership.

Twitter spokesperson Trenton Kennedy said Gadde became emotional when discussing her teamís impact and the pride she feels in them.

...

Gadde, who has worked at Twitter since 2011, is the key executive charged with overseeing Twitter's trust and safety, legal and public policy functions. She is seen internally as Twitter's "moral authority" and the executive tasked with handling sensitive issues like harassment and dangerous speech.

She has shepherded Twitter through some of its most contentious political battles, including the decisions to remove all political advertising and to boot former President Donald Trump from the platform in the wake of the Jan. 6 attack on Capitol Hill -- a position that has earned her devoted fans within Twitter, as well as a large contingent of right-wing critics.
She showed what a committed and dishonest ideologue is when she gaslit Joe Rogan and Tim Pool when she appeared on Rogan's show.
Here's where they "explain" why they were banning people for saying "Learn to Code."
Some are enjoying the ability to speak freely:
Greg Price @greg_price11

* If you have a cock and balls, you are a man
* The vaccine doesn't work
* The election was stolen
* Climate change is a hoax
* Covid probably came from a lab
* Children's hospitals are doing sex changes on kids
* Ellen Page is a boring lesbian
What a terrible thing to say. I hope there are some serious consequences for this unauthorized exercise of First Amendment rights contingently-granted Regime permissions.

Are you sure that isn't just a foul wind of what's-gone-sour blowing from your down-under?
Matt Levine @Matt_Levine_1

Replying to @TaylorLorenz

Say what one will about the replication crisis in social sciences... we are real-time watching replication of the Stanford Prison Experiment here on twitter dot com.
Taylor Lorenz @TaylorLorenz


I'm getting more rape threats in the DMs than normal, but can't log off and miss the chaos!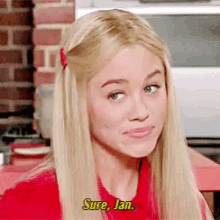 Hurt them, Space Daddy.
Hurt them all.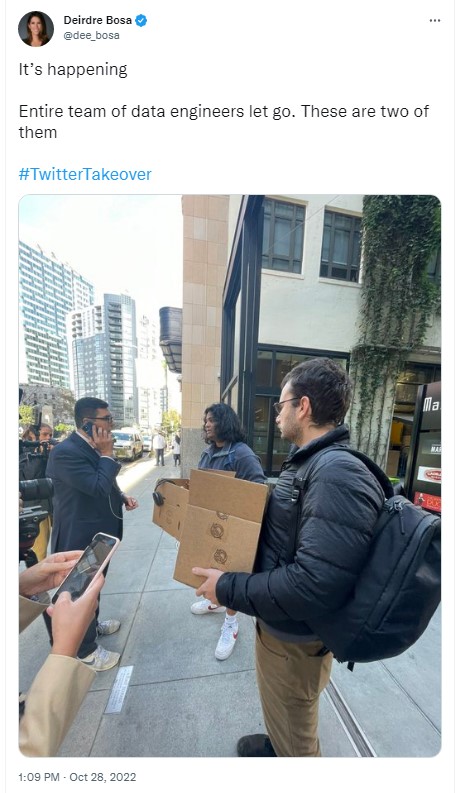 Deirdre Bosa @dee_bosa

Replying to @dee_bosa

They are visibly shaken. Daniel tells us he owns a Tesla and doesn't know how he's going to make payments.
Ecclesiastes 3, 1-2, VDH Vulgate:
To every thing there is a season, and a time to every purpose under the heaven: A time to be born, and a time to die; a time to plant, and a time to learn to code.

Reuters has a live camera up so we can watch the firings:
Via Jane D'Oh, Parag Agrawal being escorted out of a board meeting (not really).

"What's-gone-sour" joke ripped off from Jerri Blank on Strangers With Candy.
By the way, who's this then-unknown guest star on Strangers With Candy?

posted by Ace at
01:42 PM
|
Access Comments