« Mid-Morning Art Thread
|
Main
|
Nancy Pelosi's Home Broken Into, Husband Attacked by Thug with a Hammer
LOCAL JOURNALIST: LEFTWING ANTIWAR ATTACKER; STORY IS ABOUT TO VANISH SO GET LAST COMMENTS IN QUICK »
October 28, 2022
THE MORNING RANT: Please Respect My Verbs
This whole pronoun thing was kind of confusing to me at first. Language exists to foster communication, and having people create their own unique grammar and then demand that others speak their special language is weird. From a CNN article (linked further below) comes this interesting first sentence:
With Demi Lovato revealing that they are non-binary and using they/them pronouns, it's a good time to make sure you're up to speed on pronoun etiquette.
There are not actually multiple Demi Lovatos being referenced here. (Or would that be Demis Lovato?) She just identifies as plural. Or something like that.
But I am now totally cool with all this, and here's why – I am unique and special too, so I now have my own verb conjugations!
Please respect my verbs!
This is real simple. Because I have such a rich abundance of interests and situational personalities, I will need for everyone to always use plural verbs when talking to me or about me.
For example, if griping about me writing again about one of my favorite topics at Ace of Spades HQ, you might say, "Oh no, Buck are writing about Principled Tree Traders again."
We'll get to more examples of how to properly use my verbs later in this piece, but first, I'd like to link to this very helpful CNN piece about pronouns.
How to get people's pronouns right and what to do if you slip up
The most common third-person singular pronouns are "she/her/hers" and "he/him/his." "They/them" can also be used to refer to a single person, while some people use gender-neutral or gender-inclusive pronouns like "ze/hir" (pronounced "zee/here") instead.
This inspires me. Just differently. If Demi can have plural pronouns, then I can have plural verbs.
Using the pronouns that a person goes by is a way of respecting that person's gender identity, meaning a person's emotional and psychological sense of their own gender.
I'm starting to get it. While "my verbs" might be unrelated to my gender, I am still a very special person who is uniquely me. My emotional and psychological sense of my own special identity is such that verbs used by the rest of you are not satisfactory to me. In fact, your verbs are repressing me.
If someone tells you that they go by the pronouns "they/them," for example, and you continue to use "he/him" pronouns for them, it can signal that you believe that transgender, non-binary or intersex people are unimportant, or shouldn't exist.
And the same goes for me and my verbs! When ignorant bigots continue to use a singular verb when talking about me, even though my verbs are always plural, you are telling me that I am unimportant. Or worse, that I don't even exist to you.
But by the way, I do have special pronouns too. Instead of "he/him" my pronouns are "him/he." This applies to the reflexive version too, "heself" instead of "himself." Whenever you would normally use the word "he" when referring to me, you must use the word "him" instead, and vice versa.
Grammar snobs might protest that "him" cannot be the subject of a sentence and "he" cannot be the object of the preposition. Sorry, grammar snobs, but that train left the station when our elite media embraced the transgender lobby's boutique language agenda.
So how do you use my pronouns? Here's an example: "Buck said that him will never buy he-self an electric vehicle."
Now let's put it all together. Here's an example of how to talk about me using my verbs and my pronouns.
"Have Buck bought he wife an anniversary gift, and do him have a plan if she wants he to consider buying a Tesla?"
It's that easy. Just educate yourself.
Well actually, it's not easy. It's beyond ridiculous, as is using "they" as a singular pronoun or demanding that people use a non-existent word as someone's unique pronoun.
So let's make a deal. All of you who reject the pronoun silliness do not have to respect my verbs. But Demi Lovato, CNN, and any other pronoun-pushers may not contact me or communicate with me unless they respect my verbs, and my pronouns. Doing otherwise would be the same as denying my existence.
*****
Songs of the Season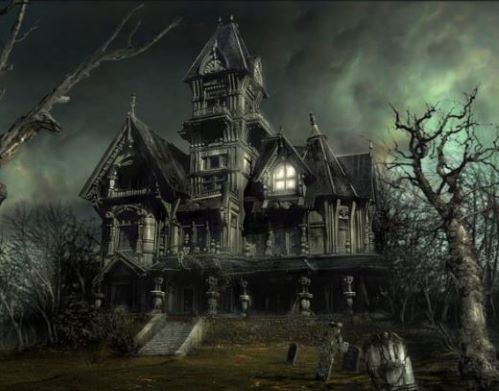 It's the weekend before Halloween and many of you will be heading to costume parties this weekend. Same here. Ace always hosts a big Halloween party for the co-bloggers at his manor (see picture above.) It's a blast. JJ called dibs on the Fetterman costume, which pairs up nicely with Mannix's Frankenstein costume. KT will raid her garden for her costume, dressing up as a scarecrow. CBD will be handing out sous vide treats, of course. Perfessor Squirrel will probably disappear into Ace's library, but we'll drag him out when Weasel starts inspecting guns and passing out ammo in preparation for MisHum to lead us out for some moonlight bat hunting. Krakatoa is always the first to leave so he can get up early to post the EMT, but Pixy will zoom in from Australia, a weird place where Halloween is equal to April 30 and blood circles the drain in reverse of how it does in the northern hemisphere.
There will be all sorts of fun party games, and we're all still trying to figure out Weird Dave's secret when it comes to apple bobbing, since he wins that contest every danged year. As for me, after being instructed to "educate yourself" by an army of EV enthusiasts, I will be in charge of keeping the lights on at the party by using the battery in Ace's electric Hummer as a backup charger when lightning (or errant bat hunters) knock out the electricity to the house.
As always, the highlight of the evening is when Ace slowly emerges from his crypt, and we all start dancing to the Monster Mash. Wish you could be there.
Have a fun weekend!
(buck.throckmorton at protonmail dot com)

posted by Buck Throckmorton at
11:00 AM
|
Access Comments