« Air Force: The Leak About a Black Republican Candidate Being Sexually Assaulted Was In Fact Via an Illegal Leak, and Not a Legal "Public Information Request," as the Publisher of the Smear Politico Falsely Swore
|
Main
|
Quick Hits »
October 26, 2022
My Goodness: Kari Lake Opens Up Eleven Point Lead Over Abortion Mouse, Says Fox10/Insider Advantage Poll
Update: Masters Now Tied With Kelly 47-47 In New Poll
And Blake Masters is easily insider the margin of error: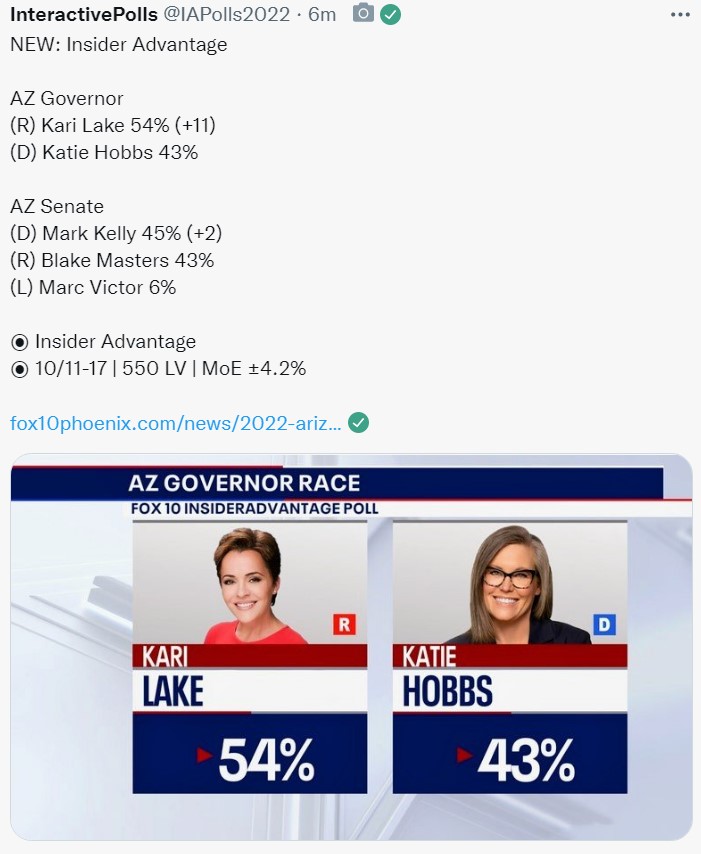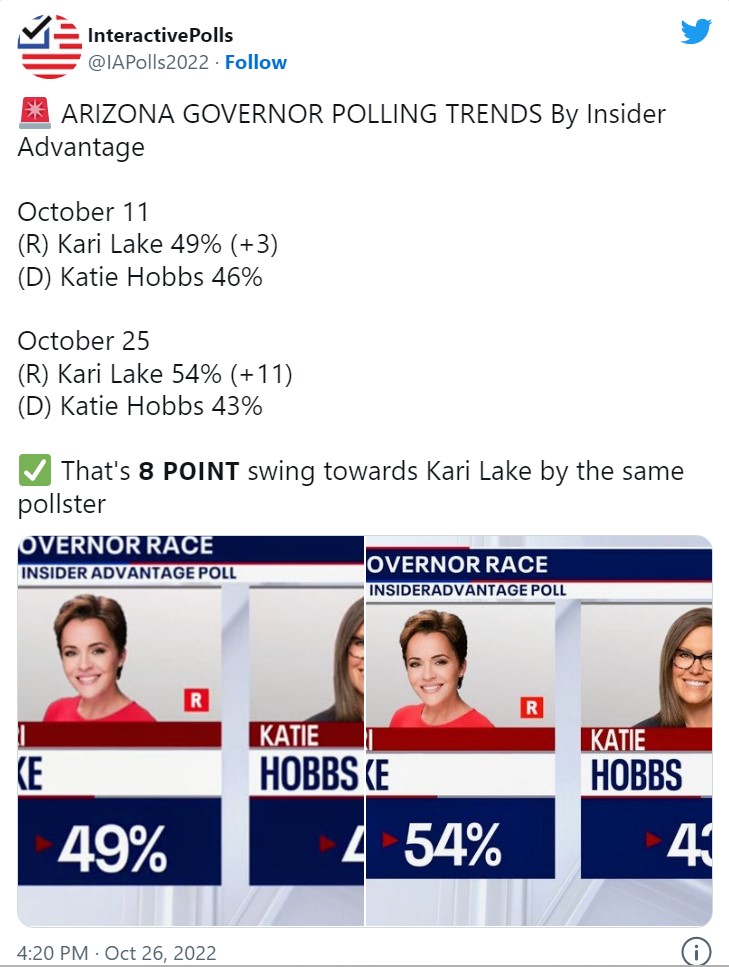 Voters don't like when you tell them you don't owe them a debate.
The also don't like the sleazy, runty little bitch Abortion Mouse.

​
With less than 2 weeks to go before the November election, Republican Kari Lake leads Democrat Katie Hobbs by 11 percentage points. Only about 2% of voters are undecided. Pollster Matt Towery believes that Hobbs' reluctance to debate Lake may be a reason why the gap has widened in recent weeks. According to InsiderAdvantage, Lake is polling higher among older adults and Hispanics.

The U.S. Senate race, between incumbent Democrat Mark Kelly and Republican Blake Masters is much closer. Kelly leads Masters by 2 percentage points. Libertarian, Marc Victor, is at 6%, with 6% still undecided.
The Libertarian is the one who announced that it was critical that Arizona reconsider its age of consent laws. Too many children are being denied their right to have sex with old men.
This is important, not just because Kari Lake is a good candidate and Abortion Mouse a bad one, but because Abortion Mouse attempted bringing the crazy campus tactic of "deplatforming" to the American electoral political system, deeming Kari Lake to be too much of a Garbage Person Who Doesn't Share Our Values to share a stage with.
She is being punished for that. And for being an -- excuse the language -- unwarrantedly arrogant cunt about it as well.
And Thank God she is. Imagine if her tactic to turn the American political system into the Yale Cafetorium had succeeded? And Democrats just began refusing to debate Republicans and even refusing to answer their attacks, sneering "I don't respond to Garbage Person Deplorables", and the public was okay with that kind of tactic? And Democrats just stopped having to defend their failures and excesses at all?
We are very lucky that we had such a put-together, prepared, charismatic, disciplined, sharp, and gutsy candidate like Kari Lake to turn the screws to Abortion Mouse in this race. If we'd had a dud or even an average candidate, Abortion Mouse's tactic may have succeeded.
And that would have been a real assault on democracy.
And thank God Almighty that Kari Lake didn't have to rely on Bitch McConnell for funds or endorsements, because he would have been throwing money to Abortion Mouse.
Hey Abortion Mouse -- How did your plan to support the "most extreme" candidates, relying on them to be the most beatable candidates, wind up working out for you?
A new undercover video from Project Veritas featuring Becky Hobbs, the twin sister of Arizona gubernatorial candidate Katie Hobbs, has revealed that the Democrat party gave money to what they classified as "extreme" Republican campaigns in an effort to win the vote.

"So, all across the country Democrat candidates, not candidates themselves, but the party, was putting money in primaries, into the races of extreme Trump-endorsed candidates, as opposed to the moderate Republicans that were running, because they wanted those extremists to win because they knew that the Dems had a better chance of winning their races against the extremist candidates than they did against the moderate Republicans," Becky Hobbs was seen saying in the undercover footage.

I know we're not supposed to get cocky but I've seen enough; the Ace of Spades Decision Desk is ready to make a call as to Abortion Mouse's chances to become anything but a stepping stone for Kari Lake:
But get out there and vote; we need to really pad the numbers, and we need Blake Masters to beat fat midget Mark Kelly.
Make Abortion Mouse pay, make her cry, make her humiliated for having attempted to really -- not fakey-fake, but having really attempted to undermine democracy by attempting to have an election without an informed public choice about the candidates.
Deplatform this, Abortion Mouse.
Update:
InteractivePolls @IAPolls2022

ARIZONA: Blake Masters and Mark Kelly are now 𝗧𝗜𝗘𝗗 in the polling at 47% in Senate Race

(R) Blake Masters 47% (=)
(D) Mark Kelly 47%

Data For Progress (𝐃) | 10/11-17 | 893 LV