« Fetterman's Disastrous Debate Performance Is Changing Votes, Says... Chris Cuomo
|
Main
|
My Goodness: Kari Lake Opens Up Eleven Point Lead Over Abortion Mouse, Says Fox10/Insider Advantage Poll
Update: Masters Now Tied With Kelly 47-47 In New Poll »
October 26, 2022
Air Force: The Leak About a Black Republican Candidate Being Sexually Assaulted Was In Fact Via an Illegal Leak, and Not a Legal "Public Information Request," as the Publisher of the Smear Politico Falsely Swore
The story so far: Republican Jennifer Ruth Green, a 20 veteran in the Air Force achieving the rank of Captain and now an Air Force Reservist, is running to represent Indiana's First Congressional District. Correction: She is a Lieutenant Colonel, not a Captain.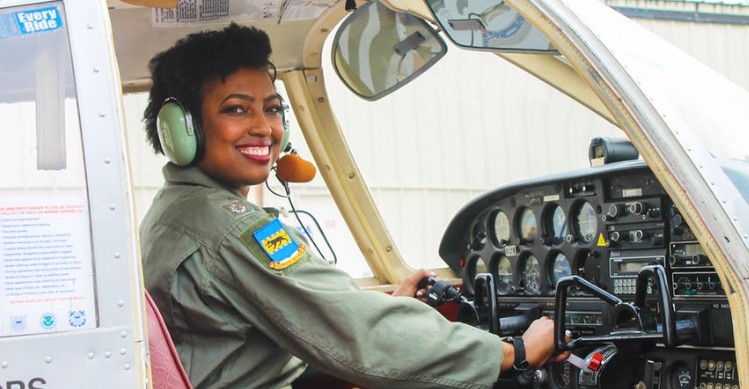 She's a black woman running against a white man so obviously the Black Congressional Caucus, and explicitly racist group committed to electing only members of black race, suspended its usual racist rules to endorse the white man. Who's a Democrat, of course.
She has a good shot at unseating the incumbent Democrat.
A few weeks ago Politico ran a hit piece on her, revealing that she had... once been the victim of a sexual assault in the Air Force. Why would they reveal this? It doesn't actually hurt her; it was a gratuitous invasion of privacy. It was the propaganda media just straight up saying, "If you cross us, we will destroy you."
People cried foul, pointing out that this leak could have only have come from her sensitive confidential government records.
Politico claimed no no no, nothing like that, this was a perfectly legal FOIA disclosure.
People again said: FOIA requests do not disclose the confidential sexual assaults that military personal might have been victim of.
Politico stuck to its story, claiming this was all a legal FOIA request and response.
Her opponent, the Democrat Frank Mrvan, claimed to have had nothing at all to do with this nasty little leak about her prior sexual victimization by a pervert.
The Air Force now confirms that this was an illegal leak of confidential personal files and they promise the leaker will be punished appropriately.
Furthermore, they say they leak was provided to an "opposition research firm," which of course, was working for the Mrvan campaign.
Frank Mrvan is a liar.
Politico are all liars.
The Air Force has taken responsibility for the release of an Indiana Republican House candidate's confidential personnel records that contained details about her sexual assault, according to two GOP congressmen from the Hoosier State.

...

"On yesterday's call, the Air Force took full responsibility for improperly releasing Lt. Col. Green's confidential personnel records to an opposition research firm just weeks before the midterm election. Lt. Gen. Davis informed us that the leaker has been identified and will be held accountable."


The congressmen also stated that there is an investigation underway to determine "whether the leaker had a political or financial motive" or had an accomplice in the release of Green's records.


...


Earlier this month, in a profile of Green's career and candidacy in the contentious Indiana congressional race, Politico reporter Adam Wren used the personnel records, which the outlet claimed "were obtained by a public records request and provided to Politico by a person outside the Mrvan campaign" to report that "an Iraqi serviceman sexually assaulted [Green] by grabbing her breast and exposing himself" when "she and a small group of officers visited the national training center."

"The Air Force improperly affected a competitive House race and must provide transparency before election day," Banks and Bucshon said. "We are calling on the Air Force to publicly take responsibility for mishandling Lt. Col. Green's service records. Additionally, before the midterm election, the Air Force should release any information it has regarding the financial relationship between the [Democratic Congressional Campaign Committee] and the opposition research firm that sent confidential records to Politico's Adam Wren to smear a servicemember who happens to be running for public office."

....

During an interview with Fox News Digital this month, Green, whose career with the U.S. military spans more than 20 years, reacted to the Politico story and accused the outlet of proceeding with the publication of the story "despite having clear interaction and engagement and telling them that the records were illegally obtained."

....

"I'm surprised because Adam Wren spent time in this article focusing on every single detail down to the skirt I was wearing, down to the color of the skirt I was wearing, down to every single knob I touched, all of those things, but yet he writes clinically about one of the worst days of my life," Green said at the time. "He has no idea the concept of being forced to be in a four by four, round circular area, 30 feet in the ground in a tower where you only have windows and a 30-foot drop on the other side, 30-foot drop to escape somebody who was blocking your path [with] somebody who has a clear intent with a weapon in hand, who is focused on trying to take advantage of you, and you're able to escape that with minimal physical harm. And he wants to reduce that to 50 characters."
Green wrote to the US Attorney with jurisdiction, the Air Force inspector general, and the DOD demanding an investigation into how the dirty blackmail mill Politico got the illegal document.

"I write to request an investigation into the unauthorized, unlawful release of my Air Force personnel file," Green wrote in the letter, which was obtained by Fox News Digital. "The fact that my file has been leaked in the course of my campaign for United States Congress leads me to believe that it was politically motivated."


In the letter, Green made it clear that she "did not consent, in writing or otherwise, to the disclosure of my personnel file to Politico or anyone else" and pointed to the Privacy Act of 1974, as proof that her file should not have been released.
I see no comment from Politico or Adam Wren.
Michael Ginsberg at the Daily Caller with more: Who was the "opposition research firm" that either paid someone to illegally leak the records, or otherwise corrupted them to do so?
We don't know yet. But there are two suspects right out of the gate:
Only two Democratic outside firms are working on the Mrvan-Green race, according to Federal Election Commission filings. The Democratic Congressional Campaign Committee has paid the Due Diligence Group more than $78,500, while the Mrvan campaign has paid Deep Dive Political Research $10,000.

The Due Diligence Group's political director did not respond to the Daily Caller's request for comment. Deep Dive did not respond to the Daily Caller's request for comment.

...

The Mrvan campaign did not respond to the Daily Caller's previous request for comment on the complaint.

...

"The walls are closing in on Congressman Mrvan. He denied any involvement in obtaining and leaking Jennifer-Ruth Green's military records. Now we know the Air Force did release documents illegally to a Democrat opposition research firm. And we know what firm it was and we know they work for the DCCC, which has been coordinating so closely with Frank Mrvan that every ad he's aired in this race they split the cost of. To believe Mrvan and his cronies didn't know is laughable. There is more to come," Green campaign communications director Kevin Hansberger told the Daily Caller.
Via Greg Price:
Greg Price @greg_price11

Politico reported against the wishes of Republican candidate @JenRuthGreen
that she was a survivor of sexual assault.

They said they obtained her records via a "public records request."

Here is the Air Force saying today they were leaked to "an opposition research firm"
Greg Price @greg_price11

BREAKING: The Air Force has released a statement saying they identified the leaker of @JenRuthGreen's military records and that they were leaked to an "opposition research firm."

Lowlife @RepMrvan absolutely lied when he said he had nothing to do with it
Frank Mrvan for Congress @mrvan4congress

Oct 11

US House candidate, IN-01

Neither myself nor anyone affiliated with my campaign provided any military service record to Politico.
1/2 https://nwitimes.com/news/local/govt-and-politics/elections/greens-baseless-accusation-unleashes-social-media-firestorm-against-mrvan-family/article_c1da7552-16fb-5aef-a011-b12ba087a96b.html

I thank my wife Jane for her bravery and tireless advocacy on behalf of all sexual assault survivors. Our dedication and life's work on this issue is above and beyond politics. 2/2
First you lie, then you brag about yourself?
Oh fuck the fuck off. You're the Real Hero here, huh, Frank Mrvan?
Don't let Politico off the hook. She told them that this was an illegal leak and told them not to publish the story of her sexual assault. They did anyway, then swore it was obtained via a legal and routine "public information request."

posted by Ace at
03:27 PM
|
Access Comments