« The Twitter Employees Who Elon Musk Is About to Fire En Masse Publish Their List of Demands, Beginning With the Demand That They Not Be Fired
|
Main
|
Air Force: The Leak About a Black Republican Candidate Being Sexually Assaulted Was In Fact Via an Illegal Leak, and Not a Legal "Public Information Request," as the Publisher of the Smear Politico Falsely Swore »
October 26, 2022
Fetterman's Disastrous Debate Performance Is Changing Votes, Says... Chris Cuomo
Via redridinghood:
RNC Research @RNCResearch

NEWSNATION: "John Fetterman throughout the hour seemed to lose steam and his answers became more incoherent the longer the debate went on." Video link.

CHRIS CUOMO on tonight's #PASen debate: "Voters, I think, saw things that will definitely change the state of this race."

"Fetterman struggled ... I don't think his preparation was great." Video link.
Below, a panel of voters tells Chris Cuomo that they're shifting towards Oz.
How bad was Fetterman? So bad that there are too many juicy clips to embed without breaking the site. I'll just link most of them, and only embed a couple of them.
Here's how this Large Menacing Mentally-Retarded Man began the night:
Most of Pennsylvania will not like that opening statement, but in the tiny town of Bizarro, PA, they're cheering. "Me so proud me want to kill myself," said one Bizarro voter.
In this clip, it's hard to tell where Fetterman's attempt to dodge the question begins and his profound brain damage ends:
He won't release the medical records because they document that he did in fact suffer serious brain damage and that his prognosis for a full recovery is nil. He's hoping for, at best, a "good recovery" or "acceptable recovery" with "good prospects for good quality of life."
That's obviously what's going on here.
The Statesmen John Fetterman & His Morbid Growth explain immigration policy and also the Statue of Liberty: "I don't ever recall in the Statue of Liberty did they say you know take our tired huddled masses and put them on a bus and use cheap political stunts about them. I believe we have to develop a comprehensive and bipartisan solution for immigration here and our nation."
It's Bidenesque.
The economist John Fetterman & His Morbid Growth was asked about inflation and whether Biden overspent money and if so, where cuts could be made. His answer is a babble.
Then he began babbling about corporate greed and "price gouging" and Oz's "ten mansions" (something he brought up about eight times). He also brought up that one of Oz's businesses manufactures its crap in China, which has suddenly spurred Fetterman to becoming a real true-and-blue China Hawk and not just for purposes of this campaign.
Here's what that disaster sounded like.

The economists John Fetterman & His Morbid Growth then went into even greater detail about their plan for combatting inflation: "We all have to make sure that everyone that works is able to that's the most American bargain that you work full time you should be able to live in dignity as well true." And then further babbling incoherently.
When John Fetterman & His Morbid Growth said that Oz and his ten mansions didn't support raising the minimum wage to Bernie Sanders-demanded levels, Oz shot back: "John Fetterman thinks the minimum wage is his weekly allowance from his parents."
John Fetterman & His Morbid Growth were asked about their pointing a shotgun at the chest of an unarmed black jogger, accusing the man, who was plainly unarmed (unless he had a hold-out gun up his butt) of firing a shot that Fetterman thinks maybe he heard. (Or maybe he didn't.) Rushed right out and stuck a shotgun in the chest of the first Black he could find.
Here was Sheriff John Fetterman and Deputy Morbid Growth's explanation of that: "Majority black community, community understood what happened and everybody agreed that and nobody believes that is was about me making a split second decision to defend our community as well."
One of the most embarrassing -- almost horrifying -- moments of the night was about Fetterman's attempt to lie and claim he "always supported fracking." Fracking is popular in gas-rich Pennsylvania.
He claims he's "always supporting fracking," but was repeatedly confronted with a 2018 interview -- pre-stroke, of course -- in which he declared he did not support fracking "at all," and that he had "never" supported fracking.
He even signed a pledge to ban all fracking.
Now, how does a severely brain-damaged man attempt go double-talk his way out of so brazen a contradiction, and a barefaced lie?
Not elegantly!
That was his second bite at the apple -- he'd already been asked this, and answered pretty much the same way, with an audacious yet retarded lie.
The RNC is pushing out this video showing him repeatedly calling for an end to fracking in the past.
Time for a moment of silence:
Fetterman absolutely won that fuckin' debate, alleged his campaign manager to the propaganda press. The campaign manager dropped the f-bomb not once but twice to demonstrate that he was being Authentic and Honest in his claims.
This persuaded the media. ("No one who says fuck could lie!")
Say, remember the media's pearl-clutching act about Trump cursing?
Good times.
The DNC quickly distributed its talking points to its propaganda press NPCs: Let's not focus on Fetterman's obvious serious brain damage and mental incapacity to serve in anything but a menial job, like pushing a broom or stuffing pillows.
Let's just focus on his "courage" for... attempting to do the bare minimum required for the job he's demanding we give him.
In a "fact" check about Fetterman's claim that he's always supported fracking, CNN called his debate performance "gutsy."
Showing up to do your job is "gutsy."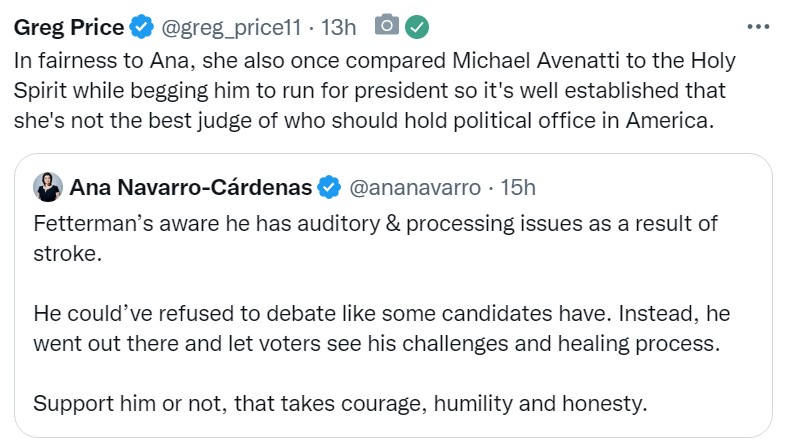 Via @Kevin__McMahon: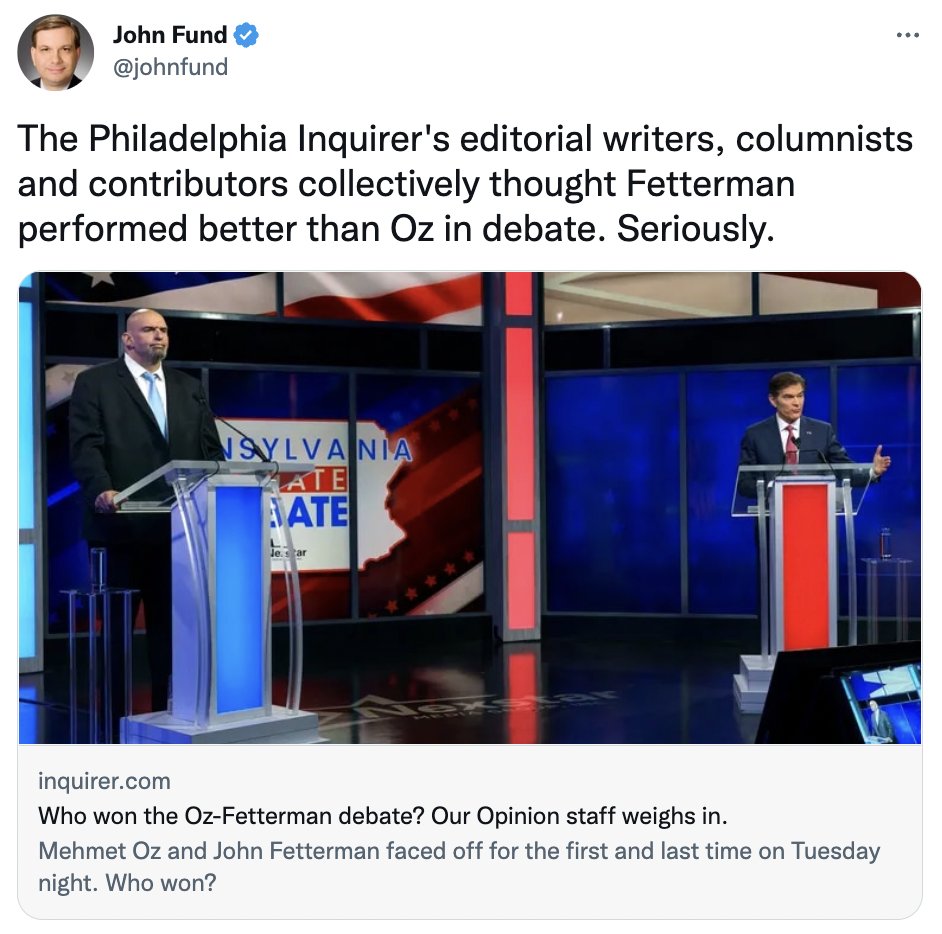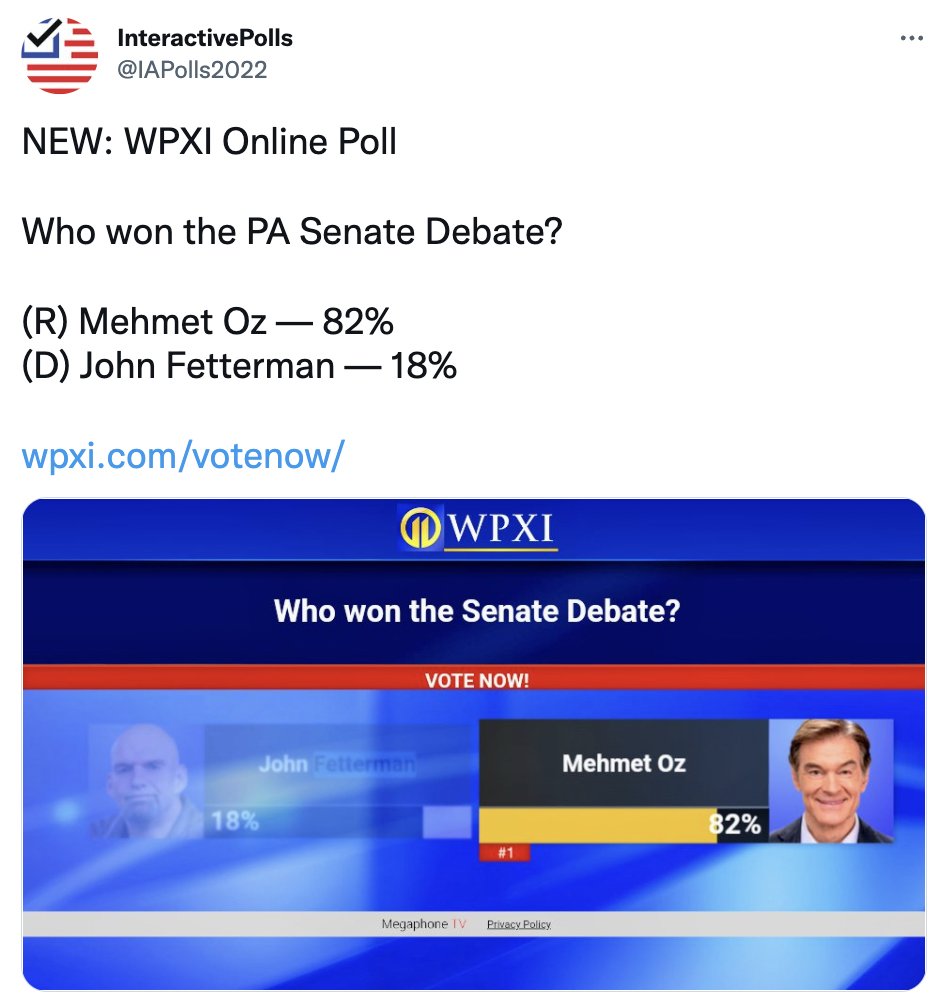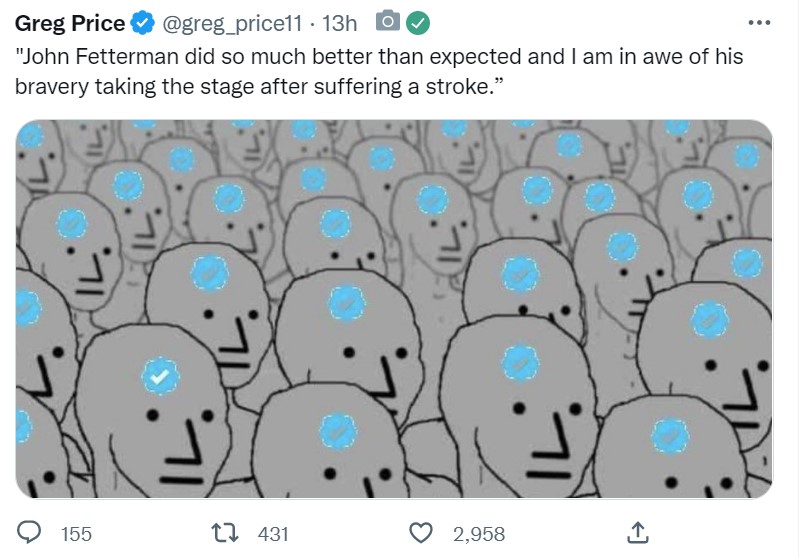 One last thing:
John Fetterman & His Morbid Growth released an ad containing quotes from the debate... in which his statements are stitched together, with pauses and intervening babblings removed, to make it sound like he's almost capable of speaking a semi-coherent sentence front-to-back.
Frankenstein-like, if you will. SOOPAH-DOOPAH!
The propaganda media earlier accused Greg Price of "editing" video to make Fetterman sound bad.
Obviously, that was a lie; no editing is needed to make him sound mentally retarded.
Will the propaganda media now fact-check Fetterman's ad to note the edits and to point out that it is cobbled together from different sound bites to make Fetterman sound better?
Of course not. Of course not.

posted by Ace at
01:56 PM
|
Access Comments