« Training clinical psychologists to be social justice activists and kids to be paranoid wokesters
|
Main
|
Pet Thread, Oct. 29 »
October 29, 2022
Gardening, Puttering and Adventure Thread, Oct. 29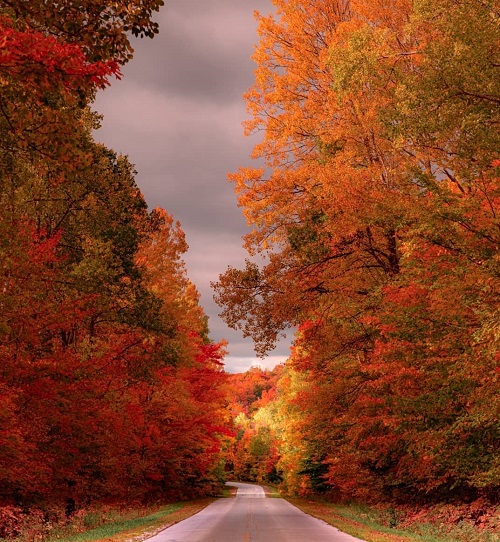 Sleeping Bear Dunes National Lakeshore, Michigan
Hi, everybody! Happy Halloween Weekend! There's a Zombie Run near the Sleeping Bear Dunes today. Stay away from them! And don't wake the bears!
* * * * *
Edible Gardening/Putting Things By
A couple of weeks ago, By-Tor was fermenting hot sauce with ghost peppers. We have an update:
My ghost pepper hot sauce is done. I fermented the peppers for about ten days, until they were sour and soft.

The base is crushed tomatoes and red pepper paste, salt, vinegar, the fermentation brine, and sugar.

Flavorings are blackberry, honey and roasted garlic.

I would classify this as very hot, but it's a slow burn. A few drops will heat up a bowl of soup nicely.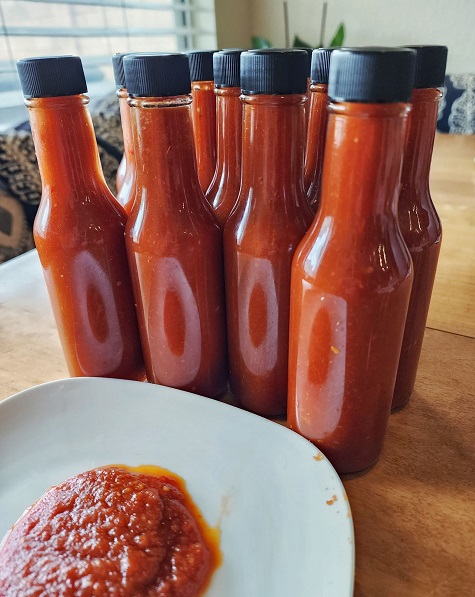 Ghost pepper sauce. Perfect for Halloween!
One of the advantages of learning a variety of techniques in the kitchen is that people start giving you produce! An easy way to garden! Of course, you can grow these, too. The striped, pink and white ones are also nice. By-Tor again:
Pingtung long, aka Chinese eggplant, which I was given this morning by a Chinese tennis player in our group. She also brought us delicious shrimp and egg dumplings she made. I stir-fried this with chicken, beef, onion and garlic, in a Korean gochujang sauce. Chinese eggplant has less seeds, and is firmer than what we are used to, so holds up well in a stir fry.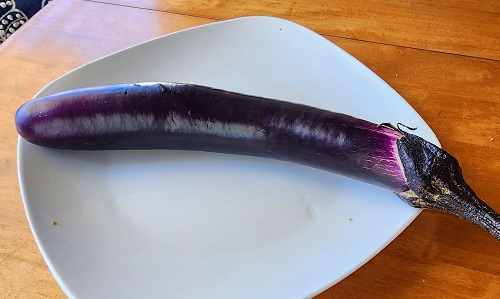 And yet again:
A friend gave us a sack of persimmons. I have never used persimmons but I thought they would make a good spread. They are kind of hard so they took about a half hour simmer, then I pureed them.

This is very similar to apple butter in consistency. The only flavorings I used were sugar, a pinch of cinnamon and a couple drops of vanilla.

It's tart and sweet. Kind of like a pear or pumpkin butter. I like it.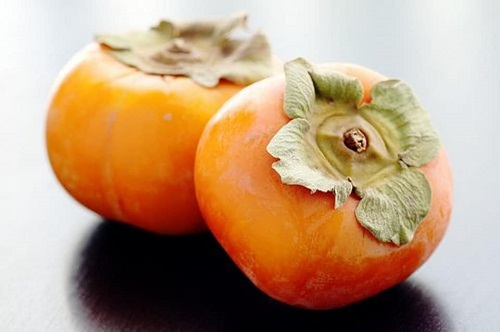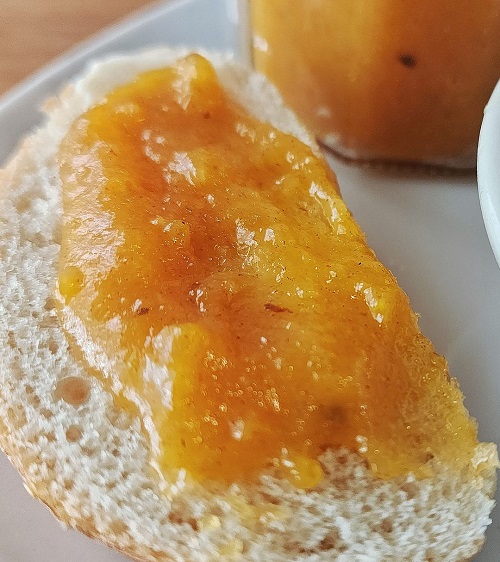 Know anyone with a persimmon tree? American or Asian? The fruits of the two types are quite different from each other. I would guess that these were Asian persimmons.
*
I have never made Pumpkin Butter. Have you? Here are some detailed directions. The instructions for picking an edible pumpkin are kind of sparse. Go for the Cinderella type or for a type labeled as a cooking pumpkin when picking out pumpkins (or squash) for this kind of recipe. There are detailed instructions for making spiced, maple-sweetend pumpkin butter here. With links to some additional pumpkin recipes.
Roasting a pumpkin (C. moschata type). Take precautions so it doesn't explode.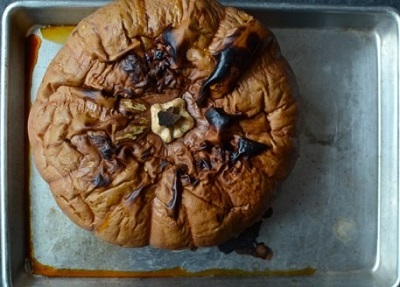 Pumpkin butter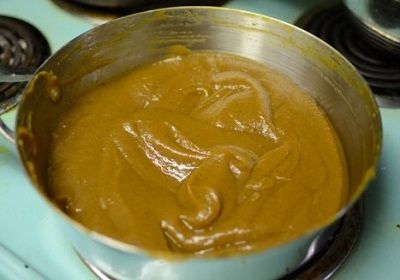 * * * * *
Ah, Nature
In honor of Halloween, bugs and weeds:
CA Foothills Lurker here. We have two hummingbird feeders that we keep up all summer and one in winter when we're down to just a few birds. Have done it for over twenty years. Suddenly a few days ago they became over run with honey bees! Wowza! Has to "be" a swarm nearby. They ate a whole bottle of sugar water in one day and are even piled up insIde! I'm going to miss watching my hummers out the kitchen window.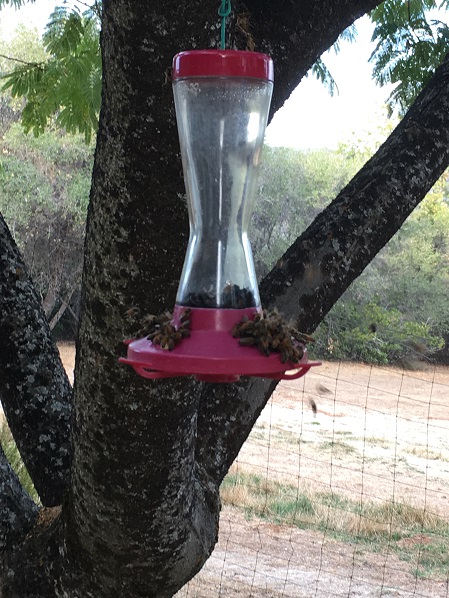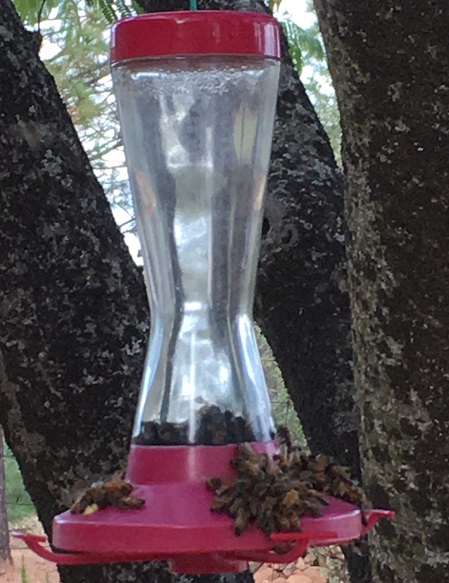 Hummingbirds spar with each other, but they can't overcome a horde like that!
*
From Don in Kansas. Click over to see this image, plus others, in 3-D:
Cenchrus longispinus, one of my least favorite grasses, is abundant in lawns and along paths. All the spines on the nutlets are quite sharp, and they are covered with microscopic barbs. They readily catch on socks and penetrate skin and are painfully hard to remove.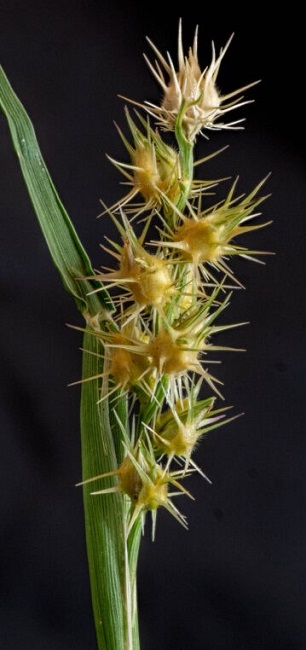 Do you have a name for this grass?
*
Hi KT, I saw this youngster on a Saturday walk. I think he's a nymph form of a "Green Stink Bug."

I thought his color and markings were quite interesting, much more so than the adult stink bug, which is a solid green with no markings.

He and I are both in East Tennessee.

Thank you for the weekend threads!

BeckoningChasm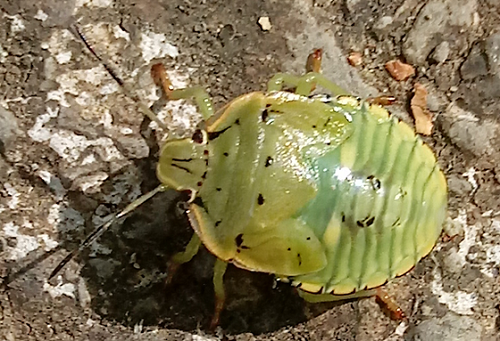 See you at the movies, Green Bug.
* * * * *
Puttering
Got some alterations to make on a Halloween costume?
Hope everyone has a nice weekend and a fun Halloween.

If you would like to send photos, stories, links, etc. for the Saturday Gardening, Puttering and Adventure Thread, the address is:
ktinthegarden at g mail dot com
Remember to include the nic or name by which you wish to be known at AoSHQ, or let us know if you want to remain a lurker.

Week in Review
What has changed since last week's thread? Gardening, Puttering and Adventure Thread, Oct. 22

Any thoughts or questions?
I closed the comments on this post so you wouldn't get banned for commenting on a week-old post, but don't try it anyway.

posted by K.T. at
01:22 PM
|
Access Comments