« Is This Something?
|
Main
|
Confessions of the Libs of TikTok »
October 21, 2022
Election Round-Up
A McLaughlin Poll puts the GOP up by 4.
An Emmerson College poll puts the GOP up by five, and also says that Biden's approval rating has collapsed, falling ten net points in a month.
Republicans now lead 46-41 on the congressional generic ballot, nationally. Last month, according to Emmerson, it was tied 45-45.
Biden's job approval was supposed 45-49 last month, or net -4. Now it's collapsed to 39-53, net -14.
"Among those who say they are 'almost certain' they will vote this November, congressional Republicans lead by ten percentage points, 51% to 41%. Among those who say they will only 'probably' vote, Democrats lead by eleven percentage points, 45% to 34%," Kimball noted.

Kimball added, "Regionally, congressional Republicans have a 12-point lead in both the Midwest and South. In the West, congressional Democrats have a 10-point lead; however, Democrats lead by just one percentage point in the Northeast."
Speaking of the Midwest, David Strom expects Republicans to win the governorships in Wisconsin (!), Minnesota (!!), and even Michigan (!!!).
Kicking Gretchen the Witch out on her narrow ass would make my night.
Another poll, this one by McLaughlin Associates, says the GOP is up by 6. Three out of the four polls in the past few days have put the lead from 4 to 6 points. I think that size of a lead is confirmed.
And, once again, a national lead in the generic congressional understates how well the Democrats are doing in the districts actually in play.
For example:
Democrats are now moving money from seats once believed "safe" which are now considered lost to protect seats which were once considered ultra-safe which are now considered threatened. Case in point: the Democrats are pulling money from a district Joe Biden won by NINE POINTS, apparently believing this seat can no longer be saved, in order to spend that money to save a seat that Joe Biden carried by THIRTEEN POINTS.
Seats Joe Biden carried by thirteen points (!!!) are now where the sandbags are being stacked. Everything downshore of those is being conceded to the Red Tsunami.
Oh: and this is happening in Oregon.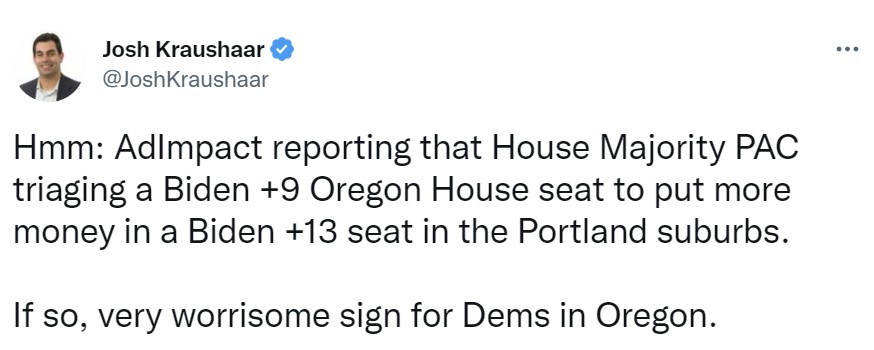 Now there may, of course, be other factors besides how Democratic each district is. Perhaps the D+13 district just features a particularly strong Republican challenger.
Maybe so many people have already voted in the one district through early voting that Democrats don't think it's worth advertising there.
But... sure doesn't look good for Democrats. It looks like Democrats have decided that anything that Joe Biden carried by ten or fewer points is lost to the Red Wave.
DeSantis is up by... 11. And Rubio by 6. Per a Florida Atlantic University Poll.

InteractivePolls @IAPolls2022

FLORIDA POLL By FAU

GOVERNOR
(R) Ron DeSantis 51% (+11)
(D) Charlie Crist 40%

SENATE
(R) Marco Rubio 48% (+6)
(D) Val Demings 42%

PRESIDENT
(R) Ron DeSantis 48% (+6)
(D) Joe Biden 42%

(R) Donald Trump 45% (+4)
(D) Joe Biden 41%

719 LV | 10/12-16
The Trump/DeSantis presidential comparison is of Florida voters.
Meanwhile, Charlie Crist being a simpering clusterf**k of a metrosexual failure is causing all sorts of stresses for his beleaguered staff: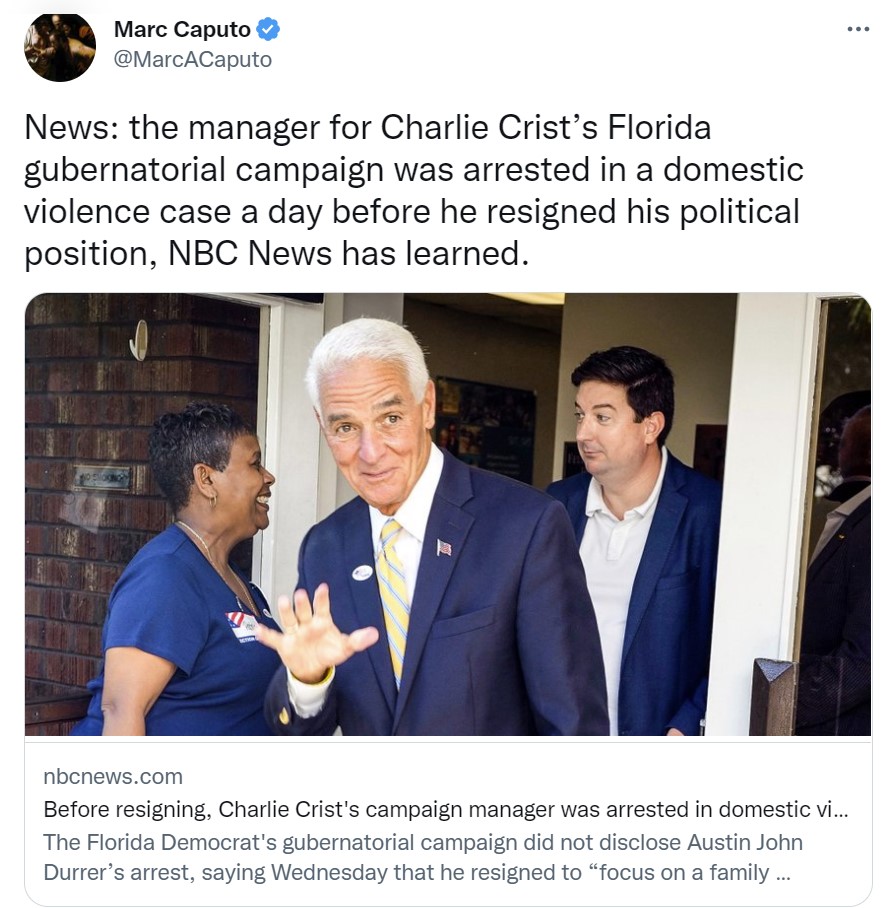 MIAMI -- The manager of Charlie Crist's Florida gubernatorial campaign was arrested in a domestic violence case a day before he resigned from the campaign, NBC News has learned.

Austin John Durrer, 43, was arrested early Tuesday on a second-degree misdemeanor assault charge following a dispute at a Cambridge, Maryland, home, according to online court records and the prosecutor in the case, Amanda Leonard, who read a probable cause affidavit to an NBC News reporter over the phone.

In a brief telephone interview with NBC News, Durrer acknowledged the arrest occurred in the dispute with the mother of his child, Jackie Whisman, with whom he lives. He said he pressed charges the following day, which NBC News confirmed via online court records. She confirmed the account and issued a joint statement with him.

"Very sadly, an incident took place this week at our home that we both regret. We are both working to drop legal charges and move forward," the statement said. "Our primary focus at this time is our daughter, our greatest joy, and we appreciate privacy and respect as we navigate this as a family."

According to the probable cause affidavit read by Leonard to NBC News, the woman had marks on her face from the dispute.

"She [the alleged victim] indicated that there had been an argument that had turned physical with the father of her child who is identified as Austin Durrer. There were signs of physical injury to her face, consistent with what she reported," Leonard, the interim state's attorney for Dorchester County, told NBC News.
Analysts say that Charlie Crist is now only 43 days from overdosing on ketamine in a seedy hotel room while wearing nothing but lube and merch for an up-and-coming K-pop boyband.

Texas races tend to be stubbornly close.
Not this year:
InteractivePolls @IAPolls2022

NEW POLL: Governor Abbot holds 11 POINT lead over Beto O'Rourke in Texas Governor Race

GOVERNOR
(R) Greg Abbott 54% (+11)
(D) Beto O'Rourke 43%

@TxPolProject

883 LV | 10/07-17
Maybe I won't attempt to follow the example of "Beto" O'Rourke into political success and riches. (Though he does raise money Hannover Fist every two years.)
InteractivePolls @IAPolls2022

NEW:
@PolymarketHQ
Senate Odds

N. CAROLINA
(R) Budd -- 79%
(D) Beasley -- 21%

WISCONSIN
(R) Johnson -- 77%
(D) Barnes -- 23%

NEVADA
(R) Laxalt -- 68%
(D) CCM -- 32%

GEORGIA
(R) Walker -- 53%
(D) Warnock -- 47%

PENNSYLVANIA
(R) Oz -- 53%
(D) Fetterman -- 47%
And... in one poll, Zeldin just took a teeny tiny little lead.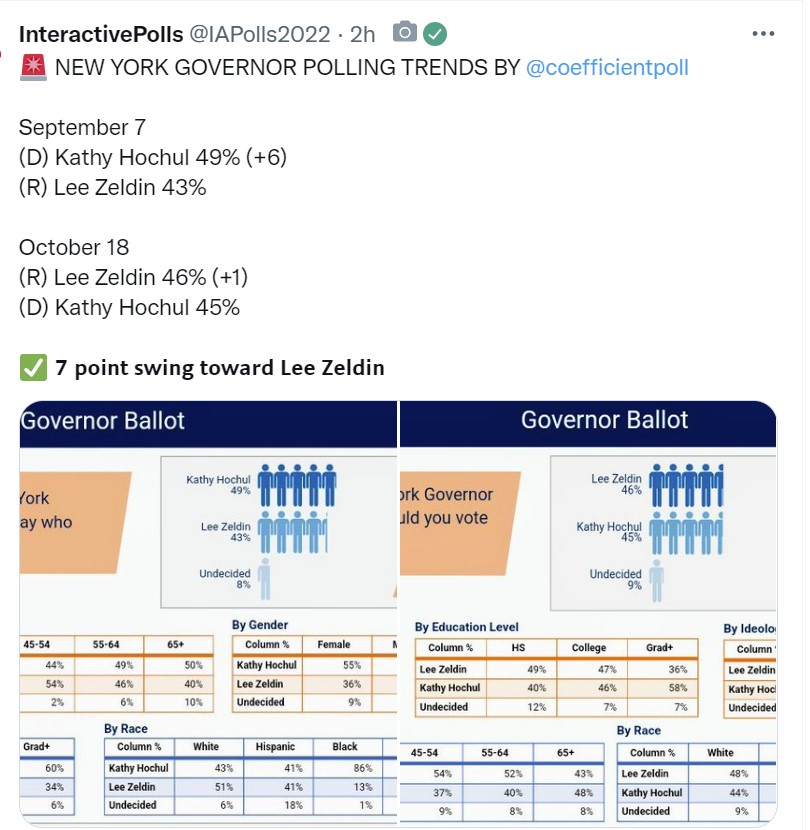 This is very close:
InteractivePolls @IAPolls2022

NEW: @Fabrizio_Lee (R)

NH SENATE
(D) Maggie Hassan 49% (+2)
(R) Don Bolduc 47%


Call it:
InteractivePolls @IAPolls2022


New Mitchell poll has Tudor Dixon within 2 points against Gretchen Whitmer in Michigan Governor Race

(D) Gretchen Whitmer 49% (+2)
(R) Tudor Dixon 47%

@IAPolls2022


Change in generic ballot, September to October:

NYT/Siena: D+2 ---> R+4
CBS News: R+1 ----> R+2
Harvard-Harris: D+2 ----> R+6
Big Data Poll: R+1 ----> R+5
Economist: D+2 ----> R+1
Monmouth: R+3 ----> R+6
Politico: D+4 ----> D+1
Rasmussen: R+1 ----> R+7
Systems:

posted by Ace at
04:48 PM
|
Access Comments