« NYT/Sienna Poll: Republicans Gain On Democrats in Closing Weeks; Independent Women Shift MASSIVELY to the GOP
|
Main
|
269 Teachers Have Been Arrested for Sex Crimes Since January of This Year »
October 17, 2022
Grandpa Felonyfingers Grabs a Clearly Uncomfortable Child From Behind to Get In a Quick Sniff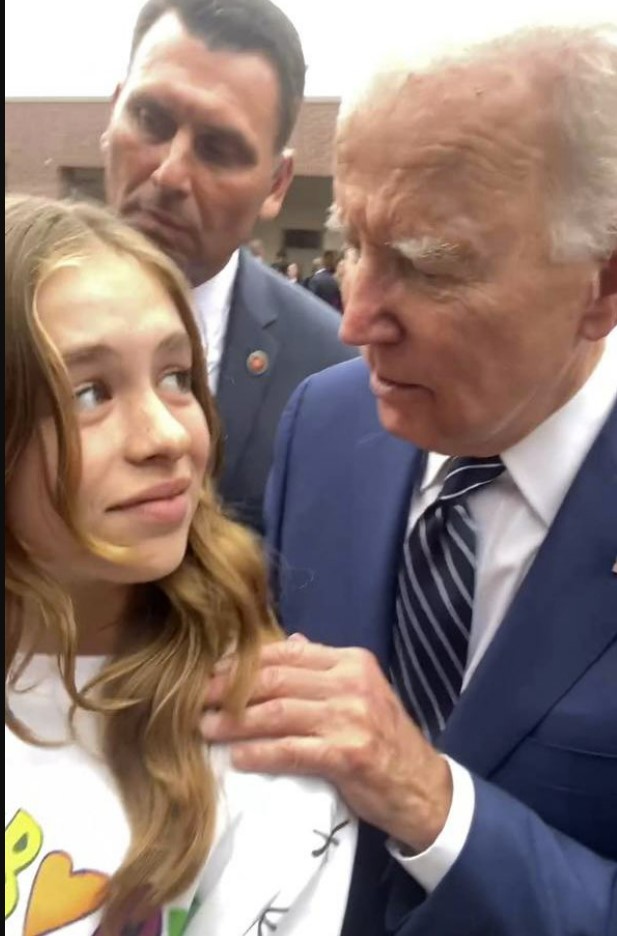 "Mmm... you smell like bubblegum and adrenochrome!"
Although Joe Biden pretended to apologize for his previous molestation of women and underage girls and promised to #DoBetter, he is a demented old man with deteriorating memory and executive function. He does not have impulse control. He is in his second childhood. When he wants to touch and sniff a child, he touches and sniffs a child.
Story at the Post Millennial by the guy who took the video, who reminds us that one of Grandpa Funnyfingers' favorite "jokes" is to tell young girls "no serious dating until you're 30."
Serious dating = sex. Why is he constantly bringing this up with children?
You know why.

Kurt Schlichter @KurtSchlichter

Get away from her you freaking weirdo what do you think she is your daughter? Does this look like a shower? Are you doing is main thing the guys at the Lincoln project jealous, or would be if it wasn't a girl.
And what is even more worrying -- a Secret Service agent keeps trying to block the line of sight of the man videotaping this.
He should be reassigned to one of the less desirable sections of the Service. The Secret Service is there to protect the "president's" body, not his reputation or political standing. They are there to stop bullets, not citizen journalism and free speech.
This is America. Are we now paying thugs to act as Dear Leader's Praetorian?
Meanwhile, this nasty old elder-abuser got booed at an Eagles game.
There was no brotherly love for first lady Jill Biden from Philadelphia Eagles fans Sunday night.

Biden, who was raised just outside Philadelphia, and doesn't hide her support for the city's pro teams, was greeted with boos as she took part in the coin toss prior to the matchup between the Eagles and the Dallas Cowboys.

The first lady was serving as the Eagles' honorary captain for the game and was also present to promote the Biden administration's Cancer Moonshot initiative.

Jill Biden received the traditional greeting from the Philly Phaithful as she took the field with cancer patients, survivors and their families.

The jeering did not go unnoticed on social media.
The leftwing network, of course, muted the booing, or dialed up the sound of the pre-recorded "Fly Eagles Fly" song.

posted by Ace at
03:08 PM
|
Access Comments