« THE MORNING RANT: Art Museums (and Their Accrediting Organizations) Are Irredeemably Lost to the Left
|
Main
|
NYT/Sienna Poll: Republicans Gain On Democrats in Closing Weeks; Independent Women Shift MASSIVELY to the GOP »
October 17, 2022
Virginia Democrat Who Proposed Prosecuting Parents As Child Abusers for Not "Affirming" a Transitory Trans "Identity" Tries to Backtrack, But Republicans Are Seizing and Pouncing Anyway
Elizabeth Guzman, a Stunning and Brave Latinx who represents parts of blue Northern Virginia, is re-introducing a bill first introduced by Democrats in 2020 which will amend the law against child abuse to include, and also treat as a possible felony, the refusal of parents to "affirm" a gender identity.
The Stunning and Brave Latinx is now crying foul that when she told a TV news station that she would be charging parents with a misdemeanor or even a felony for Failure to Use Pronouns With Malice Aforethought, that TV news station dared to air her statement. Tan soplado!
In case you missed her Stunning and Brave threat to put parents in jail for not cutting off their children's genitals:

Ian Prior @iandprior

Oct 13


@NickMinock is reporting that @guzman4virginia is leading the charge to "expand the definition of child abuse to include parents that do not affirm their child's gender identity." /2 [Link to story.]

@guzman4virginia said that there would be a CPS investigation and "it could be a felony, it could be a misdemeanor, but we know that a CPS charge could harm your employment." /3

Guzman claims not to be criminalizing parents but to be "educating them" and that "we haven't seen any parents come against it."

Oh, you will be seeing that @guzman4virginia. /4
They love going after your employment, and they love telling you that they're making you unemployable to "educate you."
The day is coming when we're going to start "educating" them back.
But that part about "no parents coming forward to object"? Well, turns out, parents are objecting, and Democrats are panicking, telling WUSA9, "That stanky biotch don't know which way is up."
Those who supported this same bill in 2020 are now saying there's no support for it and they won't support it, so don't worry about it! Just kidding, we're not going to send parents to jail! (Until we get the political strength to send them to jail...)
The offices of the several patrons of the 2020 bill told WUSA9 that the bill does not have the support to pass it and that the Republican House Speaker will never put it up for a vote. Delegate Guzman still stands by the original purpose of the legislation.

The office of multiple patrons involved in the 2020 legislation told WUSA9 that they have not been in conversations with Guzman's office and that they do not plan to push the plan forward in the next general session.
Stunning and Brave Latinx Elizabeth Guzman claimed her clear words which cannot be mischaracterized, referring to a bill whose language is easily accessible and states plainly that parents who do not affirm their children's gender transition may be prosecuted for the crime of child abuse, were in fact mischaracterized by an evil right-wing tv station.
Elizabeth Guzman @guzman4virginia

As a social worker & mom of 4, I will always fight to protect LGBTQ children from abuse. to set the record straight on a misleading news piece from a Sinclair-owned affiliate that mischaracterized a pro-safety, anti-abuse bill I introduced in 2020 to protect LGBTQ youth. 1/
What's misleading? She just keeps calling this an "anti-abuse bill" -- yes, we know that's your intent. You intend to make it the law that not "affirming" gender transitions constitutes child abuse, and then you intend to prosecute that. That's your idea of "anti-abuse."
This is not a rebuttal or clarification -- this is a restatement and a doubling-down which is dressed up as a rebuttal or clarification.
While the Democrats are saying "Don't worry, that bill will never even come to the floor," the Republican Speaker of the Virginia House of Delegates says, "Oh yeah it's definitely coming to the floor, because I'm going to bring it to the floor, and make every Democrat vote on it."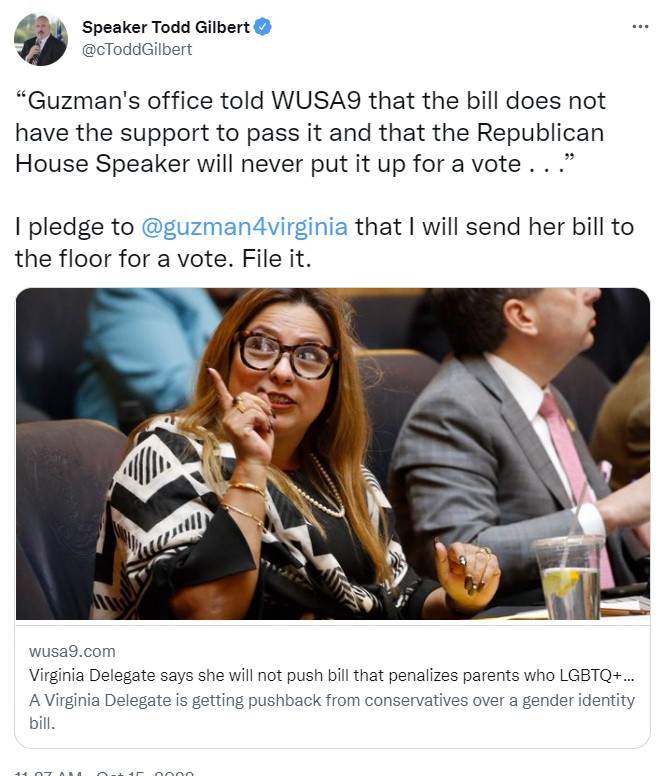 Did the Red Wave election in Virginia in 2021 not teach you a lesson?
Very well then: It is time for another lesson.
This one more painful. So that you won't forget again.

posted by Ace at
12:21 PM
|
Access Comments