« Mid-Morning Art Thread
|
Main
|
Virginia Democrat Who Proposed Prosecuting Parents As Child Abusers for Not "Affirming" a Transitory Trans "Identity" Tries to Backtrack, But Republicans Are Seizing and Pouncing Anyway »
October 17, 2022
THE MORNING RANT: Art Museums (and Their Accrediting Organizations) Are Irredeemably Lost to the Left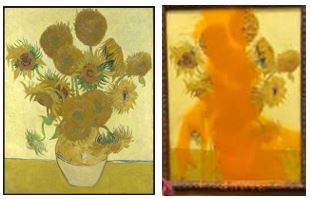 If you were to ask the curator of most any "accredited" museum which of the above pictures has the most artistic merit, the answer would almost certainly be the soup-stained picture on the right.
You have most likely heard by now about the eco-vandals who threw tomato soup on Van Gogh's "Sunflowers" at London's National Gallery. Actually, it wasn't so much vandalism as it was performance art.
As shown in the photo immediately below, and in the video embedded in Fen de Villiers tweet just below that, a phalanx of media had set itself up to witness the event. The vandals were not only unchallenged when crossing barriers set up to protect the artwork, but they were then allowed to perform their stunt, with plenty of time to pose and make statements to the assembled media, without any efforts by the museum staff to stop them.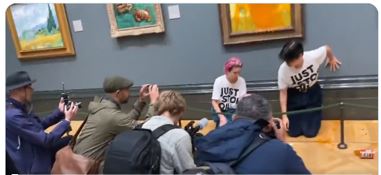 The museum allowed this to happen.
Van Gogh's artwork was repurposed as a prop for modern-day performance art, for the purpose of making a political statement. This vandalism is what the art establishment has reduced itself to.
Left wing media and the art world are already embracing this ugly stunt as something to be celebrated.
Van Gogh would have loved his soup-covered Sunflowers – and so should we [The New Statesman – UK]
This particular protest has of course caused some minor cost and disruption to the gallery, but the shock factor is what makes a good stunt. I imagine the National Gallery will more than recoup in free publicity the cost of the frame repair.
There is little doubt that the curators at the National Gallery will be eager to cash in on Sunflowers as being a relic from a racist, imperialistic era, that has been made relevant again – and re-imagined - by 21st Century, soup-throwing eco-terrorists.
Van Gogh was a radical. By advancing abstraction and experimentation, his paintings asked contemporaries to look afresh at the world they lived in.

Similarly, today's protesters are asking art lovers to look again at the links between everyday objects, like soup, and the wider energy and climate emergency.

Those who complain that the Just Stop Oil protesters are immature, misguided or simply too cryptic, need to think about the bigger picture. Safe protests such as this alert us to the urgency of our ever-worsening climate crisis, and the complacency and complicity of our government. So let them throw soup.
I prefer to view art at galleries rather than at museums. While galleries still have plenty of awful, political art (because there is a market for it) there is also still an abundance of fine art that is apolitical, because there is still a large market for that too.
But museums are beyond redemption. It's not just the left-wing politics of individual museums that are the problem. It is structural throughout the industry. For art museums to receive the most prestigious accreditation, they must be engaged in left-wing activism.
In one of the cities I have lived, there is a museum - which somehow remains a source of great civic pride – which displays virtually nothing but art that professes hatred of the United States and western civilization. There is no expectation that the featured artists have any actual artistic talent, only that they identify with a victim group and that their art conveys a bold statement about how much they detest this country and its heritage.
This museum recently sent out a press release touting its re-accreditation by the American Alliance of Museums, which it states is "the highest national recognition afforded the nation's museums."
It went on to state that, "Accreditation signifies excellence to the museum community, to governments, funders, outside agencies, and to the museum-going public. All museums must undergo a re-accreditation review at least every 10 years to maintain accredited status. Alliance Accreditation brings national recognition to a museum for its commitment to excellence, accountability, high professional standards and continued institutional improvement."
Unsurprisingly, and like every other institution that the left has marched through, accrediting agencies are fully radicalized. But just in case there are still any remaining museums that are not fully on board with the left's war on western civilization, the American Alliance of Museums will now mandate obedience to the cause, or else accreditation will be withheld.
Museums Alliance Plans Diversity and Inclusion Goals [NY Times – 10/13/2022]
The American Alliance of Museums is announcing an initiative to require its accredited members to meet new goals on diversity, equity, accessibility and inclusion.
If a museum is accredited, that should be considered a warning sign that the content is toxic, and you should protect yourself and your loved ones from being exposed to it.
Current-era fine artists are excluded from prominent display if they are not actively engaged in left-wing political activism, while the great art of centuries past is being held and displayed by cultural Marxists who are actively hostile to it. The public / non-profit museum concept has run its course.
*****
Songs of the Season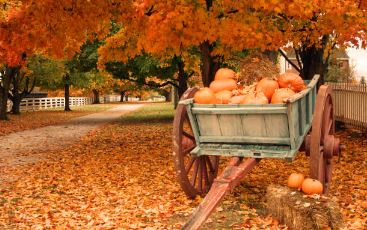 And now for some real art…
Here's a spooky bluegrass classic performed by The Country Gentlemen that will send a shiver down your spine.
Bringing Mary Home
I was driving down a lonely road on a dark and stormy night; When a little girl by the roadside showed up in my head lights; I stopped and she got in the back and in a shaky tone; She said my name is Mary please won't you take me home.

She must have been so frightened all alone there in the night;
There was something strange about her for her face was deathly white;
She sat so pale and quiet there in the back seat all alone;
I never will forget that night I took Mary home.

We pulled into the driveway where she told me to go;
Got out to help her from the car and opened up the door;
But I just could not believe my eyes for the back seat was bare;
I looked all around the car but Mary wasn't there.

A light shown from the porch, someone opened up the door;
I asked about the little girl that I was looking for;
The lady gently smiled and brushed a tear away;
She said it sure was nice of you to go out of your way.

But thirteen years ago today in a wreck just down the road;
Our darling Mary lost her life and we miss her so;
Thank you for your troubles and the kindness you have shown;
You're the thirteenth one who's been here bringing Mary home.
Have a great week.
(buck.throckmorton at protonmail dot com)

posted by Buck Throckmorton at
11:00 AM
|
Access Comments