« First World Problems...
|
Main
|
Gun Thread: Post TXMoMe Discussion and Analysis Edition! »
October 23, 2022
Food Thread: Texas Meet-Up Photo Dump Edition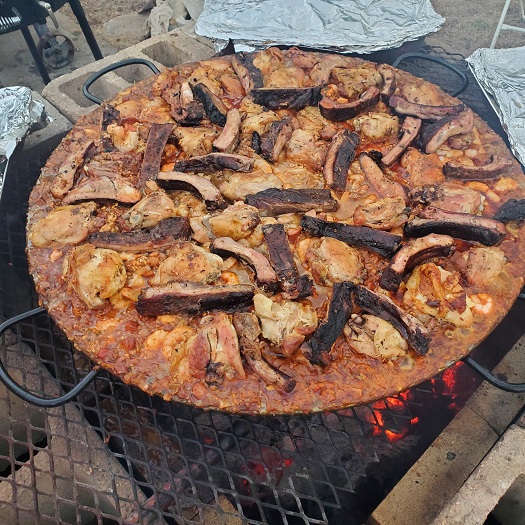 Looks great, doesn't it! And it tasted even better...
That is the end product of many hours of work by many people, mostly Pete Bog and Rancher Bob. Paella is a dish that requires a fair amount of preparation, mostly because once the cooking begins it's impossible to do the chopping and peeling and searing and smoking and stock-making on the fly. Nothing is particularly difficult, but the timing of the cooking is vital for a good result. And it is not a stand-off dish! stepping away for a beer or three is a recipe for disaster.
I have made it for 12 people, and it required a fair amount of effort and planning. Now multiply that by 10, and you will have some idea of the amount of work involved! Prepping and smoking eight racks of ribs, preparing 14 pounds of absolutely spectacular gulf shrimp, searing 100 chicken thighs and pounds of chopped onions, making several gallons of glorious shrimp stock and a bunch more things...all before you even start cooking is a huge effort.
Oh...and there were actually two different pans being cooked...a huge one (48"?) with shrimp and a smaller one without (for the allergic), both over fire, which is more difficult, but adds a wonderful subtle smoky quality that has ruined stovetop Paella for me. Yeah...lots and lots of work.
And it came together flawlessly! It was like a ballet, with Pete Bog as the prima ballerina (sadly without a tutu) and Rancher Bob as the stage manager.
Take a peek downstairs for a view of the steps...
******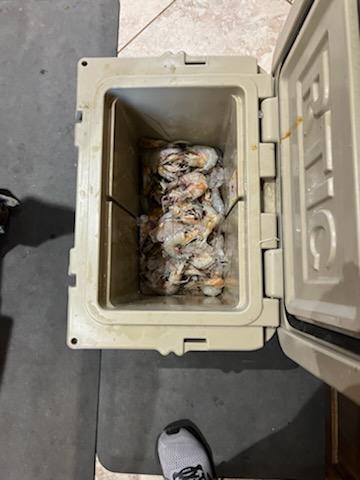 That is 14 pounds of some of the most beautiful shrimp I have ever seen, picked up on the Gulf Coast and driven to the MoMe. I tried one raw, and it was delectable...sweet, clean and firm. Just fantastic! If you haven't tried a truly fresh Gulf shrimp you are missing a rare treat.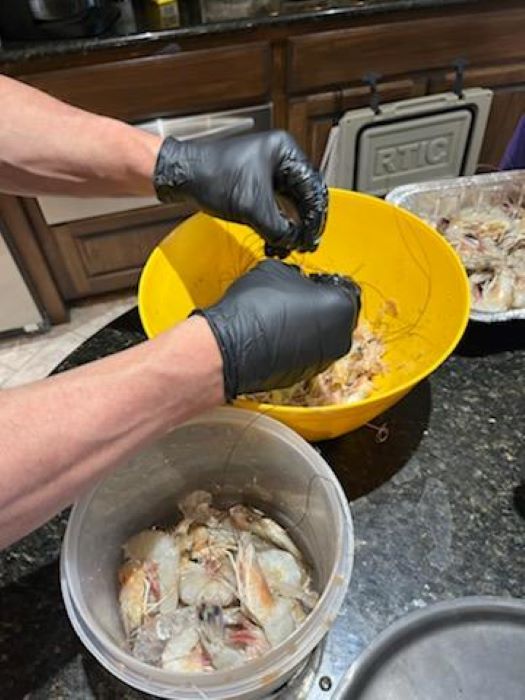 Except they don't peel themselves! Several people spent about a half hour peeling them and reserving the heads and shells for a shrimp stock, which served as the liquid for one of the pans. It was a simple stock but just perfect for the Paella....it wasn't overpowering and gave the rice a subtle shrimp flavor that was delicious.

******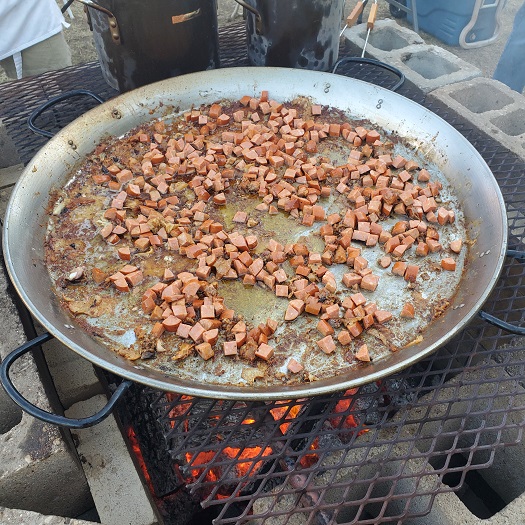 That's a snapshot of the searing and browning of one of the many layers of ingredients that make Paella so wonderful. Of course the rice is the star, but the many supporting roles create the layers of flavor that make it so complex.

******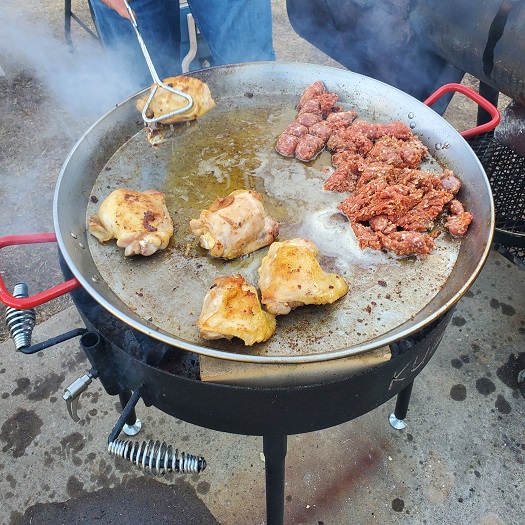 More searing and browning. The extra layer of flavor afforded by the ground pork is inspired, an idea that sadly I have never had. But I will remedy it the next time I make Paella!

******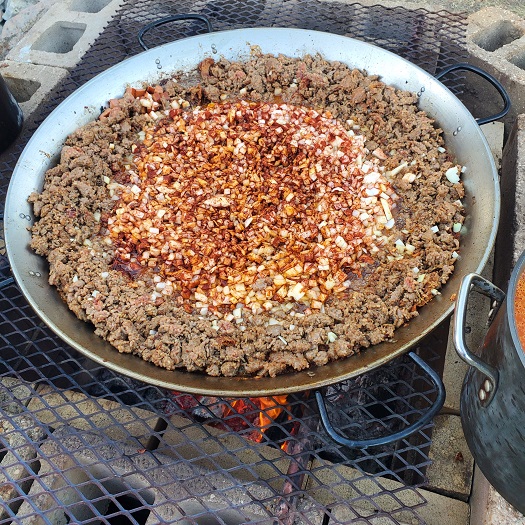 Now it gets complicated. In a normal sized pan it's easy to brown stuff, remove it, and move to the next ingredient. But that is monstrously difficult with this much food, so Pete Bog had his sous chefs push the first ingredients to the perimeters of the pans to make room for the onions. It worked quite well!

******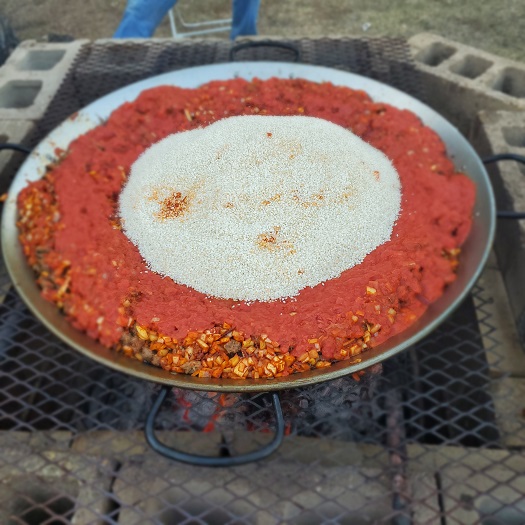 Here's the star of the show...the rice! But the trick to good Paella is to toast the rice a bit, and managing the heat is serious business, but Rancher Bob, an ax and some hard wood was up to the task.

******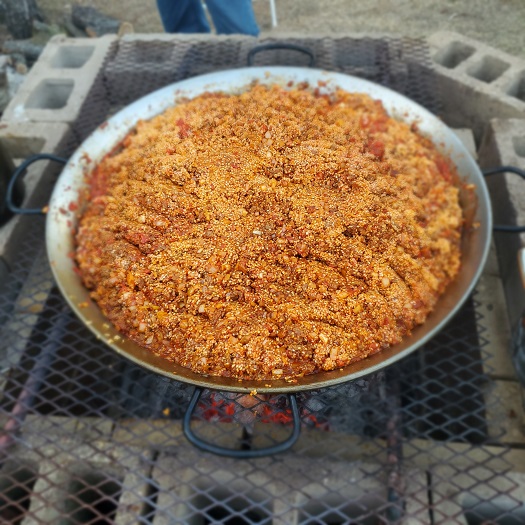 Now comes the hard part! The rice has been toasted gently, all of the base ingredients are in the pan and mixed thoroughly with the rice. But how much stock does one use? That requires a practiced eye and a perfectly level pan, especially when the pan is going to be filled to the brim...

******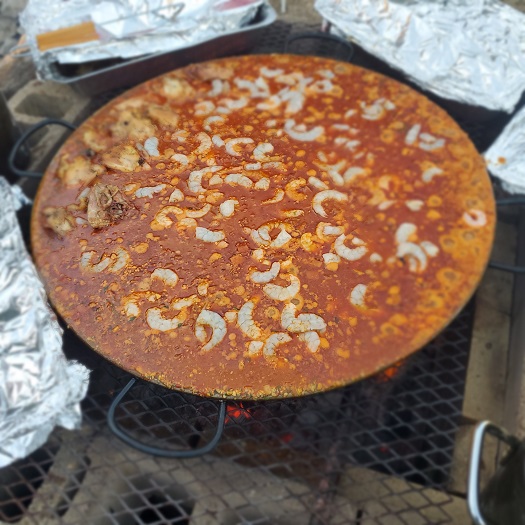 Well look at that! Perfect! The trick now is to be very, very patient and don't do what most cooks love to do, which to stir and poke and prod. That is a recipe for disaster with Paella, because the rice has to cook to a perfect firmness but also toast on the bottom of the pan to create one of the glories of cooking. It's called "Socorrat," which is the toasted rice from the bottom of the pan. It's delicious, and wars have been fought over it. Stir the pan and you will screw up the delicate balance of tender rice and crispy bottom layer. Pete Bog policed the pans so that no knuckleheads could get close enough to ruin it, although I tried!

******
Hats off to the people who happily put in many hours of work, buying the raw ingredients, then prepping and cooking and cleaning up after. It is a huge undertaking, and that it came off without a hitch is a testament to their dedication and skill and talent at directing all of the moving parts that have to come together to feed many dozens of hungry Morons!
******
Just send me oysters. Lots of oysters, and I will provide special dispensation for those without taste who insist upon maple syrup with their French Toast. And pork rib roasts from the front end of the pig where all the good and fatty meat lives, carrots that don't taste like stalky chalk, spare bottles of Van Winkle Special Reserve 12 Year Old Bourbon, an herb garden that actually produces herbs (but no basil!), well-marbled NY strip steaks and elk backstrap to:
cbd dot aoshq at gmail dot com.
And don't think that the rest of you are off the hook with maple syrup and French Toast: I'm still watching you! And I am watching you perverts who shake Manhattans and keeping a list for the Burning Times.

posted by CBD at
04:00 PM
|
Access Comments