« The Weekend Hobby Thread
|
Main
|
Saturday Overnight Open Thread (10/15/22) »
October 15, 2022
Saturday Evening Movie Thread - 10/15/2022 [TheJamesMadison Mary Poppins' Practically Perfect Piercing]
Our very own Mary Poppin's Practically Perfect Piercing, whose book, The Stuff That Dreams Are Made Of, will entertain you and you should take this very moment to click on that link and buy it, has written something about one of the key horror films from his favorite era of film, the silent era. He's ready to let you all know some of the interesting background about its production, and it's good stuff.

Read on!

NOSFERATU

A couple of years ago, I did a Saturday night movie post on the 1922 silent Haxan, director Benjamin Christensen's look at what he considered the history of 'witchcraft.' Despite its obvious connection to Hallowe'en and its striking visuals, it has never entered the popular consciousness the way tonight's movie has: Nosferatu.


Nosferatu
- or, to give it its full title,
Nosferatu: A Symphony of Horror
- was not the first Dracula movie. (strictly, neither is
Nosferatu
, as the name 'Dracula' is never mentioned). That honor goes to a 1921 Hungarian silent,
Dracula's Death
, although the film has nothing to do with Bram Stoker's novel. But it is
Nosferatu
which set the standard for nearly every vampire movie to follow and it is one whose images linger the most in a viewer's mind. Even those who have never seen the film will instantly recognize the malignant Count Orlok or remember him gliding across a river while holding on to his coffin - these shorthand symbols for terror appear again and again in horror film retrospectives.
But first, some background:
Nosferatu
was the joint production of director F.W. Murnau and producer Albin Grau. The latter had established the Prana-Film company in order to create movies both on occult subjects and ones that contained elements of cabalistic practice and lore (the name 'Prana' is from the Sanskrit for 'life force.'). Sadly, this would be the only film the studio would make.
While Murnau was a director with a strong visual sense and obsessed with film - his 1927
Sunrise
has been considered one of the best movies ever made - Grau was a more complicated character, with many connections to the esoteric underworld of Weimar Germany. As author Brian Robb noted in the May 2015 issue of Fortean Times magazine, "if there was an occult group active in the early 20th century, then he was probably a member." Grau had definite connections with the Brotherhood of Saturn, the Ordo Templi Orientis and, later in life, the notorious Aleister Crowley. It was these connections that he determined to incorporate into the design of
Nosferatu
.
Grau served as costume designer and storyboarder for the film, producing conceptual artwork delineating characters, themes and scenes, not necessarily instructing Murnau how to shoot the film, but certainly laying down examples of the dark, dreamlike style he wanted - a "soft, fluttery dreadfulness," as the Dracula scholar Leonard Wolf put it. Like his compatriot Erich von Stroheim, his focus appeared to be on trivial, irrelevant details, but unlike Stroheim - whose devotion to 'reality' was in the service of making his movies true to life - Grau's details were addressed to himself and the admittedly few initiates who would recognize his use of occult imagery.
Central to this purpose is a prop which is seen in the movie for a total of approximately 40 seconds, first in the office of the estate agent Knock and then again at Count Orlok's castle. Nominally a contract for a house purchase, at the quick viewing that we are allowed, it appears to be gibberish designed to heighten the mystery and esotericism of Orlok.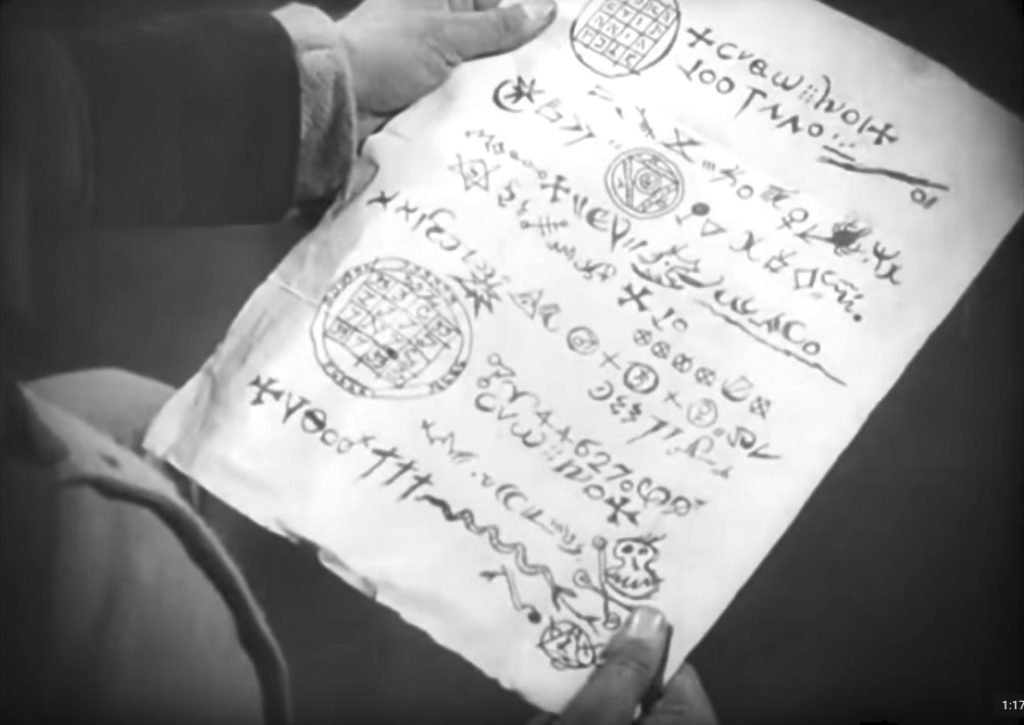 But the contract holds secrets, which were first revealed by Sylvain Exertier for the French film journal
Positif
in 1980, who described the contract as "a complex synthesis of cabbalistic and astrological symbols that
would take as favorable auguries for the purchase of the house." Extertier, says Robb in his Fortean Times article, "sees each cryptogram as having a distinct meaning, relating to Count Orlok's journey and his ultimate aim (the seduction of Hutter's wife, Ellen, whom he glimpses in a photograph during the same scene)." Unfortunately, there is no literal translation of the contract; while the intention might have been to suggest the classic 'contract with Satan,' Robb notes that the final arrangement of symbols is scattershot and, if transcribed according to traditional 'magickal' meaning, the end result would be simply nonsense. In Grau's case, the use of the symbols was two-fold: to produce an appropriately mysterious document, but also to give a knowing wink to occult adepts like himself.

Unfortunately, all of this effort was for naught. Depending on which source you read, Grau either forgot or - most likely- didn't bother to get the film rights to Dracula, claiming only that his own version was 'freely adapted,' with character names changed ('Dracula' becomes 'Orlok,' 'Harker' transformed to 'Hutter' and 'Mina' to 'Ellen') or, in the cases of Lucy Westenra and Quincey Morris, eliminated. But Bram Stoker's widow Florence found out about the movie, likely after its Berlin premiere in March of 1922 and launched a lawsuit which Prana, quickly going bankrupt after cash flow difficulties, could not settle.

Rather than money - which Prana had none of - Florence Stoker's attorney suggested she file for ownership of the film, which all this time had continued to play across Europe. Eventually resigned to the fact that she would never see a dime of royalties, Stoker's widow changed tactics. In 1925, she was able to secure the truly horrible ruling that all prints of the movie were to be confiscated and destroyed. She even pressured the Montagu Film Society in London to consign their copy to the flames in 1929. And throughout all of this, the woman who had consistently dismissed her husband's writing career and ignored his masterwork stayed true to form by apparently never watching a single frame of Nosferatu herself. Fortunately, one print of the film somehow escaped the vengeful widow's clutches and ended up Stateside. Considered at the time to be in public domain, it is from this print, supposedly, that every copy of Nosferatu in the world today is descended.

The film would be remade as Nosferatu the Vampyre by director Werner Herzog in 1979 and starring Klaus Kinski, the Count this time named 'Dracula' rather than 'Orlok.' While an excellent homage to the original, I think the addition of color and sound actually subtract from the story; rather than the stillness and dream-like world of Murnau, Herzog's vision is too lush; there's simply too much on the screen.




A semi-remake, Shadow of the Vampire, was released in 2000. Starring John Malkovich as Murnau and Willem Dafoe as actor Max Schreck (who, in reality, is the vampire Count Orlok), it received fairly good reviews, but I've never considered it to be a film I particularly wanted to see again.



But I do love Nosferatu. It might seem slow, foggy and cliched on a first viewing, but it is one of those rare films that reveals ever-deeper layers of meaning on repeated screenings. It may not be the ideal movie for a first-time silent viewer (an Arbuckle, Keaton or Griffith short would be better), but it is a horror classic that encapsulates, in its own way, the heart-stopping beauty of silent movies.

And to think we so nearly lost it forever. . .

TJM Again

I just wanted to make it clear that this is where MPPPP's part ends. The opinions linked to below are TJM's.

Movies of Today

Opening in Theaters:

Halloween Ends

Movies I Saw This Fortnight:

Pinocchio (Rating 1/4) Full Review "This is just outright depressing. Pretty, but depressing." [Disney+]

My Best Friend's Exorcism (Rating 2.5/4) Full Review "I somewhat enjoyed the overall experience, but I just found the key element to be too thinly written to work as well as it should." [Amazon Prime]

Blonde (Rating 3/4) Full Review "Again, I have no idea who I would recommend this to. It's all art house and a descent into suicide. It's apparently not immensely faithful to the real history. It's really something else, and the length doesn't help open it up to new audiences as well." [Netflix]

The Invisible Man (Rating 3.5/4) Full Review "Told with confidence and style, it's one of the heights of the whole franchise." [Personal Collection]

The Mummy (1932) (Rating 2/4) Full Review "I don't think it really works, but it's far from the worst thing I've seen." [Personal Collection]

Son of Frankenstein (Rating 3/4) Full Review "For those looking for a simpler monster movie, I think this is their jam. I had a surprisingly fun time with it." [Personal Collection]

Invisible Agent (Rating 3/4) Full Review "Still, as an overall package, Invisible Agent works through a light and cluttered opening to deliver some pretty solid spy stuff later that fully utilizes the concept of an invisible man as well as delivering some quality special effects." [Personal Collection]

The Wolf Man (Rating 3/4) Full Review "It's not the upper tier of the whole franchise, but it's an entertaining entry on its own." [Personal Collection]

Frankenstein Meets the Wolf Man (Rating 3/4) Full Review "The ending doesn't live up to the promise of what came before, but it doesn't completely diminish the whole." [Personal Collection]

Contact

Email any suggestions or questions to thejamesmadison.aos at symbol gmail dot com.
I've also archived all the old posts here, by request. I'll add new posts a week after they originally post at the HQ.
My next post, on November 5, will be about the Classic Universal Monster movies.


posted by Open Blogger at
07:35 PM
|
Access Comments