« Jon Nicosia Confirms: The CNN "Big Name" Who Will be The Next To Be Fired Will Be Jim Acosta
|
Main
|
Stormy Weather Cafe »
October 14, 2022
Quick Hits
Real Clear Politics has a great idea: They're beginning the "Polling Accountability Project." They intend to bring some accountability, rigor, and pressure to improve to a broken industry.
There have been many news stories over the last several months questioning whether polling is broken in the United States. While there are certainly challenges in the polling industry, it is not entirely accurate to suggest polling is broken. There are many quality pollsters and media outlets that are doing excellent work in a constantly changing technological and political environment. However, there are also pollsters and news organizations that are doing less-than-stellar work and, unfortunately, many of the polls from these organizations receive a disproportionate amount of attention.

To help address this problem, in the coming weeks RealClearPolitics will be rolling out a beta version ranking polling organizations. RCP will rank pollsters by their performance in recent elections, and will of course evaluate their performance in the 2022 mid-term election in just under a month. RCP's goal here is simple. Accuracy is the foundational bedrock of public trust. To that end we will be evaluating pollsters almost exclusively on one metric -- accuracy in reflecting the actual results.
What I'd love to see is RCP use these rankings to weight, or deweight, pollsters' numbers in their own averages, according to how accurate or inaccurate they have been in the past. Pollsters that turn in crap poll after crap poll (Fox News? NBC? ABC?) will have their crap numbers de-weighted in the average, so that we can get a better sense of what the real averages are.
Maybe they'll do something like that.

Gen Z wants the Thumb's Up emoji #canceled, which they find "passive aggressively hostile."
Gen Zers are calling out the popular thumbs-up emoji for being "rude" and "hostile," even saying they feel attacked whenever they see it used in the workplace.

After a Reddit poster confessed to being "not adult enough to be comfortable with the thumbs-up emoji reaction," others chimed in to agree and to call out other common emojis such as the red heart.

"For younger people, the thumbs-up emoji is used to be really passive-aggressive," a 24-year-old Redditor wrote.

"It's super rude if someone just sends you a thumbs up," they added. "So I also had a weird time adjusting because my workplace is the same."

Older workers appeared flummoxed by the reaction, noting they use the thumbs-up in work-related chats to signal "I approve" or "I understood and will obey."

...

"Everyone my age in the office doesn't do it, but the gen X people always do it," they wrote. "Took me a bit to adjust and get out of my head that it means they're mad at me."
The generation that speaks chiefly in emojis doesn't like that a thumbs-up is a blow-off symbol that fails to validate and praise them.
Others complained that it comes across as dismissive.

One Reddit user noted that the thumbs-up actually means that "I've read your message and have nothing [to] add and I hope and pray ... all the bazillion people in this group chat have nothing to say on it too."

Instead, Gen Zers said they'd prefer a typed-out response.

"We're people and we have words to use," Kim Law, a 25-year-old social worker from Massapequa, told The Post. "If I took the time out to write a thoughtful message, then you shouldn't be responding with the bare minimum. Fix it and write something real back."
You'll get nothing and like it.
I don't know about you all, but from here on out I'm rockin' up to people flying the thumb's up with one hand and an OK sign with the other.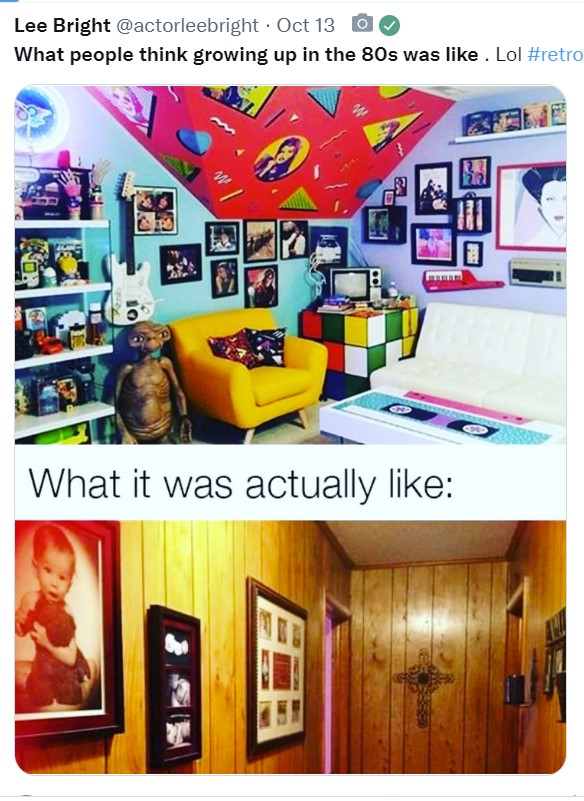 Speaking of people in their 80s, decrepit mummy-whore Madonna just realized she was gay or something.
In related news, my demented gran-gran says she wants to kiss peepees with that handsome young man Richard Baseheart. So lots of news breaking in Sex of the Aged.*
The LA City Council's Queen Bee White Hispanic racist has finally resigned -- as pressure increases for her fellow racists to follow her out la puerta.
Friday's Los Angeles City Council meeting has been canceled as pressure mounts for the two remaining members heard in a racist leaked audio recording to resign, Acting Council President Mitch O'Farrell announced.

Former council President Nury Martinez resigned from her seat Wednesday, days after stepping down from her leadership position and announcing a leave of absence.

Gil Cedillo and Kevin de León, however, have not released any statements following Martinez' resignation on Wednesday.
By the way, Nury isn't winning any new fans.
Nury Martinez's Los Angeles City Council resignation letter did not go over well on social media.

Actor Melinna Bobadilla, writer Myriam Gurba and TV host Areva Martin were among many Twitter users who criticized Martinez's announcement -- particularly the part where the disgraced politician addressed "all little Latina girls across the city" and said, "I hope I've inspired you to dream beyond that which you can see."

"Girl WHAT? Cómo crees? [what are you thinking?]" Bobadilla tweeted on Wednesday. "You are not # goals or inspo; you are a cautionary tale of power hungry girl-bossery gone awry. This is an example of narcissism & gaslighting BYE."
I despise cancel culture and ostentatious virtue signaling and corpse-dancing, but here... eh, I'll allow it.

The Biden Gangster Government has launched an "investigation" into another political opponent.
I can't wait to put these fuckers in prison for life.
Officials at the Treasury Department have launched an investigation into Florida Governor Ron DeSantis after he relocated illegal immigrants from the Sunshine State to Martha's Vineyard, claiming he may have improperly used COVID-19 relief funds to do so. Not surprisingly, the investigation in underway after a request from Democrats on Capitol Hill.

Insider Advantage poll: Republican challenger Tudor Dixon (is that a real name?) is now tied with Gretchen the Witch Whitmer for Michigan governor.
This would be enormous.
Michigan Gov. Gretchen Whitmer (D) is tied with Republican challenger Tudor Dixon (44 percent to 44 percent), a new Insider Advantage poll shows. The poll, which surveyed 550 likely voters on October 11 and 12, showed 3 percent support for Libertarian candidate Mark Duzuma, and 2 percent for Green Party candidate Kevin Hogan. One percent of likely voters chose "other," and 7 percent had no opinion.
Deb Heine notes that this poll is a out-of-line with other polls, which claim that Whitmer is ahead by 10.3. Still, she points out that Whitmer's support has been "softening" in recent days, and Biden's own support in the state has fallen from 45% last month to 37% now, which will doubtless hurt Whitmer.
It might be time for the FBI to fake another Fednapping.

Soros donates another $1 million to Stacey Abrams' re-election commitee, and I preemptively denounce myself for antisemitism and racism.
Left-wing billionaire George Soros has provided an additional $1 million to support Democratic Georgia gubernatorial candidate Stacey Abrams, Fox News reported, citing campaign finance records. Soros is notorious for using his massive fortune to advance radical leftist ideology.
David Paterson, the previous "accidental governor" of New York before Kathy Hochul, before the last Democrat pervert (Elliot Spitzer) resigned in disgrace to elevate his Lieutenant Governor to the top post, says that he has never in his life felt more unsafe in New York City than right now. Under Kathy Hochul.
"For the first time in my life--even in the late '80s and '90s when the crime rate was killing 2,000 people a year, I never felt as unsafe as I do now just walking around and God forbid, sometimes we take the subway home from WABC. And you're hearing about an assault on the subway almost every other day," Paterson said.

He added that a small number of people in the county jails are repeat offenders, getting arrested "20, 30, 50 times," and that that is where the criminal justice system needs change.

Paterson said New York Democrats have a "blind spot" when it comes to handling crime that could lead to them suffering major losses in the November elections.

Well he's just racist, isn't he?
What? He's black?
Well then he's one of those MAGA extremists who has internalized white supremacy.
All-girl "Green Goblin gang" terrorizes New York City subways; Kathy Hochul still won't call for repeal of decriminalization-of-crime laws.
Now they're just mocking us.

Muggers go to work in gangs, wearing neon-green full-bodysuits -- and when one is caught and charged, it's straight back to the streets because that's the new normal in New York.

So thank you, Gov. Kathy Hochul. You didn't sign off on those criminal-justice "reforms" three years ago, to be sure, but folks are wondering just how bizarre things have to get before you decide to roll them back.

That is, New Yorkers now get that the joke is on them -- and they're not amused.

Take the case of Mariam Issouf, 26 years old and an alleged member of the so-called Green Goblin crew that assaulted and robbed two teens on the subway on Oct. 2. Charged with a violent felony and then no-bailed, she walked out of court behind her lawyer Tuesday, her head under a black leather jacket.

She hadn't done anything wrong, said the lawyer, with a straight face. Which is what lawyers do, of course.

Even when their clients have been caught on cellphone video, with a half-dozen or so others, dressed in full neon-green bodysuits -- space-alien masks completed the ensemble -- getting all rambunctious on a Times Square subway train at 2 a.m.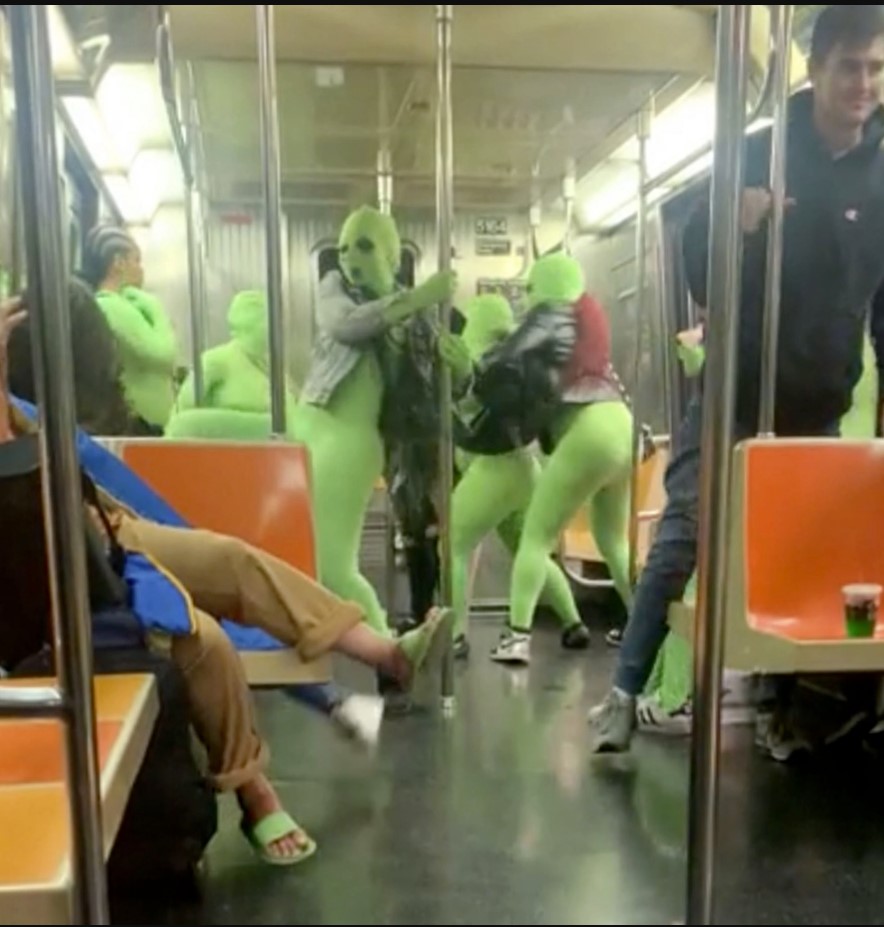 This is how the gangs dressed in Clockwork Orange, and then, ripping off that style, how gangs dressed in Z-grade gang movies in the 80s, or in cheapo sci-fi movies. And we'd roll our eyes and think, "How absurd." But we'd shrug because if you don't have a budget, you just get crazy with your limited funds.
This is how they would symbolically depict societal breakdown and full-on urban psychopathy -- by showing the destructive, chaotic elements dressing up in bizarre outfits, to lend an surrealistic charge to the violence.
But now this is real life. We're living this nightmare.
We're living in A Clockwork Neon Green.
America used to be a First World country. Do you remember that? It wasn't so long ago.
That was nice. It was nice to have lived in a First World country, if only for part of our lives.
Shame about the future. Shame about the children.
At least NeverTrump got the Quality Tweets that were so important to it, and its donors.
The woman who comes on around 1:02 is a stitch:

Oh, earlier I used the Latin term mirabile dictu. I apologize.
First time I've ever used it. Lay off. I should use it once. Everyone should get one free "try." Once a philologist, twice a pervert.
I had to look up the actual meaning and usage. I know it's used to express a kind of sarcastic surprise. It means "marvelous to say" or "miraculous to relate" in Latin. From Virgil.
Like, what a wondrous bit of news I'm thrilled to deliver to you! I think is the general sense. From my own experience, it's always used in a snide or ironic or arch way. I don't think I've ever seen it used in a straight, serious way.
* Funny Pulp song, written about the main guy confronting his advancing age. The song is called "Help the Aged," as in, do charity for the elderly, and it's about him being grateful that a younger woman is willing to sleep with him.
He was in his thirties at the time.

posted by Ace at
06:08 PM
|
Access Comments