« The FBI Offered Disgraced Stooge of Russian Oligarch Oleg Deripaska, Christopher Steele, $1 Million if He Could Prove That His "Dossier" Claim Were True.
The Very Generous Bounty Remains Uncollected.
|
Main
|
Audio Leaks of Four Hispanic LA City Council Members Making "Openly Racist Remarks," Calling the Adopted Black Son of a White Council Member a "Monkey" »
October 12, 2022
Pfizer Executive to European Parliament: Why No, We Never Tested If the Vaccine Actually Stopped Transmission of Covid
Pfizer executive Janine Small admitted to a European Parliament Member that Pfizer couldn't test for this, because they were moving "at the speed of science" or something.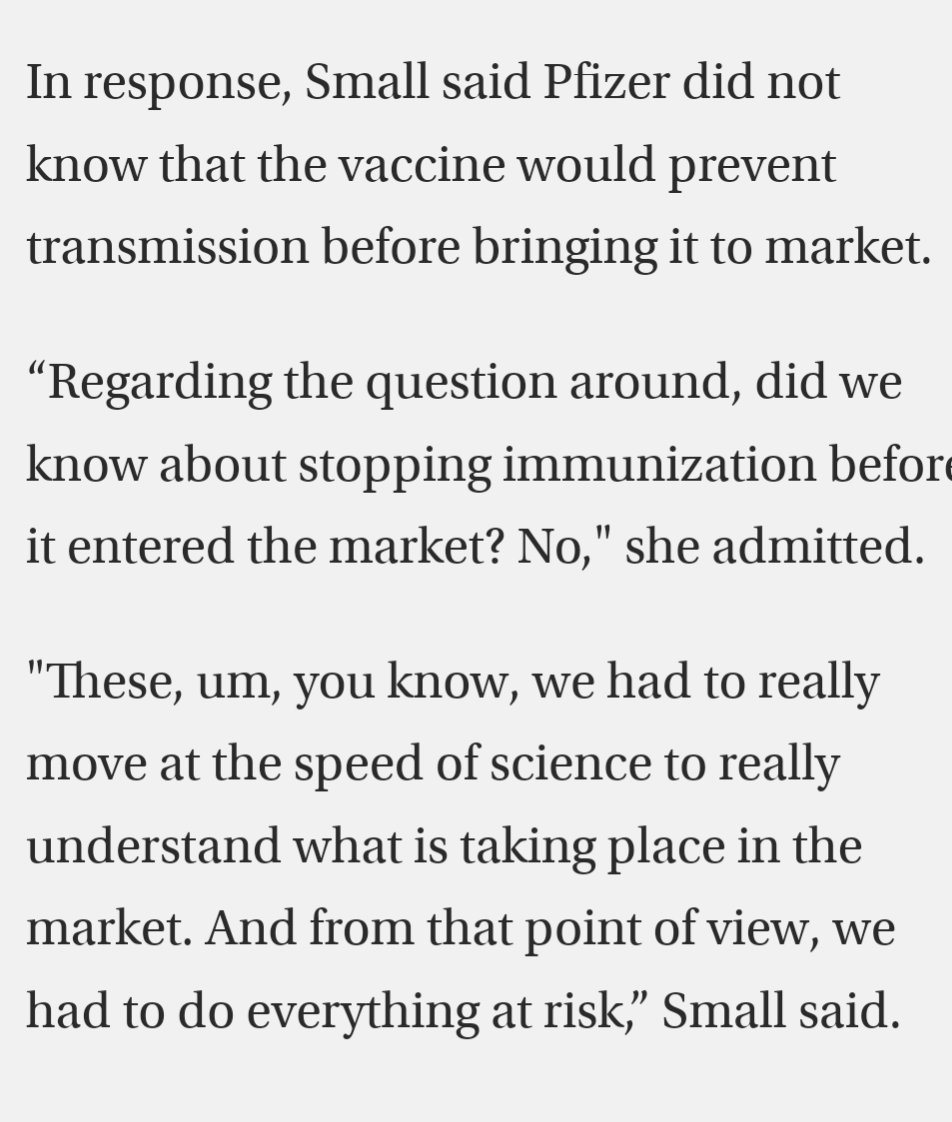 Catherine Salgado at PJMedia report that the Dutch member of the EU Parliament, Rob Roos, who asked this question is scorching hot about the implications of the answer :
Small made the admission in a video tweeted by Dutch Member of the European Parliament Rob Roos. The Netherlands instituted a COVID-19 vaccine passport in late 2021, and Roos emphasized in the video how much Small's admission undermines the Dutch government's justification for the passport.

"If you don't get vaccinated, you're anti-social. This is what the Dutch Prime Minister and Health Minister told us," Roos said. "You don't get vaccinated just for yourself, but also for others--you do it for all of society. That's what they said." But that argument no longer holds, Roos explained. "Today, this turns out to be complete nonsense. In a COVID hearing in the European Parliament, one of the Pfizer directors just admitted to me--at the time of introduction, the vaccine had never been tested on stopping the transmission of the virus."
Even if you concede that the Fierce Urgency of Now during the covid pandemic didn't allow for testing -- even if -- how can one say that the urgency also permitted lying about the vaccine's effectiveness in stopping the transmission of covid?!!
They repeatedly represented it would both stop the vaccinated person from getting covid -- wrong -- and also that it would prevent transmission.
Also wrong. But on this last point -- they never even tested! How can they make claims about the virus' supposed ability to stop transmission when they never tested for that, not even in a limited bullsh*t twenty-person micro-sample?
Question: Why hasn't this been asked before?
It's not just that they didn't test to see if the "vaccine" stopped transmission. It's that world governments then claimed it did stop transmission, based on... nothing, but claimed The Science (TM) said it stopped transmission, and therefore they were justified in suspending human rights and coercing their populations into being vaccinated.
Pfizer, naturally, said nothing to contradict them.
This claim was entirely untested and therefore unproven by "the science" -- and ultimately proven 100% false.
But they claimed "The Science (TM)" proved their claims.
Roos blasts world governments for basing totalitarian mandates on lies about "The Science (TM):"

They straight-up lied to justify the imposition a totalitarian solution they preferred.
They do that a lot -- they continue lying about what "The Science (TM)" says, and what "The Science (TM)" justifies the government doing to you, meanwhile continuing to defame and dehumanizing people who point out that what they call "The Science (TM)" is usually just a totalitarian-minded bureaucrat's political talking point with exactly zero real science behind it.

Right now they're telling you "The Science (TM)" is clear -- girls are boys and boys are girls.

posted by Ace at
01:12 PM
|
Access Comments