« Daily Tech News 12 October 2022
|
Main
|
Mid-Morning Art Thread [Kris] »
October 12, 2022
The Morning Report — 10/12/22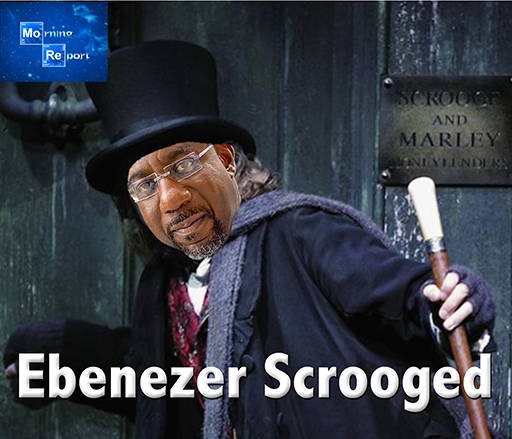 Good morning kids. Wednesday and with everything going on around us does this story that broke very late yesterday really surprise you?
The FBI offered Christopher Steele $1 million if he could prove allegations recorded in his now-infamous dossier, a senior FBI analyst said in court on Tuesday.

FBI analyst Brian Auten testified in the trial of Igor Danchenko, the primary source of allegations in Steele's dossier, that the bureau placed a $1 million price tag on confirmation of the dossier's outlandish allegations. Steele was unable to provide any evidence. . . Auten testified that the FBI offered Steele "up to $1 million" for proof substantiating allegations made in a series of reports to the bureau over the course of several months in 2016. The analyst said Steele never received any money because he could not "prove the allegations," according to CNN. Steel's reports were eventually compiled into the dossier first published by BuzzFeed News in January 2017.
Meh. The only thing surprising to me is that they offered Steele a million bucks. Considering Steele is part of the machinery of the state, I'd've thought he'd have done what the FBI wanted for free because of his patriotic duty or something. It's smoke and mirrors because the dossier was a lie commissioned, bought and paid for by Hillary Clinton, and everyone knew it. This whole testimony is just kabuki-bukkake theater that won't mount to a hill of beans in terms of real punishment, or even perhaps the revelation of the truth. Disinformation, or really bald faced lying, is just one of the many aspects of the FBI and its parent organization the DOJ.
The other is political terrorism barely disguised in the moldering skin-suit of justice and law enforcement that it parades itself around in like Jame Gumb tucking his junk, pinching his nipples and whistling "Yankee Doodle Dandy" in front of the American people, pretending to be the second coming of Kate Smith.
I had heard about the FBI showing up in full regalia to arrest Paul Vaughn, father of 11, for a pro-life protest he'd been part of the previous year. Unlike the 2020 BLM peaceful protesters, Vaughn didn't set anything on fire or kill anybody. But he had sat in the hallway of an abortion clinic singing hymns. The FBI swarmed his house wearing bulletproof vests and carrying AR-15s. They pointed guns at the door and banged on the house. Ultimately, they took the father away while ignoring his wife's questions, including that an agent identify himself. At one point in the video, you can see this agent simply walks past her, waits sheepishly for the FBI driver to unlock the SUV's door, and gets in and slams the door in the woman's face. I recommend you find and watch a video of this for yourself, because there is no substitute for seeing it.  [video linked here - jjs]

We only know this happened because the wife had the presence of mind to film it with her cell phone. But what if this is happening all over the country to people who aren't lucky enough to have friends or family nearby with cameras? What if there are hundreds of Paul Vaughns being carted away by federal agents for crimes of civil disobedience? 

Fascim [sic] has always needed a uniform, and the current one is windbreakers and tactical vests with big, government-agency letters blocked out in yellow. These bulletproof vests are not being worn for the agents' safety: None of these agents actually worries about getting shot trying to arrest middle-aged family men. If they were worried about being shot, they'd come in tanks or send drones or just wait outside like the Uvalde police. 

In reality, the FBI's and ATF's vests are like the KGB's blue-tabbed uniforms or the brown shirts of Hitler's SA, and are worn for the same reason: They represent the intimidation of unlimited government power against the ordinary citizen. It is the power of the faceless, nameless—they never give their names—and unaccountable bureaucracy. It is the uniform of evil's enforcement wing. The FBI have become what Hilter's SA once were: Sturm Arbteiling, storm detachments, storm troops, whose purpose is to achieve obedience through fear. 

"We're from the government, and we're here to hurt." 
And "from the government" is dead-on accurate since the FBI is doing this at the very least with tacit approval at the absolute highest level of government and, has been confirmed with the revelations about the Loudon County School Board and DOJ, at the actual behest of the highest level of government. The directive from on high had been and for sure remains the targeting of anyone who protests the mind and body rape of children with the sexualization, transsexualization, and anti-American/anti-Judeo Christian brainwashing disguised as "education." Those who fall into that category are literally labeled as "white supremacists" and "bigots." The half of the country that did not vote for or did not approve of Biden being installed illegally in the White House are officially "a clear and present danger" to the nation, such as it is, because they want to return to the state of "such as it was."
With that set-up, you have to wonder what the FBI and their overlords in the Kalorama Komintern Kompound think about this little development:


A Michigan school board suspended its Monday night meeting after members of the Muslim community called for the removal of sexually explicit books from the school district.

Dearborn School Board in Dearborn, Michigan, will resume its meeting Thursday after members of the local Muslim community attended the meeting to protest sexually explicit books in the school libraries that are currently under review. Meeting attendees also pushed back against the board's book review policy implemented on Oct. 5 which requires parents to state why they are concerned about a book in the library before it is reviewed by media specialists.Protestors chanted "vote them out" and held up signs reading "Homosexuality Big Sin" and "Keep Your Dirty Books In The Closet" before the board determined the full meeting room was a fire hazard and decided to suspend the meeting before the public comment period, according to a video of the event posted by the school district. The school is currently reviewing six books in its school library including, "This Book Is Gay," a book that gives the "ins and outs of gay sex," and "All Boys Aren't Blue," a descriptive memoir of a queer, back boy.

"You see this frustration growing all across the country and in Dearborn we're not tied to the left or the right on this issue," Hassan Chami, a a Muslim parent of a Dearborn student, told the Daily Caller News Foundation. "We believe that education should be impartial. The media is trying to change the narrative that this is about LGBT. It is not. Whether this is a homosexual book or heterosexual book, sexually explicit material is immoral and does not belong in schools."
Well, clip my joy-buzzer, call me Bro-Fo and set me up with the Rachel Corrie pancake breakfast at Chick-Flat-N! Dearborn, MI. Hmm. Isn't that the district represented by Rashida "Rancida Taliban" Tlaib? I believe it is, and her usually gaping, bellowing coelacanth-like maw is closed shut and she's nowhere to be found. This is what's known in the trade as a 20-car pileup in the intersectionality intersection.
Look, there's no love lost between me and the residents of Dearborn, or more accurately Dearbornistan. At the risk of generalizing, they don't strike me as the America-loving, freedom-loving defenders of tolerance and inclusivity that they're pimped to be by the ACLU and SPLC. But, let's not lose our heads over this, nudge-nudge wink-wink. Now, if some on that school board were to shall we say no longer have need of shampoo and conditioner, I wouldn't exactly lose sleep over it. Of course, after the FBI is forced to investigate such a speculative "incident," they'd blame "white supremacy" and cast the dragnet over the usual suspects.
Still, the irony is delicious. Just like that of Ron DeSantis and Greg Abbott shipping illegal aliens to the heartwarming embrace of "sanctuary cities and states" where they are treated as if they're all carriers of radioactive leprosy.
Your Democrat Party, ladies and germs. Embrace the joys of D-iversity I-nclusion E-quity. Good and hard:


Senate hopeful Herschel Walker (R) was quick to respond when a bombshell report dropped Tuesday on his opponent, incumbent Senator Raphael Warnock (D-GA), accusing him of threatening to evict poor residents from low-income housing owned by his church.

The report, written by investigative reporter Andrew Kerr at The Washington Free Beacon, revealed that in addition to threatening evictions in the Columbia Tower at MLK Village in downtown Atlanta, Warnock's church affords him a lavish housing allowance of $7,417 monthly.

Warnock serves as the senior pastor at Ebenezer Baptist Church, drawing a salary in addition to his housing allowance, and the church is the 99% owner of the Columbia Tower building — which is described as a home for people with "mental disabilities" or who have been struggling with homelessness. . .

. . . As Kerr noted, less than three weeks after tweeting his disappointment that Republicans were not in favor of a rent moratorium, a lawsuit was filed over past-due rent in the amount of $28.55.

The church appears to have the finances available to cover the relatively minimal past-due rents in question in the 12 lawsuits — which total $4,900 — given that Ebenezer Baptist Church closed out 2021 with over $1 million on hand. . .

. . . Residents were reportedly unaware that the church even owned the building — which appears to be by design. It was only after digging through a number of layers that Warnock's name appeared in an official capacity: "Ebenezer Baptist Church owns the building through a network of shell organizations connected to the Ebenezer Building Foundation, a 501(c)(3) charity that delegates all management duties to the church and identifies Warnock as its principal officer in its IRS Form 990 filings."

"They treat me like a piece of s***. They're not compassionate at all," Vietnam veteran and Columbia Tower resident Phillip White, 69, explained, saying that the building had moved to evict him twice. The first time he paid the back rent — $179 — plus $325 in fees.

Warnock's opponent, former NFL running back Herschel Walker, responded to the report in a tweet on Tuesday morning.

"I have never known a preacher that likes abortion even after birth, won't pay his child support and evicts poor people to the street. I will pay the $4500 in past due rents listed in this news article to keep @ReverendWarnock from evicting these people," Walker said.
Emphasis mine because this boils down to its raw essence the SOP of Democrats, Leftists and Socialists. But you get what you vote for, time and time and time and time again. Somehow, it's America, capitalism, Republicans and whites that get the blame which results in the 2-4 year lathering, rinsing and repeating of the vicious cycle. Maybe, just maybe, this time is different.
Perhaps the fact that despite the abortion sliming, Herschel Walker raised a record $350,000 in a single day is anecdotal in that regard. Hopefully, the good folks in GA won't stand for wife-beater Warnock giving them the Ebenezer Baptist scrooging.
ABOVE THE FOLD, BREAKING, NOTEWORTHY
CIVIL WAR 2.0: J-6 FBI FALSE FLAG "RIOT" & AFTERMATH, LEFTIST PERSECUTIONS, DEMOCRAT PUTSCH, AMERICAN DISSOLUTION
NOTE: The opinions expressed in the links may or may not reflect my own. I include them because of their relevance to the discussion of a particular issue.
ALSO: The Morning Report is cross-posted at CutJibNewsletter.com if you want to continue the conversation all day.
Follow us on Twitter: @CutJibNews
Follow us on Instagram: @Cutjibnewsletter

posted by J.J. Sefton at
07:38 AM
|
Access Comments