« The Morning Report — 10/12/22
|
Main
|
Wednesday Morning Rant [Joe Mannix] »
October 12, 2022
Mid-Morning Art Thread [Kris]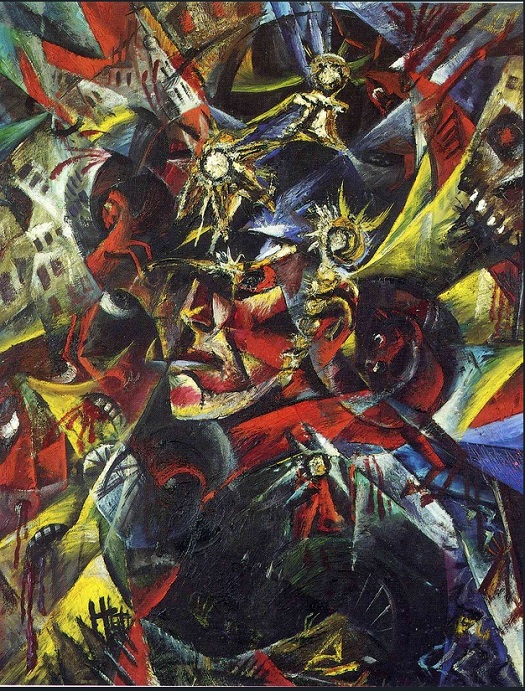 Self-Portrait As Mars
Otto Dix
Otto Dix was a [German] veteran of World War I, serving at both the Western and Eastern fronts. He was a machine-gunner in the trenches at the Somme and experienced first-hand some of the worst fighting and conditions of the War. This work, painted early in the War, reveals his evolving attitudes of the conflict and his part in it. Dix volunteered. He was caught up in the same patriotic wave that consumed Europe in August 1914. A year later he painted this shattered portrayal of death and destruction with himself at the very center.
The painting is heavily influenced by Cubism and possibly Futurism. In the center, Dix portrays himself as a clench-jawed, steely-gazed, modern warrior, but the image is fragmented. Surrounding him are skulls, blood, grave markers, screaming warhorses, and other images of devastation. These pictures emerge out of the jagged, angular shapes that construct the painting. Some forms blend into others creating a confusion of imagery.
The painting is dominated by a bright, vivid yellow that jumps off a canvas full of deep reds, blues, blacks, and whites. Notice for what images Dix uses this color: the bloody mouths and the skull. These are the most violent of the imagery here and Dix doesn't want them to be missed. He doesn't want them to fade into the background or get lost in the rest of the noise. He is drawing specific attention to them. Yellow is also used, in lesser amounts, to highlight the emblems on his helmet. For a soldier, emblems like this are symbols of identity and pride, but Dix has linked them to death. Even at this early stage in the War, Dix is already viewing his service negatively.
In the title, Dix calls himself Mars, the Roman god of war. In many examples through the centuries, Mars had been depicted as charging though wasted landscapes, leaving suffering and ruin in his wake. Here, Dix updates these very ancient themes. Mars is the prime mover around which everything swirls. War is a constant that turns everything around it into chaos. That Dix identifies himself as Mars makes me think that he feels a deep personal responsibility for the War. I have heard stories of veterans regretting the part they played in wars. Not that they did anything wrong themselves but they feel their contributions to its horrors are as accountable as those who caused them. It seems to me that Dix felt a profound personal guilt. Being a machine-gunner in the trenches, he personally saw bodies chewed up and torn apart by his direct actions. It was his job and one for which he volunteered. It's no wonder this depiction is shattered and frenzied. The imagery spins in a cacophony of color and shapes. It almost explodes off the canvas.
Dix served the entire length of World War I, was wounded just before it ended, and discharged an angry and traumatized man. His art in the Inter-War period would be highly critical of the Weimer Republic—both of the government and society,—of the War, and of his fellow veterans. One source I read compared his art to the novel All Quiet on the Western Front. I think this is a good comparison.

posted by Open Blogger at
09:30 AM
|
Access Comments