« Gardening, Puttering and Adventure Thread, October 15
|
Main
|
The Weekend Hobby Thread »
October 15, 2022
Ace of Spades Pet Thread, October 15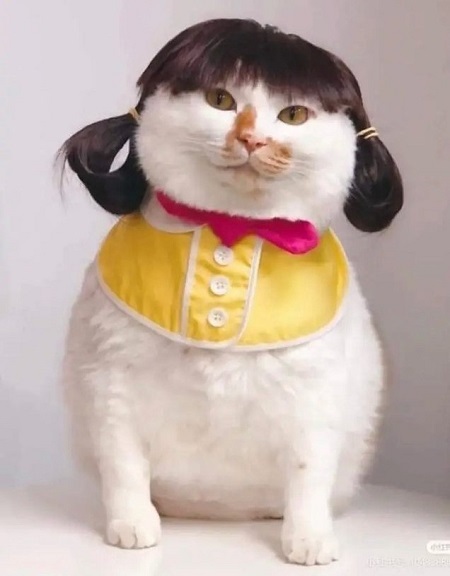 * * *
Good afternoon and welcome to the almost world famous Ace of Spades Pet Thread. Thanks for stopping by. Kick back and enjoy the world of animals.
Would you like a treat?
Let's enjoy the world of animals and leave the world of politics outside today.
Cats and dogs may have different reactions to Halloween costumes. Have you ever seen a cat who had a reaction to a costume different from the ones below?
* * *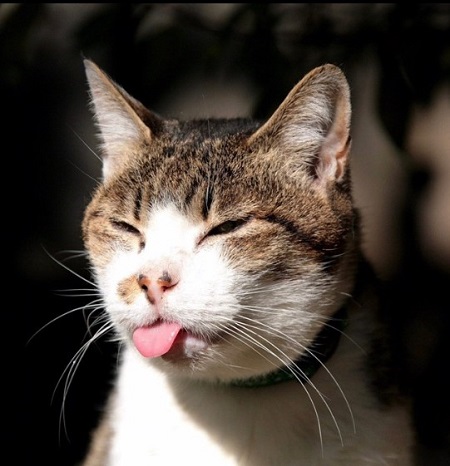 * * *
* * *
On the other hand, check out these dogs:
TWO Halloween costumes each?
Have you ever had a good pet costume experience?
* * *
PET NEWS
Pebbles, the world's oldest dog, has died
The 4-pound terrier loved listening to country music and trying new foods, said Gregory in the statement. Her wardrobe was studded with dozens of adorable outfits, including a festive pumpkin hat and a pink dress that were documented on the Instagram account.

"It was our honor to have had the blessing to have had her as a pet, and family member," Gregory wrote. "There was never anyone who met Pebbles that didn't love her."

"She will be deeply missed."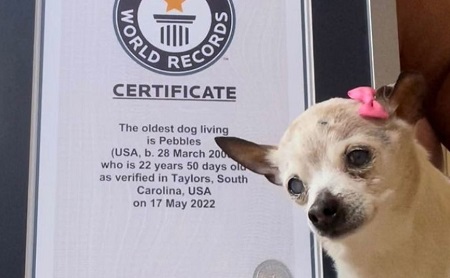 A sweet, Southern dog.
*
Tomorrow is Global Cat Day.
Celebrated on October 16, Global Cat Day was created in 2001 by Alley Cat Allies to help keep cats everywhere safe from harm.
That's GLOBAL cat day!
* * *

Story Time
A story from an unexpected source:
A dachshund looks cute and cuddly until you see one yawn, and then you realize they're little furry alligators.

My Mom used to keep rabbits; one day several dozen of them got loose. The family dachshund tore off after them, picking them up by the scruff of the neck and dropping them back in the main herd. The bunnies didn't make any efforts to avoid the dog and didn't seem fazed by being relocated.

Having watched the same dog hunt mice, rats, squirrels, and other vermin, we were expecting rabbit confetti. Watching her gently herding the rabbits was a complete surprise.
* * *
Meet The PetMorons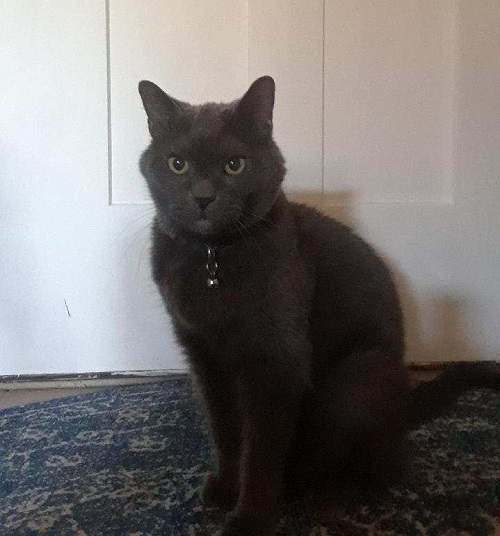 &&&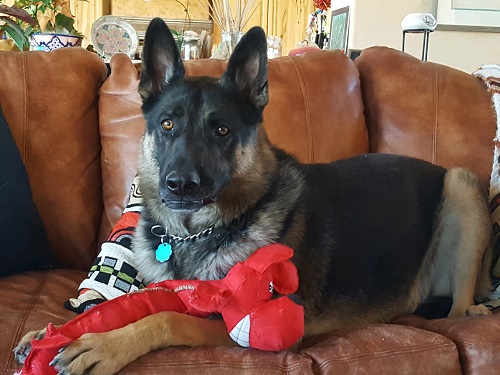 I have wished over the years of reading the pet thread that I had a pet
I could send a picture of. So the other Lady Y announces, we have a
cat. A Russian Blue, whose name, of course, is Blue. A very mellow
cat except when it's time to eat.

The dog is a friend's. Outlaw. an amazing dog, but deathly afraid of
men, until he's known you for a long time. I love the picture, so I
had to include it. He deserves it.

mostly a lurker. occasional commenter on the book thread

-- yara
Congratulations on getting such a great cat. And your neighbor's dog looks fine, too! Looks like he's getting comfortable around you.
* * *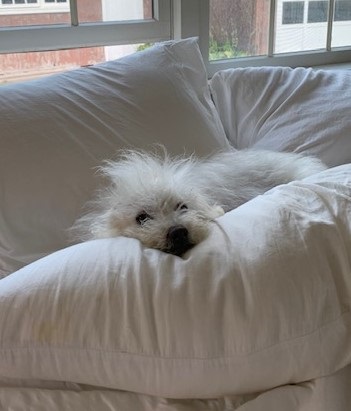 Am I allowed to pour my heart out here? I rescued Lexi when she was 6 years old - Parsons Terrier mix. I have owned, adopted/rescued 12 dogs in my life, and never shied away from a dog in need. However, Lexi was the first dog I took in having zero knowledge of her history. She was loving, affectionate, attentive, and appreciative of my attention. But the poor thing didn't even know how to play with a toy, or climb steps. OK. No Problem. Unfortunately, after a lot of tests,I learned she had many environmental allergies -- maples, oaks, common grasses, mosquitoes --but also to many foods like brewer's yeast, fish, bison and turkey. Once I got her diet under control then I had to control her environment. I contracted with a company for mosquito control. After walking on grass she would lick her feet raw, so washing was critical, and she hated it.


So, after 3 years and many allergic flare-ups , my vet gave me permission to double the recommended daily dose of Apoquel, and we started with a monthly shot of Cytopoint for 2 more years She was doing very well. Then this summer, she refused taking the Apqoqel (biting me), and stopped eating, even though I had cooked her favorite meals. She had diarrhea for 4 months. She was losing weight and fussed with very tender skin and sores. She was in a great amount of discomfort with her skin and coat. Then I got "the look." I had seen it many times before. She was done with the painful struggle. And I decided, it was time.

I love reading all the great outcomes of rescues on the Pet Thread. And I am among them with some of my past 12 dogs. Lexi and I had many great times and I have lovely memories. But, despite my love and devotion and many (!) thousands of dollars, I could not make her "well." Sometimes we have to admit that our best efforts just aren't in the DNA cards they are dealt.

RIP, my beautiful Lexi, who fought bravely against a hard life.

Liz
Brave Lexi, sweet Liz - I have tears in my eyes. How hard you both struggled. So glad Lexi is now at peace. Feel free to check back in to let us know how you are doing.
* * *
Good morning -

Things at House OCiS haven't slowed down any with the new kitten. While I named her Smudge, perhaps Chaos would have been more appropriate. Smudge is now 6 months old and is pictured here (left) with our other cat Houdini ( Dini for short) on the right. This was taken just after the kitty shelf was put up for them so they can watch the birds, deer, bear and other wildlife saunter by. When she was adopted they said she was a climber and they didn't lie. The dining room light fixture was swinging the other morning with Smudge looking intent on getting up into it. These two are constant entertainment and I'm sure they realize they won life's lottery taking up residence in House OCiS.
Some kittie personalities are showing there.
* * *
From Jewells: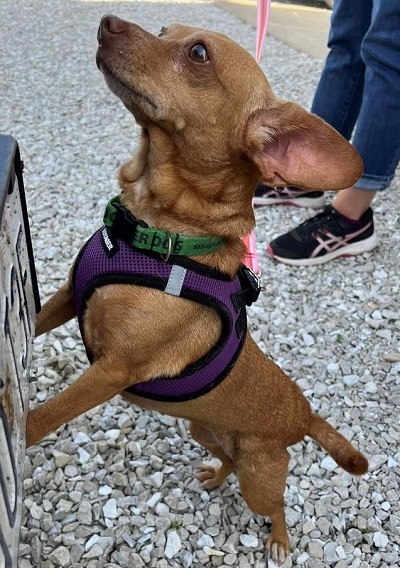 This is Sonar a 9 year old chihuahua. She is so darn sweet. Owner passed away. She spent about 4 weeks at a shelter and now she's at Shep's. This is another I could easily adopt! She was well taken care of so I doubt we will have her long. She loves to give doggy kisses.
What a sweetie!
* * *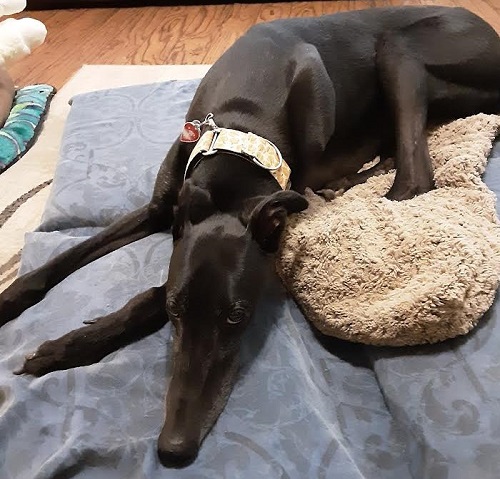 Kroger came to us back in January as a return. The owners said that he was showing aggression despite being on Prozac. We worked to rehabilitate him for three months, weaned him off the Prozac (That he didn't need) and made him a happy dog. He was adopted out back in April. It was tough for us because we had bonded to him and he to us but we already had three dogs.

Two months afterward, he was returned for showing aggression to a neighbor. He was sent to one of the best volunteers in our group. A quick investigation revealed that his new vet foolishly took him off his thyroid meds cold turkey. The volunteer worked on making him a happy dog again and while my wife and I were on vacation, she asked if we wanted him back. We'd lost our older dog back in July and we knew we could handle him. He's still a bit confused about things but he is happy to be back with us even if he's a bit suspicious about the camera.

NR Pax
What a beautiful animal!
* * *
What a wonderful collection of pet stories and great pets today. Sorry for those who have lost a friend. Thank you each and everyone for sharing your pets with us.
If you would like to send pet and/or animal stories, links, etc. for the Ace of Spades Pet Thread, the address is:

petmorons at protonmail dot com

Remember to include the nic by which you wish to be known when you comment at AoSHQ, or let us know if you want to remain a lurker.
Until next Saturday, have a great week!
* * *

If you start feeling nostalgic, here a link to last week's Pet Thread, the Ace of Spades Pet Thread, October 8. Some special PetMoron stories and photos there.
I closed the comments on this post so you wouldn't get banned for commenting on a week-old post, but don't try it anyway.

posted by K.T. at
03:29 PM
|
Access Comments