ę WaPo: Federal Agents Say They Have Enough Evidence to Charge Hunter Biden With Tax and Gun Crimes
|
Main
|
Cato Institute Economist: We Only Fetishize Manufacturing Jobs to "Keep[] White Males With Low Education In Powerful Positions" Ľ
October 07, 2022
Jeffrey Toobin J***ed Off In Public; Mary Katherine Ham Mentioned That Toobin J***ed Off In Public.
He Was Suspended by CNN for 8 Months. She Was Suspended for 7.
This is CNN.
Now she was suspended by Jeff Zucker. A bit of context lurking in the background: Jeff Zucker had a very strong secret reason to punish people for mentioning any sexual improprieties at CNN: He had been secretly banging his subordinate for, what, 18 years?
He wanted it everyone to know it was an Iron Law at CNN that no one talks about anyone else's sexual improprieties, ever.
Everyone got that?
Oh no -- does this mean that very soon the stories about Tater's Sexual Conquests are going to start coming out?!
Sweet Merciful Lord, I pray you to have made Tater a loving and, most of all, faithful husband. Impotent and asexual, if you can swing that too, O Lord, who is kind about gross things such as Brian Stelter's diminutive pudling.
Not only did CNN suspend Mary Katherine Ham for merely mentioning, once, the not-at-all-secret that Jeffrey Toobin had masturbated publicly -- it was a Zoom call, after all; if you wanted, you could have had a DVD copy, in both the original and Special Edition versions -- but CNN management justified the decision by further saying that, because this emotional woman had just had a baby, she might have the Post-Partum Crazies and who knows what this crazy bag of hormones might say next!
No really.
CNN loves women, though.
The background for this incident was a Twitter argument she had with leftwing propagandists, including the most vicious c*nt on the Internet, the O.G. Deplatforming Specialist Buzzfeed Andrew. Ham was making the point that the media sure was spending a lot of time and journalistic resources covering the January 6 insurrection -- but meanwhile, had stopped covering the attempted assassination of an entire softball squad of Republican congressmen after a couple of days. And, I'd add, they had never -- never -- covered it as a political attack, or a political story.
All of the leftwing "journalists" insisted no, they definitely did super-duper cover it, for weeks and weeks, even!
This argument occured January 7, 2022 -- prompted, no doubt, by the Very Special Insurrection Anniversary Coverage CNN and MSNBC and the gayballs networks devoted the world's most meticulously-documented four hours.
It started off with DeSantis pointing out that we are now in Year Two of "insurrection" coverage, whereas reportage of an attempted mass assassination of Republicans scarcely made it into Day Two.
Maggie Haberman @maggieNYT


He's arguing the shootings didn't get much coverage? Pretty sure they were a huge story.
Mary Katharine Ham @mkhammer

I lived a block from the baseball field. Under 48 hours, the news vans were gone. I was on TV, live from the baseball field where they played the game a day later, after almost being canceled by mass murder, but my topic was "Mike Pence reportedly hired a lawyer."

You're welcome to talk yourself into idea that a similar murder attempt on an entire team of Democrats would have gotten the same treatment. I think the shooting of Gabby Giffords is pretty analogous and disproves that theory. Even without that data point, it's just not true.

And it doesn't mean Jan. 6 doesn't deserve coverage. Moving on after 48 hrs would be wrong for that and for Gabby Giffords! But the coverage was what it was, Scalise's return to Congress was very sparsely covered, and the anniversary was barely mentioned.

I checked at the time, and it is real. News vans were staked out at the home of the parents of Elizabeth Lauten, the GOP staffer who criticized Obama's daughters on Facebook that time, for longer than they were at the practice baseball field. That's not just a news cycle issue.
Noted Conservative Patterico rushed into defend Buzzfeed Andrew, who was disputing Mary Katherine Ham's correct statement that there was practically no coverage of the event after 48 hours, by finding a single video report at about the 48 hour report, and attacked Ham for being mean to his Twitter Pal.
Patterico @Patterico

And also the shooting, right? Which I think was all @KFILE was saying by linking the video. You discussed Pence on the field, but also the shooting. I'm not trying to pick a fight with anyone. I just donít get all the anger directed at him.
The video that Buzzfeed Andrew and Patterico are claiming proves Mary Katherine Ham wrong is one that reports that Mike Pence hired a lawyer to defend him in various criminal investigations the Deep State was throwing at the White House -- and added, he was also at the softball field where the shooting had happened.
The news package merely mentioned the latter. It was about "Pence hires lawyer, walls are closing in around Trump."
But nice try, Patterico.

Mary Katharine Ham
@mkhammer

No, not in prime time. As I said, my point was by 24-36 hours in, I was on in primetime, at the ball field, and even standing in front of the victims, we had already largely moved on instead of doing a wall-to-wall treatment on rhetoric and political violence.
She links a pic from the TV of what she was talking about on CNN the second night, less than 48 hours, after the largest attempted political assassination in history.
Hint: It wasn't about the assassination: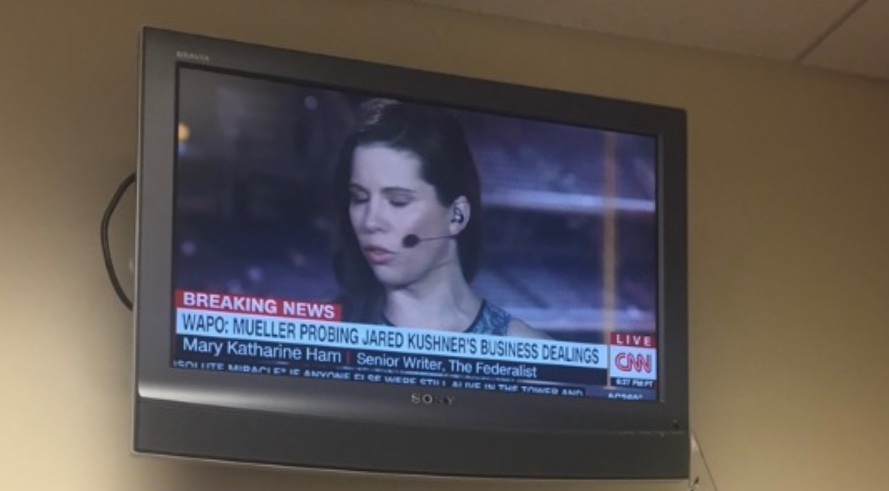 That's about when Buzzfeed Andrew came in to say "ah-ha, I have video of you talking about the assassination on CNN!"
But it was video... within the 24-48 hour period, not after it.
And that's when she made this single, fleeting reference to Toobin.
Although we can see she also referenced Cuomo -- which might have been the even more upsetting reference for Zucker, knowing what we know now.
And for that, she was suspended. Secretly. For seven months.
For that.
Did I mention she was suspended "secretly"? Yeah, they didn't tell her. She just found out. They just didn't schedule her for any appearances.
The new regime just told her (well, over the summer) that the old regime secretly suspended her.
I suppose some might reasonably conclude that critiquing CNN's coverage in a factual and calm tweet, or arguing with Kaczynski, could have spurred some disciplinary action, as it violates the rule against "shooting inside the tent" among colleagues. But it turns out that didn't do me in. Rather, I'm told, "when it got to the comments about Jeffrey Toobin...everyone wanted a bit of a breather."

Well, everyone but me, who had no idea there was a breather in effect. I was never informed of my punishment until it was rescinded recently by new management. No one called me or my representation about it. There was no announcement of a suspension, or notification of in-house disciplinary action, which I would have preferred, even welcomed by comparison to serving a secret sentence.
They didn't tell her because her head was filled with crazybaby chemicals:
I was told it was Jeff Zucker, now gone, who put this order in place and a deputy, also gone, who kept it there. I was also told I wasn't informed of the network's displeasure because I had just had a baby and someone in the old leadership thought I might be a "loose cannon."
I don't know what the exact grounds would be, and I don't think it matters: Sue.
One objection: She mentions this, about the Toobin incident.
Megyn Kelly commented on Twitter, "There is not a woman alive who could have done anything close to what Jeffrey Toobin did (not that one would) and kept her job. What a disgusting, incestuous boys' club. So damned tired of it."
Ladies, no woman would have done what Toobin did because women aren't as horny as men are. Remember "The Contest" episode of Seinfeld? Elaine wants in on the bet, and the boys object, noting that it's too easy for her to win?
But anyway, points otherwise taken.
Although I hated Toobin's guts, I was never exactly certain why CNN should punish him.
Toobin had committed a gross work violation, but not at CNN. He had committed that violation at his other job, at New York Magazine, I think. (Or some mid magazine.) They punished him. Fired him, I think.
I was never clear on why CNN also then had a responsibility to punish him for something that had not happened on CNN time, nor done on the CNN payroll, nore d done to CNN employees, and had also been punished by the organization at which it had happened, which was not CNN.
Now, let me be clear: I loved the punishment. As a person, he deserved it.
He's a prick.
I'm questioning if this was a miscarriage of corporate justice, but understand, as I'm questioning it, I'm also giggling about it.
In terms of actual fairness, thinking about it in a logical, legalistic way: I don't know why someone should be punished for robbery of the Second National Bank, which he did not rob, just because he robbed the First National Bank, which he did rob, especially given that he had been punished for robbing the First National Bank.
Just because the tellers of the Second National Bank remained in fear that he might revert to robbery again? Because the Second National Bank's tellers heard about the robbery of the First National Bank and are emotionally disturbed by it...?
I don't quite understand this theory of punishment.
This is just punishing someone not for the actual offense -- again, that was punished adequately by the company where he committed the offense -- but just for being a disgusting being.
Which is the entire theory animating #Cancellation. We're not punishing the offense, we're #cancelling the person.
I'm not just arguing this from the point of personal interest, but... Let's face it, there is a risk. There is a risk.
Sometimes the Post-It over the camera lens slips off.
Am I to be made pariah for 3M's shoddy workmanship?!
Or whatever Chinese knock-off Paste-Itz I got off Amazon because they were twenty cents cheaper?!
But then, it was such a notorious offense, and so deeply damaging to a corporation's reputation -- I mean, damaging to a corporation's reputation, so long as the corporation's reputation isn't "Being CNN" -- that you have to do something, just for corporate cleanliness. I guess an eight month suspension is defensible.
And so I guess then the right length of the suspension for Mary Katherine Ham is... seven months? To protect CNN's pristine reputation?
Yeah. That must be it.
Finally, to circle back: Was she really suspended for mentioning Toobin, or for mentioning Cuomo, whom Jeff Zucker was actively plotting with Fredo Cuomo to run interference for and slime his accusers?
Because if I were Zucker: That would be the one I really would not want CNN people mentioning.
And is that particular truth still too hot to admit, causing the new administration to compromise the truth and claim, "You were suspended for mentioning Toobin, and only for mentioning Toobin" ?

posted by Ace at
01:04 PM
|
Access Comments