« Jeffrey Toobin J***ed Off In Public; Mary Katherine Ham Mentioned That Toobin J***ed Off In Public.
He Was Suspended by CNN for 8 Months. She Was Suspended for 7.
|
Main
|
Top Five Revelations From Tucker Carlson's Interview With Former Business Partner of Joe and Hunter Biden, Tony Bobulinski »
October 07, 2022
Cato Institute Economist: We Only Fetishize Manufacturing Jobs to "Keep[] White Males With Low Education In Powerful Positions"
You know what I'd like to import from China?
You know what, motherfuckers?
How about we make you eat the fucking bugs?
Another astonishing clip from the Cato Institute event today, this one from the influential Adam Posen, head of the Peterson Institute. He says a focus on domestic manufacturing is simply a "fetish for keeping white males with low education in the powerful positions they are in." pic.twitter.com/ii4F0ssAjY

-- Matt Stoller (@matthewstoller) October 6, 2022
Does anyone have any remaining doubt that the CATO/AEI/Koch Foundation Corporate "libertarian" axis has shifted completely to partner up with the socialist-Marxist left?
They have one very powerful point in common: They are all slaves to China and can't wait to make us slaves as well.
This guy, Daniel Rangle, demonstrates that his claim is false -- it's not white guys who are primarily hurt by Foe-Shoring manufacturing jobs to China, it's blacks and Hispanics.
Daniel Rangel @DanielRangelJ


@WSpriggs and his team ECONOMETRICALLY showed that the decimation of US manufacturing caused by the China trade shock increased racial inequality considering the change in the share of Black employment and Black hire rate in the most affected areas (2/).


Last year, while at @Public_Citizen, we did some calculations and found that Black and Latino workers were disproportionately represented in nine out of the 10 manufacturing industries that were hit hardest by import competition. (3/).

Millions of workers in these sectors lost their jobs. Plus, in these industries, where again a disproportionate number of Latinos and African Americans worked, wages remained basically stagnant during the last 3 decades. Sectors less exposed to trade had slight wage gains (4/).

See his thread for links and charts.
You know why this asshole claimed that the "fetishization" of keeping manufacturing jobs in America was just about keeping "white males with low education" in positions of power they don't deserve, right?
Because working class white males are the group that it is a social good to despise, and it is a social good when we can work to injure them.
If this asshole were forced to admit that the people paying him for his bullshit were hurting blacks and Latinos -- well, that would be no good at all! In that case, there would be an actual problem in need of redress, not a social boon we could all celebrate, laughing at those poor stupid working class white men!
ABhol-der @AaronBHolder1

Just read about Compton, east st Louis, and flint Michigan, thriving black communities that were crushed when manufacturing left. This person is just plain high ego trash. Can't even believe he makes this claim, when couldn't even bend down to change a tire
Oh don't worry, his benefactors will pay someone else to change his tire.
People are getting rich off the China trade, of course.
Just not most people.
And they will savage anyone who complains that they're losing their livelihoods while they profit. They will not give up their fortunes, or their Think Tank Payola Money, without a fight.

Matt Stoller
@matthewstoller

I can't think of a better recipe for inducing racial tension than having D.C. elites financed by Wall Street pushing offshoring and then saying that anyone who opposes having their community and livelihood destroyed is racist.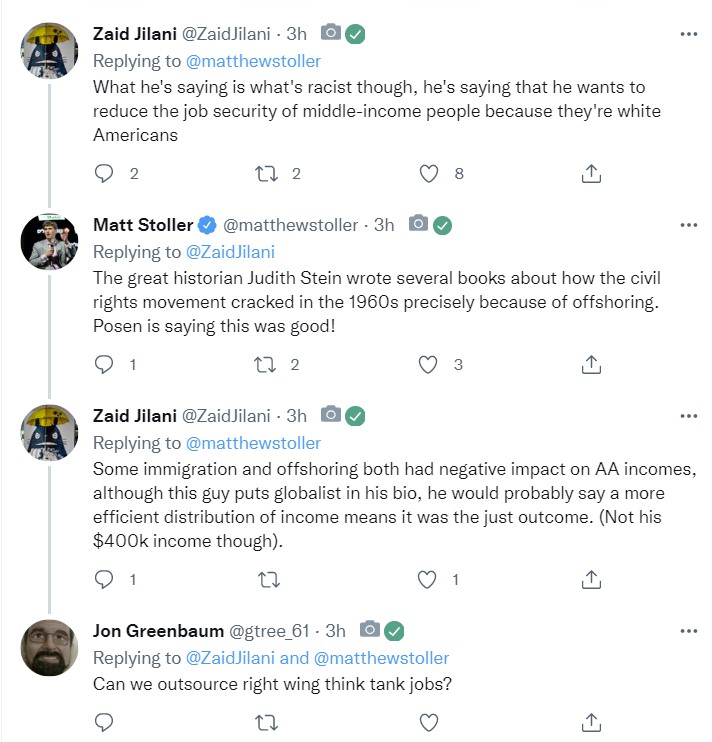 I don't like that you can call this guy "right-wing." We need a redefinition of terms.
But putting that to one side, no, you can't outsource his job -- because Quislings must always come from the native population, to sell the native population on the great benefits of selling their country over to a foreign nation.
The Quisling is the only kind of worker who knows that his job must always be performed by native labor.

By the way: How's the right's strategy of acting like simps to corporations -- giving them everything, asking for nothing in return, while the left makes demand after demand from them and threatens to beat the shit out of them if they don't comply -- working out?
I know it's working out great for the people paid off by the corporations to continue arguing that the right should continue this strategy.
But how's it working out for the rest of us?
Not the "Power Elite" Quisling working for the aliens, but the actual human earthlings?

posted by Ace at
02:27 PM
|
Access Comments