« Queen Bitch David French Calls The Blaze To Try to Get a Reporter Fired for Making Fun of Him
Plus: Avenging the Wrong This Simpering Sissy Did to Julie Kelly, Once and For All
|
Main
|
Gay Movie "Bros" Stiffs at Box Office; Straight People Blamed »
October 03, 2022
Released FBI Letter: Peter Strozk's "Repeated Selfishness Has Called Into Question the Credibility of the FBI"
Peter Strzok is suing the DOJ and FBI alleging that his firing was politically motivated and unjustified.
As part of its defense, the FBI released a draft letter explaining why he was fired.
David Bowdich, who was deputy director of the bureau when he penned the brutally harsh draft of the dismissal letter, told Strzok the damage he caused to the bureau would last for years. He referred specifically to Strzok's use of "an FBI device," an apparent reference to the shocking text messages sent on bureau cell phones between Strzok and his paramour, Lisa Page, in which vowed to stop former President Trump from being elected in 2016.

"While there is no doubt your 21 years of service to the organization cannot and should not be erased, it is difficult to fathom the repeated, sustained errors of judgment you made while serving as the lead agent in two of the most high profile investigations in the country," Bowdich wrote in the August 8, 2018 letter. "Though the Office of the Inspector General found no evidence of bias impacted any of your or the FBI's investigative actions or decisions, your sustained pattern of bad judgment in the use of an FBI device has called into question for many of the decisions made during both the Clinton e-mail investigation and the initial states of the Russian Collusion investigation."

"In short, your repeated selfishness has called into question the credibility of the entire FBI."
Note the FBI lies and claims that Strzok's maneuverings did not impact the Russiagate or Clinton email investigations.
They must be defunded.
The draft letter was an attachment in a DOJ response in Strzok's wide-ranging federal lawsuit alleging violation of his right to privacy and wrongful termination. Strzok's attorneys deposed Bowdich and are now trying to depose Trump and FBI Director Christopher Wray in a bid to show his firing was political. The DOJ attached the draft letter to rebut the idea that Strzok's firing was for political reasons.

Bowdich has since left the bureau and is vice president of global security for Disney. Strzok, despite being humiliated by the exposure of his emails, extramarital affair, and repeated bungling of investigations, has written a book and frequently appears on hard-left cable news channel MSNBC to defend the FBI against accusations of political bias.


...

"In my 23 years in the FBI, I have not seen a more impactful series of missteps which called into question the entire organization and more thoroughly damaged the reputation of the organization," wrote Bowdich. "In our role as FBI employees we sometimes make unpopular decisions, but the public should be able to examine our work and not have to question motives."

The two-page letter ends with a blistering reference to Strzok's failure as a public servant.

"As Deputy Assistant Director, you were expected to be a leader who was beyond reproach and set an example for not only our direct subordinates, but others throughout the organization who watched and observed your behaviors and actions," Bowdich wrote. "You failed to do so repeatedly and put your own interests [above] the interests of the organization. Though it pains me to do so, it is for this reason that I am dismissing you from the rolls of the FBI."
Sergei Millian, the man that the Clinton-connected Brookings Institute paper-pusher and suspected Russian spy Iggy Danchenko falsely claimed to be his source, alleges that Strzok is a "racist coward and that he tried to "entrap" him three times. Via Hans Mahncke: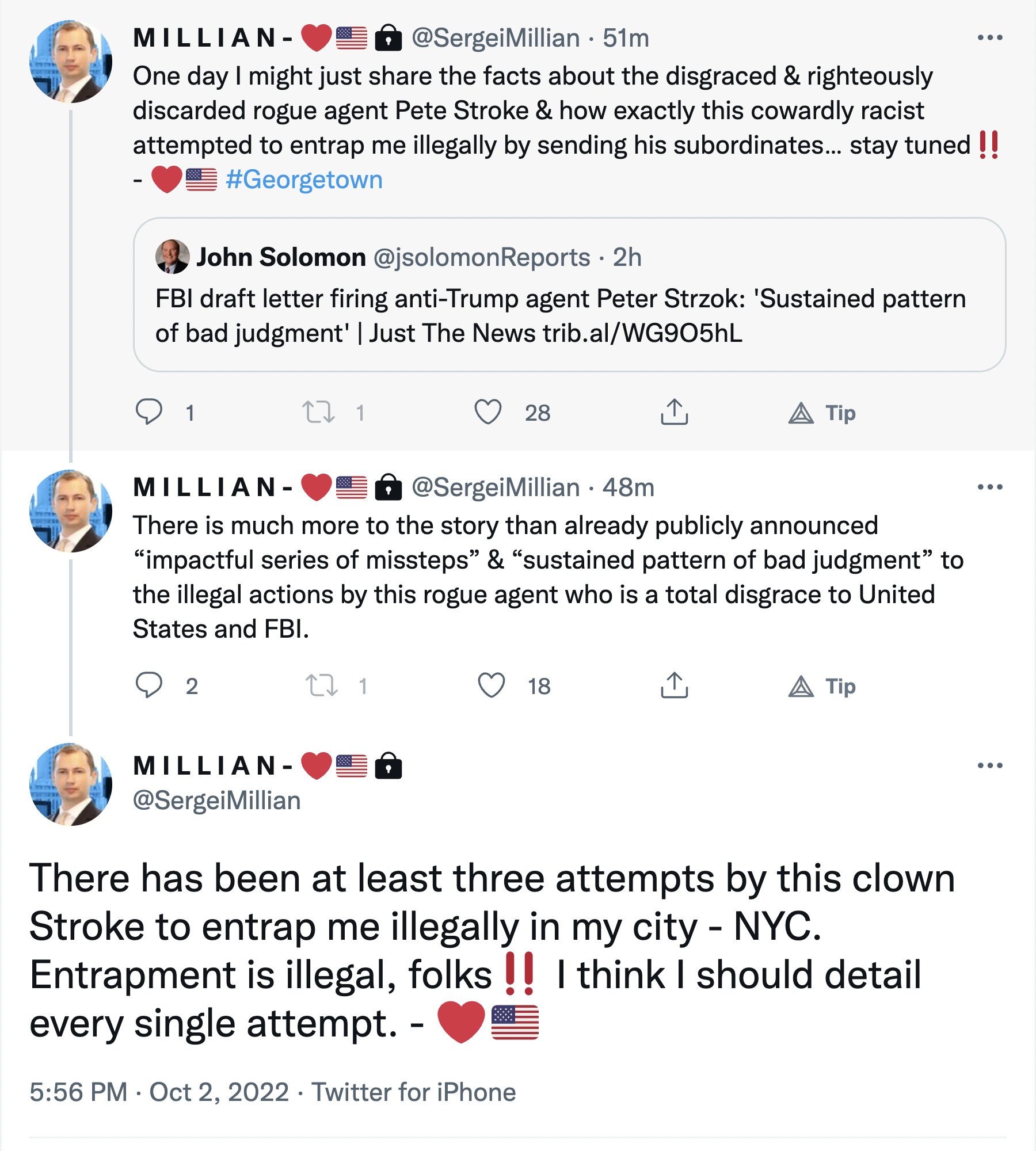 Meanwhile, the Russian oligarch who actually is involved in all of this, Oleg Deripaska -- at least, he is a former employer of Christopher Steele --was just indicted.
Putin-allied Russian oligarch Oleg Deripaska, who previously employed British ex-spy Christopher Steele, was charged by the Justice Department with conspiring to violate U.S. sanctions imposed on him and his company.

Deripaska was indicted Thursday for sanctions evasion related to his Basic Element Limited company, which was sanctioned by the Treasury Department in 2018 for operating on behalf of the Russian government.


The Russian was charged in a 31-page unsealed indictment alongside fellow Russian Natalia Mikhaylovna Bardakova and U.S. citizen Olga Shriki, who were accused of assisting in the scheme. The trio was accused of violating the International Emergency Economic Powers Act, which could land them a maximum sentence of 20 years in prison.
Who was working as Russian Agent again?
Trump? Or Christopher Steele?
...

Deripaska's link to another criminal case, special counsel John Durham's indictment of Steele source Igor Danchenko, is also notable.

Steele was working for Deripaska before, during, and after his time targeting Trump in 2016. Deripaska had paid Steele to investigate future Trump campaign manager Paul Manafort after accusing the GOP operative of stealing millions from him, and Steele sought help from the opposition research firm Fusion GPS in early 2016.

Steele was soon hired to put his dossier together by Fusion, which itself was hired by Clinton campaign general counsel March Elias and was paid by the Clinton campaign.

One more thing: A judge nearly dismissed the perjury charge against Iggy Danchenko, because the DC Deep State is of course very protective of its own.
The judge did not dismiss the charges ultimately -- but says he remains "skeptical." Which is a little alarming, and maybe a sign that he will be ruling against Durham on every point the defense raises.
The judge presiding over the case against Igor Danchenko, a source for British ex-spy Christopher Steele's discredited dossier on former President Donald Trump, ruled he won't dismiss the indictment but expressed skepticism about some of the false statements charges brought by special counsel John Durham.

The Russian-born lawyer has pleaded not guilty and had an attempt to dismiss Durham's case against him shot down in court on Thursday by Judge Anthony Trenga of the Eastern District of Virginia.

"The motion is denied," the judge ruled during the Alexandria court hearing. However, the judge said he would revisit his ruling after Durham's team had presented its full case during the October trial. Trenga, a George W. Bush appointee who has sat on the Foreign Intelligence Surveillance Court, added that "I think it's an extremely close call, particularly with count one" related to longtime Hillary Clinton ally Chuck Dolan.

The November 2021 indictment said Danchenko anonymously sourced a fabricated claim about Trump campaign manager Paul Manafort to Dolan, who spent years, including 2016, doing work in Russia. Danchenko also allegedly lied to the FBI about a phone call he claimed he received from Sergei Millian, who Danchenko claimed told him about a conspiracy of cooperation between Trump and the Russians.

The judge said he "has to conclude at this point" that he couldn't say definitively that Danchenko's statement related to Dolan was literally true, concluding that "there are sufficient arguments of context" to allow the trial to move forward.

Trenga also said that, regarding the Millian-related charges, he "can't conclude that there is an undisputed fact that is not actionable" through criminal charges.

The indictment argued that Danchenko "stated falsely that he had never communicated with" Dolan "about any allegations contained" in the dossier, while "in truth and in fact, and as Danchenko well knew, Danchenko sourced one or more specific allegations" in the dossier anonymously to Dolan.
They mean he lied and hid that his source was Clinton ally Chuck Dolan.
...

An FBI agent had asked Danchenko: "But you had never talked to [Dolan] about anything that showed up in the dossier right?" The defendant had replied, "No." The agent followed up, "You don't think so?" Danchenko replied, "No. We talked about, you know, related issues perhaps but no, no, no, nothing specific."
The defense is saying that "talked" does not include "communicated by writing."
Boy I sure wish I had this kind of extremely solicitous judge looking to throw out defamation charges made against me.
But I didn't. I'm not protected by the Deep State.

posted by Ace at
05:05 PM
|
Access Comments