« Released FBI Letter: Peter Strozk's "Repeated Selfishness Has Called Into Question the Credibility of the FBI"
|
Main
|
Doggie Birthday Party Cafe »
October 03, 2022
Gay Movie "Bros" Stiffs at Box Office; Straight People Blamed
Billy Eichner is a thoroughly annoying nitwit I am only barely aware of. He used to do some kind of TV show called Akshually... with Billy the Asshole (citation needed) where he'd stop people on the streets and read Wikipedia articles riddled with leftwing errors to them.
Now he's made a Gay Rom Com, which, of course, is exactly what America was dying to see. As if we can't see enough gay men on TV shows and commercials already.
The movie landed "with a thud," according to The AV Club, which itself is kind of a Gay Rom Com:
Not everyone was smiling this weekend, especially the bros of Bros. Billy Eichner's well-reviewed, historically significant rom-com...
Really? A woke, "historically significant" movie is "well-reviewed"? I totally trust those reviews!
... pulled in an underwhelming $4.8 million, landing with a thud at No. 4. It's another grim reminder that despite America's enthusiasm for smiling, they still aren't interested in seeing theatrically released comedies. After all, it is easier to stare blankly at TikTok while playing Office reruns in the background than to share a laugh with strangers. Maybe reminding audiences that this movie is funny in addition to historic would've been a worthwhile marketing exercise.
All of the trailers sold it as a comedy. One had a joke that got a minor ha out of me.
But woke would-be auteurs blaming the marketing for the failure of their woke pieces of shit is the New Hotness.
As I said, you can barely flip through the channels without seeing gay guys kissing so I'm not exactly sure what's "historic" about this or what the big draw is. Movies are for seeing things you don't get to see on TV; homosexuality is definitely not something you can't see at home on TV.
Also, I don't see this as such a huge box office disaster -- how much money did they expect it to make? How big of an audience do they think there is for a gay rom com? The woke feminist movie Don't Worry Darling made $19.5 million. This made $4.8. I'd guess there are a least four times as many angry bitter White Suburban Karens desperate for a Hate-Men movie as gay men looking for a romantic comedy. So this is at about expectations, isn't it?
But Billy Eichner is very angry that straight people did not show up to see a gay romance movie:
billy eichner @billyeichner

That's just the world we live in, unfortunately. Even with glowing reviews, great Rotten Tomatoes scores, an A CinemaScore etc, straight people, especially in certain parts of the country, just didn't show up for Bros. And that's disappointing but it is what it is.

Everyone who ISN'T a homophobic weirdo should go see BROS tonight! You will have a blast! And it *is* special and uniquely powerful to see this particular story on a big screen, esp for queer folks who don't get this opportunity often. I love this movie so much. GO BROS!!! [heart emoji] [rainbow emoji]
Twitchy collected some tweets reminding him that he has previously told "certain parts of the country" to go f*** themselves.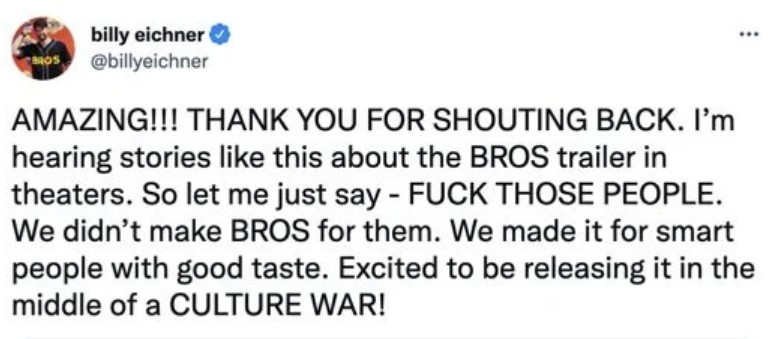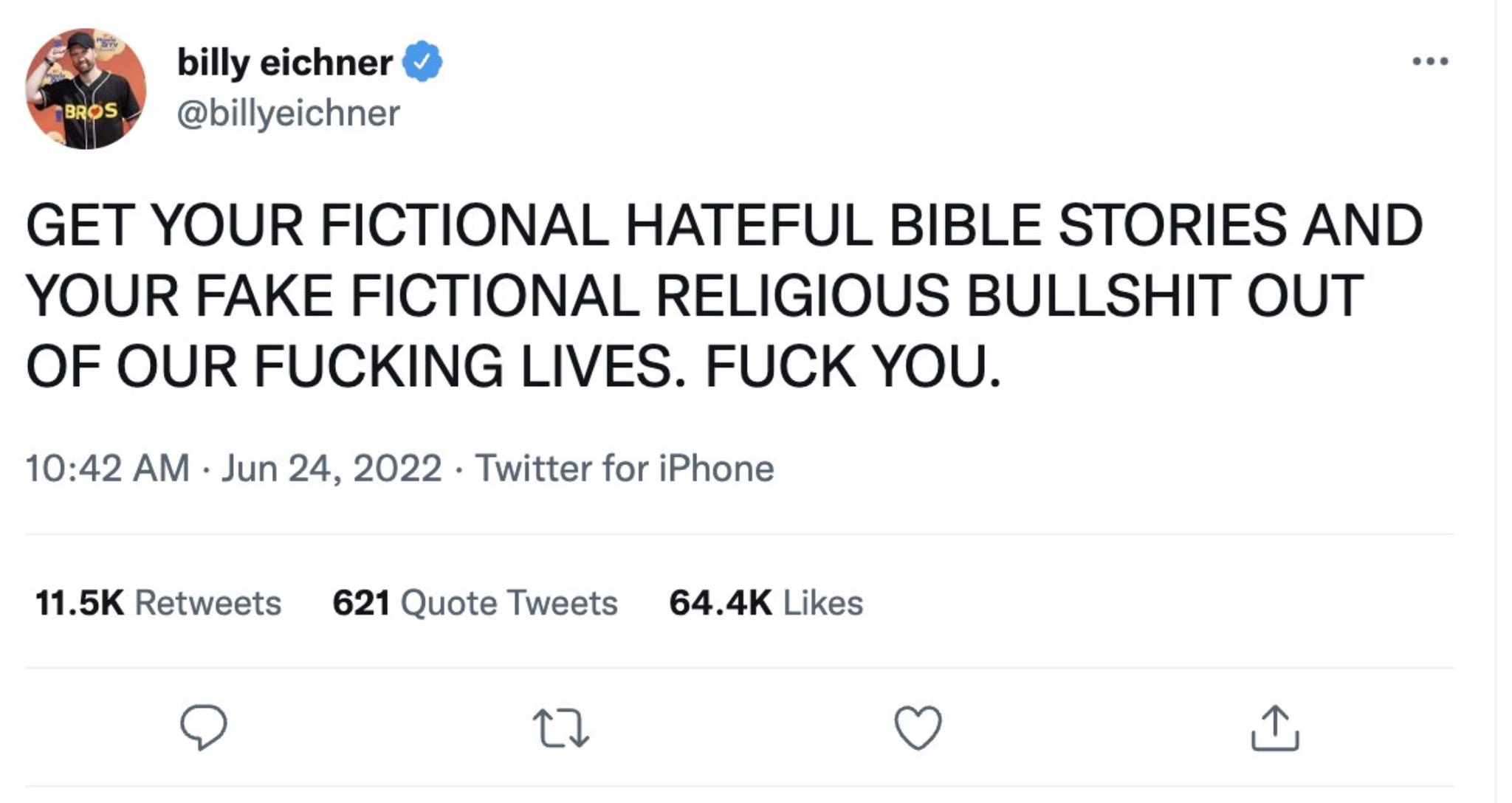 the morally corrupt juan barquin
@woahitsjuanito

i love that this journey has gone from "we're so important, gonna be a hit" to "damn gay people are flaking, don't you know how important we are" to "no wait it's straight people's fault this revolution is tanking" to "actually it doesn't matter if we tank, it's a masterpiece"
So as you can see, it's Billy Eichner's own nasty attitude towards "certain parts of the country" that caused his stupid gay movie to bomb.
Although, to be totally honest with you: We weren't going to see it anyway.
I'm just going to reveal a little secret here. I know this is just a terrible thing to say, but maybe it will help people adjust their actual expectations for box office in the future: Although most straight people have nothing against gay people, most straight people, especially straight men, are uncomfortable with witnessing gay coupling and gay kissing and would rather not see it, and will definitely not pay to see it.
Also straight men don't see romance movies unless they're dragged to them by their gals and I'm pretty sure most women aren't using one of their limited number of you-have-to-see-this-even-if-you-hate-it Movie Calls to see this gay romance.
I know we live in an Empire of Lies where the Truth is the ultimate Cruelty, but there you go.
$4.8 million is actually a decent haul for a very niche film, as "historic" as it may be.
If you want more people to see it, pressure your leftwing "allies" to see it. There are millions of woke straight people in the major cities who could buy this up to a major hit if they wanted to.
Leave us "straight people" in "certain areas of the country" out of it-- this wasn't made for us, and you insulted us anyway.
Tell your "allies" what terrible homophobes they are for refusing to support Gay Cinema.
Elizabeth Banks attempted to play the "see my movie or else you hate women" card when tracking for her movie, the woke, anti-male second reboot of Charlie's Angels, projected a loser.
It failed.
Midnight's Edge would later point out that Rambo: Last Blood, which opened at around the same time or during the exact same weekend, of course made much more money, but that's not the really killer point. The killer point is that more women saw Rambo: Last Blood than saw Charlie's Angels.
So why was she attempting to bully men into seeing her crappy reboot of a reboot of a TV show? Even women didn't want to see it.
And when women would rather watch Rambo stick a Bowie knife through a man's groin and chop people's heads and arms off with a machete than see your explicitly-made-for-women movie, that's a sign your movie isn't very good.
And if women don't want to see it, obviously men have no responsibility to pick up their slack.
Pretty sure there are more than 480,000 gays in the country. Assuming $10 a ticket, only 480,000 saw this movie.
Get more gays to see this stinker first before beating up on the straights.

posted by Ace at
06:05 PM
|
Access Comments