« The Morning Rant: Buck Shots (10/03/2022)
|
Main
|
Supreme Court Accepts Cases Challenging s.230 Immunity for Tech Monopolies »
October 03, 2022
At Least 42 People Presumed Dead in Lee County as Media Rushes to "Katrina" Ron DeSantis
Forty-two people dead, sadly, in just Lee County. And there will probably be more.
The media now unleashes the New DeathSantis Narrative it started working on a week ago.
At least 42 people are dead in Lee County, one of the areas hardest-hit by Hurricane Ian where rescue and recovery efforts are still ongoing.

Local officials are now facing questions about why they didn't urge people in the path of the destructive Category 4 hurricane to evacuate sooner.

Last Sunday -- three days before the storm landed on the peninsula -- the National Hurricane Center predicted that Ian could bring a storm surge of 4 to 7 feet from Englewood to Bonita Beach, which includes all of coastal Lee County.
A 4 to 7 foot surge isn't a major surge. It was the 10 to 15 foot (or more) surges that were deadly.
Lee County was not in the storm's path according to the storm track 72 hours before landfall, as DeSantis explains to this dolt of a CNN reporter. Even at 48 hours, it was only on the periphery.
In other words, the storm changed its path and moved towards Lee County in the last 24 hours before landfall.
And DeSantis did order an evacuation. Actually, this isn't directly about DeSantis; it's about the local officials, who did order an evacuation. But the media is attempting to blame DeSantis for the local officials' "deadly delay."
The woman Trump absolutely will not stop leaking to: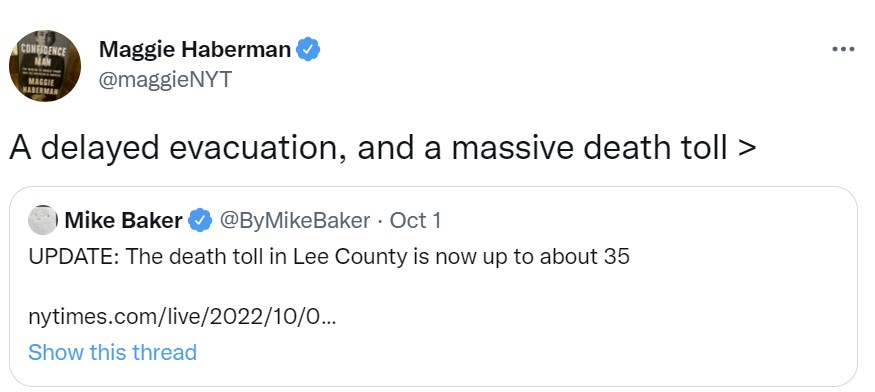 The evacuation wasn't "late" -- it was ordered when facts justified it. And there was still time to get out when it was ordered.
People often choose not to evacuate. You cannot force them. This is not, after all, a Covid Emergency Regime, where the state is all-powerful.
Rich Baris "The People's Pundit"
@Peoples_Pundit

Here is what @davereaboi and I were predicting last week, right here. Media love when they have dead bodies to use as political weapons.

These are disgusting people.

Was @CNN warning Lee County to evacuate before the evacuation order?

Of course not, because of forecast track.
And DeSantis did stress that people outside the evacuation zones also had to prepare:
Michael Shellenberger, a liberal who has turned hard against the Democrat/Media Party, points out the media is openly lying about hurricanes becoming more frequent and more intense.
Michael Shellenberger @ShellenbergerMD

Over the last week, the mainstream news media claimed that hurricanes are becoming more frequent & intense, but they're not, as the data clearly show. What's more, it's clear that the media are engaging in *deliberate* misinformation. These aren't innocent mistakes.
It's an obvious lie that they're more frequent; that's why the media keeps pushing the lie that they're vaguely "more intense."
But lately the media has just started asserting they're also more frequent, which is completely contradicted by actual records.
And it's also false that they're becoming "more intense:"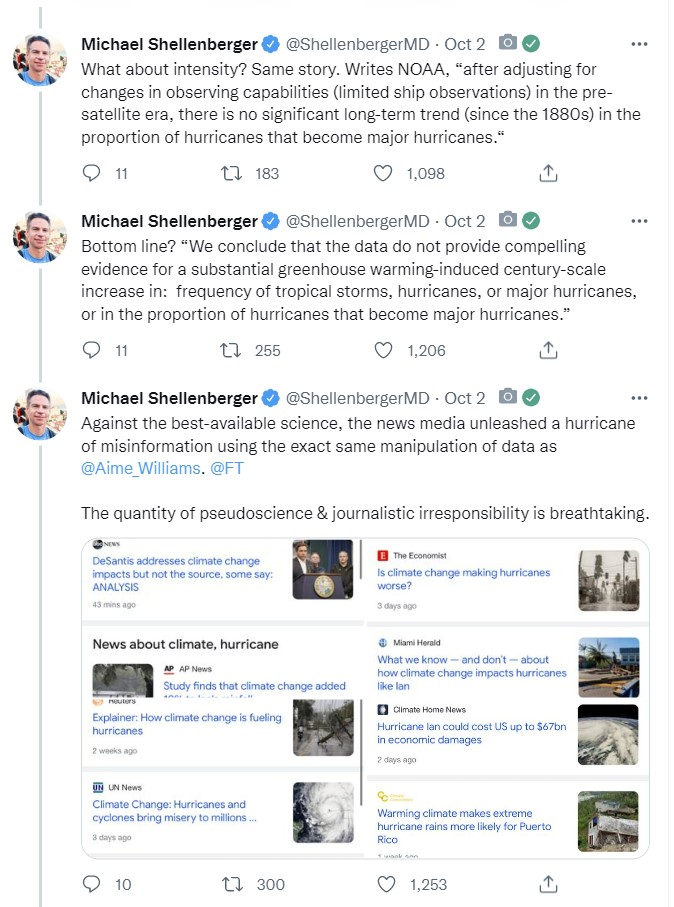 See the thread for charts and figures. And we should all start reporting the media for Misinformation Violations to start preparing the case that Twitter, FaceBook, etc., are not engaging in "good faith" moderation, but in bad faith political censorship. Our reports of misinformation will be ignored, but they will become evidence at later trials and congressional hearings.
Kurt Schlichter writes about the media's, and NeverTrump's, obsessive hunting of Ron DeSantis, History's Newest Greatest Monster, replacing the previous Newest Greatest Monster, Donald Trump, at least until Donald Trump announces for president.
The quiet, firm competence of Governor Ron DeSantis in the face of Hurricane Ian is proving a real problem for Democrats, Never Trumpers, and other garbage people. He's good at what he does, unlike them, and people see how he differs from the Establishment despite the blizzard of lies and silly charges designed to tear down the best governor in America. Why DeSantis is a monster who hates gay people because he banned grooming and he caused global warming by not making you turn in your Tahoe for a Schwinn and he dragged innocent illegal aliens from their idyllic sidewalk shantytowns in El Paso to the nightmarish hellscape of Martha's Vineyard. It's enough to cause literal shaking! Sure, Donald Trump was Hitler, but DeSantis is both disciplined and (unlike Trump) sees that institutions like the regime media are worthless and must be destroyed, so he is Super Hitler on Steroids times a zillion.

Certainly, the comparison with the half-wits in the White House in the wake of the Cat 4 storm has been less than flattering to the Establishment windbags. President Cornholio has contributed nothing to the relief efforts besides more video of him wandering away, but in his defense, he's been distracted running his fool mouth and risking nuclear war. And Kamala has been at it as well. The Florida administration had to correct the Veep's insistence that hurricane relief would be targeted at people of color and presumably non-binary two-spirit otherkin. Diversity may be our strength, goes the cliché, but there's no diversity in the Biden Administration -- they are all idiots.

What they cannot tolerate is how DeSantis shames them for actually doing his job well. Oh, how they were praying for him to fail. The more destruction the better, and the suffering of Florida's people be damned if the left can try to score points off of Heavy D based on Ian's wrath. But DeSantis refuses to play the George Bush role of gentleman simpleton and to be a punching bag for people without the upper-body strength to toss a haymaker. DeSantis is out there constantly, answering questions, issuing guidance, and giving info. DeSantis oversaw the planning and execution of the response to the hurricane with clarity and efficiency shocking in this world of posers and ruling class charlatans who have never accomplished anything other than taking on ever-higher positions from which they can achieve even greater failures.


...

So brace yourself for stories about how people have had to wait several hours for rescues, or how the wreckage is still not cleaned up three days later. We'll see the regime media full of reports about DeSantis's willful failure to wave his magic wand and undo the damage that Ian caused in the blink of an eye.

This is getting tiresome....

Now they are even trying to hit him for being an anti-looter. He pointed out -- correctly -- that if you loot in Florida you might just get shot. Normal people think "Good." The blue check mafia wet itself because scumbags, criminals, and thugs -- favored Democrat constituencies -- might find it harder to abuse law-abiding people when they can shoot back.
Read the whole thing. It's a real doozer.
And, indeed, DeSantis did warn looters that Florida is proud to be a state in which the Second Amendment flourishes:
Polls routinely understate Republican fortunes, even in Florida, but even so, Redrum DeathSanguination is stomping all over the Next Foe Vanquished by DeSantis To Be Found Covered in Blood and Feces in a Seedy Motel Room:
InteractivePolls @IAPolls2022

FLORIDA POLL By Siena College

GOVERNOR
(R) Ron DeSantis 49% (+8)
(D) Charlie Crist 41%

SENATE
(R) Marco Rubio 48% (+7)
(D) Val Demings 41%

669 LV | 09/18-25 | R35/D34/I31
Language warning but it's worth the watch if you can put up with some f***s and a couple of m*****f*****s.

posted by Ace at
12:14 PM
|
Access Comments