« Mid-Morning Art Thread
|
Main
|
At Least 42 People Presumed Dead in Lee County as Media Rushes to "Katrina" Ron DeSantis »
October 03, 2022
The Morning Rant: Buck Shots (10/03/2022)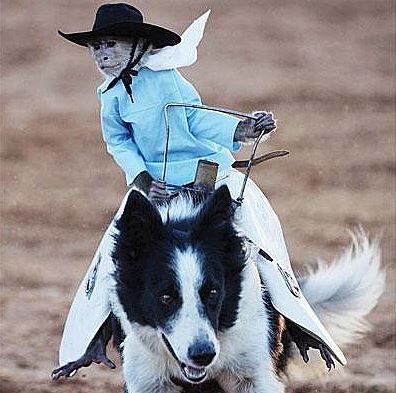 Ballot Stuffing Ex-Congressman in Philly (Where We've Been Assured There is No Ballot Fraud) Goes to Jail for Ballot Fraud
I've been called a conspiracy-obsessed "election denier" by the media and by polite Republicans for stating that there is ballot fraud going on in favor of Democrats in cities such as Philadelphia, Atlanta, and Milwaukee.
That this goes on has been an open secret. Yet those of us who seek to stop Democrat ballot stuffing are called "a threat to democracy."
Former Pennsylvania Congressman sentenced for election fraud [WHTM - Harrisburg, PA - 9/27/2022]
Former U.S. Congressman Michael "Ozzie" Myers, 79, of Philadelphia was sentenced to 30 months in prison after pleading guilty to stuffing ballot boxes for Democrats in the 2014-18 Pennsylvania elections.

The U.S. Attorney's Office in the Eastern District of Pennsylvania says Myers admitted in court to bribing the Judge of Elections for the 39th Ward, 36th Division in South Philadelphia in a fraudulent scheme over several years.

Officials say Myers would solicit payments from his clients in the form of cash or checks as "consulting fees," and then use portions of these funds to pay election officials to tamper with election results.
The fact that "election officials" is plural is not lost on me. You can rest assured that the 39th Ward is not the one and only place this happened.
Myers pleaded guilty in June to conspiracy to deprive voters of civil rights, bribery, obstruction of justice, falsification of voting records, and conspiring to illegally vote in a federal election for orchestrating schemes to fraudulently stuff the ballot boxes for specific Democratic candidates in the 2014, 2015, 2016, 2017, and 2018 Pennsylvania elections.
There was known ballot fraud in Philadelphia in 2014.
There was known ballot fraud in Philadelphia in 2015.
There was known ballot fraud in Philadelphia in 2016.
There was known ballot fraud in Philadelphia in 2017.
There was known ballot fraud in Philadelphia in 2018.
But to suggest that there was ballot fraud in Philadelphia in 2020 is a conspiracy theory.
Even worse, Conservative, Inc. is now seeking to excommunicate any Republican who dares to question the integrity of the 2020 election. They are declaring Kari Lake of Arizona to be unfit for the governor's office because she won't profess that Biden was elected without any fraud, and with a heavy heart that are now going #NeverYoungkin on the Virginia governor because he is proudly supporting Ms. Lake's gubernatorial bid.
Any Republican who can be muzzled about ballot fraud just because he fears being labeled an "election denier" is a Republican who will betray you when elected.
*****
Covid Sharia Continues at Amherst University
Covid sharia is over for most people, but where it became a religious lifestyle, it persists.
Amherst University has just provided new masking guidance, and they are not backing away from the leftist love affair with masks. If one person in the classroom is a masker, then everyone must wear masks.
If anyone in the class, including the instructor, wants to continue with masking, then masks will be required.
Even better, the University plans to get even more oppressive in its mask mandates when the holidays roll around.
In certain circumstances—for instance, following Thanksgiving break when members of the community have been traveling or if there is a significant surge in cases—the College will require a stricter masking protocol for an appropriate duration.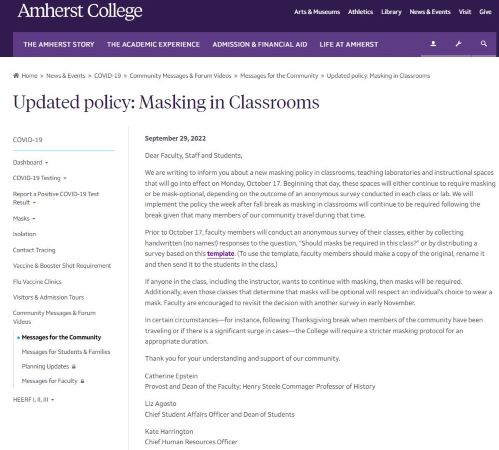 I heartily endorse this action. In fact, I encourage every elite university to follow Amhert's bold leadership in making the college experience as miserable as possible.
It's a shame that the importance and influence of woke, anti-western universities hasn't started to wane yet. But until then, we can enjoy watching the abuse and humiliation being imposed upon the status-seeking students at these ivy covered mask covered institutions.
*****
Newspaper Chain Obsessed With "Banned Books" Bans Dilbert When It Starts Mocking ESG
Newspaper chain Lee Enterprises, whose stable of newspapers includes woke propaganda outlets such as the Omaha World-Herald and St. Louis Post-Dispatch, suddenly and "coincidentally" dropped the Dilbert cartoon exactly when Dilbert started running a series of cartoons mocking ESG (Environmental and Social Governance.)
Dilbert's mockery of ESG also received prominent news coverage around the same time, when Bloomberg wrote a piece about Dilbert's anti-ESG storyline.
Cartoonist Scott Adams is lucky Twitter didn't ban him for this tweet, which mocks a member in good standing of the media cartel.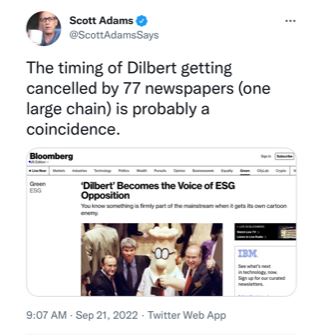 Here is the link
to one of the Dilbert cartoons mocking ESG.
DILBERT: "What is this "ESG" thing I keep hearing about?"

CONSULTANT: "Imagine if a crooked politician and a crooked financial advisor got married and had a baby."

DILBERT: "So…ESG would be that baby?"

CONSULTANT: "Only if it is colicky and has firehose diarrhea."
While most of the media chose to either embargo or otherwise spin the story about Lee Enterprises banning Dilbert, the New York Post did cover it.
Dilbert author claims 'woke' mob is coming for his comic strip as it's removed from 77 newspapers [NY Post – 9/21/2022]
Recently, Adams started poking fun at the ESG movement (also known as the environmental, social and governance movement), Fox reported, and, in the most recent strip from Tuesday, he introduced a new character named Dave who is black but identifies as white.

"Dilbert" author Scott Adams, who has been drawing the comic since 1989, said the strip that pokes fun at office culture was wiped from nearly 77 newspapers.

Lee Enterprises, which owns nearly 100 newspaper companies in the US, terminated the contract with "Dilbert" for unknown reasons, reports Fox News.
Speaking of coincidences, just a few days before it banned Dilbert, the Omaha World-Herald ran a story about Banned Books Week, lamenting that some school libraries don't provide copies of Gender Queer to its students. Seriously. This book is so obscene that parents have been prohibited from reading it or showing its illustrations at school board meetings. But the editors at the Omaha World Herald want your child's school to provide him a copy of it, even if you object.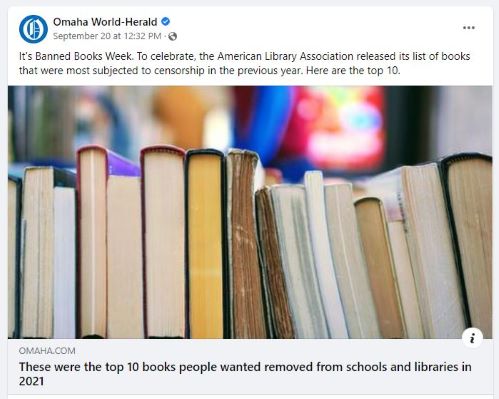 Think about it, the chain that owns the monopoly newspaper in dozens of cities has determined – for whatever reason – that the citizens of those towns don't need to read Dilbert. It can do that, of course, and its readers can go visit Dilbert's website to read the cartoon.
But that same newspaper is screaming "censorship" if a middle school decides – for whatever reason - not to put on its library shelves an instruction manual on how to engage in various sex acts.
*****
Songs of the Season
Morning lows will start dipping into the '40s around here this week, and I've got a sweatshirt hanging by the leashes now for chilly morning dog walks. The chill of Fall is arriving.
The Chill of an Early Fall – George Strait
Have a great week.
(buck.throckmorton at protonmail dot com)


posted by Buck Throckmorton at
11:00 AM
|
Access Comments