« Wednesday Morning Rant [Joe Mannix]
|
Main
|
Congressman James Comer: China Infiltrated a Spy Close to Hunter Biden, to Serve As His Secretary and, It Seems, Fang-Fang-Style Honeytrap »
September 28, 2022
As Hurricane Ian Closes In On Florida, Don "Black Hole of Infinitely Warped Ignorance" LeMon Insists on Politicizing It
He's meteorologist and hurricane expert, according to his bio.
Michael Lowry @MichaelRLowry

With 155 mph winds, Hurricane #Ian teetering on becoming only the fifth Category 5 hurricane to strike the mainland U.S. on record (Cat 5 starts at 157 mph). Whether it does or doesn't is of no consequence or comfort for communities in the path. Catastrophic impacts regardless.
He links this projection of the storm surges along the coasts of Florida. Note the frightening purple band in the middle of the west coast, around Bonita Beach -- 12 to 16 foot surges above the normal level of the ocean.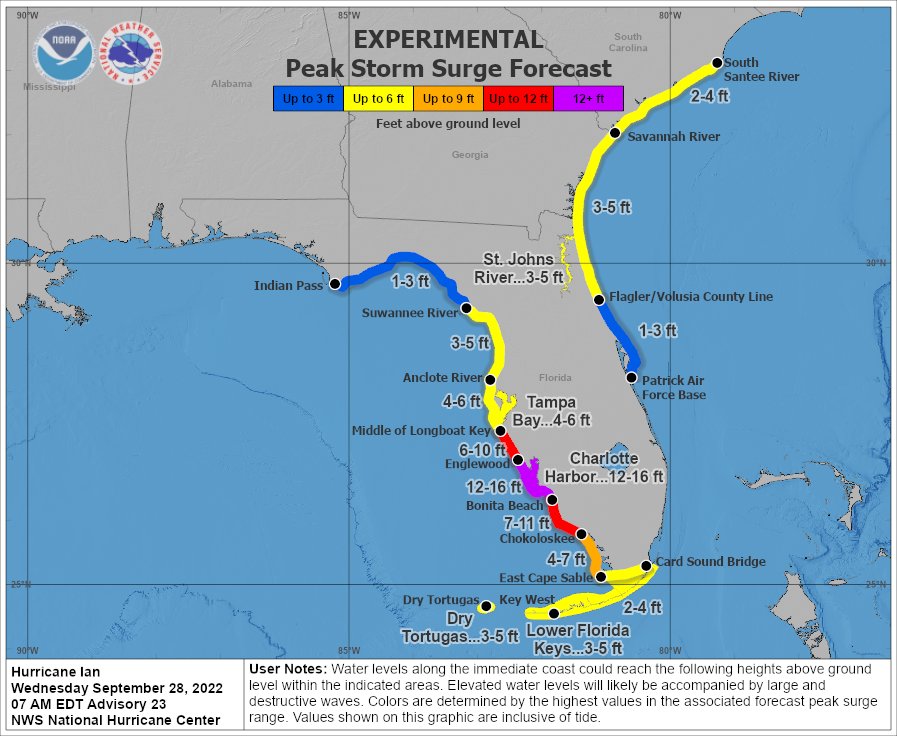 Ian is moving along the same track as Hurricane Charley did in 2004: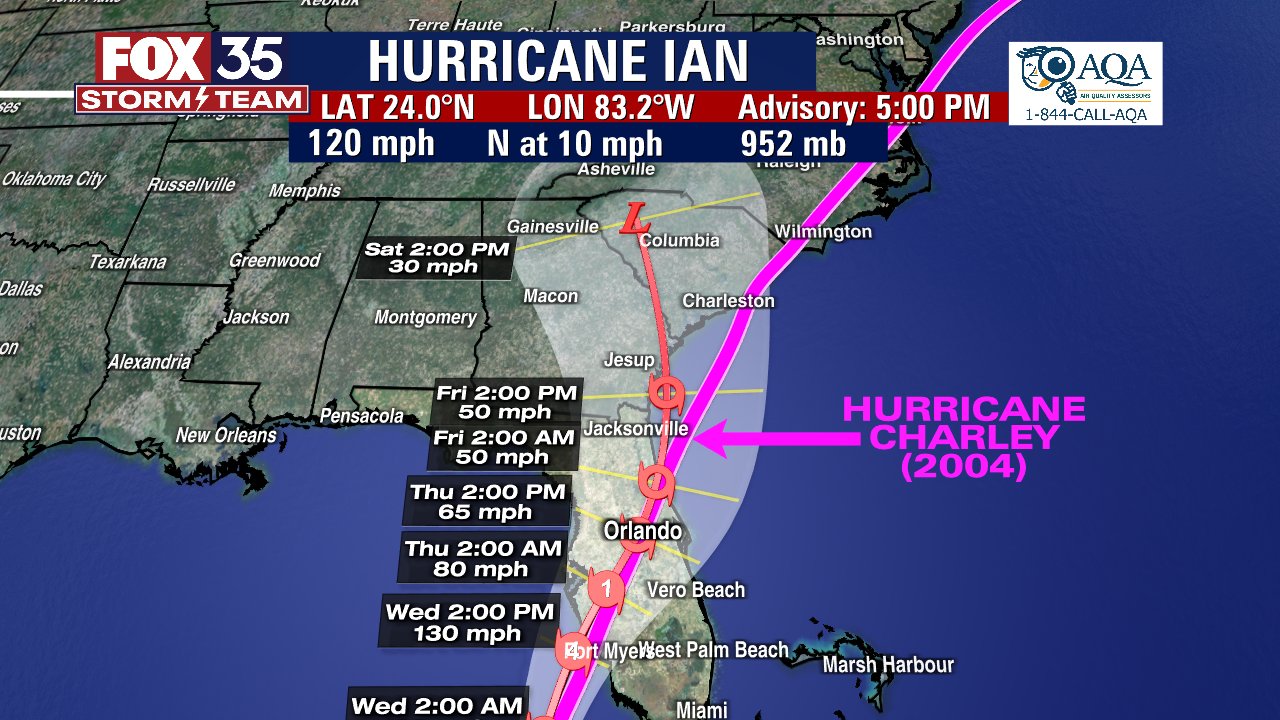 Except Ian is much, much bigger than Charley:
Brooks Garner FOX 35 @BrooksWeather

5pm - New track of Hurricane Ian-- remarkable as it follows nearly the same track as Hurricane Charley in 2004. The difference? #Ian is a larger hurricane geographically, with much more rain and it's moving more slowly which means much more rain. 12"-30" possible.
@FOX35Orlando
Below, "FrogNews" hopes that Ian will do less damage by following Charley's path. Charley did a lot of damage, and he says things were rebuilt stronger, and maybe better able to resist hurricane damage this time around.
Frog Capital @FrogNews

I hate 'silver linings' but charley leveled this area in 2004.
Pretty much everything they built back is really damn strong now... and this one is supposed to weaken more rapidly over land..
Charley also made landfall as a category 4 storm.
On the other hand, I don't know how much stronger you can rebuild things. I don't know how well things can be made to withstand a category 4/almost a category 5 hurricane, which is also moving very slowly to make sure you spend a lot of time in the wind and the rain and the flooding.
Charley, a smaller storm that moved quickly through central Florida, was "devastating" and took "forever" to recover from the storm damage: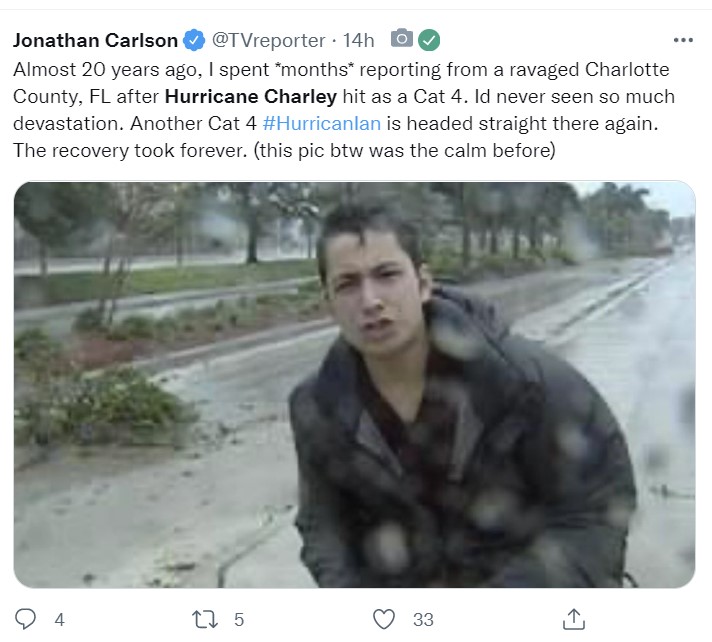 Ian is a bigger circle than Charley, so its band of hurricane force winds is nearly three times bigger than Charley's. A lot more of Florida is going to be lashed by seriously-damaging winds.
I fear power might be out in some places for two weeks or more. It gets worse, I imagine, when power lines in down in so many places that you just don't have the crews to fix them in any reasonable time frame.
DeSantis told coastal residents in the immediate path of the hurricane that it is now too late to evacuate and that they should hunker down.
He said there are "nasty days ahead."
Gov. Ron DeSantis told Floridians in the path of Hurricane Ian that the time has passed to evacuate and residents should now "hunker down."

Ian is expected to make landfall in Charlotte County Wednesday as a Category 4 storm, with the highest risk areas ranging from Collier County to Sarasota County.

"If you are in any of those counties, it's no longer possible to safely evacuate. It's time to hunker down and prepare for this storm," he urged.

...

"This is going to be a nasty, nasty day, two days [...] So, this is going to be a rough stretch," DeSantis warned.

Stay high and dry, Florida Ace of Spaders.
The media, meanwhile, is really praying for massive damage and high fatality counts to take out Ron DeSantis. A McClatchy "reporter" put on a "grotesque" performance as he practically begged a FEMA official to say that Ron DeSantis was difficult to work with because he was So Partisan That He Was Putting Lives In Danger With His Don't Say Gay Extremism. The FEMA official, thankfully, would have none of that.
And this morning, despite this being one of the least-active hurricane seasons on record, Don "This isn't a demotion, it's a promotion, I swear" LeMon insisted on attempting to turn an emergency weather event into a sermon on global warning.
Once again, thankfully, the NOAA official refused to play ball with the darker, stupider, gayer, wrinklier Greta Thunberg.
That's not even the worst hackery the "new, neutral, serious news network" CNN offered about the hurricane and DeSantis today. Via Twitchy: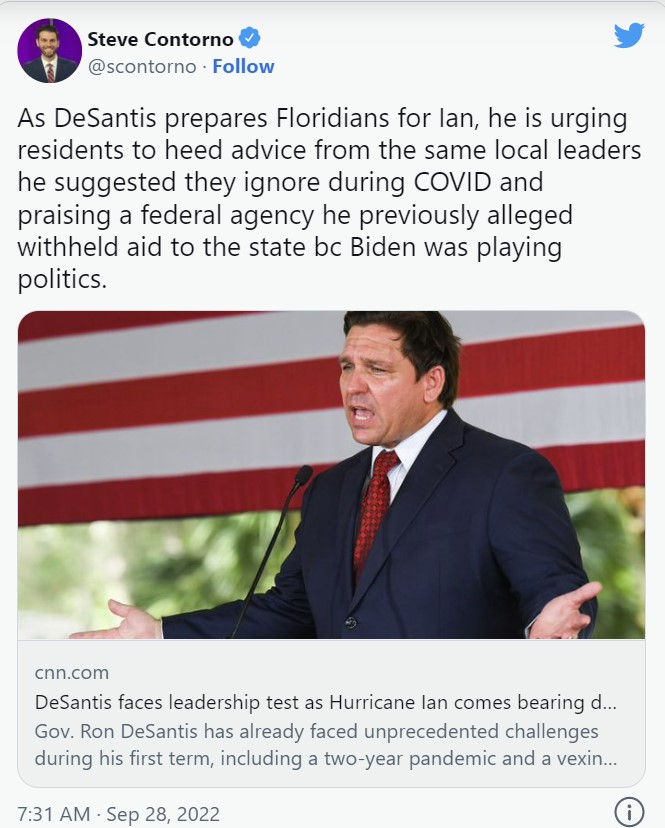 David Zaslav, get your luantic shitlib gonzo Democrat activist employees under control.

Update: Earlier, DeSantis dismissed Biden's refusal to call him as "pettiness" in the face of catastrophe.

posted by Ace at
12:04 PM
|
Access Comments