« As Hurricane Ian Closes In On Florida, Don "Black Hole of Infinitely Warped Ignorance" LeMon Insists on Politicizing It
|
Main
|
The Infantile, Mentally-Ill Left Is Melting Down In Woke Tantrums »
September 28, 2022
Congressman James Comer: China Infiltrated a Spy Close to Hunter Biden, to Serve As His Secretary and, It Seems, Fang-Fang-Style Honeytrap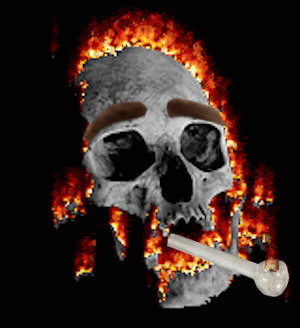 Flaming crack pipe skull from "..."
He revealed this during an appearance on the Jesse Watters show.
This Daily Mail article from 2021 reveals the "flirty" text messages from Hunter Biden's "Chinese-American secretary," which suggest the possibility of a sexual relationship. It does not call her a spy or explicitly allege a sexual relationship.
EXCLUSIVE: 'Your doggy chain necklace is waiting for you.' Flirty messages from Hunter Biden's Chinese-American secretary, 29, who worked for him when he partnered with the 'spy chief of China' are revealed

DailyMail.com can reveal messages between Hunter Biden and young Chinese-American woman who worked in his business venture with Patrick Ho

In an audio recording, Hunter described Ho to a friend as the 'spy chief of China'

The young secretary, JiaQi Bao, worked for Hunter during his partnership with Chinese oil giant CEFC in a multi-million-dollar deal

Bao, then age 29, scheduled flights, hotels and doctor's appointments for him

She sent him opposition research to help Joe Biden's 2020 election bid and wrote flirty and personal messages and ended up with his military dog tags
People usually leave personal items behind after sex. Why else would she have these?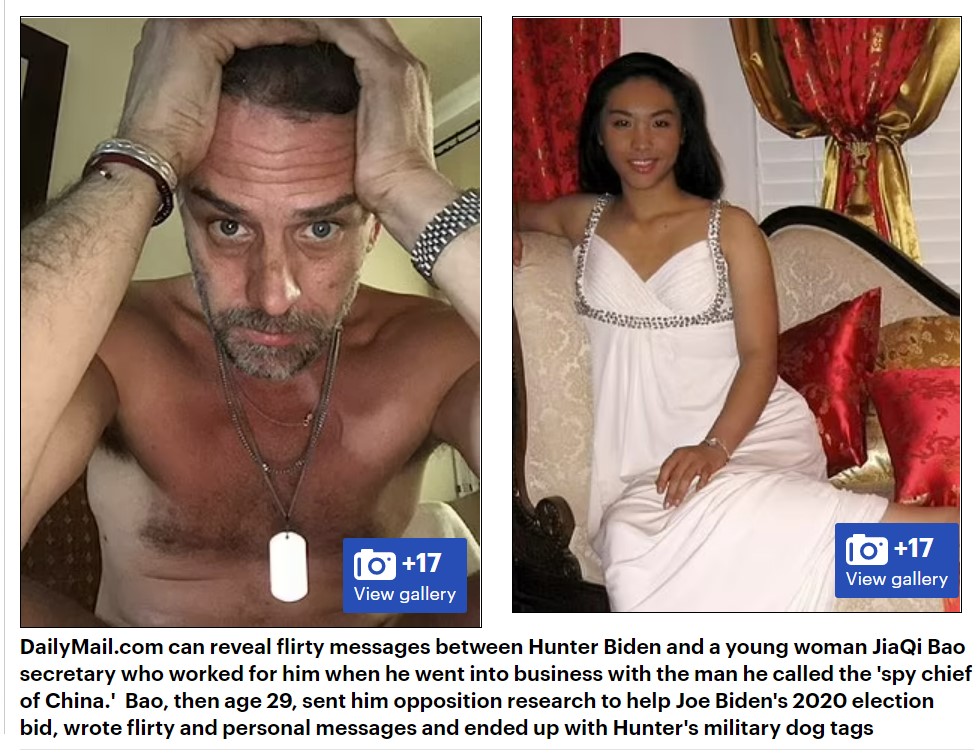 L to R: A vaguely human pit of ruin and despair, a Beefsteak Charlie's 6
She also encouraged him to draw from the company's accounts before they was shut down

Hunter and Joe Biden's brother Jim partnered with CEFC in 2017, in a deal that was meant to generate billions of dollars

But the joint venture collapsed the following year when CEFC's secretary general Ho was arrested and convicted of bribery in a US federal prosecution

It's unclear whether Bao was aware of CEFC bosses alleged links with intelligence services at the time and she has not responded to requests for comment

By JOSH BOSWELL FOR DAILYMAIL.COM

PUBLISHED: 11:13 EDT, 7 May 2021 | UPDATED: 14:08 EDT, 10 May 2021

Hunter Biden's emails reveal his close relationship with the Chinese-American secretary who worked for him when he went into business with the man he called the 'spy chief of China.'

The mysterious young assistant wrote the president's son flirty messages, sent him opposition research for Joe's White House run and encouraged him to draw funds from the company's accounts when the joint venture collapsed and even ended up with Hunter's military dog tags.

In 2017 Hunter went into business with Patrick Ho, secretary general of Chinese oil giant CEFC.

Hunter described Ho in a call recording on his abandoned laptop as the 'spy chief of China', and the Chinese businessman was later surveilled by US law enforcement as a foreign intelligence threat before he was convicted of bribery in 2018.

After launching his multi-million-dollar joint venture with CEFC, Hunter was assigned a 29-year-old Chinese-American assistant, JiaQi Bao, who quickly struck up a close and intriguing relationship with her Biden boss.

At first, emails show the New York-based Bao diligently scheduled flights, hotels and even doctor's appointments for the president's son.

But mysteriously, the young assistant also sent him opposition research to help Joe Biden's 2020 election bid, urged him to take cash from the joint venture's accounts as the business collapsed and wrote flirty and personal messages and even ended up with Hunter's military dog tags in her New York apartment -- the same tags he can be seen wearing in home-made porn videos he recorded on his laptop.

DailyMail.com did not find any explicit photos or videos of the assistant.
If she is a spy, and it seems like she is, Joe Biden's opposition research against Trump came from the Chinese intelligence services.
...

After partnering with Chinese oil giant CEFC in the multi-million-dollar deal, Bao was appointed as his secretary and assistant, acting as a go-between for his Chinese business partners, translating documents and performing clerical work for Hunter in the joint venture.

According to Bao's LinkedIn page, she has worked as an analyst and assistant in finance and private equity in Hong Kong, Shanghai, Beijing and New York since 2011.

Her Chinese-American family are based in Arizona, and she studied at the state's university before taking a masters at top Beijing university Tsinghua.

Her LinkedIn page does not mention CEFC or the joint venture with the Bidens, only listing 'Hedge Fund / Asset Management / Financial Services' as her job from February 2016 to July 2019.

...

She ended the message by lavishing compliments on the president's son, writing: 'Many thanks for having been the most amazing and understanding boss, and the most charismatic friend and coconspirator-in-mischief.'
Peter Schweizer revealed that JiaQi Bao worked for the Chinese government as a "researcher."
Leaked emails from US President's son Hunter Biden's laptop recently revealed that his secretary, JiaQi Bao, was a former Chinese government researcher, according to a book released this week titled 'Red Handed' by Peter Schweizer. It is to mention that in recent years, Hunter has been under fire ever since the New York Post leaked information obtained from a laptop allegedly belonging to him. Reports suggested that the documents from the laptop prove that President Joe Biden used his position when he was the vice president to help his son, Hunter, in business deals in Ukraine and China.

Now, while citing a newly released book, Fox News reported that Hunter Biden's computer allegedly shows he obtained the secretarial services of a former Chinese government researcher. The media outlet reported that Bao graduated from China's Tsinghua University after being granted a government scholarship. She worked at the Chinese government's National Development and Reform Commission as a research assistant.

JiaQi Bao has also worked for the Shanghai-based investment firm, OneGate Capital, which has known ties to the Chinese Communist Party (CCP), according to Schweizer. In 2017, Bao was then assigned to Hunter Biden after he went into business with the Secretary-General of Chinese energy conglomerate CEFC, Patrick Ho.

But it is Representative James Comer of the House Oversight Committee who connected all the dots and named JiaQi Bao as a spy in the employ of the Chinese intelligence services, on the Jesse Watters show.
Republican Rep. James Comer of Kentucky called new revelations about Hunter Biden a "national security nightmare" during a Monday evening Fox News appearance.

"Have you ever wanted to see a spy movie? You don't even have to go to the theaters. Go to Washington, D.C., where Chinese spies just bait and hook gullible people in power. Sometimes all it takes is a honey trap. We saw it with Eric Swalwell who got caught sleeping with Fang Fang, the spy who stole his heart," Fox News host Jesse Watters said in introducing Comer, the ranking Republican on the House Oversight Committee. "Swalwell wasn't the only person to have a Fang Fang in D.C. Turns out Hunter Biden may have dabbled with a Chinese spy, too. Her name is JiaQi Bao."
Below, Watters discusses this with crusading Actual Journalist Lee Smith. Apparently JiaQi Bao lobbied Hunter Biden to convince his demented, decrepit father to run against the man China hated, Donald Trump.
Time for a Special Prosecutor to investigate all this, and that's not just some snark. We have a literal Manchurian Candidate in the White House. China recruited a demented figurehead to run against a man they wanted out of office, and bought his family off, with 10% "for the big guy," and even provided oppo research to him through this alleged spy.

posted by Ace at
01:16 PM
|
Access Comments