« First-World Problems...
|
Main
|
Gun Thread: Fall Edition! »
September 25, 2022
Food Thread: A New Year's Brisket And Cast-Iron Pan Pizza?
Life Is Grand!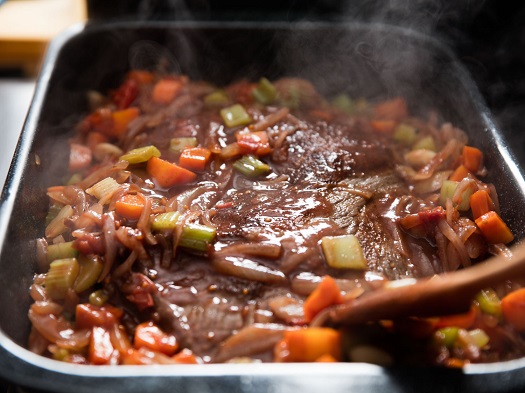 Ah...Rosh Hashanah brisket!
Which got me thinking about traditional holiday foods that have achieved an almost religious significance in many faiths. I can't think of more than a few foods that are mandated by Jewish religious practice (matzoh, wine, and...?), but there are dozens that are absolutely mandatory if you want to keep the peace with your mother or great aunt.
And that's okay, because every once and a while it is fun to make the classics. I bought a 15 pound packer brisket and spent 20 minutes trimming it in preparation for splitting the point and the flat. My original plan was to cook the flat and sous vide the point and then smoke it. Because that sounds awesome! But then I panicked about the possibility of the flat being too lean, and Chez Dildo does not tolerate 'lean" very well.
Anyway, I cooked it yesterday, and I must brag and say that the brisket was so tender I had to lift it out of the oval Dutch oven with my hands (in gloves), because I was afraid it would fall apart if I used utensils. And the sauce is spectacular!
But the critics arrive at 6:00PM today, and theirs is the only opinion that matters.
And they had better lie if it isn't good...
Happy New Year!
******
This is from the CDC
Food Safety
home page.
Challenges in Food Safety

Sometimes the foods we love and count on for good health are contaminated with germs that cause sickness and can even be deadly. More progress is needed to protect people and reduce foodborne illness in America.

New challenges to food safety will continue to emerge, largely because of:



Changes in our food production and supply, including more imported foods.

Changes in the environment leading to food contamination.

Better detection of multistate outbreaks.

New and emerging bacteria, toxins, and antibiotic resistance.

Changes in consumer preferences and habits.

Changes in the tests that diagnose foodborne illness.
It's a fascinating glimpse into the minds of the idiotic, politically-driven drones who inhabit our government departments.
Two of those "challenges" are actually good things, one of them is environmentalist nonsense, one can be eased with rational public policy, and two don't matter at all and should not be the purview of the CDC.
So out of six major points, just one should be important to the CDC. New and emerging bacteria, toxins, and antibiotic resistance is indeed a big deal, and they could be working with producers to decrease the use of antibiotics in livestock, which is probably a big driver of resistance. But their top-down diktats based on supposition (remember the baby food plant) rather than hard data is the norm rather than the exception, so we are going to have to deal with that issue for a very long time.

******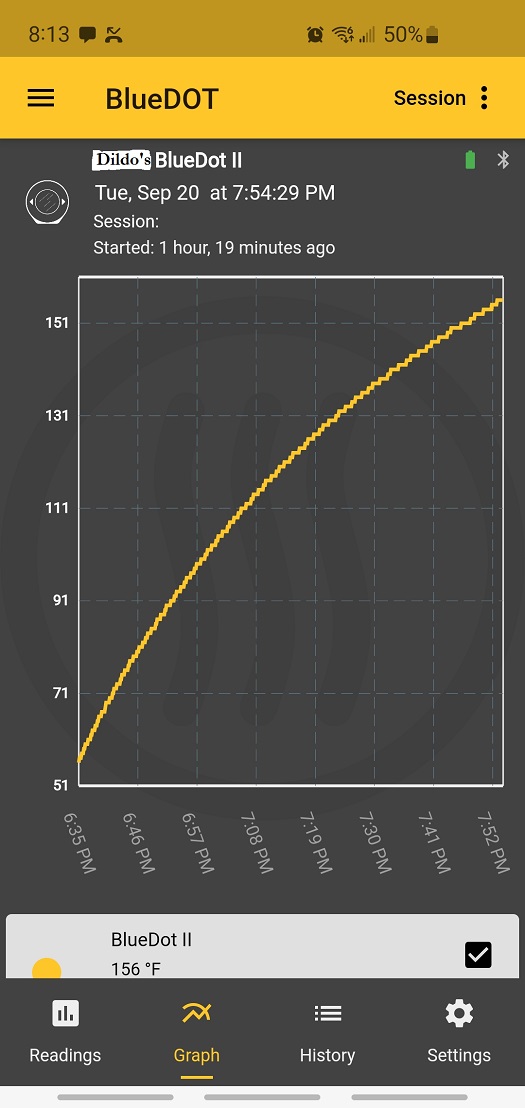 That's the graph of the temperature of a spatchcocked chicken on the grill (325 degrees with the top closed). The probe is in the breast, and my goal is 155 degrees, which turns out great for all but the smallest chickens. I am not sure whether a consistent increase makes the food taste better, but it is certainly gratifying to see!
I have proselytized ad nauseam about the importance of knowing your cooking temperatures, and that graph is a great example of excellent data. It is generated by a Thermoworks probe transmitting via BlueTooth to their app. It works reasonably well, although I wish it were WiFi based rather than BlueTooth, but in the grand scheme of things it is amazingly convenient. I can check the temperature without going outside. And you know what going outside does!
But knowing the temperature isn't just neat. It allows one to plan the meal better. Foods cook at different rates...even similar weight chickens will cook slightly faster or slower depending on...um...hydration probably, but definitely the phases of the moon. And commodity chickens tend to have bigger breasts and smaller thighs and legs, so that changes cooking time a bit.
So grab a probe, stick it in your meat, and learn something about cooking. it will make you a better cook, and even if you don't learn a damned thing, you will look professional with a temperature probe in your pocket.

******
Ok...this looks good. I like pizza, I absolutely adore sausage, and fennel and sausage go marvelously. Hell, it's even in cast-iron, which is easy to use!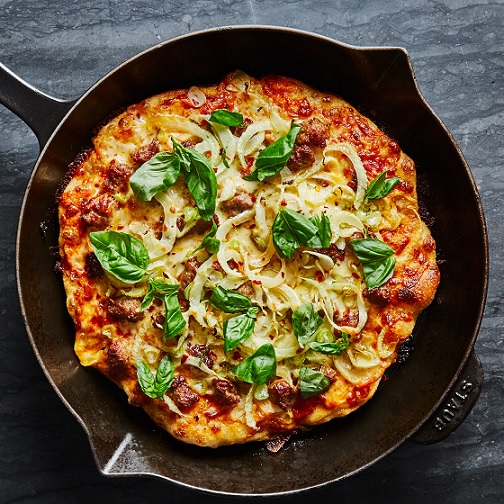 Cast-Iron Pizza with Fennel and Sausage looks like a pretty straightforward recipe, although I am disturbed by it calling for commercial dough and sauce. The dough is easy to make, and the sauce? Yeah, I guess out of the jar is okay, but homemade really isn't tough, and it sure does taste better.

******
I mentioned Ricotta Cheese Cake last week, and WeeKreekFarmGirl came through like a champ!
Well...her mom came through like a champ...

In case you want to make this ricotta cheesecake, here it is in my mothers hand. Only have to cook it two hours but cool it 4, some how I did have that it takes 6 hours in my head. Last time I made it I did have to cook it more until the knife came out clean but I had a poxy oven at the time. It remains my favorite cheesecake of all time, and no other cheesecake will do. I am not sure the origin, but my mother was notorious for bribing kitchen staff to steal the recipes of things she liked.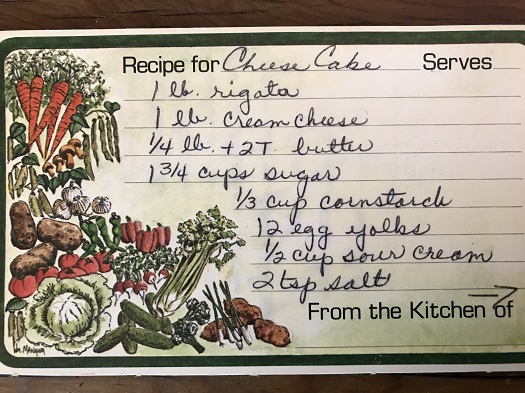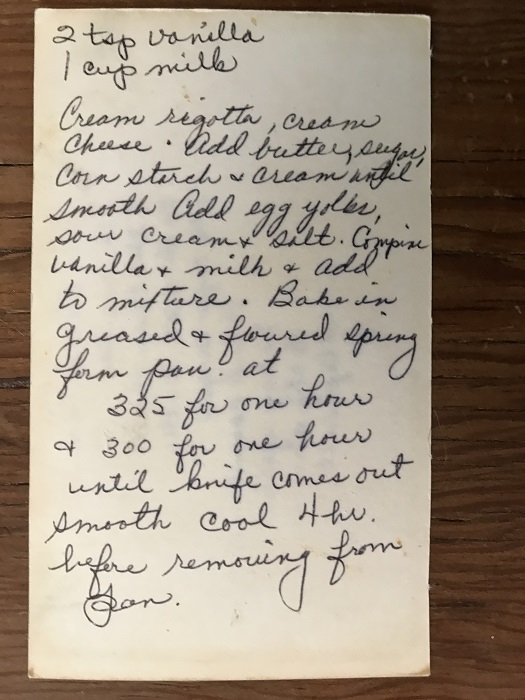 A "poxy oven?"

******
For every good food article I have to wade through about a dozen of just this sort of blathering bullshit.
Farewell to the Massive Espresso Machine
"But more importantly, what does its departure say about what we're really craving with every cup of coffee?"
What kind of nonsense is that? I can tell you with a vast degree of accuracy (97.4%) that what people crave with every cup of coffee is a nice shot of caffeine without a load of bullshit from a tatted-up gender studies major behind the counter. Just shut the fuck up and make me an espresso. And I don't care whether the guts of the machine is above or below the counter, or how sleek the handles are. I care that you have done your job and kept the machine clean so the coffee doesn't taste sour.
This kind of self-centered new-age crap is why I have less and less tolerance for most food and cooking magazines. Food is not a vehicle with which to virtue signal. Food is an elemental pleasure, or fuel, and personally I don't care which one you choose.

******
I'm conflicted!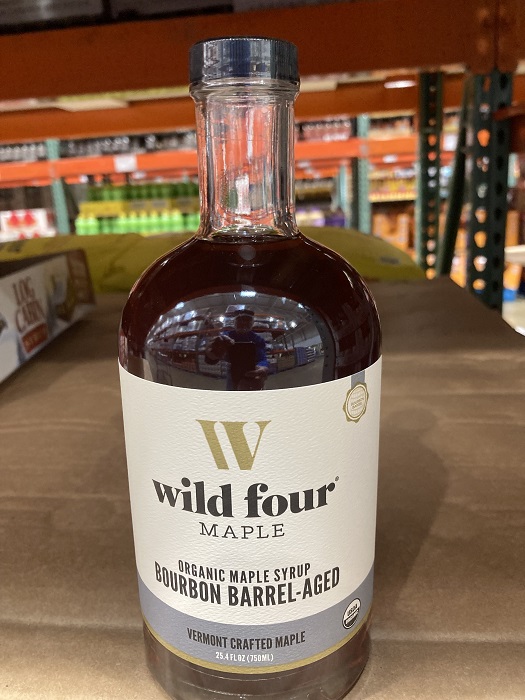 [Hat Tip: hrothgar]

***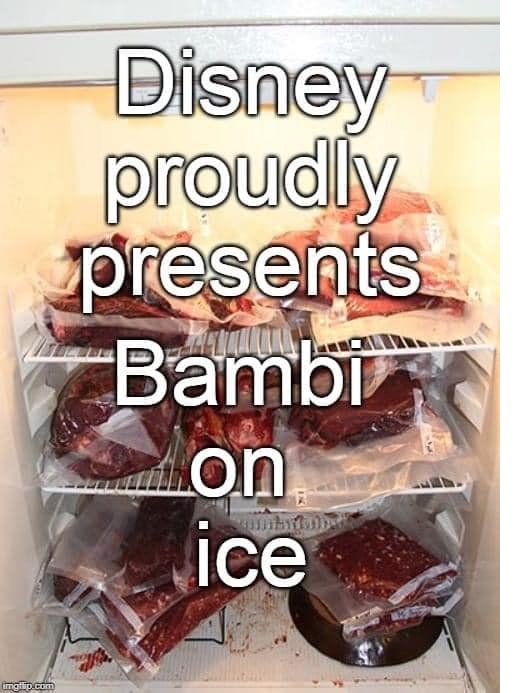 [Hat Tip: Doof]

******
Just send me oysters. Lots of oysters, and I will provide special dispensation for those without taste who insist upon maple syrup with their French Toast. And pork rib roasts from the front end of the pig where all the good and fatty meat lives, carrots that don't taste like stalky chalk, spare bottles of Van Winkle Special Reserve 12 Year Old Bourbon, an herb garden that actually produces herbs (but no basil!), well-marbled NY strip steaks and elk backstrap to:
cbd dot aoshq at gmail dot com.
And don't think that the rest of you are off the hook with maple syrup and French Toast: I'm still watching you! And I am watching you perverts who shake Manhattans and keeping a list for the Burning Times.

posted by CBD at
04:00 PM
|
Access Comments